Your user experience relies on your website speed. If your site is slow, the analysis shows that around 50% of users will close it and find another site with similar content that they need.
It is the first impression that users will get from your site. So the average "allowed" user waiting time is around 3 seconds. You can see how it is essential to have a fast loading time for your website.
Use some of these #outstanding tools we have listed for you and test and #improve your website's #speed.
To archive that, you can use tools that measure your site's speed or be precise website speed testing tools. You can choose from many available tools offered on the web, some free, some not. However, we made a list for you to explain what some of these tools can do for your site's speed improvement. Also what they offer, and what is their pricing.
1. GTmetrix

With GTmetrix, you will see your site's performance, reasons if something is slowing down your site, and how to optimize it. This tool will provide a summarized report with Lighthouse metrics, Web vitals, and various analytics options.
Also, you can schedule the speed test, and it will show the speed of your site for a set period. You can place an alert to notify you when your site slowdown and get a report of what happened so you can act upon it. You can also test the loading time on different devices, around 30 simulated devise options.
There is a feature to see how a page performs in 22 worldwide test locations for PRO users.
There are four offered Plans: Basic, a free of charge plan; Solo, a minimal program for $10/month. Starter recommended for freelancers or small businesses for $20/month. Also, there is Growth if you need to monitor multiple scenarios and sites for $40/month.
You get charged for all plans yearly.
2. PageSpeed Insights by Google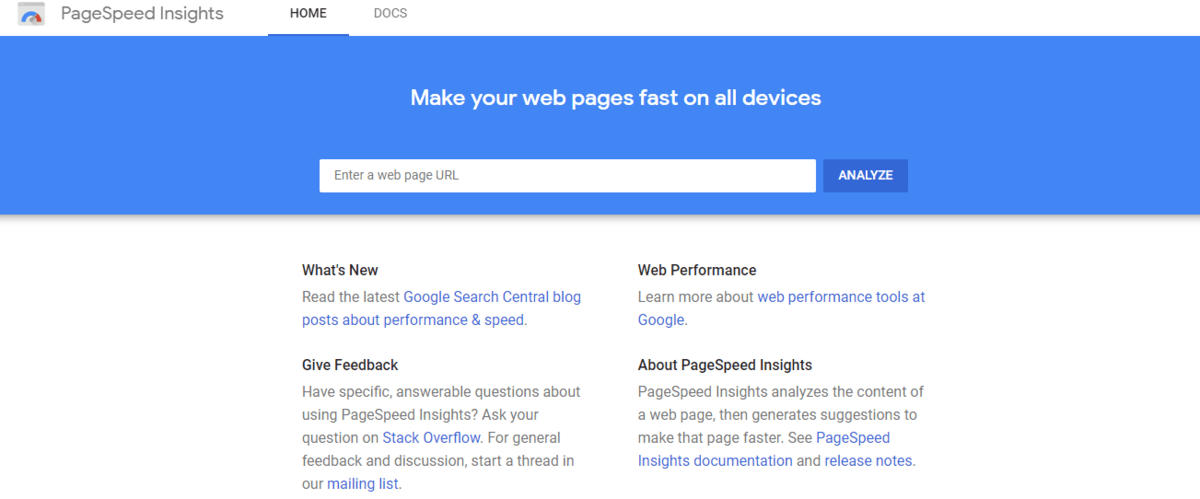 PageSpeed Insights is a classic speed tester. This tool provides you field and lab data. You will get performance reports for desktop and mobile devices with suggestions for improved methods. Lab data is good for debugging issues. For a real-world experience, use Field data to get inside in real user's experience.
There is a page performance score on the top of the PSI report (up to 100). If it is 90 or more, it is good, 50-90 needs improvement, and under 50 is poor performance. PSI classifying field data will show you more details (Good, Needs Improvement, Poor). When you read reports, keep in mind if you are analyzing Lab Data or Real-World Field Data.
Lastly, we have to mention that this is a free tool, and you don't need to log in to your Google Search Console to use this speed testing tool.
3. WebPageTest

WebPageTest is a free testing tool and also open-source website testing tool. It offers you testing of your page speed, load imputes from 40 locations, and an array of different devices. Also, you can simulate testing on the 4G network or the usual mobile network. Offered tastings are Advance testing, Web Vitals, Simple testing, Visual Comparison, and Traceroute.
The number of tests to run in Advance Settings is up to 9. So you will test your users' experience in global locations, new devices, and up-to-date browsers versions.
4. GeekFlare Website Audit
With GeekFlare Website Audit, you can check your site performance for around the 50 most important metrics. It is an "Audit" of your website, and a result page will find tools of high importance for the tested site and offer suggestions for improvement.
Performance test includes the three-speed test of your website: overall loading time, Time to First Byte, and "first contentful paint." Also, you can use it on desktop or mobile devices. It will show you the performance score on the "up to 100" scale. Also, you will see all mentioned speed tests in "seconds" as a type of measure.
You can request a Waterfall report to get a complete picture of performance. You can even ask for a Breakdown to know if your website has many resources that slow down your site.
On the GeekFlare site, you will find information that it is a free tool, and there is no price shown if there are any paid plans.
5.
Dareboost is an installation-free website speed test that you can run for any website. Its Real Browser Testing service will provide you with accessible tests in the same environment that your real-time users have.
It offers a list of 13 test locations from main international areas, and if you would like to run a test for a specific location that isn't on the list, you can request "private test probe access." On a provided report, you will see all of the most crucial performance and user experience indicators.
Also, there is a feature of video replay and interactive timeline that displays HTTP response and loaded requests. In a video analysis of the site, Dareboost evaluates three main indexes: Start Render, Visually Complete, and Speed Index. With these, you can see every step of the site load.
6. Dotcom – tools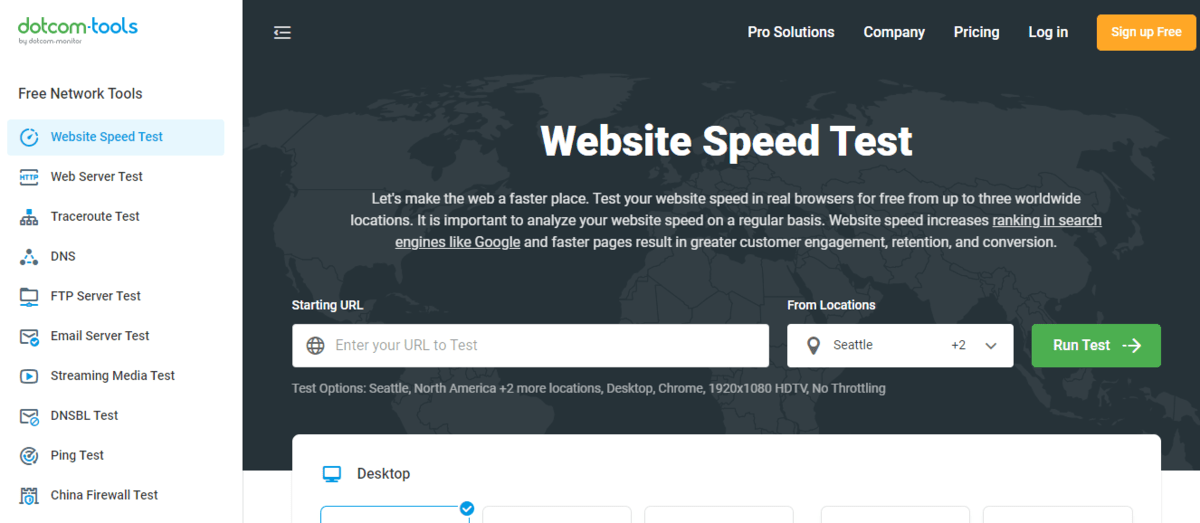 Dotcom – tools is a free website performance tool. You will get a detailed index level Timeline chart from this browser-based speed test. It offers you an inside-on-the-test from almost 20 locations worldwide. So, you will get a free online result from the end-users inside.
There is also on the offer, Web Server Test, Traceroute Test, DSN test, etc.
Pro Solutions deliver Professional Monitoring Solutions for monitoring and optimizing the performance of web pages. Dotcom offers four plans. WebTools Free, WebTools Starter for $9,99/month, WebTools Professional for $29,99/month, and Enterprise for which you will have to contact them directly to get an offer for your needs and preferences.
7. KeyCDN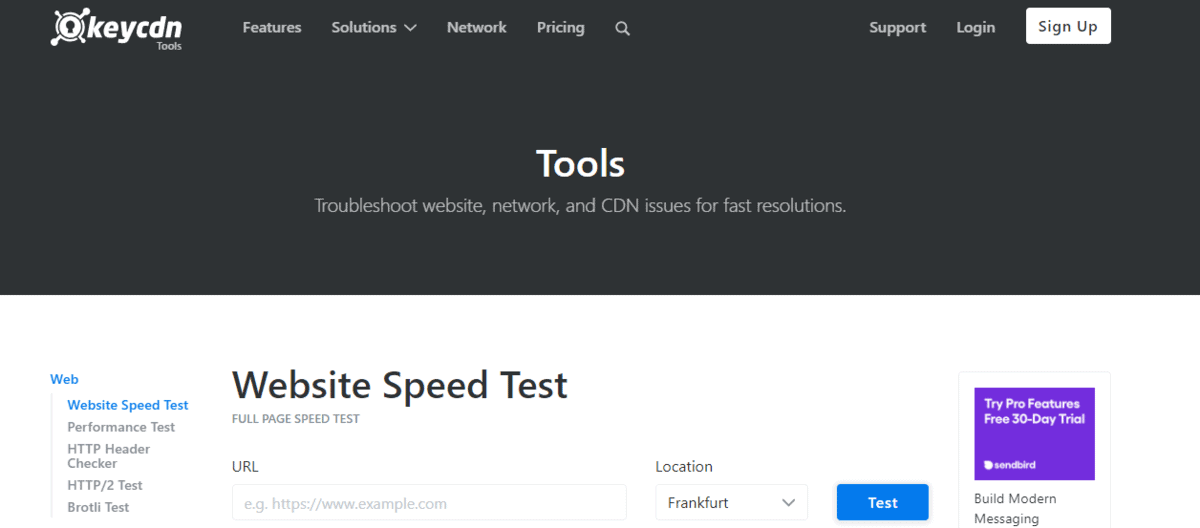 KeyCDN's primary core is speed, so they offer inside to improve site performance by a millisecond.
It can test all levels of traffics, and it has 24/7 Customer Support. Their dashboard is flexible. Also, this means that you can choose settings to get content in the way you need them.
However, reports are detailed and accurate with an explanation of how results on them are delivered. You can easily integrate it, and RESTful API provides precise control from the application.
KeyCDN divided pricing per region/per TB/per month, so you will need to visit their site to calculate a price for a plan that you need from offered features. KeyCDN offers solutions for website Acceleration, Image processing, Video Streaming, and Cloud Storage.
Conclusion
Lastly, we want to mention some essential details that we stated earlier.
Without quality speed for your site, you will lose visitors who are users.
You created a website for them, and if you don't test and improve your site speed, what is the point of having a web page that users don't like.