Sometimes, we reach a point where managing our site is simply not working out, even though we do everything in our power. Finding the problem can be highly frustrating, and it can also take a long time. In today's article, we would like to present you with a tool that can help you track down your SEO mistakes and, with that, optimize your site's content.
Take a look at the #tool that can help you #track the #progress of your website over time.
Owning a website is not always an easy task; that's why we have to make sure we do it properly. Investing in a good hosting platform can be a huge plus. WPMU DEV's all-in-one WordPress platform combines multiple tools and licenses into one – allowing you to save money and streamline your development workflow. Get 20% off any of their plans.
WebsiteSeoStats
The tool we would like to present is called WebsiteSeoStats. It is a fantastic tool filled with unique, helpful features that will for sure help your site out. Thanks to the comprehensive analysis that the tool can run on your site and store all the reports, you can track your progress over time.
The tool allows you to test and fix all of its metrics for SEO. Another feature we like is the tool's ability to use it as a comparison tool between you and your competitor. All you have to do is enter your site's URL and the URL of your competitor.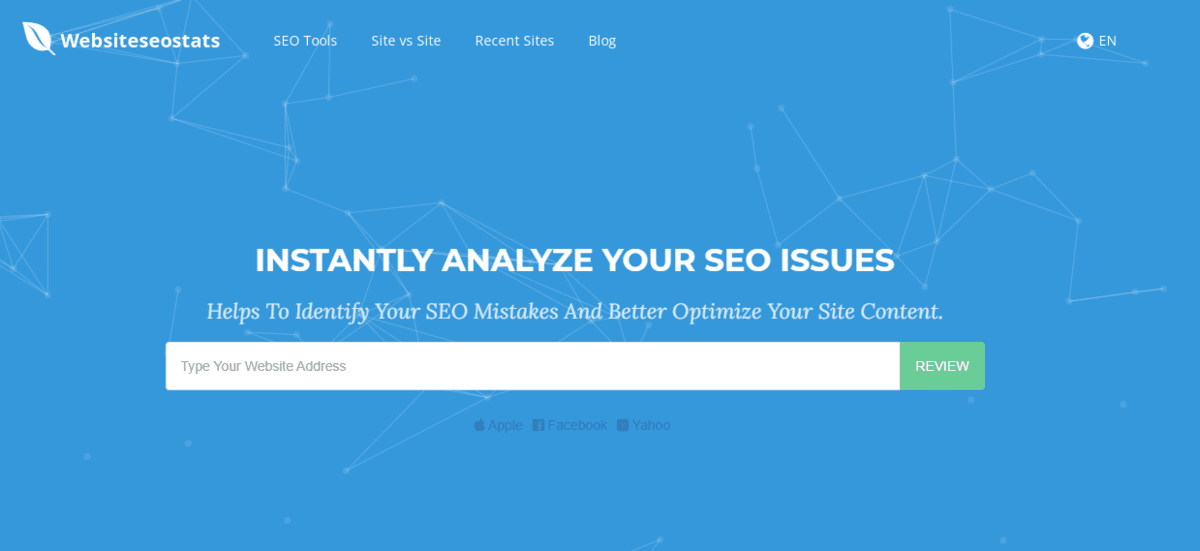 The best thing about the tool is that it is entirely free and does not require any special knowledge.
Now, let's go over some of the most mention-worthy features the tool offers. We have inserted our site to give you a close-up of all the features.
The first thing you'll notice is your site's overall score and a percentage of what's good, what needs to be improved, and what's bad and needs to be changed. You can also download, share, and compare your report.
Tags, Descriptions, and Headings
The first thing on the report is related to tags, descriptions, and headings. Let's describe these a bit more closely. Tags are vital and should be unique to every site. They should be strictly related to your content and contain your most important keywords.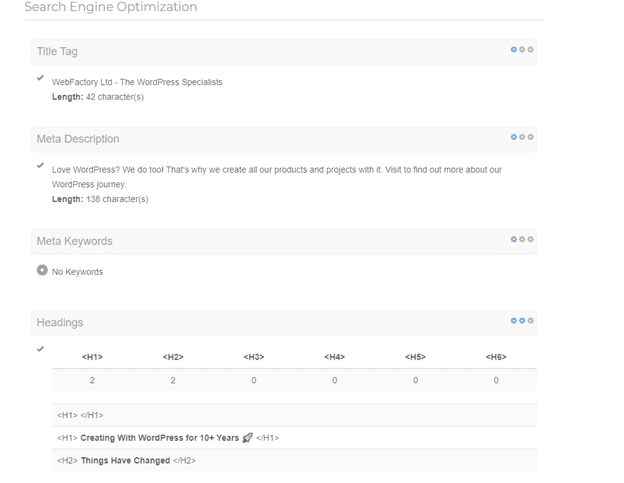 The description is how you describe your site to visitors searching for it on search engines. Your description, like your tags, should be unique to your site and include the most important keywords related to your site's content.
The same with headings; they should contain your keywords, and you should not duplicate the main title in the sub-headings.
Keywords
With this tool, you will be able to see keywords, how many times they are used, and their consistency. To rank higher in search engines, make sure to include your keywords in as many places you can, like title tag, disruption, image alt attributes, backlink anchor text, and so on.
XML Sitemap
The XML Sitemap is the next noteworthy feature. An XML sitemap is a file that contains a list of all of your website's most important pages so that search engines can crawl them. They recommend that you include an XML sitemap.
Some tips they give are:
Make sure all of your URLs are clean and easy to remember,
Not including underscores in your URLs,
Making sure there are no embedded objects and Iframe content are detected on the site,
Including a Robots.txt file
Also, other things that are unique to your site only, like a custom 404 page, a favicon, and so on.

WHOIS data
Next is the domain. You can check precisely for how long your domain has been in use and the date of its creation. Next to that, we have the WHOIS data. The WHOIS domain helps you find contact info on any domain in the WHOIS database. That looks like this:

Indexed pages
The feature "Indexed pages" lets you know how many pages are indexed in search engines. The goal is to have a high number of pages; otherwise, there is a problem. It can be due to the bots' inability to discover the pages or simply your site's lousy architecture and internal linking.
Backlinks
Backlinks counter counts how many other sites contain your link, bringing their visitors to you. These are great because people will come straight to your site if they see that others trust you and think what you're putting out is good—the greater the value, the better.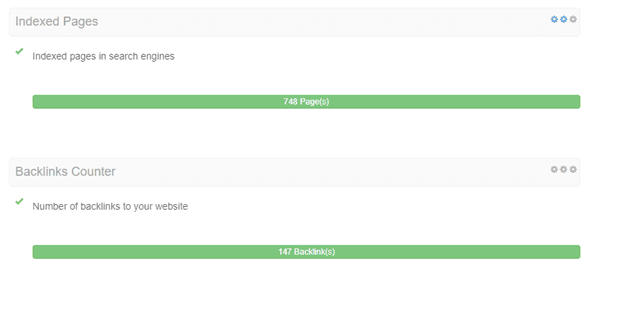 PageSpeed
PageSpeed insight allows you, just like its name says, to test your site's speed. Even when we are the visitors, we do not like waiting too long for a site to load before moving to the next one.
This tool allows you to test the speed of your website's desktop and mobile versions. Speed 40-60 is bad, 60-80 is mediocre, and 80-100 is good. Ensure your site's speed is in the green area, as shown below.
Since phones are becoming more and more popular when browsing search engines, this tool offers you a mobile preview. So you can see how your site appears to visitors using their phones.
When it comes to mobile versions, make sure your site has one. But only that, you can separately check your site's speed using the mobile version. The tool also offers you some additional tips on what you should do to accomplish a better speed.
Conclusion
Free Website SEO Checker & Audit Tool is a beneficial tool that can give you a great insight into all of your site's aspects. When you paste your website's URL, the lengthy report provides you with any information you may require. Not only that, but it gives you advice on what needs to be improved and how to do so.
Testing your site in this tool does not cost you a thing but can be helpful.
By testing your site, you may discover why your page hasn't been performing well over time, which is a big deal, and you should do your best to fix and improve it. We hope you found this article helpful, that you found all of the information you needed, and that you will try out this tool.