If you want to establish an online store or have already done that, you should realize one crucial fact. And that is that the most vital factor in your success is the product you pick. It is an essential phase in the sale process.
But obtaining reliable information about product desire, competitors, availability, pricing, and promotion takes a long time. Amazon's product research tools make this job much more straightforward, faster, and more trustworthy by supplying you with detailed data about possible items that allow you to achieve business goals.
Make your #shopping experience on #Amazon enjoyable and consider using some of these product #research #tools.
When scanning sellers, it will look for products that have often sold over a given period by evaluating market dynamics and providing you with those findings. You will save loads of time by applying this tool. Because of that, we would like to present you with the best Amazon product research tools.
1. Helium 10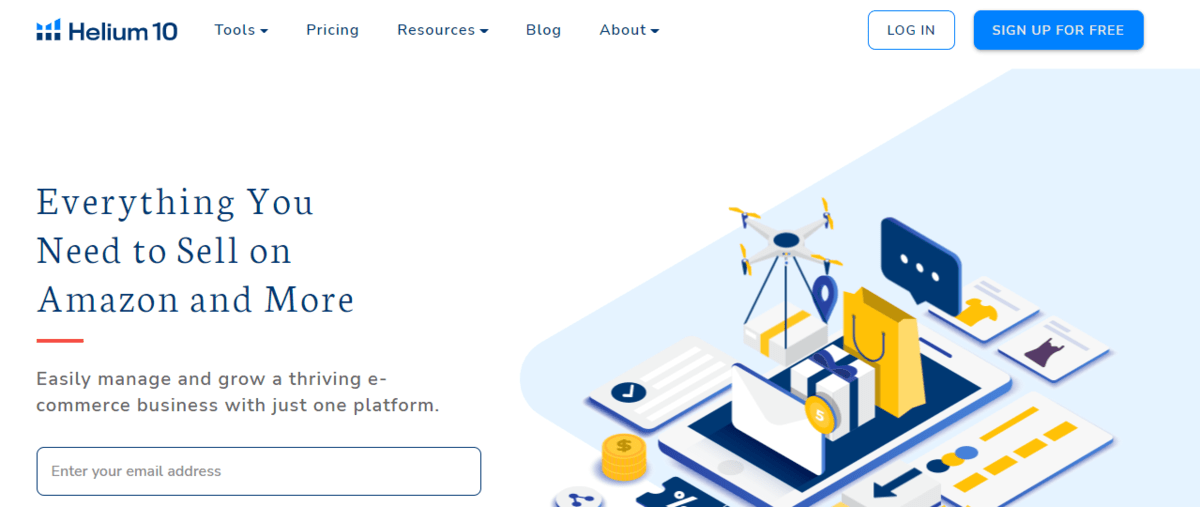 Helium 10 allows you to identify a quality product. Also, this tool ensures that consumers will purchase it and analyze the competitors. When it comes to finding popular items, Helium 10 allows you to evaluate your plans to avoid losing time and effort.
Furthermore, you can collect resources, construct optimal lists, snoop on the competitors, enhance them, and create focused web pages for your goods. It then safeguards your inventory, controls your sales, and evaluates your business.
With our advanced keyword research tools, you'll be able to squeeze every drop of traffic you can out of every single keyword. These keywords can help you increase online visibility, create a strong ranking, and see a dramatic increase in sales.
Helium 10 is available in six different price tiers. You have the option of paying them monthly or yearly. In monthly plans, you will find a Starter plan for $37, Platinum for $97, and Diamond $197.
But if you choose a yearly plan, you can choose between a Starter plan for $324, a Platinum plan for $970, and a Diamond for $1970. If you pay annually, you will receive an additional three months free. The big plus of this tool is that you have a 30-day money-back guarantee option and a personalized payment plan.
2. Jungle Scout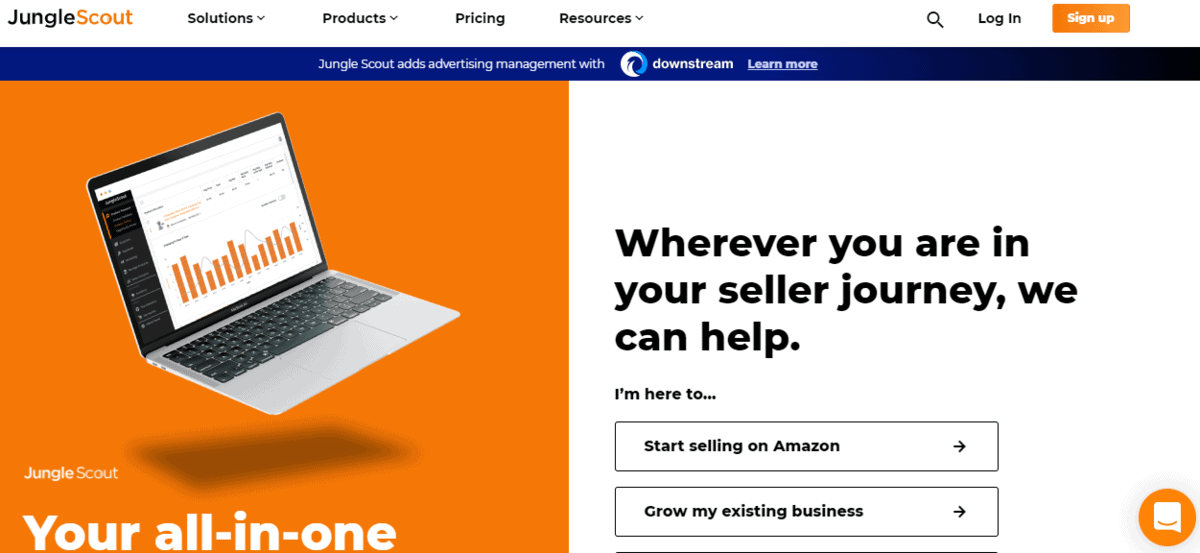 Create your profitable business by using Jungle Scout's statistics choices and insights. Search, market, and sell items on Amazon using an all-in-one tool. Jungle Scout is a tool that can help you succeed on Amazon, regardless of your previous experience.
As a newcomer, it is a great advantage, and as your company grows, it becomes an indispensable tool. Using Jungle Scout, sellers may access and update their listing data from any location and at any time with no additional effort.
With Jungle Scout, you can focus on the crucial components of your company, like your goods, and make them Amazon's new product to market! In a nutshell, Jungle Scout offers a complete set of features for Amazon sellers.
Further assisting them with everything from identifying an item to making the final selection, publishing, and improving a product catalog. But also to monitoring business statistics and inventories.
You can choose between already made Package plans and Standard plans that offer you monthly and yearly pricing plans. To pay monthly plans, you can select Basic for $49, Suite for $69, and Professional for $129. If you choose to pay yearly, you will pay monthly for Basic $29, Suite $49, and Professional $84.
Each plan has its advantages and disadvantages. It all depends on what you want. They will refund your money if you are not satisfied after seven days.
3. Viral Launch
As you can see from the list above, Viral Launch provides a complete set of Amazon seller options. A keyword research feature in the tool lets you evaluate different product ideas and determine whether there is a market for them. This information helps you make better decisions about which items to develop further and focus your efforts.
You can locate items with just three clicks owing to their item research instruments. You'll have no problem finding the most significant goods, keywords, brands, and market segments.
Viral Launch provides you with as much data as possible, such as sales forecasts, market dynamics, and skill intensity. With such information at your disposal, you are better equipped to decide which goods to offer.
Viral Launch is another tool that offers you monthly and annual pricing plans. Choose between monthly: Essentials plan for $69, Pro $99, Pro Plus Ads for $199. And annually: Essentials plan for $58 per month, Pro $83 per month, and Pro Plus Ads for $166 per month. So, if you choose any of the annual plans, you will get two months free.
4. SellerApp
An online analytics tool called SellerApp helps Amazon sellers get the most out of their business. This tool gives them insights gleaned through existing data by providing them with sophisticated tools and statistics. Also, these tools and statistics may help them increase brand sales.
However, using this eCommerce system, businesses can aggregate their electronic data and obtain crucial input. Also, they can use it to enhance their keyword and product research, operations, service, goods, and much more.
Seller App also has monthly and annual pricing plans. Within the Monthly plan, you will find Pro-Lite for $99, Professional for $199, and Enterprise with custom pricing. With an Annually plan, you will discover Pro-Lite for $89 per month, Professional for $149 per month, and Enterprise with custom pricing.
Conclusion
Now that you have an insight into some of the best Amazon product research tools after reading this article. Each of the listed tools above will help you in your goal and progress on Amazon.
Pro tip: If you're also ready to scale and take your brand to the next level, Amazon DSP could be the solution for you.
Sellers on Amazon can select which goods are better to invest in based on reliable sales data for millions of Amazon products.
Using a product research tool eliminates the risk of choosing the wrong supplier for your needs. In the end, all you need to do is try some tools for yourself.