Do you use your website as an opportunity to show off your best triumphs? Customers need to know you've had successes in the past and can overcome challenges and take on big projects.
Whether you show off via an About page, an overview of the #company #history, or via case studies, it's essential to #highlight your expertise.
According to Internet Live Stats, there are 1.89 billion websites on the world wide web. The number changes by millisecond as sites come and go. Once your users stumble on your presence, you have to grab their attention and keep it. Telling your story is one way to keep their interest.
Your company's history shows you have a track record of putting your customers first and meeting the needs within your industry. Here are some things to keep in mind as you highlight past work.
1. Show Off Your Expertise
If you offer a service, your customers likely want to know how much experience you have before working on their project. Highlighting your company history is one way to assure them of your vast wealth of knowledge.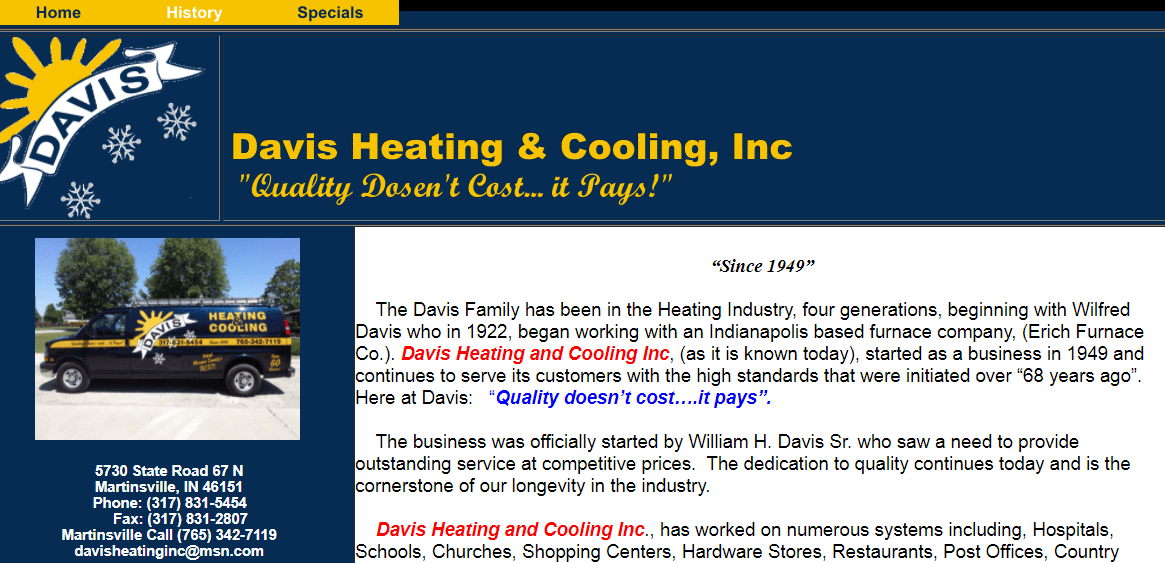 Davis Heating and Cooling have a history page explaining how the family has been in the business since 1922, opened their first official doors in 1949, and continues today. They also explain how their personnel is certified.
2. Make the Page Skimmable
Many companies tend to use a paragraph-style format to explain their company history. Make your site stand out by making the page skimmable. Add in subheadings, use bullet points and keep paragraphs short and to the point.
Put yourself in the shoes of someone with just a few minutes to learn more information. They want to skim down the page and grab the most pertinent details.
3. Add Photographs
You can tell your audience a lot with the photos you share on your site. Highlight past work with a project gallery. Share before and after photographs so people can see the depth of your skill and what the finished results might look like.
A photo gallery is significant in industries where each project is slightly different, such as construction, decor, or entertainment.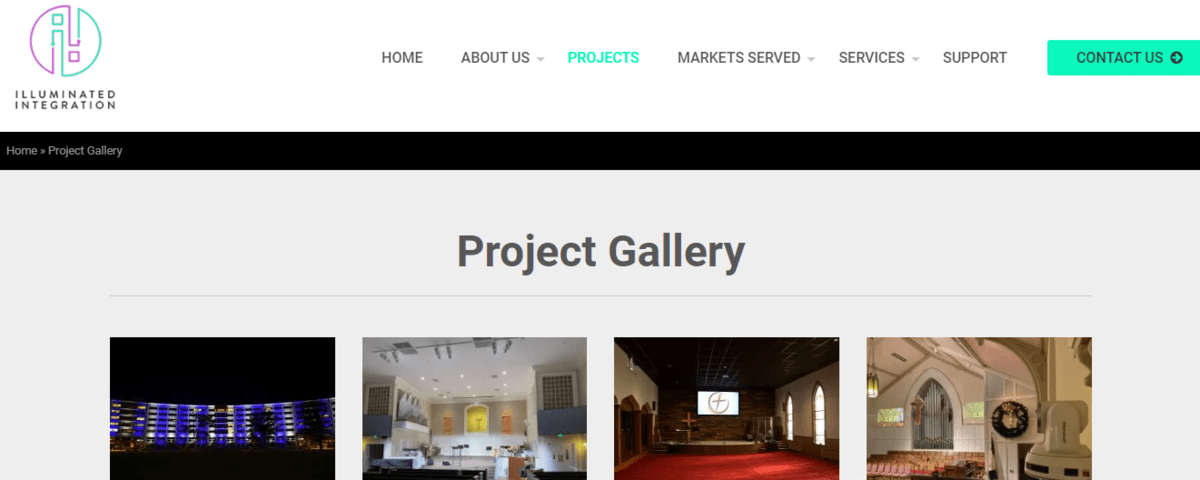 Illuminated Integration's website features a project gallery. They show off some of their more exciting projects. Such as lighting a university fieldhouse, adding a nighttime lighting system for a business, and theater lights and sound for schools, churches, and entertainment venues.
Note how they select from a variety of projects to show the scope of their abilities better. While each example is a bit different, they all show off their quality work.
4. Explain Your Passion
Why did you start your company in the first place? People can learn a lot about your values as a brand when you share the reasons for getting into the business. Perhaps you want to help your local community, or you have a desire to reach a particular audience.
You may have to dig into your own emotions. People have different reasons for choosing the industries they do. Perhaps your family has always been involved, and you feel a connection to your past. Maybe you saw a need and want to serve local customers.
There isn't a right or wrong answer. You just need to be honest and transparent.
5. Embrace a Cause
People love to hear about how you're making an impact on the world around you. If they spend their dollars with you, they can be assured some of it goes to the causes you care about. You can even attract customers based on shared concerns.
One word of caution here. You don't want to choose something too controversial unless you are certain your audience is behind you. You risk losing half your customers if you sway to one side of the political spectrum or choose something too controversial.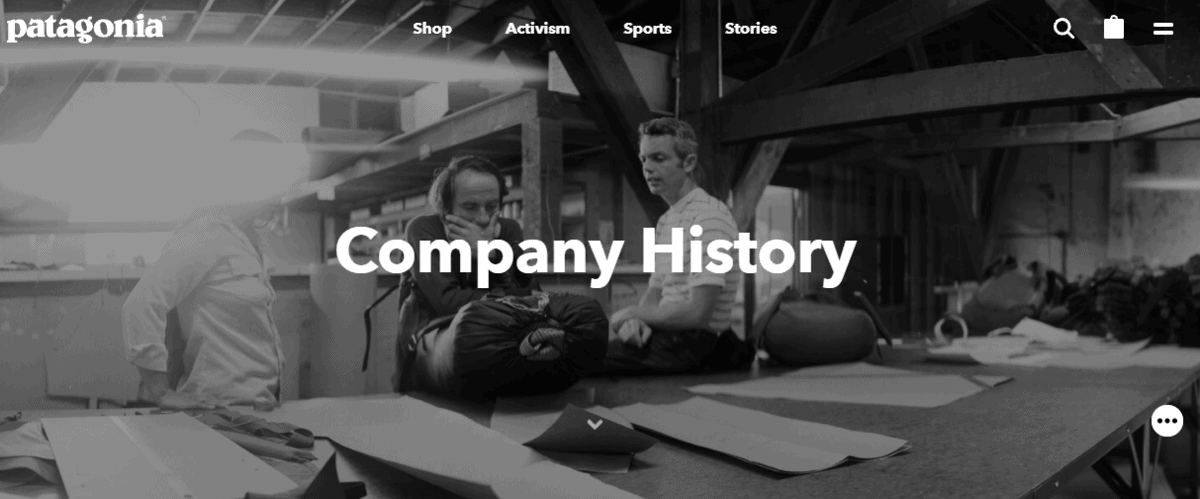 Patagonia embraced the cause of protecting the environment. Even customers without a big concern in this area tend to agree with the underlying premise that we need to strive for more earth-friendly products.
On their history page, they share some of their efforts near the bottom. People can see the company's history and its efforts toward the cause.
6. Tell a Story
The story of your company is so much more than a few numbers on a timeline. If you want to seem real to people, you should dig deep into the initial challenges you faced getting the brand going.
Share a story about a mistake you made, how you overcame it and what you learned that you still apply today. Without both triumphs and failures, your story won't seem real to users. Real-life isn't just cut and dried and simple. What is the worst thing that has happened to your business? How did you overcome it?
Why Should You Share Your Company's Past Work?
Customers landing on your page may not know much about your work ethic and brand. They can only learn if you share insight via stories, testimonials, and images. Consider what you'd need to know to hire your brand over competitors.
Once you have an idea of the type of past work you'd like to share, run it past a control group and see how it resonates. Use A/B testing to try different stories, images, and layouts. Which features do your visitors engage most with?
Stick with the elements people engage with and that drives them forward in the sales funnel.
Eleanor Hecks is editor-in-chief at Designerly. She was the director at a marketing agency before becoming a freelance web designer. Eleanor lives in Philly with her husband and dog, Bear.