Keeping business organized is one of the keys to business growth. Customer relationship management systems (CRMs) are helping to maintain good interaction between the company and customers. Depending on the size of the business, there are many systems available on the market.
Looking for a way to #improve the #interaction between customers and company? Read on and find some awesome #alternatives for Infusionsoft.
What is Infusionsoft?
Infusionsoft is one of the most popular software for CRM, marketing, and sales. It is well-suited for small businesses. Infusionsoft appeared in the market in 2001, and it became well recognized very soon. However, in 2019, they changed their name to Keap, and with the new name, they brought new features and apps. It helps over 200,000 businesses to stay organized.
Infusionsoft software offers CRM, sales pipelines, analytics, email marketing features, among others. Further, its CRM feature will provide you with everything you need for a small business. It uses automation for data collection and expanding the list of customers and tasks.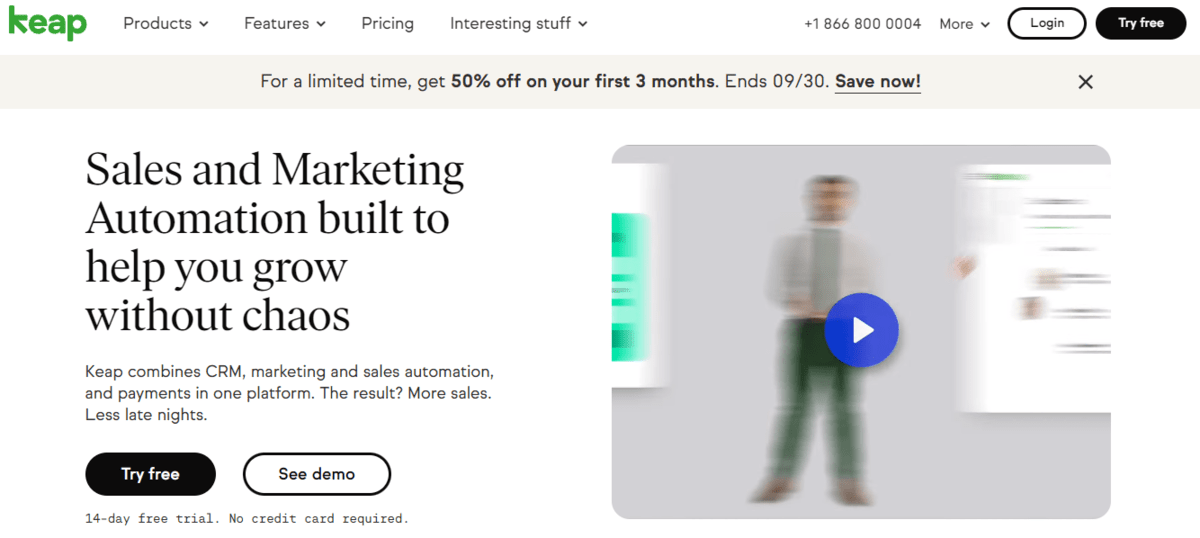 Also, every customer gets a card that contains all the essential details about the person. Email management is an excellent part of this software. Also, the incredible fact is that it offers prewritten templates that you can personalize. You can even schedule and automate every email.
Every communication, payment, and email with customers are tracked, and you can find them anytime. Also, every uploaded document related to different tasks and customers is always available.
Furthermore, it can be easily searched and forwarded to contacts if needed. Besides these CRM and other features related to the business, Keap also offers integration with many other marketing and sales programs. That can improve business and make communication and organization smother. Some of the programs are Outlook, Gmail, Shopify, Zapier.
Pricing
Even though Keap is suitable for small businesses, it is not the best choice for startups, and the main reason is its price. They offer three pricing plans, with only 14 days of a free trial. However, it is vital to mention that the Keap Lite version costs 79 dollars per month, with basic features.
The second version is Pro, the most popular version that costs 159 dollars per month. It is predetermined for growing businesses with characteristics that guarantee productivity and better organization with new tasks and sales. The latest Keap package version is Max, with a price of 199 dollars per month.
Also, this system is planned for already established businesses, covering payments, eCommerce. But also, excellent optimization of sales as features.
All of these plans have one member account that can enter up to 500 contacts. If the business is more extensive and requires advanced features and more users, you can customize your plan and price.
If you buy one of these three versions and want to add more users and your customer list might be over 500, you need to change the entire plan and repay. It is one of the main limitations of this software. CRM systems should be scalable and adaptable to business growth.
Luckily, its migration feature is helpful and can have a central role in moving your business to another software. Many similar programs can cover flaws and high prices of Keap.
EngageBay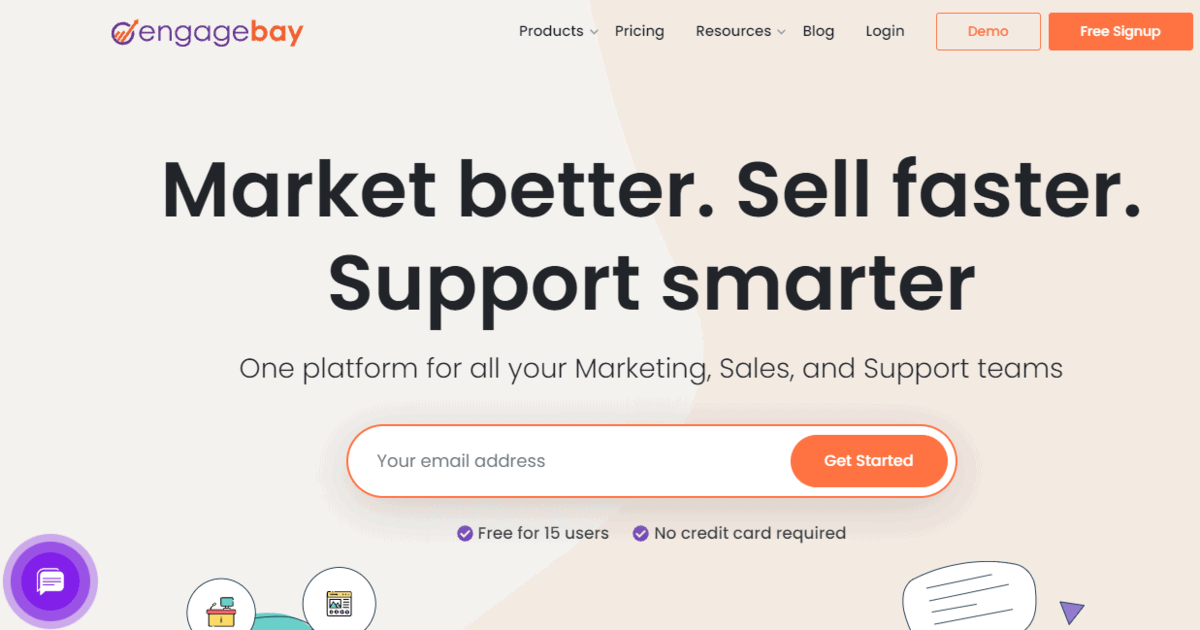 EngageBay is one alternative to Keap. It appeared in 2017 as effortless marketing and sales software that offers many services in just one platform. Their products can be activated separately depending on user needs (MarketingBay, CRM and Sales Bay, Service Bay) or bought as All-in-One-Suite.
It has advanced CRM features for better communication. CRM Telephony brings customers closer. Email integration is safe and copied for a comprehensive customer log. It tracks every task, and also every process is automated. Also, EngageBay has detailed reports about customers and business.
This enables giving good information and better insight into the future. EngageBay is a good option for small businesses and startups, and also, its CRM features are free. Other Bays divide into pricing plans, including Basic, Growth, and Pro.
Its free version offers 15 users, and the number of contacts on the list is easily scalable and can go up to 30,000 contacts. The pricing plans are different, with many advanced features. For detailed information, visit their website.
ActiveCampaign
ActiveCampaign is another excellent alternative. Founded in 2003, it includes CRM, sales, marketing, and customer support. It is ideal for small businesses that want to grow their business by implementing marketing automation technology.
Furthermore, its CRMs features include automation of meetings, email communication, arranging tasks, dealing with customers, and more.
The vital fact is that the dashboard is well-organized with precise details for simple communication and process tracking. It has excellent integration with over 200 software solutions.
They offer an ActiveCampaign Deal CRM app for iOS. ActiveCampaign does not have a free version but has four affordable pricing plans with different features. Every program starts with 500 contacts, and you have to be aware that number is easily scalable.
Also, ActiveCampaign is an excellent option for small businesses that focus on marketing and emails without a need for advanced CRM features.
HubSpot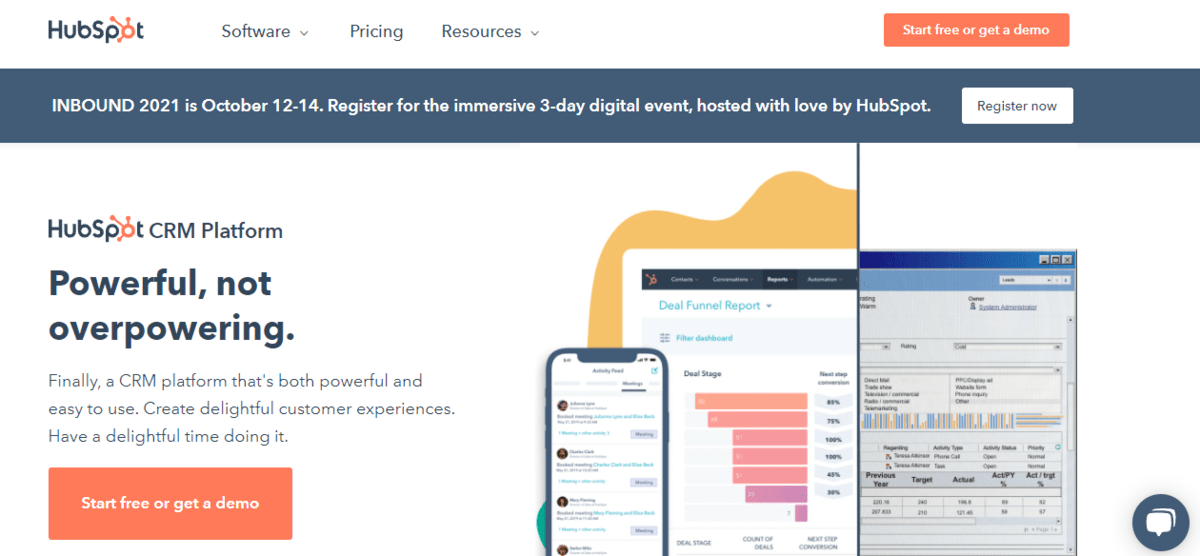 HubSpot, developed in 2006, is a software solution with CRM, Sales, and Marketing modules. You can purchase each module separately or as a part of a complete package.
Its CRM module has a flexible and straightforward user interface, offering good communication features, email automation, social media integration, contact import are just some of them.
Additionally, the Marketing module is excellent for creating and optimizing content, collecting data, and making detailed reports to analyze marketing strategies' effectiveness. The Sales module tracks deal with customers, offers special emails and reminders about communication with the customer.
HubSpot offers free and Professional plans for every module and an all-in-one CRM Suite. Also, all modules start with 1000 contacts available, and the number can enlarge within these modules. HubSpot is more expensive than other alternatives. For detailed pricing plans, visit their website.
HubSpot's complexity goes with large businesses, but its basic versions or modules individually are good enough for small businesses.
Conclusion
In the end, every software has good features and limitations.
It is always good to compare products and find the best alternative to answer all the needs and fit your budget.
These are a few CRM software options with brief descriptions. Visit these websites before choosing your business tool.