Automation is increasingly a part of our daily lives. From the coffee machine that brews our coffee, intelligent automated houses, warehouses, ports. To self-driving vehicles that are already becoming a reality.
If you asked ten successful people or online companies which online tools or software you should use for business automation, you would probably get different answers from all of them.
Looking for perfect #SamCart #alternatives? We've got you covered! Read on, and you will find only the #best ones!
Using upsell products can increase AOV (Average order value), significantly affecting your online business. Therefore, one of the essential things is the automation of sales and order processing. Excellent online tools for sales automation allow you to receive and process your orders with specific add-ons. This will help you to increase your conversion.
A great tool available for that is SamCart. SamCart is a fantastic eCommerce platform for smartly selling products. On this eCommerce platform, you can boost conversions easily and quickly, maximize customer value. You can even manage your business without bothering about technology.
More than 22,000 businesses have opted for SamCart. You can use SamCart from $49 to $199. The most popular plan is Grow plan, and it cost $99 per month. But, if you think that SamCart is too expensive for you or do not need all the features that SamCart offers, keep in mind one fact.
Your online success is not determined by tools but by the way you use them. So, look for a solution through some of the following alternatives.
1. ThriveCart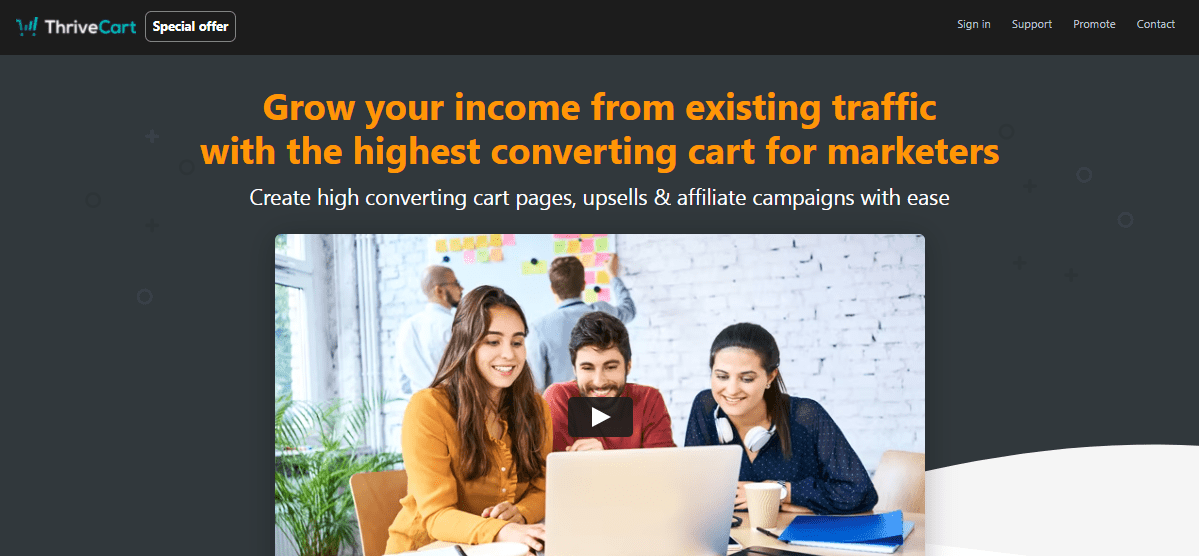 ThriveCart is an easy-to-use software that encourages you to promote and accept payments for your customer's physical or digital products, subscriptions, and services. The main feature is to create checkout pages that will turn more clicks into sales and boosts your profits.
ThriveCart will connect to the most popular apps, platforms, and providers. Also, it does not signify whether you sell your products on your website, social network, or even just via email. Furthermore, you do not worry about who you take payments with or who sends your emails.
ThriveCart has all those features integrated into one. Now, they have a limited offer for an unlimited lifetime ThriveCart account. It means that for $495, you have a one-time payment and no monthly fees.
ThriveCart top four features are:
Bump: enables you to raise the profit per order.
1-click Upsell: This allows the customer to connect with their order without adding their card details again.
Integrations: integrates with the most popular software and tools like PayPal, Hubspot, Zapier, MailChimp, Stripe.
User-friendly: easy to use templates, well-designed, and mobile-friendly.
2. JVZoo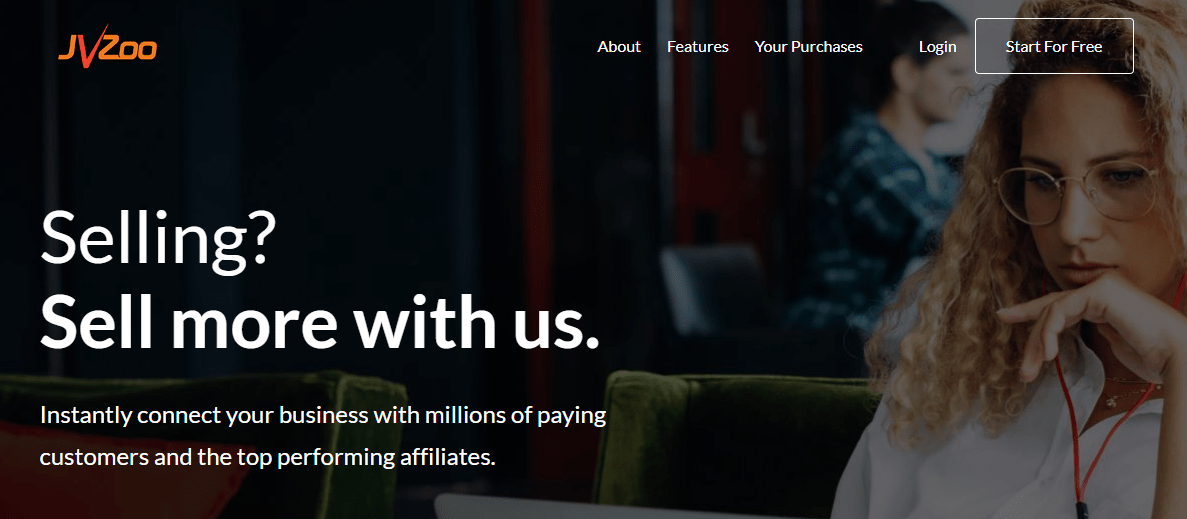 JVZoo is free to join, and the signup process has four easy steps. Most members choose PayPal when operating with this alternative. The main reason is that you can instantly make payments without waiting weeks or months for your income. JVZoo is also an excellent choice for selling digital goods, especially if you plan to have an affiliate program for partners.
It is an easy-to-use tool with menu options like Affiliates, Sellers, Products, My Account, and Tools. Creating affiliate links takes seconds, and there are many payment options available to choose from, like PayPal, Payoneer, Check, or Direct deposit.
Have on your mind that your account must have a net balance of $50 to get a payment from JVZoo. JVZoo also offers a solid knowledge base and ticket support system. It is always 100% free to use for affiliates, and you keep every penny you earn. If you are just a product seller, you will only pay when you make a profit.
3. Kartra
Kartra is an all-in-one eCommerce platform with all the internet marketing components combined into it. You can build your landing pages, leads, sell products through checkouts, create order forms, and much more.
Also, you can sell as many different products and services as you want and set prices equally. Using Kartra funnels, you will convert visitors into leads and recurrent clients.
Kartra helps you to increase conversions and raise the value of your purchases. This fantastic platform has a provision for conversion of currencies and translation to more than 40 languages. It comes with a help desk solution and a customer management tool. You can also use it as an affiliate center, course hosting, or membership platform.
4. Sellfy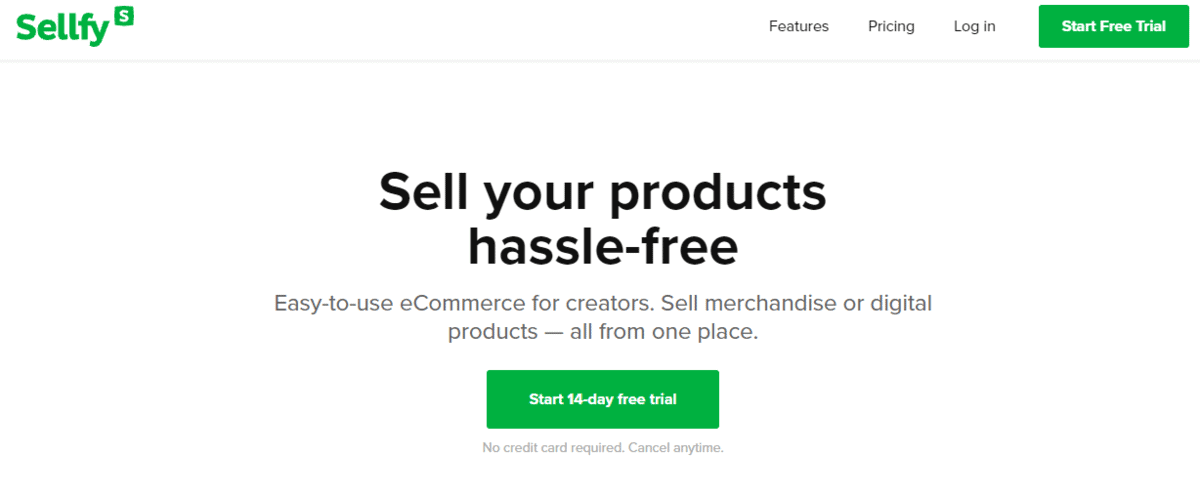 Sellfy is a popular and great alternative for SamCart if you need a manageable and effective platform to reach the results you want. On Sellfy, you can sell all types of products in a hassle-free way.
You can choose a powerful customization feature for design, text, color, and producing your product perfectly. The platform also offers built-in marketing features, including email marketing.
One more great feature is the possibility of selling products via social media or linking them with your existing website or eCommerce. A starter pack is enough for every beginner, and it is just $29 per month.
Conclusion
Affiliate marketing has become a significant online industry, equally effective for all those involved in marketing. It significantly helps sell products and services and make money on the Internet for all owners of websites, blogs, forums, and the like.
To earn income, you need to convert visitors to your site into customers.
The more visitors you have, the more they will click on the affiliate link.
Therefore increasing the chances of more of them making a purchase and increasing your earnings. Increasing web traffic and conversion rate is a big test for every business. All the above alternatives to SamCart can successfully meet this challenge.