If you want to build a professional and engaging website without any coding, Elementor is the tool you are looking for. Elementor is a free WordPress page builder that lets you create websites in the easiest and quickest way possible.
#Elementor helps you with creating a beautiful #website using a visual editor. It is an all-in-one solution that lets you control every part of your website #design.
With the drag-and-drop editor, you can directly customize anything you want on your website, easily. The interface gives you maximum layout control and the ability to design everything including the header, footer, and content all from the same screen. And don't worry about messing up, because you can save, redo and undo whatever you did, and every time you update a page, a new revision is created.
You can choose from more than 300 designer-made templates that were created to fit any style and brand.
Elementor also has more than 90 widgets that offer advanced design customization so you can be sure you will be able to create exactly what you want without having to install any additional plugins.
Basic Elementor elements include a heading, images, text editor, tabs, testimonials, and much more. Some of the pro elements you can utilize for your pages include posts, a portfolio, slides, a countdown, and more.
To get you started on your page building journey, here are some of the best Elementor addons that will help you spice up your page.
ElementsKit is a plugin for Elementor that offers high-quality widgets, templates, modules, and sections that will increase productivity and your website's performance.
The plugin offers more than 50 widgets and extensions that will help you customize any part of your website. New widgets are added regularly and any widget you don't need can be disabled.
With the header and footer builder, you can build custom headers and footers without any complex settings that might confuse you. You can also use the mega menu in both a horizontal and vertical version.
If you have no coding knowledge, but still want to have a beautifully-executed and functional page, ElementsKit offers a layout library with more than 30 templates and 600 widgets you can further customize. You can even use it to integrate your social media feeds from Facebook, Instagram, Pinterest, and more.
With ElementsKit, you can also set up sticky elements and interactive animations that don't disturb the visitor's browsing.
So in a nutshell, ElementsKit has everything you need to build a perfect website, without losing sleep and time.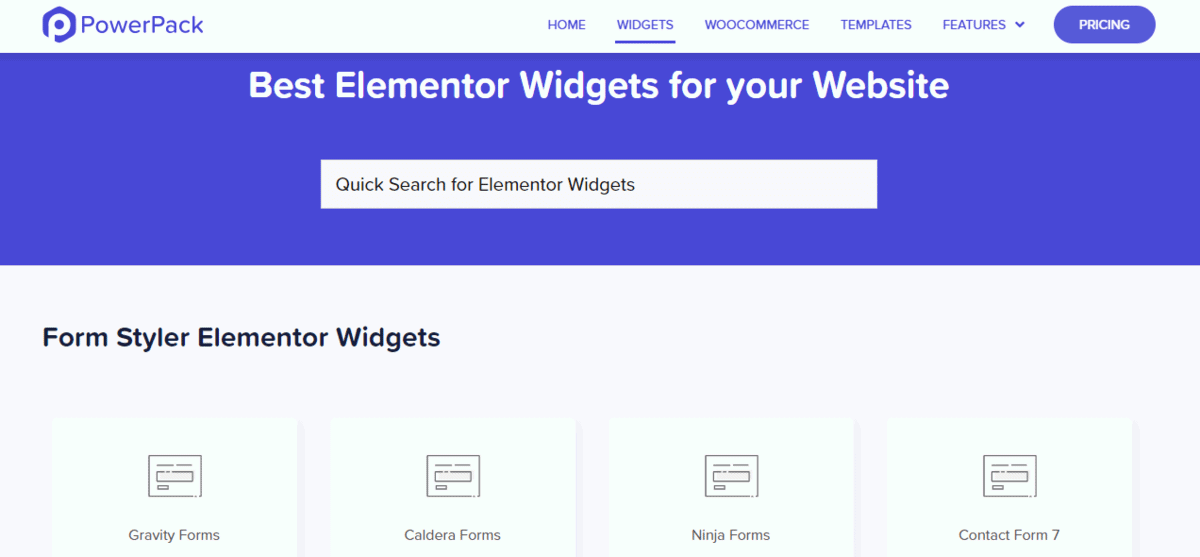 PowerPack is an addon for Elementor that offers you widgets divided into three categories: Form, Creative, and Content.
The Form category lets you choose from different styles of forms such as Gravity, WPForms, Caldera Forms, or Ninja Forms. You can add a custom title and description with the color and typography options. And with the advanced adjustments, you can change the layout, spacing, field size, and padding within the form.
In the Creative category, there are more than 20 widgets you can choose from including logo carousels, countdowns, page navigation, and a popup box.
And finally, in the Content category, you can find widgets that perfectly fit your content and your brand.
Other features PowerPack offers include background effects that really bring your website to life and additional customization tools such as header and footer builder.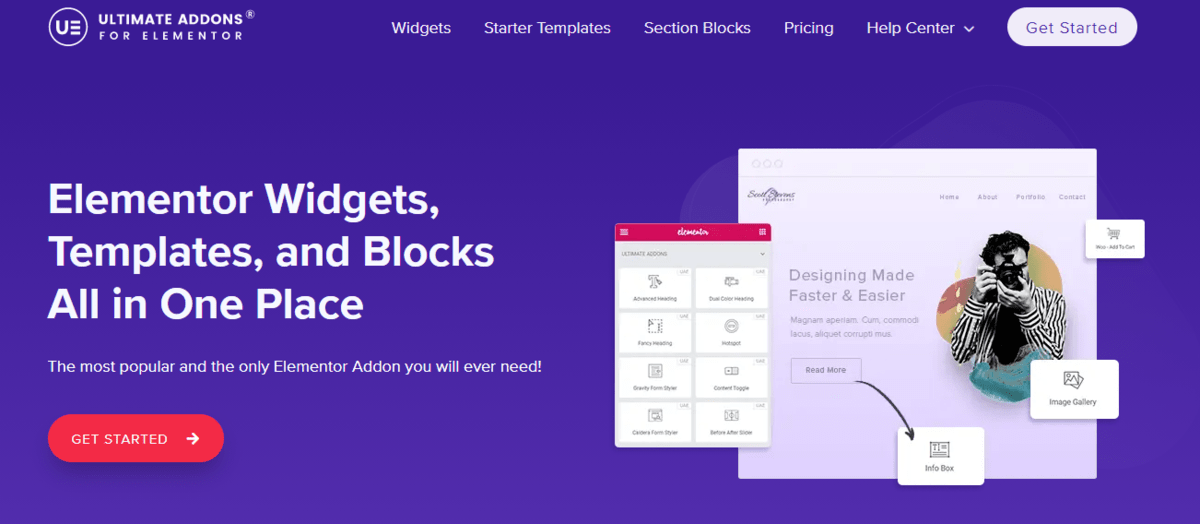 Ultimate Addons for Elementor is a widget-packed addon set that offers more than 40 widgets as well as highly customizable templates and pre-built section blocks.
The large number of widgets offered can assure you that you will be able to find what you are looking for and take your design abilities to the next level no matter if you are a beginner or a professional.
You don't have to start from scratch thanks to the pre-built websites that are ready to use and can be fully customized to fit your style exactly. You can also save your designs, and with the cross-site copy and paste feature, you can take designs from one domain to another.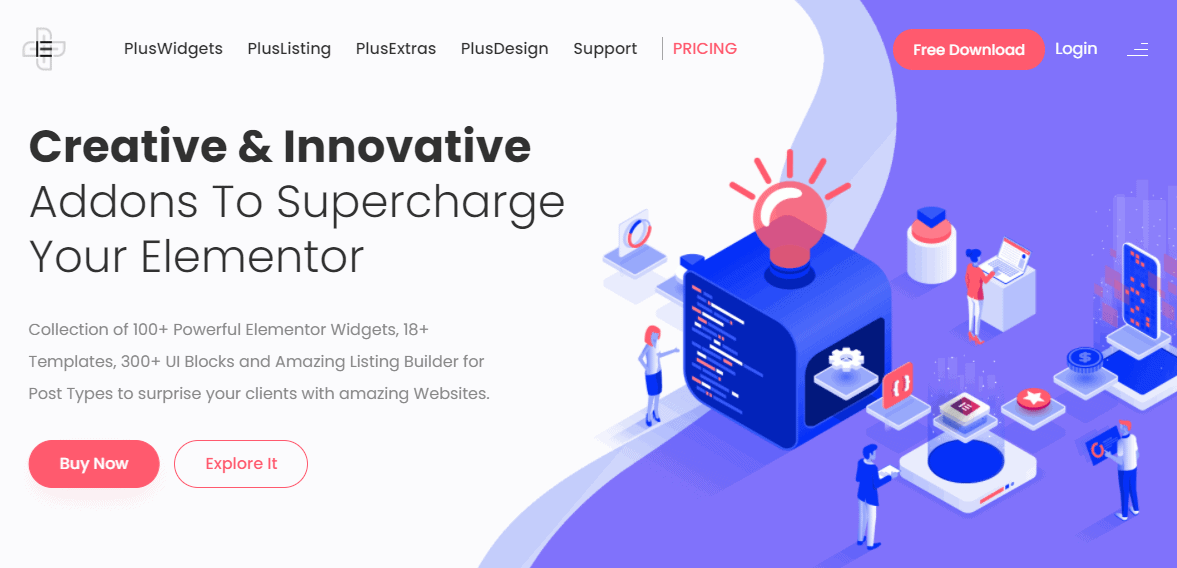 The Plus Addons for Elementor is a collection of more dan 80 Elementor widgets, templates, blocks, and more.
The Plus Addons for Elementor addon offers widgets across different categories like essentials, creative, sections, tapped, adaptive, headers, and scroll. Each category has a large number of widgets that will make your website beautiful and functional.
With the Listing feature, you can customize your blog posts, testimonials, image gallery, and more. There are also templates provided by designers to make sure you can quickly and easily set up your website.
All of the features mentioned above are included in the single site package.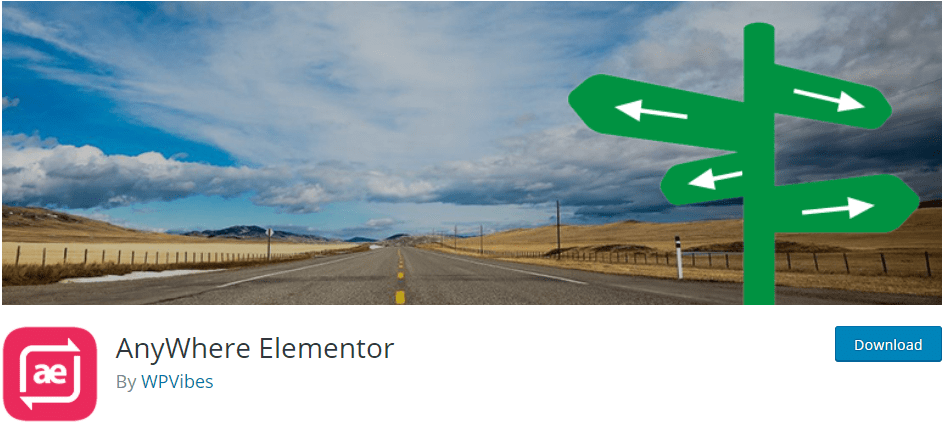 AnyWhere Elementor allows you to insert Elementor pages, library templates, and global templates anywhere using shortcodes. The addon comes in both free and premium versions.
Using it, you can create a global widget that can be used in multiple places, and to update its locations, you just have to edit the widget once.
With the Pro version, you have more freedom in building and designing themes and you can create single post layouts, blog page layouts, author archives, and more.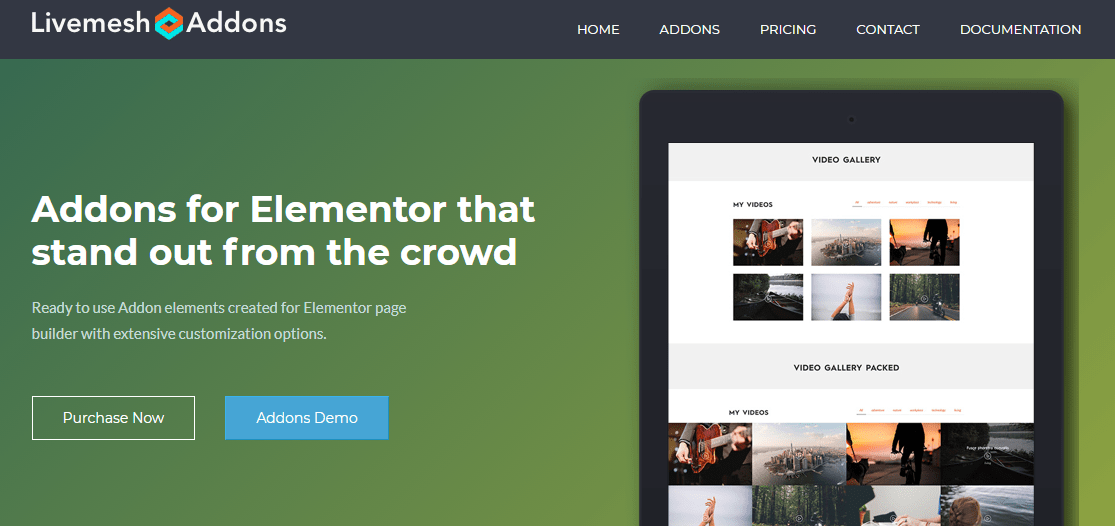 Livemesh Addons was designed to help you create a website that you can be proud of. It can be used on any page created with Elementor.
With Livemesh Addons, you can add image and video galleries, post carousels, and social media grids as well as integrate WooCommercial grids, and much more.
Livemesh Addons offers you a bundle of built-in styles that don't require a lot of customization but are focused on design and usability. Plus, all of the elements are optimized for mobile devices and are also regularly updated.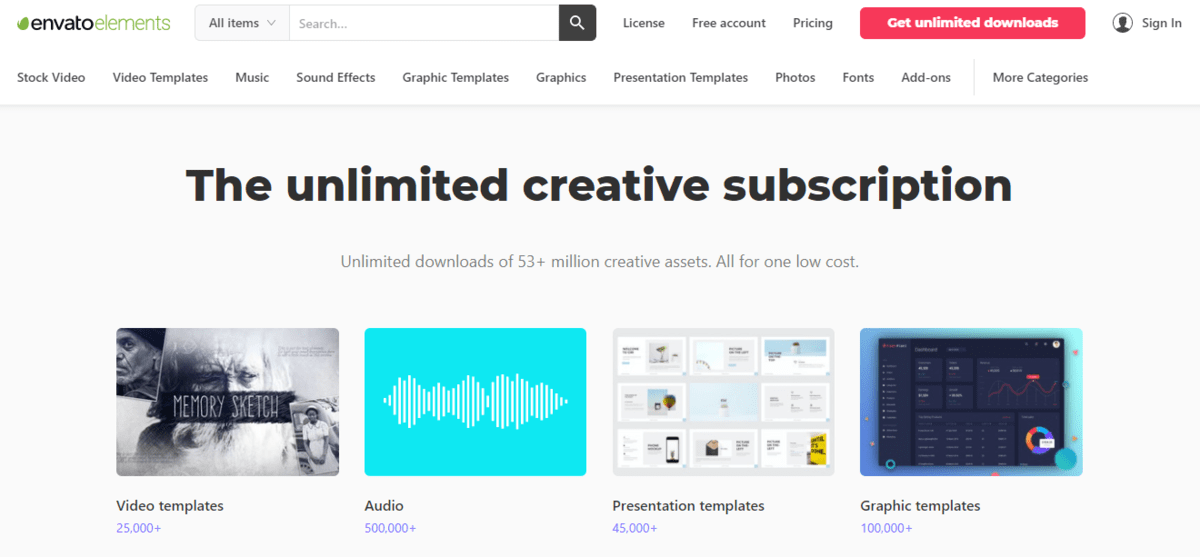 Envato Elements is an addon that lets you import templates and stock photos to your website for free. You can also browse through their library of beautiful templates that can be customized with just a single click.
They offer unlimited downloads, which gives you the freedom to play, experiment, and create. There is also an array of videos, photos, music, as well as fonts, presets, brushes, and layer styles that you can use for your website for free.
All of the templates are created with Elementor and are suited for a variety of businesses.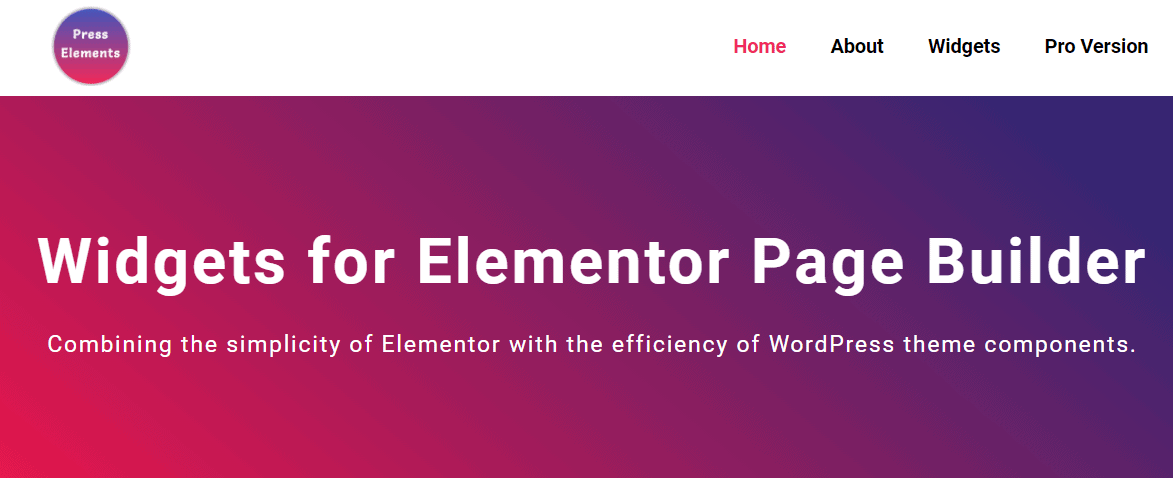 Press Elements offers everything you might need to build a stunning website. The addon has a live page editor based on the Elementor builder that doesn't require saving to preview the result.
It offers easily customizable widgets for which you can control colors, sizes, and other design details. It is also mobile-friendly so your design will be adapted for any device.
No coding is necessary and you can even save the design you created and use it as a template for future posts and pages.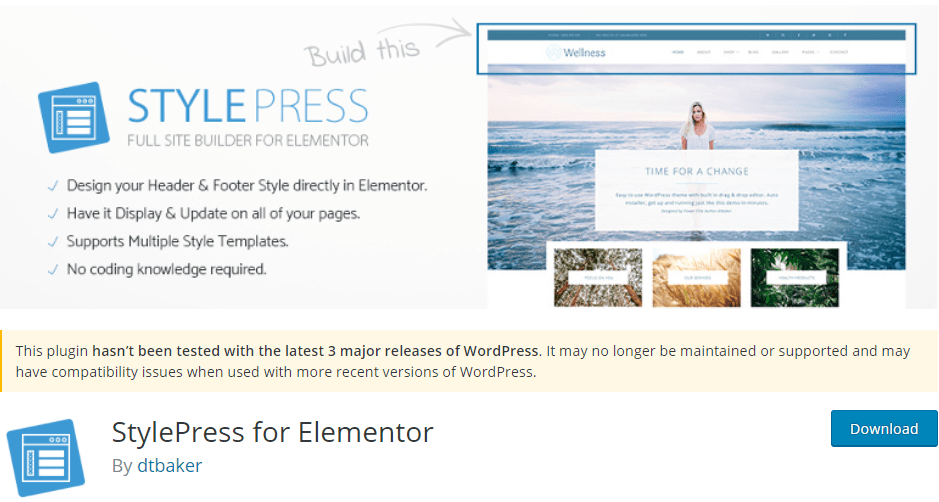 StylePress for Elementor is an addon you can use to create templates and add them to various parts of your website.
With StylePress for Elementor, you can create a new theme using different layouts and templates. It provides elements such as email subscription buttons, sliders, and WordPress menus.
The "Inner Style" can be used for posts and pages and the "Outer Style" for the header, footer, logo, and sidebar which are the same on the whole website.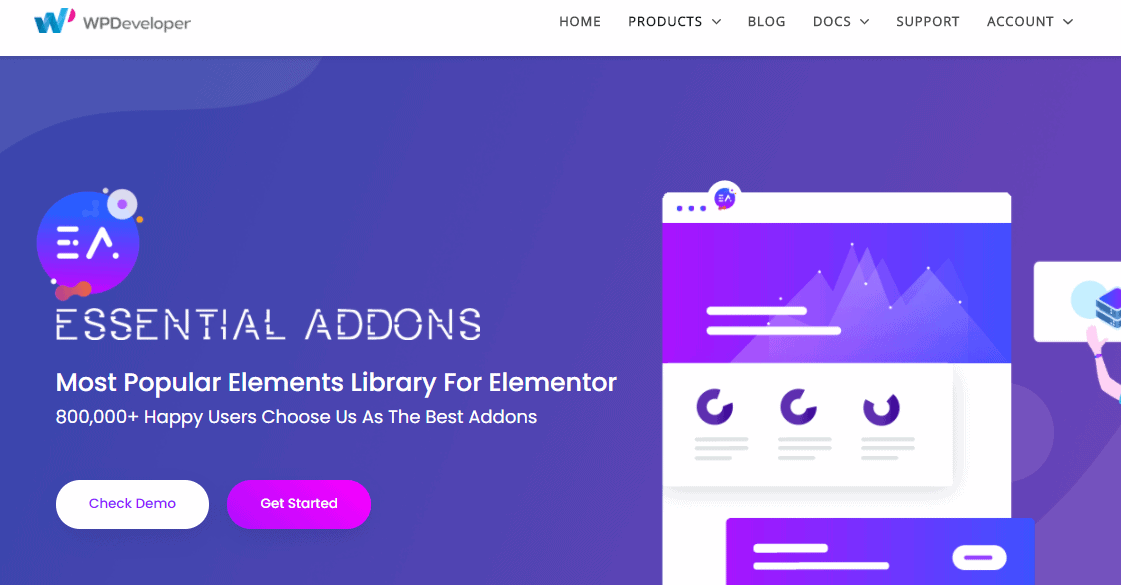 Essential Addons for Elementor offers a large number of widgets and comes in both a free and a premium version.
It has a page builder that is easy to use and features creative elements such as post blocks, data tables, and popups. Plus, you can customize every element as much or as little as you want. But if you're interested in creating more advanced tables, for example, it would be best to use a dedicated WordPress tables plugin.
Lastly, no matter what version you go for, you will end up with a beautiful website designed and customized to fit your style.
Final thoughts
The Elementor page builder is a pretty popular solution for people that don't have coding knowledge but want a stunning website without having to spend too much time creating it. Also, it gives you the freedom to customize and style components however you want.
As you saw, there are a lot of addons that you can use with Elementor to take your website to the next level. Each of the addons that were mentioned has a large number of useful widgets that will help you in creating your ideal website. ElementsKit stands out the most with its 30+ templates and 600+ widgets, meaning you can definitely find the ones that will complement your site.