Every business, small or large, has a constant need for new customers. When you think about tracking leads, you measure the interest of potential buyers of your products or services. Most companies also consider that their main impeach is to engender traffic and find new leads.
However, Lead Management is part of a business that collects methods and techniques to collect new leads and convert them into customers.
We have made choosing a favorite easier for you. In this #article, read about some of the #best Lead Management #software.
Some differences separate Lead Management and CRM. Meaning that it first deals with collecting data, calculating forecasts, and pushing new sales. However, it would be best if you looked for some essential features for Lead Management.
Data collection is preferable to be automated;
Data, Work, and Task management must be sorted, filtered, accessible in timely actions to catch leads and convert them;
Quick response to Leads is a crucial function in Lead management.
Other features are Scheduling, Communication, Sales activities, Reports, Leads security, Post analysis Action, and Detailed Analysis.
Further in this article, you can read the list of Lead Management Software that we picked and decided to present to you.
1. noCRM.io
NoCRM.io is Lead Management software that will mobilize your sales. It seizes leads from web forms, Linkedin, emails, or manually with a simple lead form into your noCRM.io account with Built-in Lead capturing.
With activities and Status Loop, you can plan calls and meetings, set and Sync reminders, and Log activities. It has a Customizable Sales Pipeline to create any sales pipelines your business requires. Simply take leads with added steps through the deal in and with visuals. You will even see where your leads are in your sales process and focus on real ones.
You can use it on your mobile and connect with your existing apps. This web-based, Android, and iPhone tool, platform suitable for small and medium-sized businesses, has three paid plans, and every program has a 15-days free trial.
2. HubSpot Sales
HubSpot Sales is a free sales tool. Also, it is suitable for Small, Medium, or Large businesses. It is easy to set up, and you can easily use it on Windows, Mac, Android, or web-based platforms. Set VP strings for follow-up emails that are personalized and get reminders to be delivered automatically.
With its follow-up, you can get notifications when someone opens your emails or clicks on links to see which hottest leads are. There is no need for manual entry because contact info, email opens, or clicks will be inscribed automatically.
It works with Gmail and Outlook, and these mentioned features are free for unlimited time.
3. Monday.com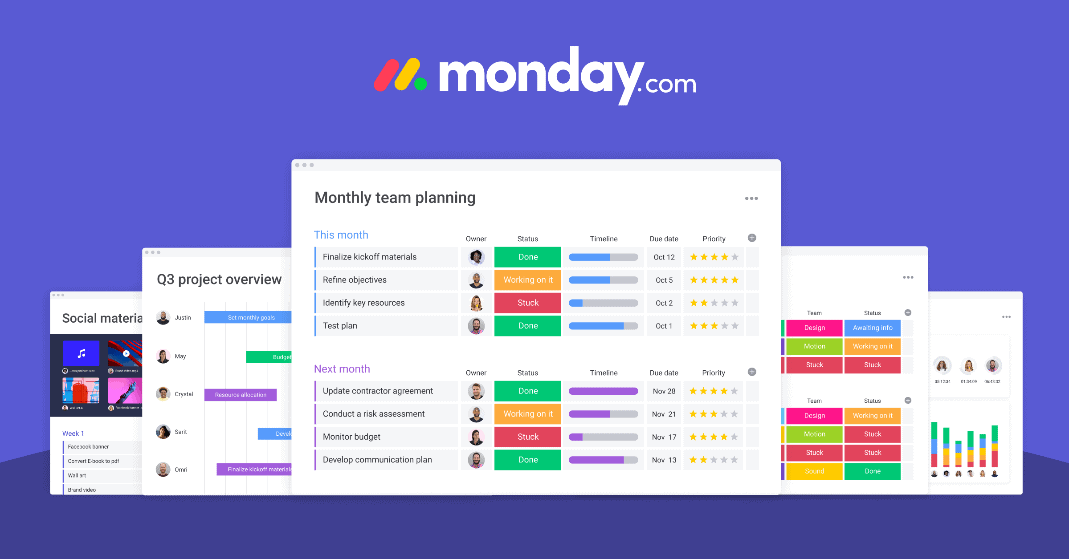 Monday.com is a customizable software. If you want to manage leads, onboard customers, team tasks and projects, or sales pipelines, you and your team can use it immediately. The outstanding fact is that you don't need any training to use it. It is known as very user-friendly software.
You can even work from your mobile and manage all tasks, set reminders, and automatically schedule notifications. A great feature is that you can use integrations, basically integrating all other tools that you use. So you will spur response time.
In monday.com single platform, you can streamline your data, meaning all your tasks, contacts, documents will be in one place. Its' interface will visualize sales pipelines, and you will have oversight on your leads.
Regarding pricing, you will get a free trial, and then, by choosing team size, monday.com will calculate a fee for a Basic, Standard, or Pro plan.
4. Zoho CRM
Zoho CRM is a Lead Management Software that shows its' full potential for medium-sized businesses. A multichannel design and customizable dashboard will channel teams' productivity, resulting in satisfied customers and users. The sales app has CRM that will help you convert leads into customers and grow your sales revenue.
You can also reach your customers by email, live chat, social media, and even by telephone. Notification for lead interaction will contact you in real-time. Zoho CRM will calculate the strength of communication from your leads.
Furthermore, advise which communication channel or time is best to collaborate with "hot" leads and make them your customers. All this you can do with offered automation, like streamline leads, trigger fast-paced pressing action. Sustain your activities and pursue decisions and action paths by which tasks are completed. All this will save your employees valuable time.
Real-time analytics with its reports and insights will allow you to take your business decisions to a new, AI-driven level.
Also, it is essential to mention that Zoho CRM offers a Flexible free trial for its four paid plans. Standard, Professional, Enterprise, and Ultimate plan; prices are starting from $12.
Conclusion
Those are some of the trending software for Lead Management in 2021.
Lead Management Software is a good and smart investment if you consider the prosperity of any business, small or large.
It will empower you with the inside of a market and connect you with leads and future customers in an expert way.