Navigating your way through a website can sometimes be a bit mind-numbing. Especially if you are trying to find something and it's your first time on the website. Just the process of boring and endless scrolling can irritate you, right? Sometimes it can even lead the person to the point where they will leave the website and never return.
Everyone loves easy-to-navigate #websites. Improve and choose the #best post grid plugin for your #blog.
It is essential to think about a quick way to get around your website. It can help your users find the information they were looking for. Also, it can be essential for your website by having a higher number of users, current and overall. That is why; we will present the best post grid plugins you can use to get your posts in order.
1. Post Grid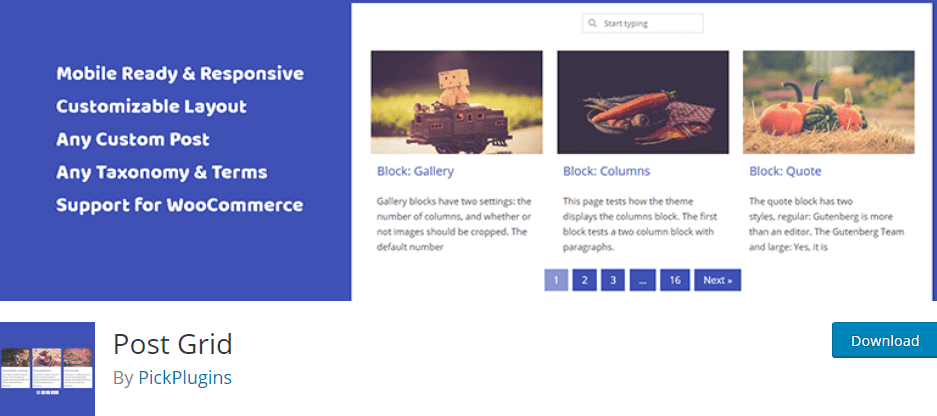 Post Grid is a plugin that will help you create amazing-looking post grids on your website. You can create a grid for your product showcase, team member showcase, blog post, gallery, portfolio. You can even make it for your category post display, tags post display, archive post display, and a lot more. The plugin has a responsive grid that works on smartphones and tablets as well. You can get a whole website experience, even on different devices.
Depending on the type of device the person is looking at your website on, you can customize the post grids. If you want to make your website even more accessible to the user, you can also add different post types on one grid. Also, Post Grid has a search bar, so the user can type in what they are looking for to get the fastest results.
However, with all the features you will need for a great, simple website, you would think that the price tag would also be great, but you would be wrong. You can download Post Grid for free!
2. Visual Portfolio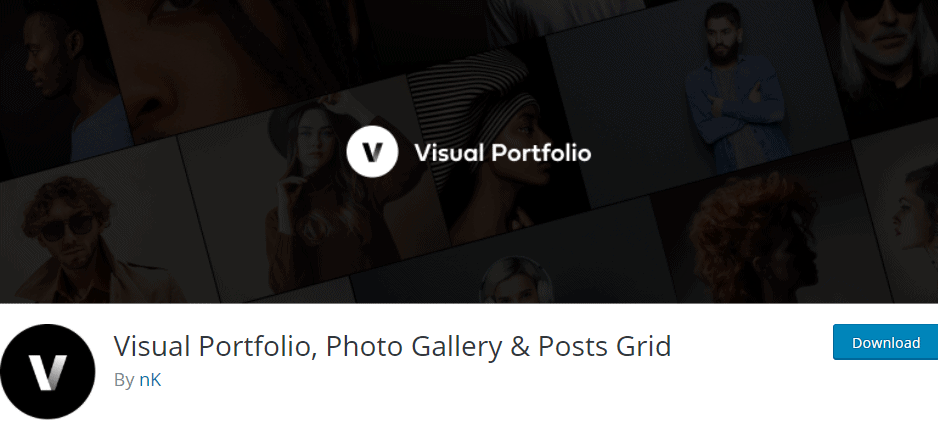 Visual Portfolio is a portfolio and a post grid plugin that will help every person who desires to show off their work in the best possible way. By doing so, photographers or creative agencies that will use this plugin will attract more users to check out the work presented on the website.
Visual Portfolio can allow you to create portfolios and gallery blocks with no coding whatsoever. Different visual effects and layouts will provide the user with a more engaging experience while checking out the work on the website. Also, it is effortless to customize different aspects of your post grids and portfolios and keep the website looking as fresh as possible.
The plugin is mobile optimized, and your users will be able to go through the content by swiping left or right, zooming in and out by pinching their fingers, and spreading them for the best possible experience on all devices. Visual Portfolio is as well as Post Grid, open-source software that's free to download.
3. The Post Grid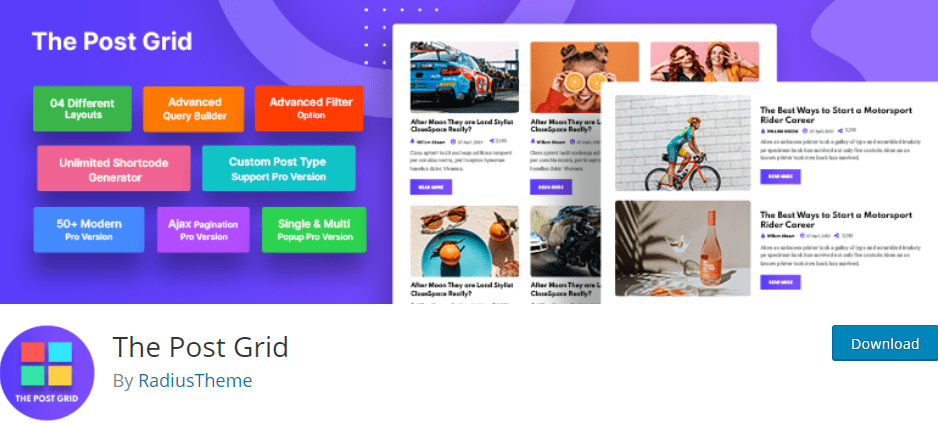 The Post Grid is a plugin that will allow you to present your website in a grid, list, and isotope view with not one line of coding. You can change the layout of your posts by any category, keyword, tag, and so on, also order posts by their id, date of posting, title, etc. The Post Grid is a fully responsive and mobile-friendly plugin, and those features will bring in even more users just because the layout of the website will look great on all devices.
The Post Grid supports WooCommerce, which means that your online stores can get a makeover and be even more appealing to your customers. The plugin creators also left their email contact information to report any bugs or ideas on improving the plugin even more. They are open to suggestions and always ready to help. You can download The Post Grid for free.
4. Essential Grid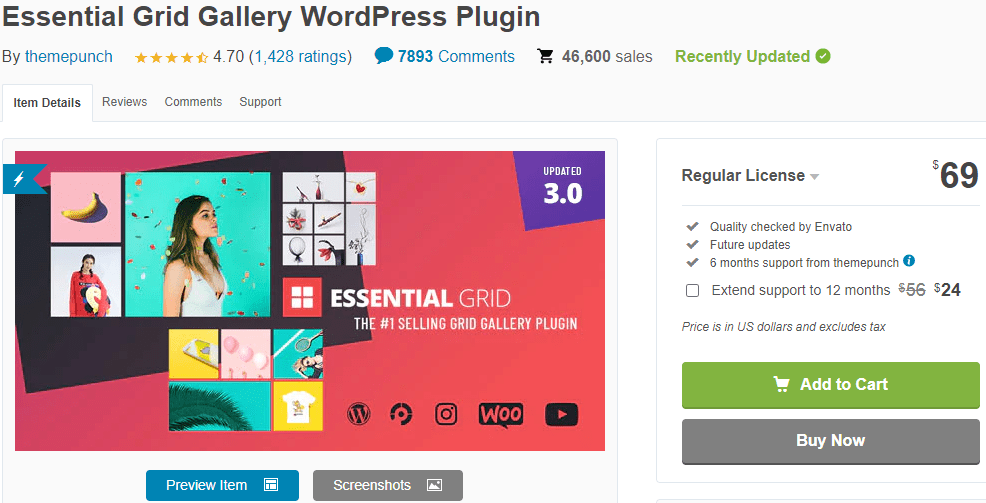 Essential Grid is a plugin that markets itself as the best-selling post grid plugin today. This plugin will allow you to create stunning images, videos, and audio galleries from many different sources. You can make the post grid yourself since this grid will offer you complete control of the layout.
Also, every feature on the design is fully customizable. If you don't feel like wasting time making your custom post grid, you can choose one of their pre-made templates and apply it to your website.
It is vital to mention that all of the templates look great on all devices. They are easy to fill with your content, and also if you want to make a few tweaks, they are easily customizable. With all the fantastic features that it offers, you would think that Essential Grid costs a lot of money.
We highly recommend this plugin. However, the price for a regular license is $69, with future updates included. However, you will get six months of support from themepunch. At least give it a try, and later on, you won't regret it. Be sure not to miss out on this fantastic offer.
5. The Grid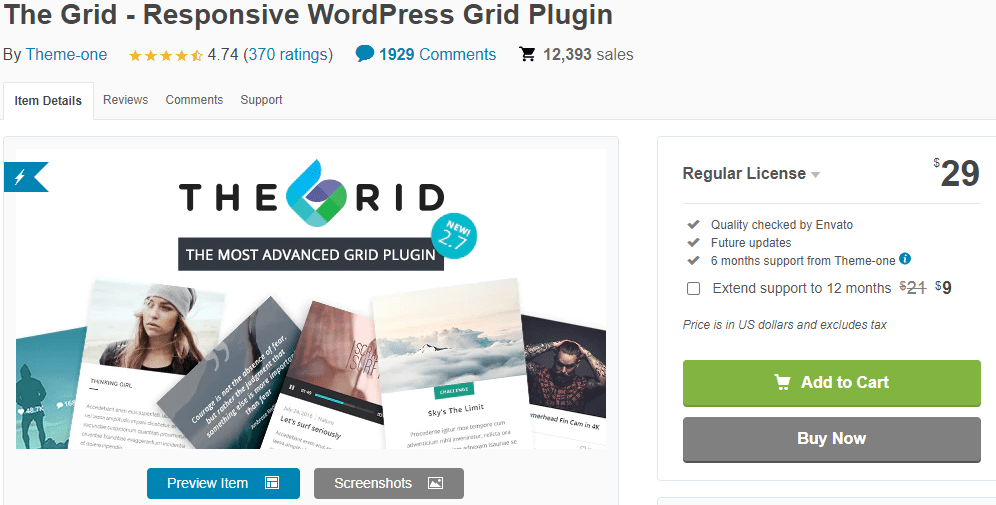 The Grid is famous for its post grid templates. They are some of the most eye-catching and well-crafted templates a plugin has to offer. Also, there are many options to choose from, and we do mean a lot. Some of the designs have masonry layouts and infinite scroll grids.
However, you also get a chance to include sliders in their designs. With all of that mentioned, you can also choose a horizontal or a vertical layout. These layouts will give you even more control over the outcome.
The Grid is fully responsive, offers the fastest support (response within a day), and supports all social media posts. The price for the plugin is $29 for a regular license with future updates included. As well as with six months of support from Theme-one, handy, isn't it? This plugin is pretty great, and considering its many features, we'd say it's pretty affordable as well. So, make sure to check it out.
Final Thoughts
The layout of your website is of great importance. However, it is up to you whether a user will be able to navigate through your website. In this article, we have presented five of the best post grid plugins you can currently get.
We highly recommend any of these choices above, and we know for a fact that some of the free options are too good to remain free.
Do not miss out on them while you can still get them.
If you have any other questions or recommendations, please let us know in the comment section below.