Knowledge management software allows you to extract intellectual capital and its assets by storing knowledge, which can be accessed by each individual from the company. It stores institutional and employee knowledge that can be used to improve and establish a business practice, staff skills, and along the way create a more efficient work ethic and environment.
Looking for good #knowledge #management tools? Check out these top #SaaS solutions dedicated to that purpose!
Some companies do not believe in this type of management strategy but still, this has proven to work quite well. Simply put, software for knowledge management incorporates sharing and using the knowledge, which improves the employee's skill and efficiency at the workplace.
The acquired assets that are managed by the software include text files, pictures, audio/video files, etc. And the key is to effectively use the acquired knowledge and make it available to all of the members of the company, including its business partners and even customers.
Furthermore, the good thing is that most of the knowledge management software is now cloud-based and thus platform-independent, which means you can access it on mobile phones and tablets. Basically, the information is available to you anywhere and at any time.
On top of that, big companies usually have specialized personnel who are in charge of management and are responsible for such roles.
The Benefits of Knowledge Management
Easily update & share information (knowledge)
Get highly accurate & consistent results
Quickly find any information and save lots of time
Train new employees quicker & better
The Best Knowledge Management Tools
The best knowledge management tools offer quick search results, collaboration, and more importantly integration with other software. By being accessible at any time and anywhere, they will save you lots of time and effort. Also, don't forget that they should work flawlessly on both desktop PCs and all mobile devices!
Without further ado, let's meet the best SaaS solutions for knowledge management, shall we?  
Confluence – Accomplish More Together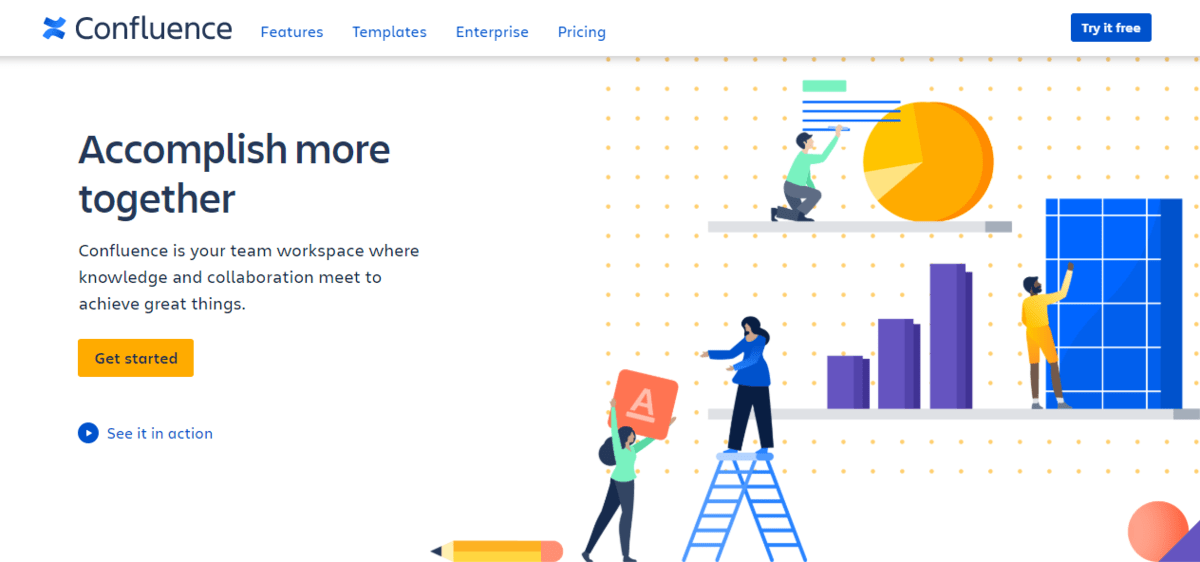 Confluence is a team workspace where knowledge and collaboration combined together result in achieving great things. In a nutshell, Confluence helps you maintain consistency across teams and projects, which can be quite helpful if you're managing lots of people.
Using Confluence you can easily create and manage all your work in one place. Plus, it is equipped with the best templates so no need for additional work on your side.
 Confluence features:
Simple file collaboration
Insert inline comments
Content/Document/Project management
Rich content editor
Advanced search
Organized collaborative workspace
Allows you to track tasks
JIRA
Wide support for ecosystem plugins
Zendesk – Be There For Your Customers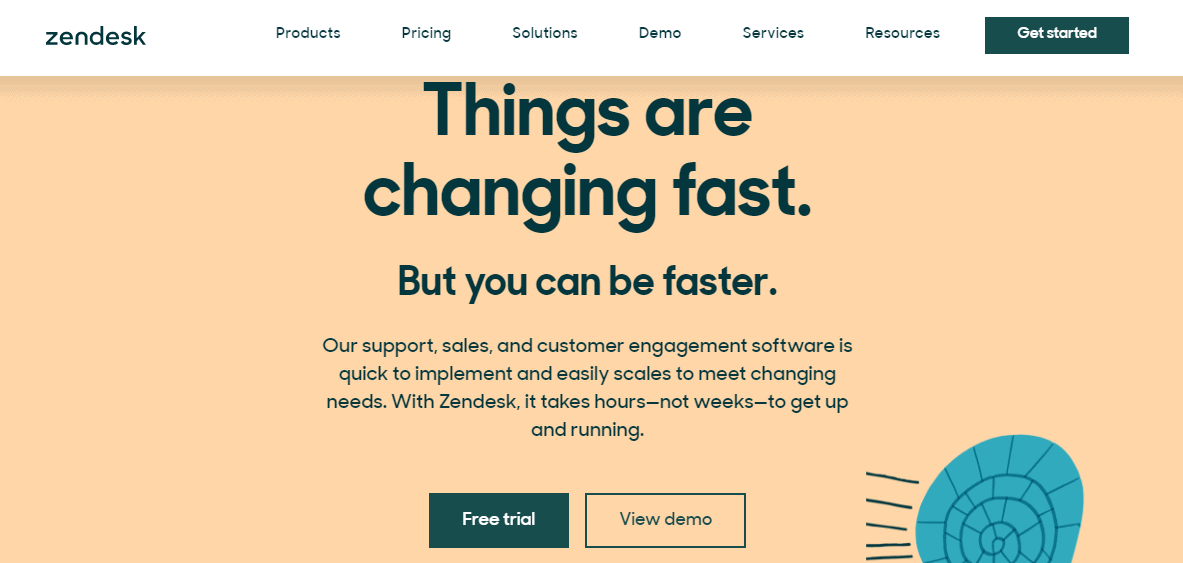 Zendesk's CRM software for support, sales, and customer engagement is designed to invoke better customer relationships.
This knowledge management software works as a help desk, call center, live chat solution, and provides customer service relationship and engagement platforms that meet all sorts of requirements.
Its multiple channel support creates a single interface that establishes personal relationships with customers and offers support for over 40 languages.
Zendesk Features:
Cataloging/Categorization
Collaboration
Content/Data/Document management
Discussion Boards
FAQ
Text Search
Guided Problem Solving
Self-service Portal
KnowledgeOwl – Awesome Knowledge Base Software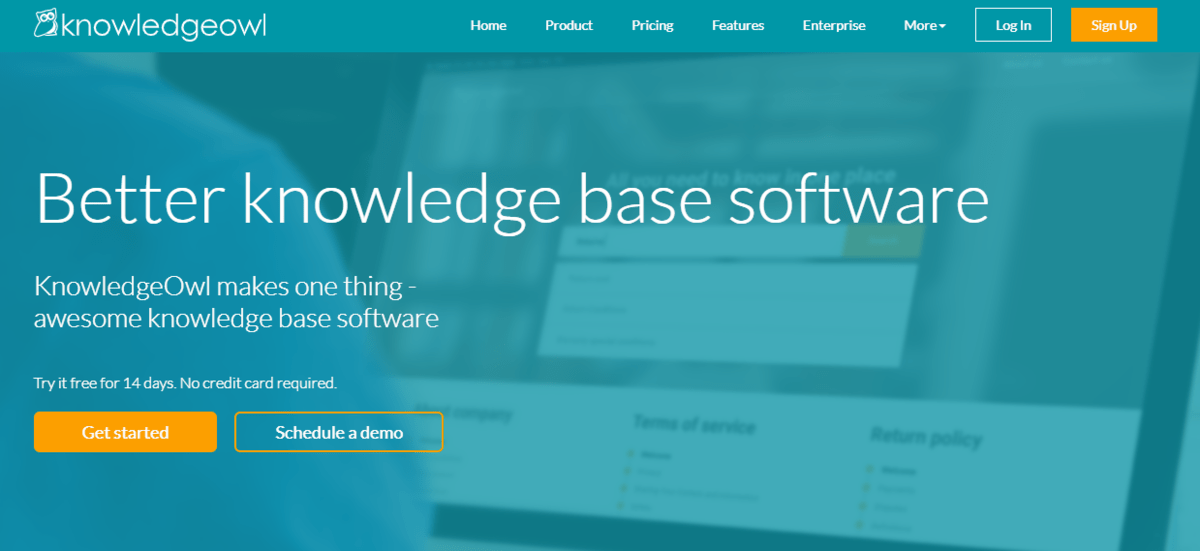 KnowledgeOwl is a customer support software that helps create and maintain a knowledge base. It is customizable and allows you to build manuals, knowledge bases, etc. And you can even create FAQs for applications or your site.
An open API is provided which allows you to create your own integration. Additionally, you can create a PDF for the whole knowledge base and you can even exclude private articles and videos.
KnowledgeOwl Features:
WYSIWYG editor
Set access permissions
Auto-save, levels and hierarchy, PDF downloads, etc.
Restrict to groups
Status
Embedded videos
ServiceNow – The Smarter Way to Workflow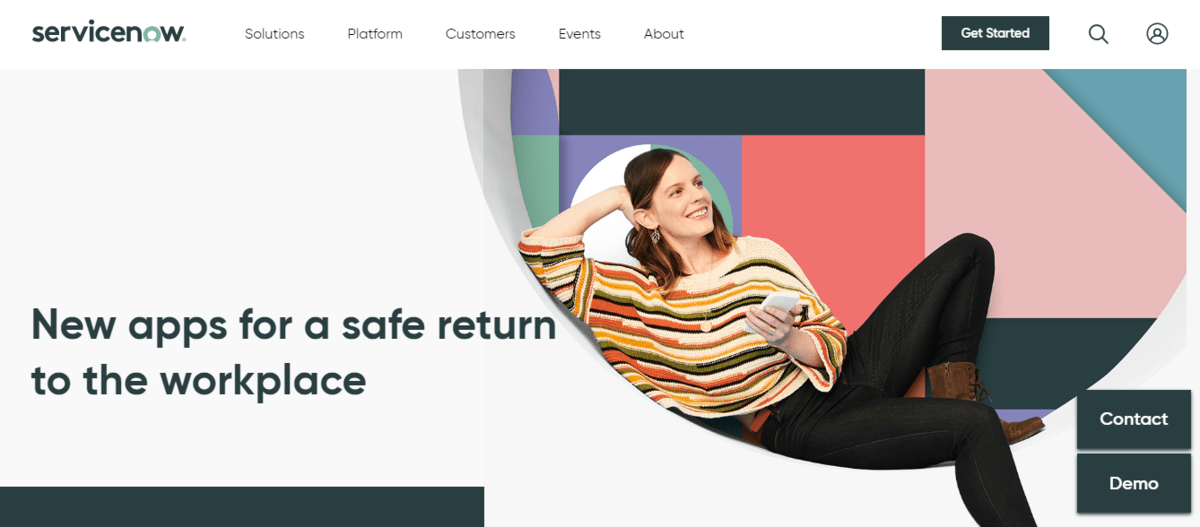 ServiceNow offers many types of service management software. Its knowledge management software is a very powerful and simple solution for customers, employees, etc..
By being integrated with the service portal, it helps customers and employees rapidly find the right solutions. And don't worry, it can be integrated with other management tools such as the HR Service system, IT Service Management, and so on.
Essentially, using ServiceNow, you can create and experience new solutions, and unleash your productivity skills.
ServiceNow Features:
Customized Search –advanced filtering and sorting options
In-Context Knowledge Creation – create new knowledge articles
Group Ownership – assign articles to content ownership groups and allow teams to manage content
Customize knowledge article workflow
Easily integrate the knowledge management tool
Guru – Knowledge That Finds You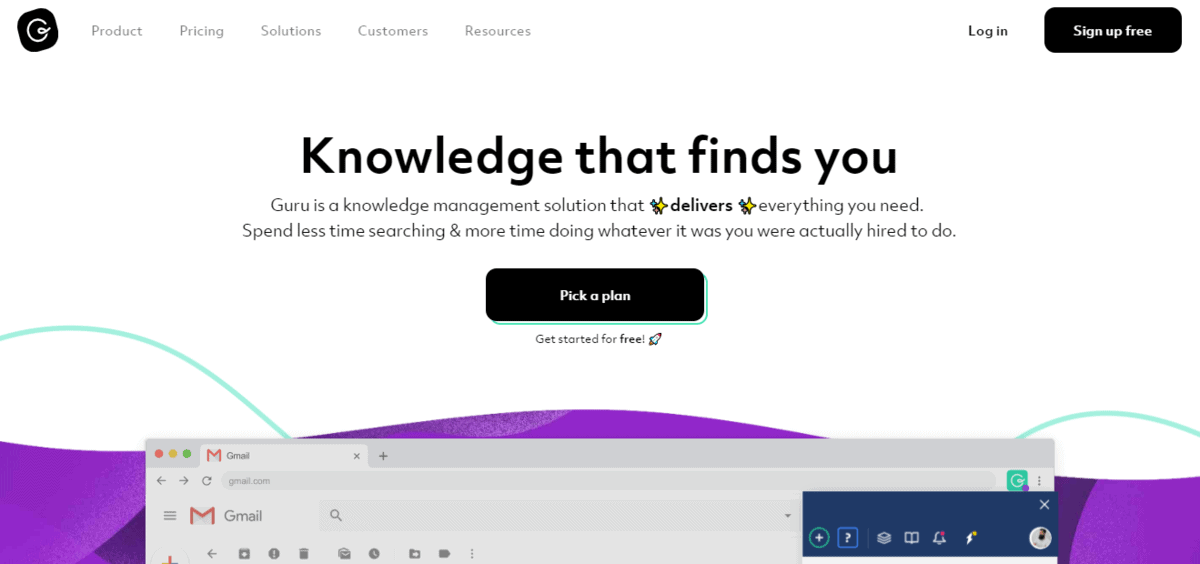 Guru is a tool specifically designed to connect your company's data. An AI is used to suggest information in real-time, therefore, there is no need to search for data during an interaction. And the more you use it, the better the software gets with its suggestions.
The machine-learning improves its performance over time and adjusts to your type of workflow. This is because Guru wants and allows you to spend less time searching and lets you invest your skills elsewhere.
The best thing about it is that it supports all the major browsers and can be used on tablets and mobile devices.
Also, the tool has a reminder for updating the knowledge base and provides you with reports and analytics regarding the knowledge base.
Guru Features:
Assign roles & groups
Content recommendations
A web application & a browser extension
Support for Firefox, Chrome, and Opera, etc.
Locate, record, and share knowledge with your colleagues
Conclusion
Many big companies use knowledge management software to gather information (knowledge) and store it in a database, so they can use it to further develop working skills and create a better working environment. But even small businesses produce lots of information (knowledge) and if that information isn't registered, then it loses its worth.
To put it simply, knowledge management software is used to manage information, which reduces the time spent searching for solutions. The possibilities with knowledge management software are endless, and you can use the information however you see fit.
Knowledge bases are also used for training processes in companies that have growing issues. This speeds up the whole learning process and allows companies to invest that saved time elsewhere.
My best advice is to try out one of the many free trial versions of the above-mentioned tools to see what suits you best. Maybe you will realize that you don't need all the bells and whistles, and you can save yourself some money by going for a cheaper option.