Have you ever wanted to teach some yoga classes, guitar lessons, or programming courses but you wonder how could you attract clients and automate the whole process of getting bookings, appointments, payments, and meetings with the visitors?
Discover one platform for selling class packs and #memberships, managing and #publishing classes online, staying in touch with the #customers, and #scheduling appointments
Selling class packs and memberships, managing and publishing classes online, staying in touch with the customers, and scheduling appointments can all be done from one place, one platform that comes equipped with nifty tools that will make you think why haven't you started this earlier?
In this article, we are going to talk about StudioGrowth, a platform designed for this purpose.
About the platform
StudioGrowth is a great platform for managing group classes, on-demand appointments, and payments, memberships, scheduling – from one place! Doing this manually would be a resilient task to do. This is no more serious trouble since there is StudioGrowth that will with its great set of tools boost your sales and improve your customer experience!
This one is a great platform for those who are working as private educators, and who require some appointment service, for event organizers to make it even easier to purchase event tickets, and for small businesses.
You will be able to set up and manage various schedules for one-time sales, group sales, and private sales. For those offering online classes, there is a possibility to create a mobile-friendly booking page, fully customizable by adding your colors, and logo, and implement it on your website to make it easier for students to book classes at any time!
Its integration with Mailchimp, PayPal, SendFox, Stripe, and Zoom makes it even more helpful to receive transactions, and arrange appointments both online or in person.
Working in StudioGrowth is an easy task, and you will enjoy the process! All you have to do is to create a new event, name it whatever you like and feel it's appropriate, enter a comprehensive description of the event, and choose the Pass Type – you can choose between Class Pack and Membership. After you choose that, you can type in the price.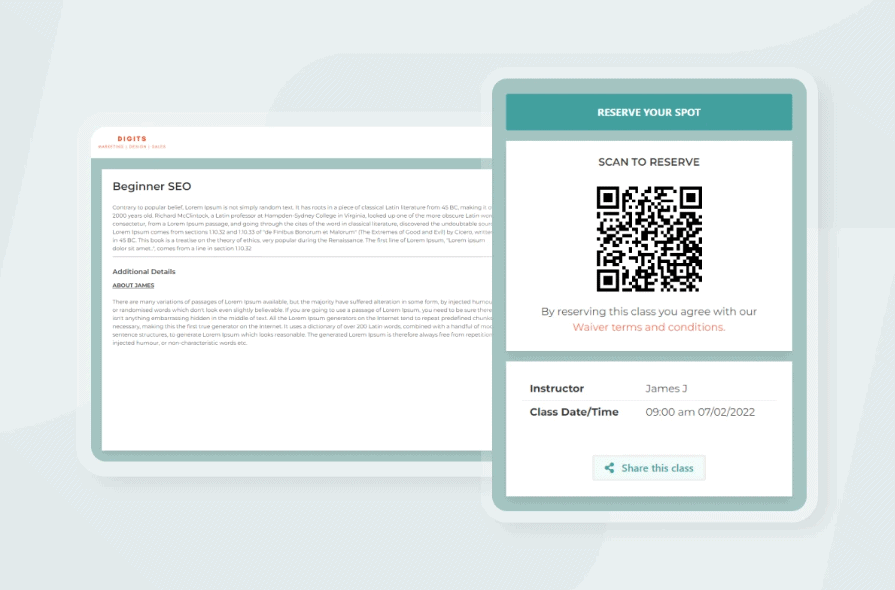 After that, you just need to play with some settings and that's pretty much it. Regarding settings, you can set the class pack expiration date, the date when the class becomes active, and more.
When you set everything up, the real deal starts! Now you can share the link and invite the people to your stuff, or implement it as a mobile-friendly, fully customizable landing page! Regarding customization, StudioGrowth allows you to add your logo, and colors, and customize the header and footer. Link your social media accounts, and create domains for your unique pages!
You will be able to set the scheduled time of the page banner image, customize the buy page banner image, and customize the bookings appointment page.
Email triggers
StudioGrowth is packed with fantastic features, and this one is no different! With Email triggers, you can set an automated message for any action that can happen. This option is created to increase your engagement with the clients by setting up email triggers to connect your existing customers and generate scheduled email notifications.
Some of the event triggers that can be set up are:
Welcoming email to new customers: Add a customized message that will greet all your new clients.
Customer's password reset: A message that will show up when the client asks for a password reset.
Pass purchase: Whenever someone purchases your pass, a special message will show up.
Registered for a class: Whenever someone registers for your class, a special message you choose will greet him.
Membership Renew/Canceled: Specialized message that shows up upon renewing/cancellation of membership.
Class reminder: A message that will appear as a class reminder.
And others, such as Class updates, Late cancellations, Your Zoom meeting, Waitlist Added/Cancelled, Welcoming emails to new customers, and Pass payment links.
All of these mentioned email triggers can be easily set up for an extra layer of customization.
My Bookings
Another great feature this one has to offer is the My Bookings section where every client has their own portal. Here they can access and see all their bookings and appointments, as upcoming, past, and canceled events.
They can view the instructor's availability for the desired class, make appointments accordingly and see how many booking credits they have.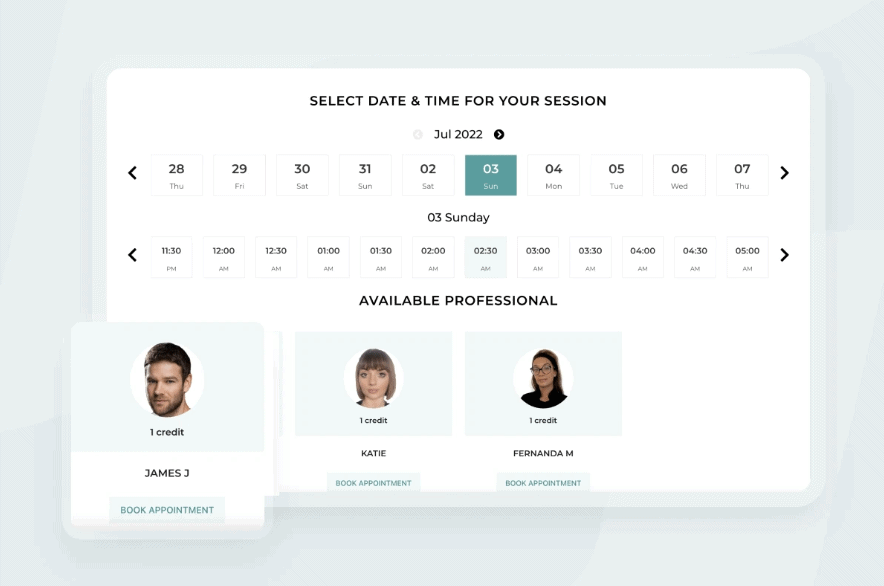 Aside from clients, even your staff team can access their own portal to set up and control their schedule, have an insight on attendees, manage their own availability, appointments, and more!
StudioGrowth's great integration with several popular services allows you to set up QR codes to simplify the checkout process, and implement single-click payments via Apple Pay or Google Pay so your clients can have the best possible experience while purchasing your classes!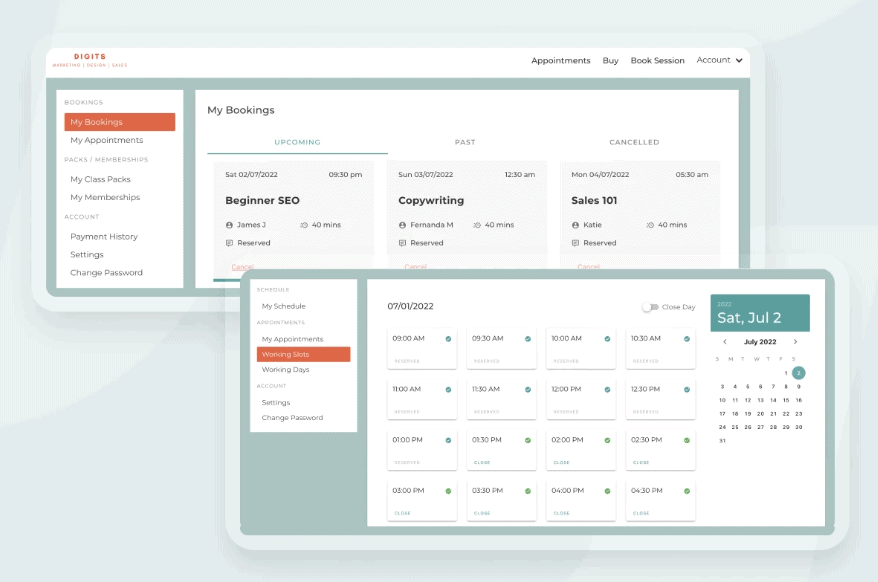 Other features
Discount Codes & Waitlists: offer and track discount codes on memberships.
Reporting & Analytics: keep track of the number of purchased classes and memberships.
On-demand video: Sell or rent your video material to your clients.
Card & Cash Payments: StudioGrowth accepts all credit and debit cards, as well as cash payments.
Pricing
To use these super-useful features StudioGrowth offers, you need to invest $65 a month and you get unlimited customers, trainers/teachers, unlimited classes, and fully managed data transfer, with 14 days of free trial!
Final Words
Selling and attending classes online and offline has never been easier! StudioGrowth with all its tools will help both those who sell classes to keep track of their customers, and the customers themselves to keep track of their bookings and appointments. We strongly recommend the ultimate appointment and class scheduling software to anyone who wishes to give classes and sell memberships for their work.