A few years ago, cPanel was developed as a tool specializing in hosting providers and their users. cPanel is a graphical user interface specifically designed for server management. It allows users to efficiently work with domains, email accounts, databases, and many other options.
There are also hosting platforms out there that come along with specific plugins. One of them is the fantastic WPMU DEV hosting platform.
One thing that sets WPMU DEV's hosting platform apart is that as well as having all the hosting features you'd expect – it also comes built-in with 7 pro-WP plugins – covering performance, security, backups, and more. Get 20% off any of their plans.
If you are looking for #quality #cPanel #alternatives, don't worry. In this article, we have compiled a list for you of the best ones!
The advantage and the main reason for cPanel's success is its user-friendly interface and simple "one-click" approach.
If you are looking for something similar to cPanel, here are 4 alternatives you can use.
1. Moss
Moss is a digital system administrator for web developers, entrepreneurs, organizations, and businesses. You'll never have to operate websites on your own again, thanks to their hosting management panel and help desk.
We can run all instructions through Ansible playbooks on their infrastructure, an automated control interface. It is preferable not to use an operator and instead issue instructions directly. And that is because agents with vulnerabilities are easy for hackers to exploit.
Moss also creates a separate Ubuntu installation to log into via SSH server requirements. It can aid in developing web applications that use PHP/HTML + CSS, Node.js, and basic javascript.
It also comes with built-in integration for blogging and resource control systems such as WordPress. There is a Free Licence, Starter Licence for $9 per month, Professional Licence for $19 a month, and an Unlimited Licence for $49 per month.
2. SpinupWP
SpinupWP is a platform host control panel that is dedicated to WordPress. If you intend to host WordPress on your servers, SpinupWP was designed from the ground up with the highest standards in mind. Their assistance is excellent and well-versed in WordPress.
Their interface is incredibly user-friendly, with only a few configurable settings to make self-hosting WordPress as painless as possible.
There is no database admin panel due to their implementation, which is done on purpose for security reasons. Personal Licence starts at $9 per month and goes up to $12 per month after that. A Team Licence is also available for $29 for the first three months and then $39 each month.
3. DirectAdmin

In terms of functionality, DirectAdmin is identical to cPanel, but it was designed to be faster and use fewer server resources. It comes with various webmail plugins, security add-ons, custom graphic skins, and more due to its widespread use.
Besides that, DirectAdmin comes with standard features, such as resource utilization tracking, DNS redundancy, and automated upgrades. If you're used to cPanel and dislike change, this might be the best option for you. And this is because it includes the Installatron and Softaculous interfaces, which are the same services that power cPanel's CMS setups.
If you run into any problems, they offer assistance to help you troubleshoot difficulties with DirectAdmin. Still, they won't be able to help you with web application issues, so if that's what you're looking for, you'll have to go with SpinupWP.
Also, with DirectAdmin, you get a chance to use a free 60-day trial. You can purchase Personal Licence for $2 per month, Lite Licence for $15 a month, and Standard Licence for $29 a month.
4. Ajenti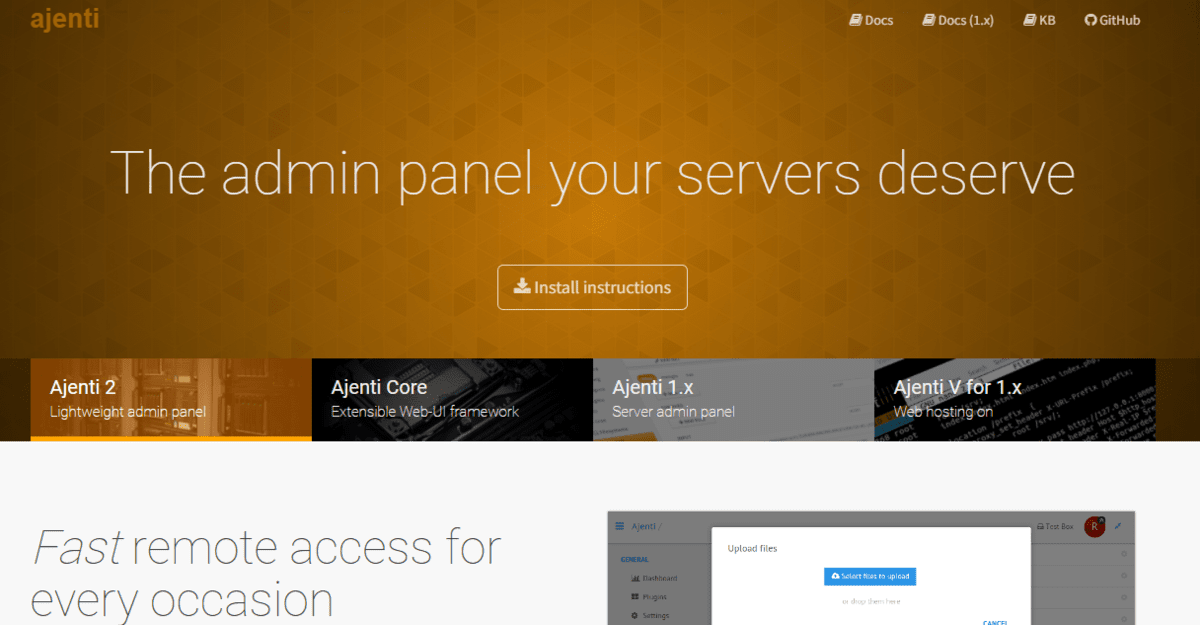 Ajenti offers an interactive control panel that you may customize. It allows users to administer a distant Linux computer quickly and securely using web terminals, text editors, file organizers, and other utilities.
The Ajenti admin panel includes a virtual login, management information, and the ability to set up firewalls, download software, and control bandwidth utilization, among other things.
Ajenti has many extensions, but they built their system with programmers in mind. So, if you know Python and JavaScript, you could create more to supplement their core capabilities.
This alternative is a good solution if you have a server with its services. Ajenti's creators say it keeps your system intact by making non-destructive updates that don't overwrite your files, preferences, or comments.
Conclusion
In addition to the basic options, these cPanel alternatives also offer several additional features that will be extremely useful to even the most advanced users.
You can monitor space usage, bandwidth, email account status, some general statistics related to databases.
Also, there is so much more that some of these alternatives offer.