Giveaways are very useful when you want to attract people to your social media accounts, and they represent a good approach when you want to promote your work/product. These promotional tools are widely used today by people in all industries, from freelancers to marketers.
Nowadays when people do giveaways, third parties are often involved. They are mostly social media influencers, using their accounts for the promotion of certain products and services to their followers on social media. It is a job fruitful for everyone involved in the process, most of the time.
Thanks to #giveaways, people can spread awareness about their #brand or even drive #sales.
However, it is important to note that organizing a successful giveaway is not always easy. Besides time, it requires a budget as well, and not so many companies and individuals can afford to pay constantly for ads and social media influencers to advertise their products or services. But, when they do have the budget most first go and read a PopularUp site review.
A good marketing strategy and a quality product is the base of your work, but then there is the need for an efficient giveaway tool or program to help you make everything go smoothly. Thankfully, there are many amazing and convenient tools at a low price you can find online, and I am here to present you with some of them.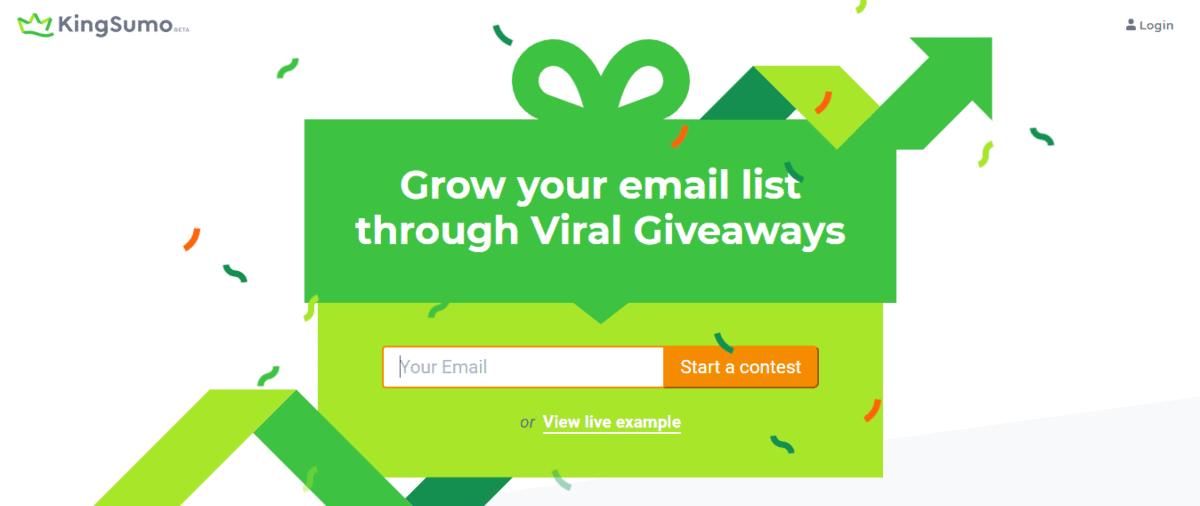 KingSumo is a crown tool when it comes to giveaways. With it, growing your business or brand will be a walk in the park. This platform has an easy to use editor using which you can create your content in a matter of minutes. Your only task is to set a timeline, write some basic information and an introduction to your giveaway, and choose the number of winners.
What's even better, KingSumo gives an option to everyone entering a giveaway to share it with their friends for 3 bonus entries to increase their chances of winning the contest.
This option is particularly good for raising awareness about your brand/product/service because it turns your giveaway contestants into your sales managers and marketers.
KingSumo helps your business no matter if your prizes are big or small, or if you are just starting out and need something to help you create or expand your e-mail list. KingSumo does it all for you at a price acceptable for everyone's pocket.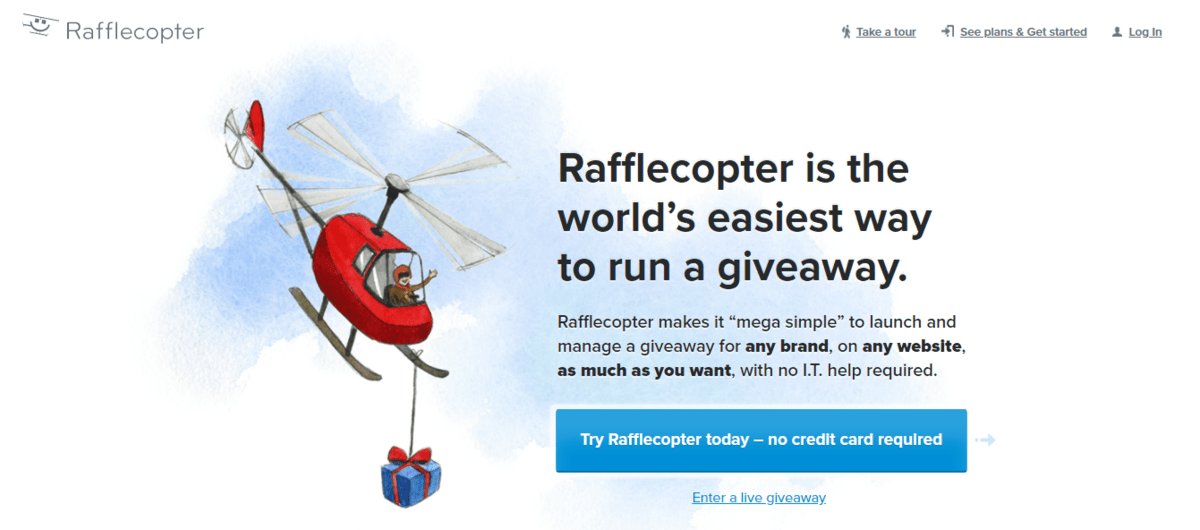 This is yet another great tool for creating giveaways. With Rafflecopter, you can create and launch your giveaway in no more than 3 minutes.
Rafflecopter's technology enables you to create giveaways no matter if you want them to attract hundreds or thousands of people. It also offers flexible billing, all following your needs. It comes in a basic, grow, and premium package together with a free version, and a free trial.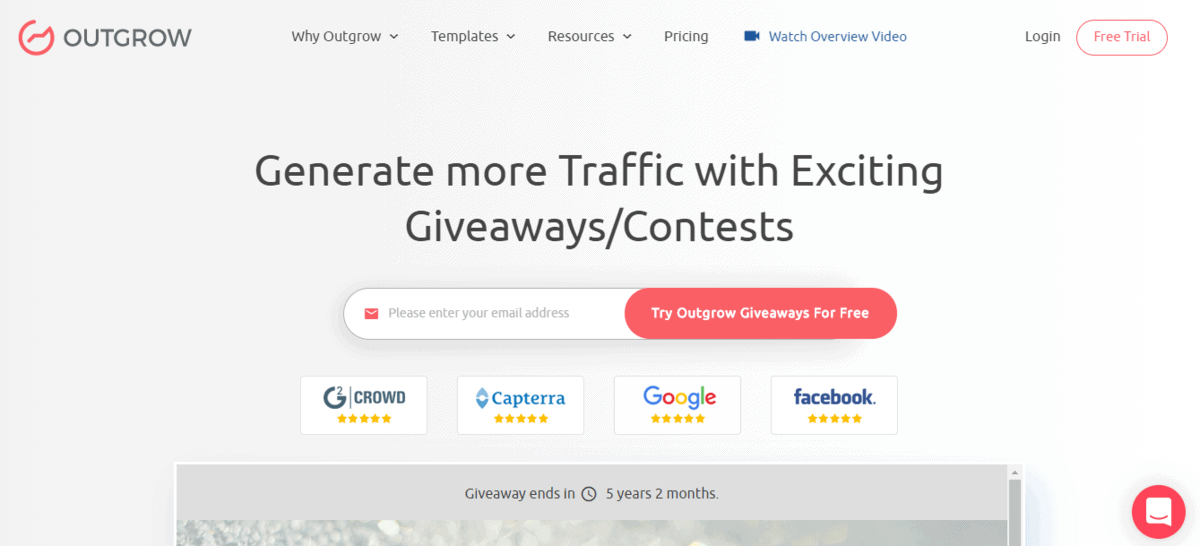 This tool does wonders when it comes to creating giveaways and social media contests. It is easy to use and generates traffic for your site or social media page with no hassle at all.
Outgrow offers you amazing features like more than 1000 pre-optimized templates, just in case you need some help with launching your giveaway. This software also has a "Development Studio" with the sole purpose of helping you optimize giveaways according to your needs and responses from users.
Another great feature of this tool is its ability to create multiple types of interactive content like quizzes, surveys, chatbots, and so on. As for pricing, there are a few plans that you can choose from: freelancer, essentials, or business, all depending on your needs.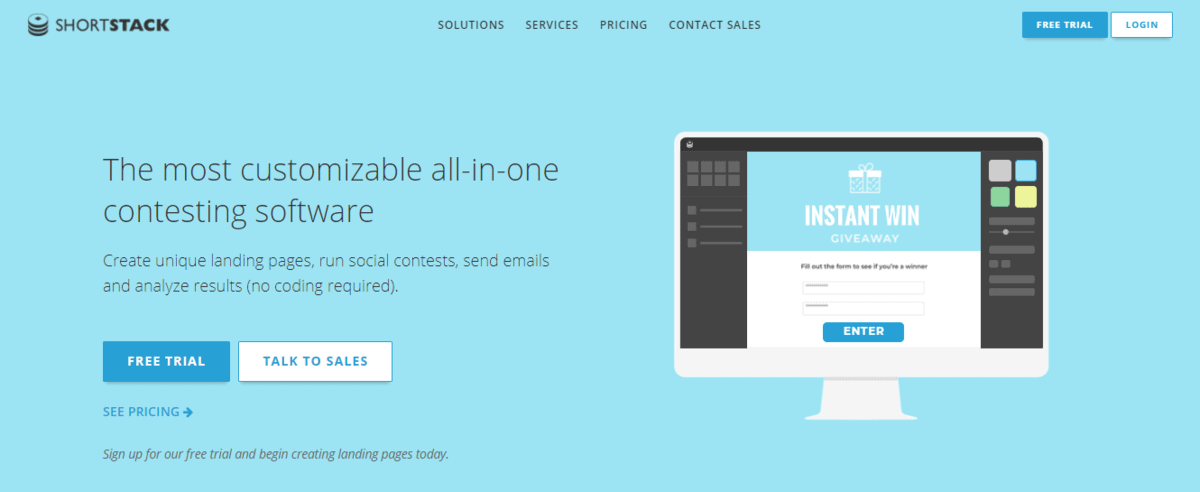 Another successful tool for creating interactive contests, quizzes, giveaways, and landing pages. ShortStack offers various features from a photo and video contests creator to the refer-a-friend option that turns your contestants into your advertisers.
Using this tool, you can also award extra points to contestants after completing certain actions. For instance, if you want to increase your Instagram or Facebook following, then you can give extra chances to win a contest in exchange for an Instagram follow or Facebook like. And for boosting the number in a more significant way, you can reach out to the best site to buy Instagram followers and likes.
This is one truly amazing platform with features that helped many people in launching their campaigns and brands.
When it comes to pricing, ShortStack offers 3 plans: business, agency, and brand. And you also have an option to start a free trial to see what suits you best before you start doing contests more frequently.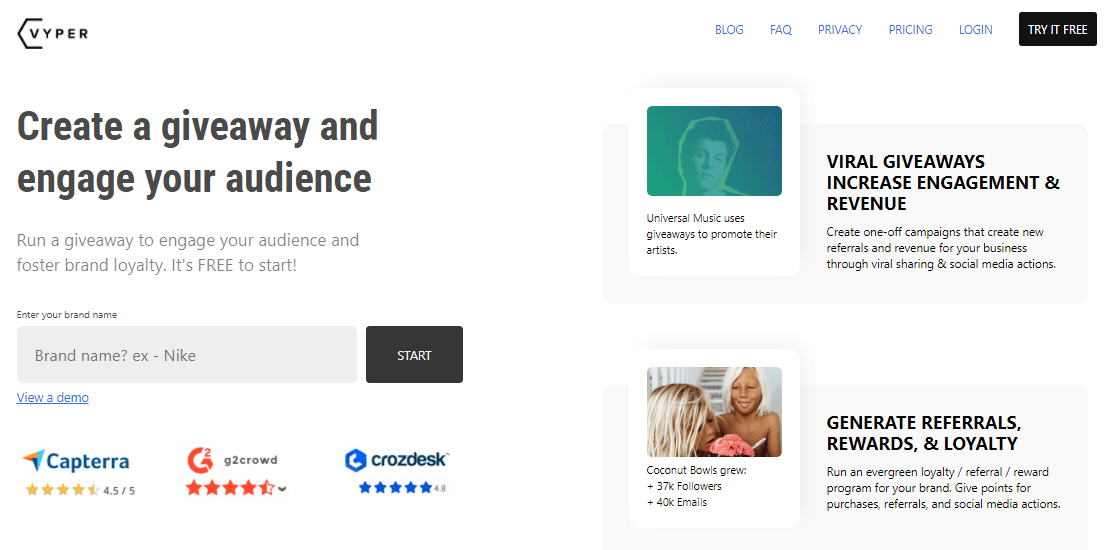 The main function of this tool is to help you achieve your goals in different ways when it comes to running a giveaway contest. With Vyper, you can easily grow your business and brand awareness using many of its options.
Vyper uses two campaign types: viral contest (useful if you need to generate e-mails or social media engagement for your campaign) and reward program (providing points for certain actions to entrants of the contests). Still, when using this platform, you can create campaigns with upgraded content, leaderboards for contests, and interactive popups, with many more features in stock.
Vyper offers two types of pricing: enterprise and agency, but also provides you with a free trial to test everything before you decide if it is the right platform for you.
Overall
Giveaways have proved so many times to be one of the best ways to attract clients, receive honest feedback on products, and make your work visible to a broad audience. Using them in the right way is not always easy and requires a lot of time and money, which is not something you always have.
That is why it is important to recognize affordable, useful, and impressive tools like KingSumo which help you save money and take full advantage of giveaways.
Using them helps you get the attention you crave for your brand and business. And to be honest, these tools have slowly become the best sales managers, helping you be more creative and save some money.