The transfer of money between the service provider and the customer is at the core of every business. With most companies, institutions or individuals doing business or providing services to people all over the world, paying or getting paid for those services wasn't always an easy task. Different countries have different regulations and different banks have different ways of doing business, so even today making a simple transaction can be quite of a hassle. Taking this into consideration along with the rapid growth of the internet, the creation of an online universal payment service was a natural progression of events.
While there are more than a few companies providing online payment services, there is one that stands out and that most people are quite familiar with, PayPal.
PayPal is one of the oldest, most established and trusted platforms of payment, not a surprise considering that none other than Elon Musk himself was one of the people who worked for PayPal in its early stages of development.
What is PayPal?
In case you aren't familiar with PayPal or you aren't familiar with how it operates, here is somewhat of a short explanation. Think of PayPal as a digital wallet, a middleman between two people transferring funds to each other online. Through PayPal money can be sent using your PayPal balance, bank account balance, credit or debit card. It can be used to pay anyone from family to businesses.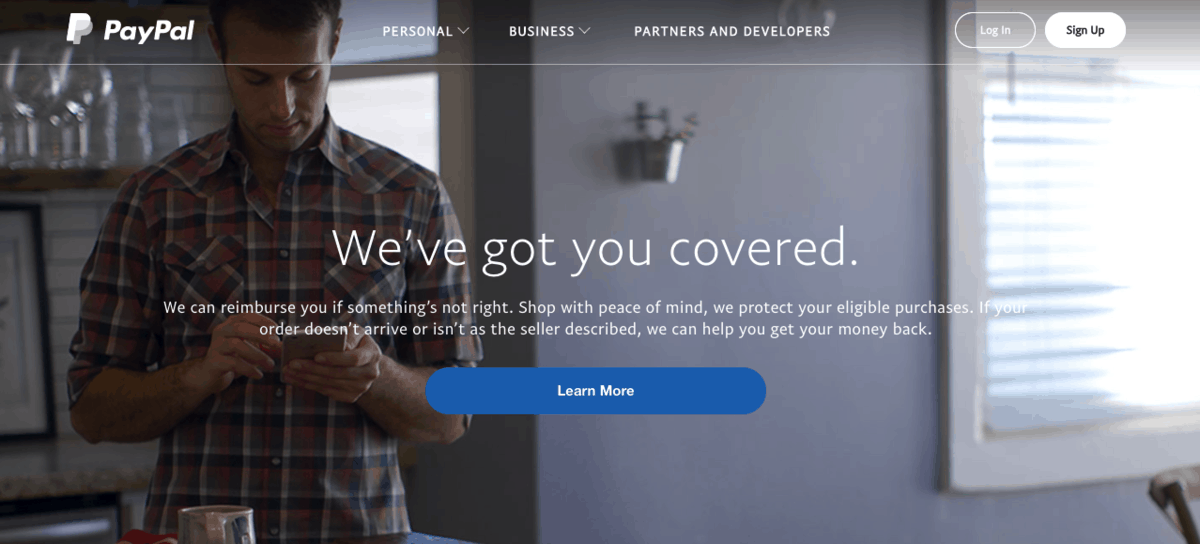 Most of its popularity PayPal garnered by being acquired by eBay, the biggest eCommerce website today. In the early stages of eBay, unless you qualified for credit card payments which required you to reach a certain number of sales, and most sellers did not, all payments had to be done through money orders or checks which could take sometimes weeks to arrive. PayPal transactions on the other hand take only minutes and are very straightforward and secure, which made them the perfect thing for eBay to incorporate in their system.
Payments through PayPal are not only fast and easy but also very secure. During a PayPal transaction, no financial information of the sender or receiver is shared with either party involved, the only thing required is their email addresses. Another safety measure that PayPal has implemented is the "Website purchase protection" which allows both the seller or purchaser to dispute a transaction in case of fraud or faulty products. This protection, of course, has a time limit which varies on the type of purchase and price, nevertheless, it assures that both parties are protected appropriately during the transaction. The only time you aren't able to dispute a transaction is when you set the type of the transaction to be "gift", so when doing that in a case when it isn't actually a gift, make sure that you trust the receiver of the money.
How does PayPal work?
The process of sending money through PayPal requires only a few pieces of information, the email of the receiver, the amount you want to send, and the type of transaction. When sending money, you aren't charged with any fees, only the receiver is.  Even though sending money is very easy over PayPal, in case the person who wants to send you money is a bit confused on how to do it, there is also the option to request money, only in this case the transaction comes with a small fee for you since you are the receiver.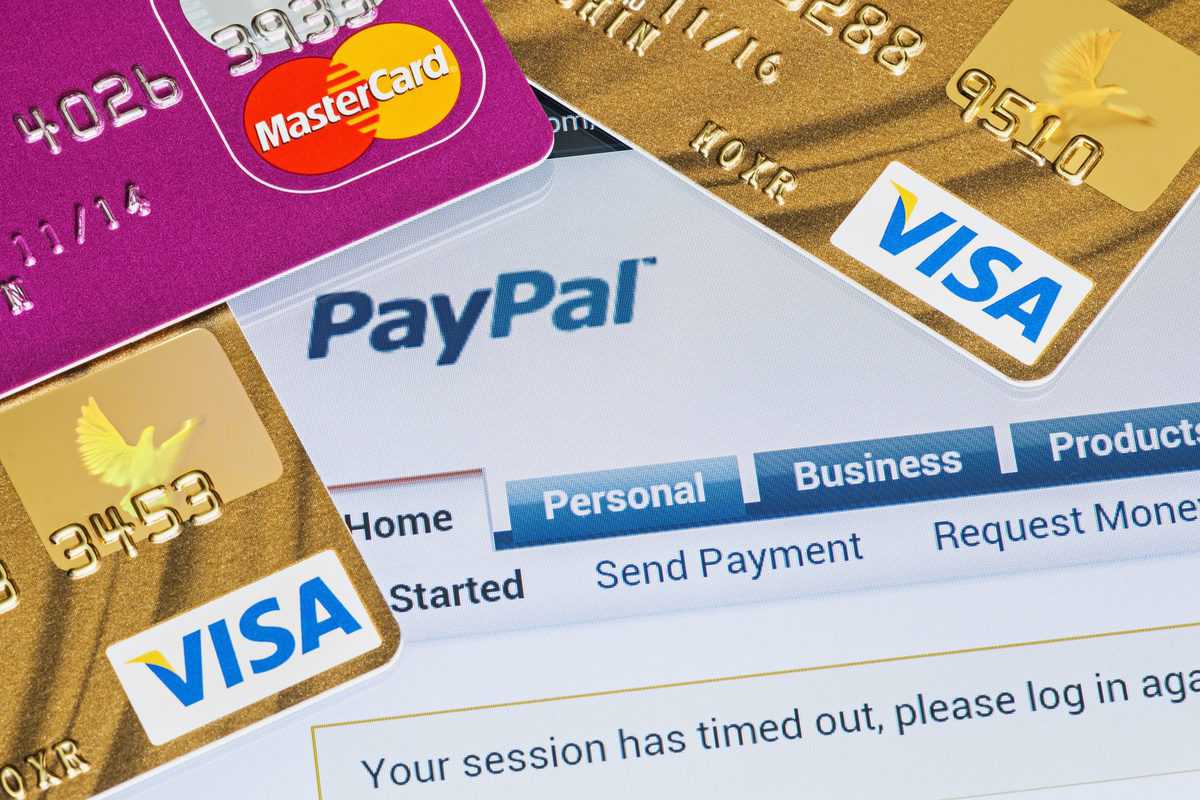 By now you maybe have an idea about how exactly PayPal earns money, and that is through fees. Like mentioned above PayPal chargers the person receiving the money a small fee and takes a very small percentage of the amount being sent. Other fees are also applied to users who use an unverified credit card. A person who uses an unverified credit card, or in other words an unverified account is charged a fee every time they send money and also has limits set on the amount they can withdraw from their account. To verify the card and the account you are using is an easy procedure. Your card will be charged with a small amount just so your bank can have a record of the transaction, after that, you request a list of your latest transactions from your bank and verify your card using the code linked with the transaction. After verifying your account, the charged amount is repaid to you.
On PayPal, you have the choice of three account types, Personal, Business, and Premier. All accounts are pretty much the same allowing you to send and receive money, except that Business and Premier have a few more options than the Personal account. With those two types, you are allowed to accept credit card transactions since most of the customers doing business with you will most likely use that as a payment method. The Business account comes with a few other perks, like a customer service email and access to your account for 200 of your employees, since this type of account is intended for sellers who do business as a company and very frequently, unlike Premier sellers who are the more casual non-business sellers.
With so many options offered by PayPal, it is no surprise that it is being incorporated in a series of websites, not just eBay, and of course, with the huge popularity of WordPress websites, the integration of PayPal into them was a must.
WordPress is an amazing tool for building websites and with it, you can create a website for any purpose. Many people use their websites for eCommerce purposes, for collecting donations, and for a variety of other purposes requiring them to have a payment platform integrated so they can do so. Most often their choice is PayPal, and for good reason. PayPal and its logo are very known and trusted and won't make your customers have second thoughts about completing a transaction with you. Also, the actual transaction is completed on PayPal's site, so you have no worry about security issues and PCI compliance which is a huge concern for everyone dealing with financial transactions.
So how does one integrate PayPal into their WordPress site?
Well, the best way is using a WordPress form and incorporating a plugin in it. There are various types of plugins you can choose from depending on your needs, and each of them requires a different implementation but all of them are fairly easy.
Now we are going to go through a list of the top 10 PayPal plugins and a detailed description of each one, so you can make a choice more easily which one to incorporate in your site.
1. Simple WordPress PayPal shopping cart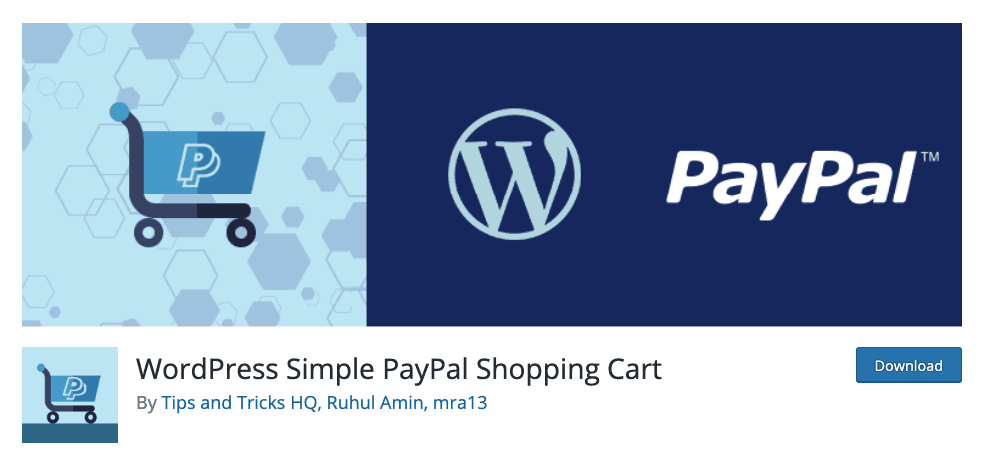 If you want to turn your website into an eCommerce site and sell anything from products, digital products, services or something else then Simple WordPress PayPal shopping cart is the plugin for you. This is a lightweight plugin that won't slow down your website and will allow you to place the add to cart button anywhere, post, pages, sidebars. The add to cart button can include information about the price, shipping and other information relevant to the sale. After putting an item into the cart, the user is able to change the quantity of the product or to fully remove it from the cart. This plugin also includes the smart PayPal payment button, which enables the checking out to be done through a popup window using PayPal, PayPal credit or credit cards. At checkout, the customer can leave specials instructions for you regarding their order. The list of orders is displayed in a separate orders menu.
When purchasing a digital product, the product will be received via email after the payment has been completed. Emails received by your customers as a confirmation of the purchase can be customizable as well as the notifications received by the admin. Along with the ability to create custom emails and notifications, you are able to create custom and discounts with an expiry date for your customers. Customizable is also the add to cart button as well as the checkout page. The add to cart button can be modified using any buttons, icons or images, and the checkout page can be displayed in a new tab or even a new window.
When used with a responsive theme, this plugin is also completely responsive.
2. WordPress easy PayPal payment accept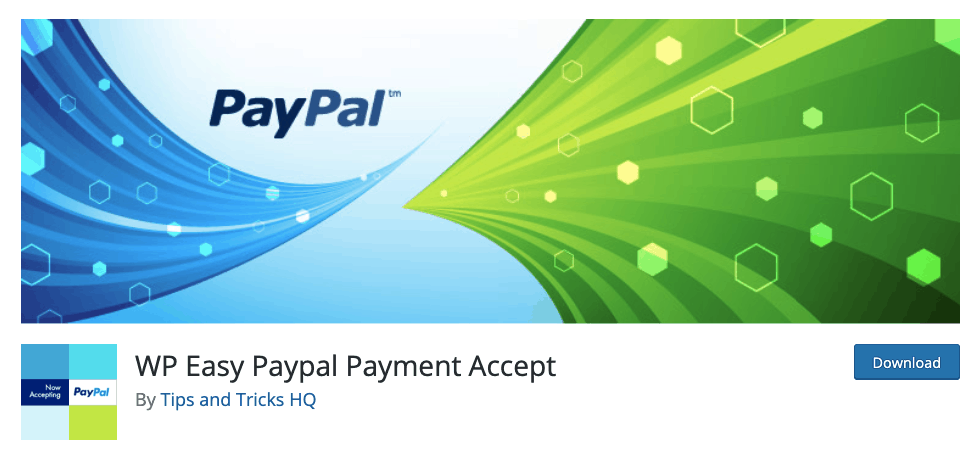 As you can tell from its name, the WordPress easy PayPal payment accept plugin is intended for accepting PayPal payments with just one click, whether it be for accepting donations, payments after providing a service, or something else. It is perfect for creating custom buy now buttons that can be embedded anywhere in your site. The amount can be specified by the user and in case of donations, it can be any amount. Reference values and payment subjects can be specified as well.
The payments can be accepted in any currency accepted by PayPal and you can adjust the accepted currencies for the payments you will be receiving based on your needs. Besides the variety of accepted currencies, this plugin also comes in a variety of languages. The payment can be done in a new tab or separate window, and the user can be redirected to a specific page after completing a payment. In case you need to collect tax from the payments, that is also a possibility.
3. Sell digital downloads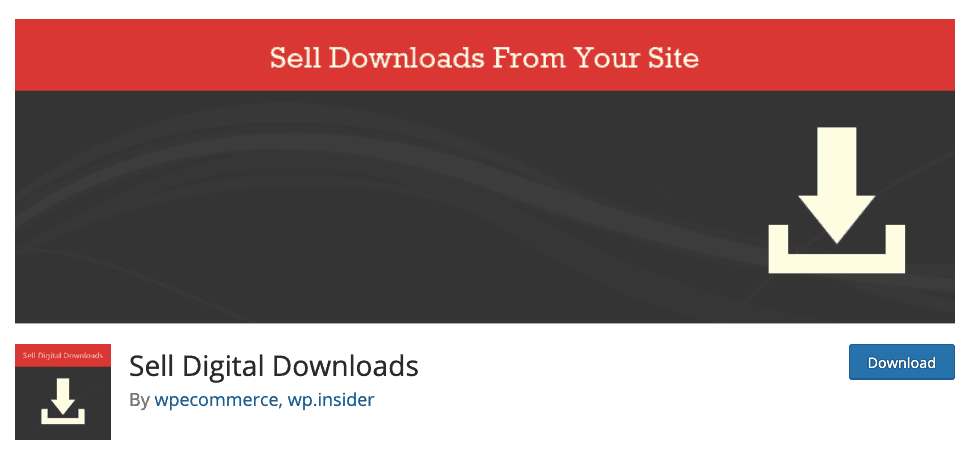 Sales aren't only made for physical products, a large part of sales nowadays consist of digital products such as pdfs, eBooks, music, video and audio content, etc. Integrating the sale of digital products isn't an easy task especially if you sell physical ones as well. With Sell digital downloads plugin, that is no longer an issue.
You can upload your digital files using WordPress media or your own FTP software. When a customer purchases a digital product from you it is sent to them via email after completing the payment. Don't worry all the downloads are encrypted so the customer doesn't receive a full link to your files. You have complete freedom of how you want to display your products, with the option to add thumbnails to your downloads. Managing your product posts works almost identically to managing regular posts on WordPress which is a very simple process. This plugin is extendible and can be modified to exactly what you want, and most importantly it accepts payments through PayPal.
4. PayPal Plus for WooCommerce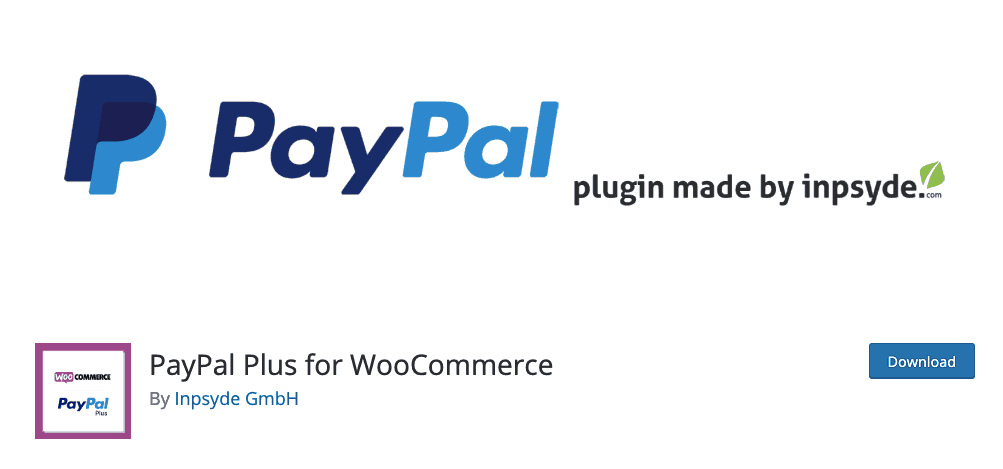 If you want to enjoy all the befits of PayPal plus on your WooCommerce website, then PayPal Plus for WooCommerce plugin is the easiest way to integrate it. With this plugin, you can use the express checkout option from either the product page or shopping cart. Using the express checkout method is very much loved by consumers and it contributes to the increase in sales majorly. By using this plugin, you are allowing your customers to pay through a variety of methods such as PayPal, direct credit, credit card and pay upon invoice, and your customer isn't required to have a PayPal account.
Every transaction done with this plugin is safe and reversible and protection against loss of money through chargeback is guaranteed. After every transaction, the transaction amount is credited to your PayPal account.
To integrate this plugin in your website doesn't come with any monthly or signup fees, only fixed fees on all transactions.
5. PayPal donations
The simple PayPal Donations plugin allows you to collect donations submitted with PayPal or credit card. You can set up recurring monthly donations and/or use a dropdown menu so the donator can choose a pre-set amount as an option. The plugin is available in 18 languages and supports 25 different currencies. Also, it is compatible with any theme and offers 7 types of donator button options or the possibility to create a custom one. It offers the option of testing the plugin through a PayPal sandbox account with fake buyers and fake money. In case you need help opening a PayPal account, it has also got you covered there like most of the other plugins. All received donations are visible through WordPress Admin.
6. PayPal Events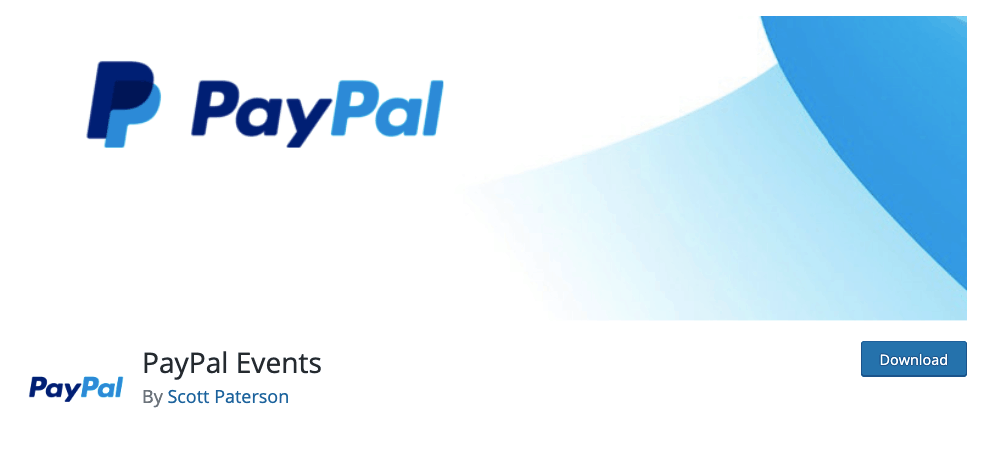 Selling tickets has almost entirely become an online business, and for that reason PayPal has created a PayPal Events plugin allowing you to easily do so. A customer buys a ticket and after completing a payment receives a QR code which will be used as an e-ticket allowing them to enter the event. The QR code can be verified by any phone with a QR reader app.
The plugin comes in a PRO version as well, which has a few extra features like a custom image button, event cloning, tax charging, different PayPal account for each event. Also, with the PRO version, you can limit the quantity of the available tickets and the quantity is automatically reduced as sales are being made.
7. Paid membership pro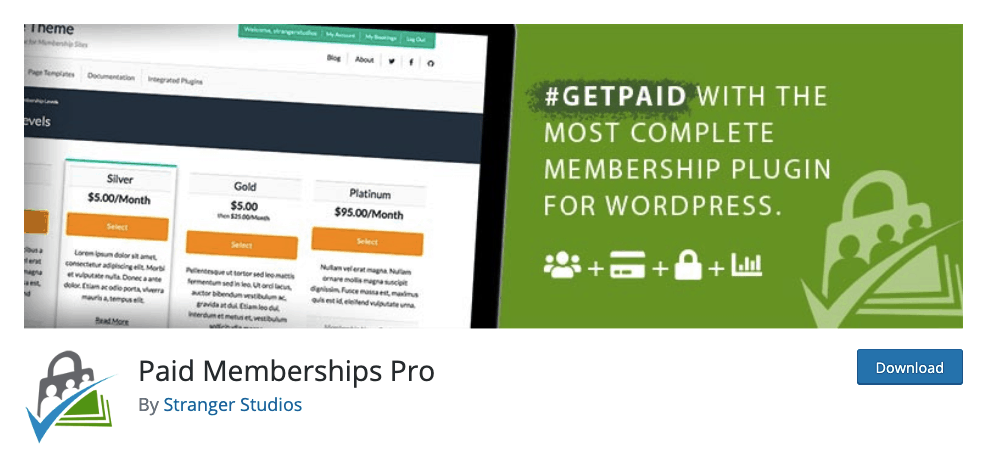 The Paid Membership Pro plugin is intended for any clubs, associations, premium content sites, subscriptions to products and/or newsletters and more. It offers the ability to create an unlimited number of levels with a flexible membership price for each one, and the possibility to restrict the access, certain users of certain membership levels, to services and content depending on their membership level. The plugin is suitable for e-learning and digital courses as well as organizations with a large number of members. You can use a recurrent payment method for content like podcasts and give trial periods and custom trials to your customers. Canceling a membership of updating the information of the member is very easy when using this plugin. It also allows you to create custom reports and member dashboards.
8. Quick PayPal Payments
With Quick PayPal Payments plugin, you can collect any amount whether it is variable or fixed, anywhere on your site and receive an instant notification when the payment is completed. The plugin is fully editable with a variety of styling options and is GDPR compliant. If you want, you can download all the records of the payments you have received.
The plugin can be used for selling, donations or other purposes, and with the PRO version, you can sell up to 9 items at once and add custom forms anywhere and in any language.
9. eCommerce by 10Web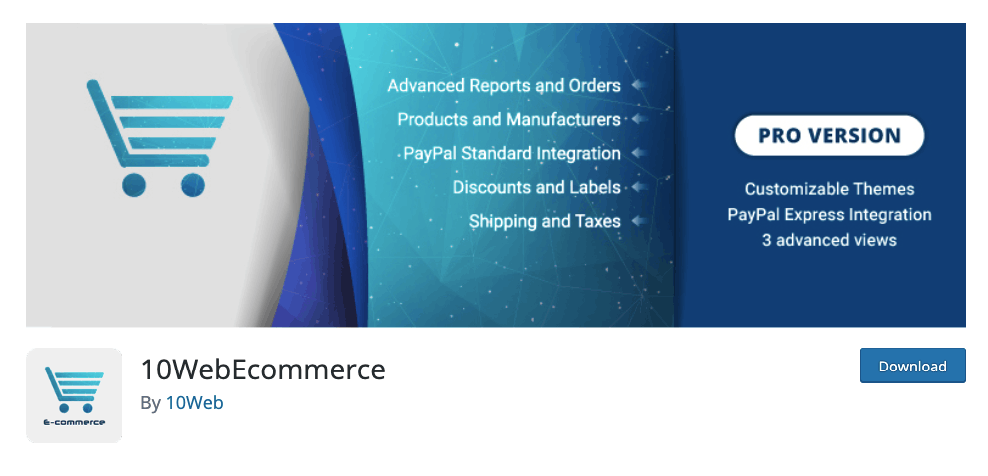 eCommerce by 10Web is used for creating an online store small or big. Products can be displayed in 5 types of views: thumbnail, list, Masonry, Chess and Blog style. With the quick view option, you can view the essential information of the product and easily compare it to other products and highlight the products with small image overlays or labels. Products can be filtered and sorted and separated into categories or by the manufacturer. Different shipping methods and tax types can be created for one product or an entire group. Products can include social media comments, reviews and rates alongside their essential information.
A customer can pay in three different options, PayPal standard, PayPal Express or without online payment, and all store performance can be monitored using advanced reports.
10. CP Contact Form with PayPal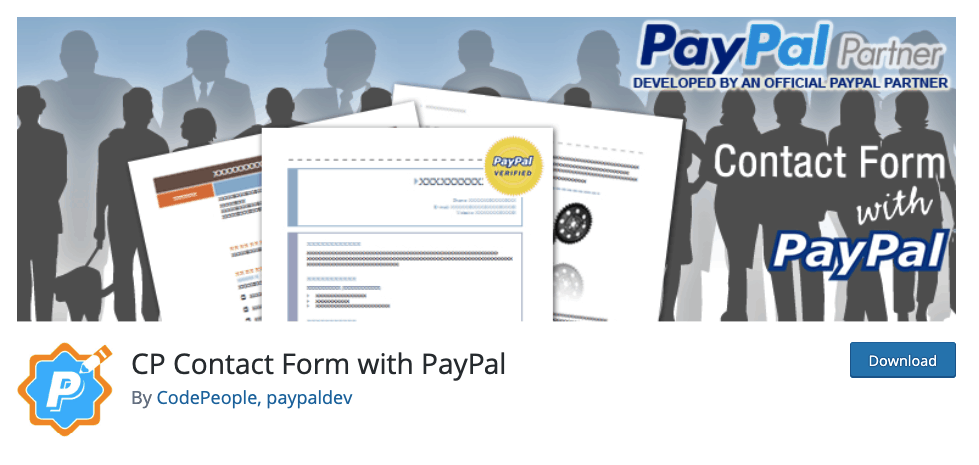 Contact forms, booking forms, order forms, consultation service forms, paid event registration forms and many other types of forms can be connected from a WordPress site to a PayPal payment (standard, express or credit, depending on if it is available in the customer's location).
With CP Contact Form with PayPal plugin, custom form can be built using a visual builder or if you like you can use a template. Each form has its own fields, price, and settings and it can include an address request, captcha verification and a GDPR compliance field. Donation layouts are also supported.
A user submits a form by filling it in and clicking the submit button, after that the data from the form is saved into the WordPress database and the user is redirected to the PayPal website in order to complete the payment. Completing a payment will automatically send a confirmation email to the user and a notification to the admin which are both customizable. Every form is marked as either "paid" or "not paid" so, in case of any questions about that, you can easily contact the user.
The plugin supports recurrent payments and tax configurations and all refunds can be processed from the plugin. All contact form messages can be exported in a CSV format or in Excel.
Conclusion
The above-mentioned plugins are only a few of the available plugins you can incorporate into your site. Deciding on any PayPal plugin won't be a mistake since PayPal is a company that possesses huge brand recognition and is trusted by millions of users worldwide. It is a company that has been through thick and thin but has remained successful and true to its initial business model. By all indicators, it will remain the leading online payment platform that both you and your customers can use with ease and trust.