Turning a Google Sheet into a website has for a long time been a job reserved for Sheet2Sites. However, in recent years more and more alternatives started popping up all around the place – some with lower prices, some with different features, and some with both.
No tool is perfect for everyone, and if you happen to be one of the people looking for something similar to, but not quite like #Sheet2Sites, this is the article for you.
In this article, we'll present you with five fantastic alternatives, and if they happen to be cheaper and fit your work style a tad better, then why not use them.
1. SpreadSimple
SpreadSimple is great for e-commerce beginners or practically anyone that needs to create a stylish site without knowing a lick of code. All there is to do when using this tool is pick one of the premade templates and customize it to your liking.
SpreadSimple's star feature for stores is the one that enables you to manage inventory with GoogleSheets straight from the dashboard. And once you've made changes in an inventory spreadsheet, any change will be automatically visible on your site.
The design aspect itself is also fully customizable, so you don't have to worry about your site looking cookie-cutter. Simply pick between different colors, fonts, branding, and even add your own logo.
There's an option to add more advanced features like search bars, sorting, filtering, etc. Plus, even SEO elements like meta tags, favicons, and preview images are available.
SpreadSimple integrates with other useful tools like Facebook Pixel, Hotjar, Mailchimp, Zapier, and PayPal. On that note, if you're using PayPal for charging orders, you can add an order form, as well as enable PayPal checkout.
There are three different price plans currently available. The Single plan at a price of $59, intended for ten websites. The Double plan, intended for 25 websites and priced at $118. And lastly, the Multiple plan, intended for 50 websites and priced at 177$.
2. AppSheet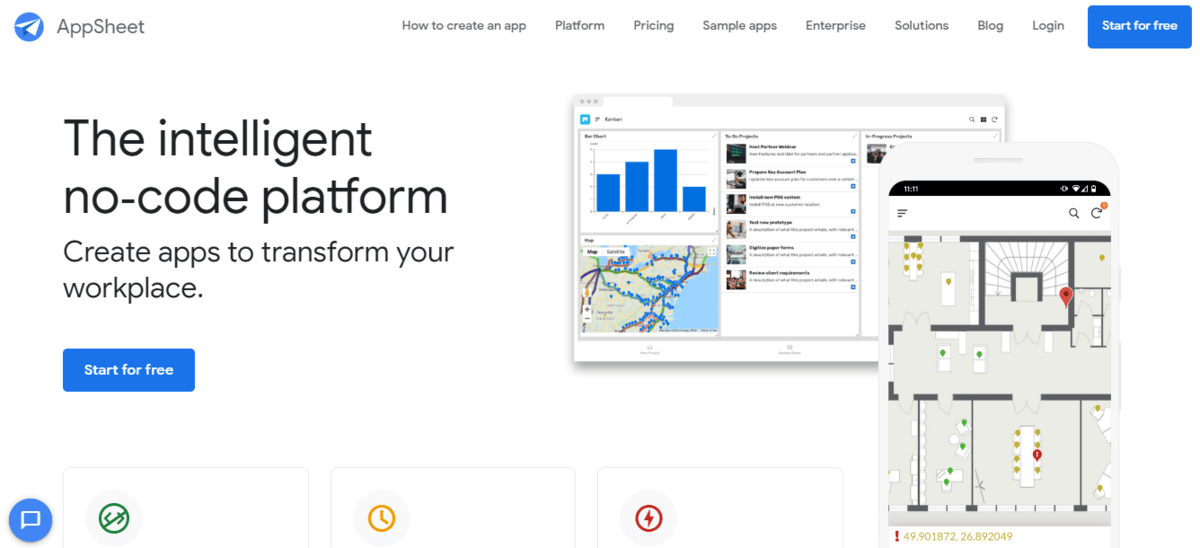 AppSheet is one of the most popular tools of its kind, and for a good reason. It requires zero coding knowledge to operate but still comes with plenty of useful features that genuinely make the user experience top-notch. With AppSheet's help, you'll be able to make professional apps with powerful features.
You can start the process by collecting data from popular sources or data that you own. Data can be collected from any device and instantly syncs to other devices connected. That way, communication between teammates is easier than ever.
Once you are ready to start the creative process, you can add some fantastic high-class features to any app you design. These include capturing images, logging locations, integrating platforms, generating reports, etc.
If you need this tool for e-commerce purposes, it's also worth mentioning that the apps you create can collect signatures, scan barcodes and deliver notifications.
There are a few different price plans available, and each one accounts for one user only. If you're just starting out, then maybe the Premium plan, which costs $5/mo, could be just fine for you. The Pro plan costs $10/mo per active user and has a few extra features like enhanced security. Lastly, if you want the full package, you can negotiate on purchasing the Business or the Enterprise plan.
3. Glide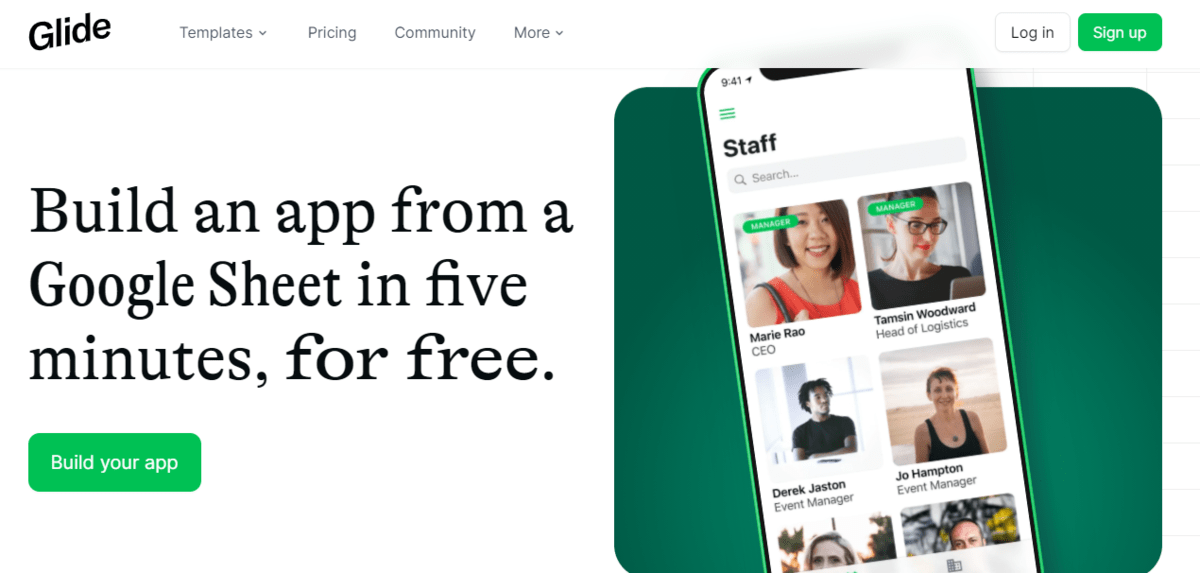 Much like SimpleSpread, Glide allows you to build a site from a Google Sheet, which is a big advantage since that's where all your needed data is stored. The best thing about this app is the fact that its builder is visual. So, not knowing code or not being a skilled designer will not present a problem during the creation process.
Any app you make with Glide is always going to be in sync with Google Sheets. That means no manual updating, ever. The apps are also fully responsive and functional on all platforms. So, the moment you're done with creating it, the app will be usable on iOS, Android, tablet, browser, and desktop.
This tool's privacy settings are also fantastic, and they even come with row owners to better control access.
Glide's Personal version is entirely free, but it's rather limited. The Basic version can be yours for $12/mo, the Pro version for $32/mo, and the Private Pro version for $40/mo. If these prices are problematic for you and you're not really a subscription kind of person, there's always an option to try out the free version first and make a commitment later.
4. Table2Site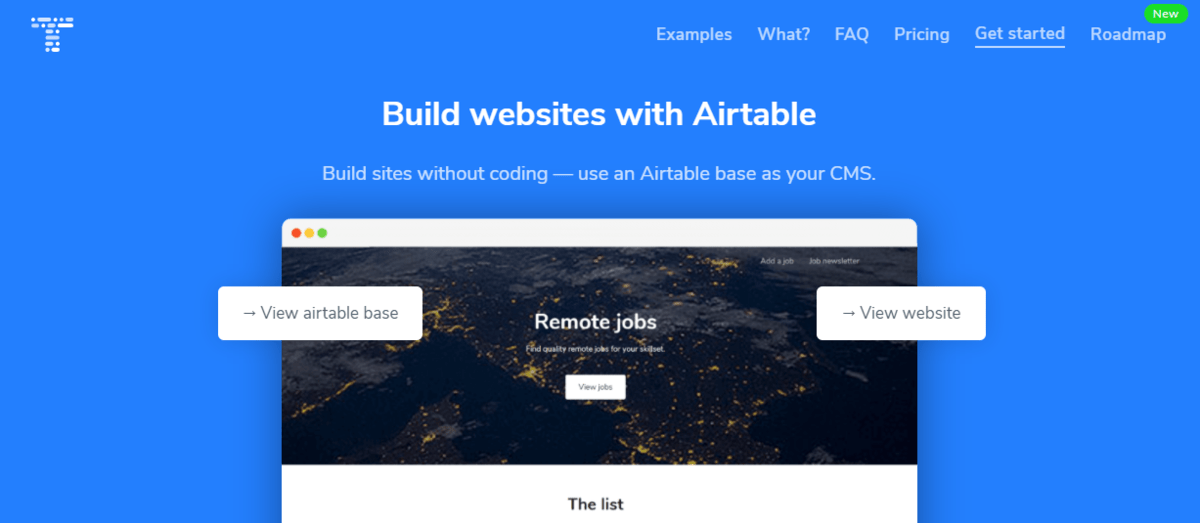 Much like the other tools we've mentioned so far, Table2Site enables building great-looking sites with no prior coding knowledge. Using this tool, creating pages such as job board listings or landing pages becomes effortless and, dare we say it, even fun.
Each website you'll be creating consists of 2 sheets: the settings and the content sheet. You use the settings sheet to insert SEO information, set a default font size, insert your logo, and do the necessary technical stuff. The content sheet is where you are free to do as much or as little as you want. Each row on it represents a section of a page, and you can build multiple at once. There are a few pre-designed options like contact forms and newsletters, but you can customize them to be anything you'd like.
There are two price plans, and these do not differ in the number of features you get. The only difference between them is the number of sites.
The $10/mo plan allows for one site, and the $19/mo plan, three sites.
5. Sheety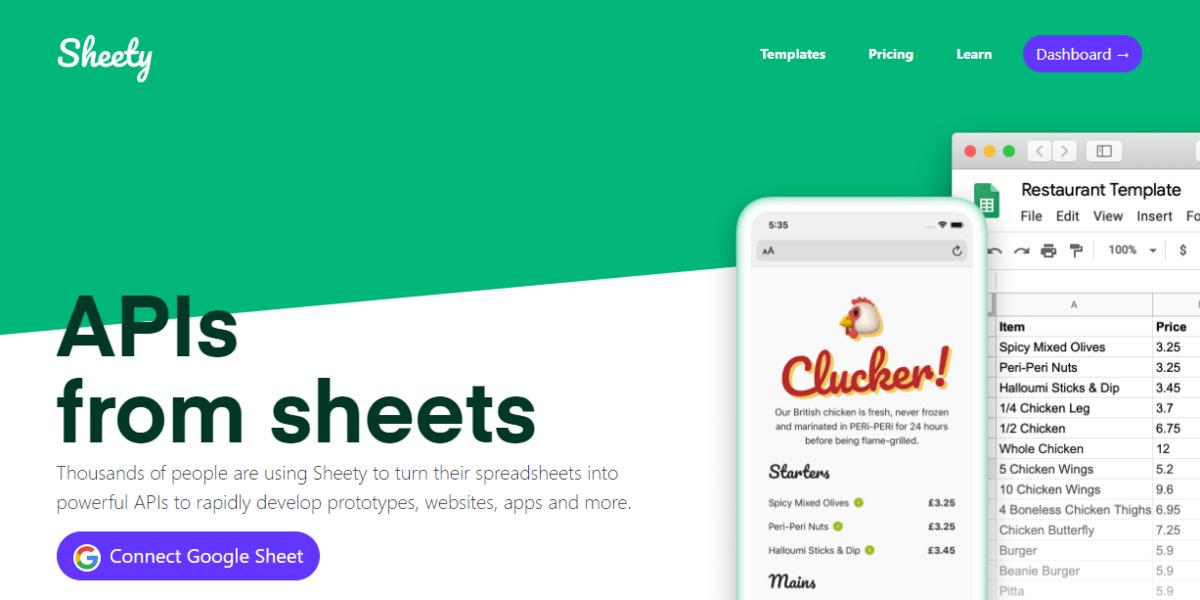 Last but not least, we have Sheety. The only reason why this tool didn't rank higher on our list is the fact that using it will require some knowledge of code. No matter how minimal, this makes it unsuitable for specific users.
With Sheety, you can easily turn your data into a functioning site using HTTP requests and URLs.
It comes with a library of pre-built templates, so if you're not the most creative type, there's no need to worry. All you have to do is download the code and customize it to your liking. Whenever the time comes for updating and changing data, the updates and changes in your sheet will automatically sync to your app or site. Meaning you never have to update manually again.
There is a free version of Sheety available, but as is customary, it's limited. The other three versions are More Sheety for $9.99/mo, Extremely Sheety for $29.99/mo, and Extremely Sheety XL for $49.00/mo. The versions differ in the number of requests and rows available to you each month.
Final Thoughts
Not knowing code doesn't have to become a problem when building a website if you're willing to accept some help.
All of the tools listed above can help you, but we personally recommend SpreadSimple due to its fantastic versatile features and amazing price.
Hopefully, you found this article helpful and are now ready to turn your sheets into beautiful and functional sites or apps.