The Amazon affiliate program has become very popular among bloggers, e-commerce sellers, and influencers. The Amazon affiliate program, also known as Amazon Associates, is a type of affiliate marketing program that allows people to earn passive income as affiliate marketers.
Basically, one can earn money by promoting Amazon's products on one's website.
It is a very popular program, and anyone who wishes to take part in affiliate marketing can join as it is an effective way to earn money based on the commission percentages given by Amazon for any given product category.
Once approved, it is very easy to set up the account. The way it works is this: a blogger/website owner/influencer is provided with unique links that are put on their website. These links usually promote a certain product. If someone takes action by clicking on that link, then the affiliate earns a percentage of the sale done on the merchant's website, in this case, on Amazon's website. Each link has a unique tracking code so Amazon can easily track its affiliates and the products they are promoting.
Basically, Amazon gives commissions to its affiliates if the customer that clicked on the link has completed the action (in this case, purchased the product).  The commission an affiliate earns depends on the category of the product; it can range between 1% to 10%.
Best WordPress Plugins
As an active blogger or influencer, you might want to monetize your website. If you are using WordPress, this will be easy as Amazon Associates and WordPress go hand in hand.
There are numerous plugins one can add to their WordPress website, which help increase the profits one makes with affiliate programs.
These plugins make it easier for you to track all the different links you have for different products. There are good free plugins available on WordPress, but if you are promoting many different products, you may want to go for premium plugins that come with technical support.
These plugins can be found under the WordPress.org plugin directory. After you have found the plugin you want, click install now, and your plugin is ready to be used.
Now, here are some of the best WordPress plugins we recommend:
1. EasyAzon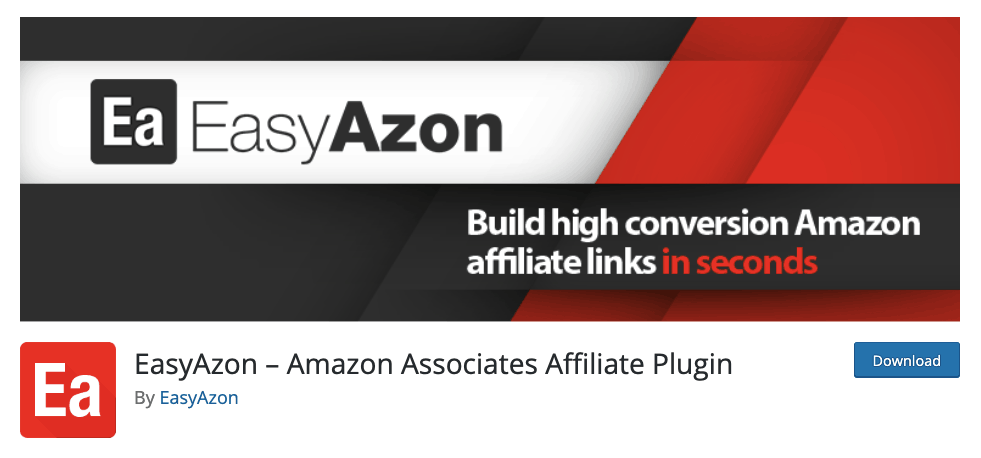 EasyAzon helps you create Amazon affiliate links from your WordPress dashboard. In short, it helps you save time. You don't have to log in to Amazon Associates account you have created, and from there, create an affiliate link. Instead, everything can be done from your WordPress website. You are also given the option to create a call to action buttons and add image affiliate links.
EasyAzon also has the premium option with more features, such as link cloaking (your links do not look like affiliate links), link localization (helps send your audience to the correct store, e.g., a person from India will be sent to amazon.in instead amazon.com), and the ability to track more affiliate IDs.
EasyAzon is very popular as it is quick and easy to use. It has more than 10,000 installations. If needed, you can upgrade to a Pro Version, which gives you access to even more features.
2. WooCommerce
WooCommerce is an open-source e-commerce plugin built for WordPress. It allows you to quickly set up a new store. You have the option to create a product, cart, and checkout pages, offer secure payment options and integrate Google Analytics and MailChimp. Moreover, you can personalize and customize the design of your website, as well as add any extensions you need to run an e-commerce business.
It is a free plugin that comes with additional features that come as extensions. It is created and supported by Automattic and is one of the most popular plugins with more than 5 million active installations on WordPress.
3. Amazon Link Engine
Amazon Link Engine is a free plugin that helps increase your sales and your commission. It does this by localizing your links, as well as making sure that your customers are not sent to a blank page. What this means is that whenever someone clicks on your link, it will be brought to the correct store based on their current location. For example, a person from the UK will automatically be sent to the UK Amazon website.
Moreover, this link is created by GeniusLink. Unless you are earning an international commission, you do not need to create an account with them. If you are using GeniusLink, clicking here will tell you more about the different pricing options they have for opening the account.
4. Amazon Auto Links
Amazon Auto Links integrates your WordPress website with Amazon in the simplest way possible. It allows you to search for products within the WordPress editor and quickly insert links as well as image links. Basically, this plugin allows you to insert any link you want to create your products as appealing as possible, and these links are associated with your Amazon Associate ID.
It is compatible with Product Advertising API 5.0, so in case you are still displaying products with the old API v4, simply update the keys on the Amazon Associates member's area. It also works without JavaScript.
5. ThirstyAffiliates
ThirstyAffiliates is another plugin that allows bloggers and website owners to monetize their WordPress websites. It allows for better grouping of the affiliate links into categories, such as grouping all Amazon make-up links into a "make-up" category. This is really helpful if you are promoting a lot of different products as it allows you to easily find everything.  It also allows you to add images to the affiliate links on your website, as well as the option to track all your links. All you need to do is simply add "click tracking" to each link. This plugin is very popular with WordPress users as it has more than 30,000 active installations.
ThirstyAffiliates also has a premium version. This version has some features that might be useful to more advanced affiliate marketers and bloggers. These features include automatic keyword linking (links your links to automatic keywords throughout your site), statistics reports (performances, geolocation), CSV import/export, link event notifications emails (notifications about important events), and more.
Conclusion
Now, we have finished listing some of the best WordPress plugins we recommend for the Amazon Associates program. Remember, you do not need to install all of the plugins. Instead, do some research and brainstorm about what exactly it is that you need and see which plugin will help you achieve your goals.
However, as with any businesses you do, there are some things you need to think about before installing these plugins. First, remember you need to have a steady traffic flow to your website to be able to take full advantage of the plugins. Second, promote only products with a good reputation. Third, keep in mind that Amazon commissions differ and, lastly, remember that Amazon has strict affiliate program policies.
Most importantly, remember that the affiliate links we recommended work ONLY on WordPress. If you want to take full advantage of these plugins, you need to create a WordPress website.