Keeping your site maintained can be a tricky task, but only if you do not have the right set of tools. Whether you already have a finished site, or you are in the process of creating one, it is good to know which tools you need and what gets the job done. More than 55,000 WordPress plugins are available for general use. Now I know what you are thinking. Yes, it is nearly impossible to try all of them, but thanks to the reviews of many users and experts out there, we can get a better grasp of what is better and why. To save you valuable time, I have created a list of useful and dependable plugins, which will help you maintain your site and boost your traffic numbers.
If you are in the process of upgrading your WordPress site or you are doing some heavy maintenance, you can get free WordPress plugins that display visual notifications, which are used to separate the maintenance work you're doing on the site and the content the users see. We call these "maintenance" pages or "coming soon" pages, and their job is to improve your site's appearance by keeping your users aware of the site's progress.
By maintaining your site, you will also improve your SER, SEO, and UX, and, no matter if your business is an online store or a blog, these are crucial aspects of your site's success.
As I have already mentioned, with the right toolset, you can improve your site's performance and grow your business in almost no time. Even the best sites aren't problem-free, and if you think that this can be time-consuming and sometimes expensive, you are correct. However, not attending these problems will only make your site worse, and the users will suffer from more and more problems over time.
Sometimes, it can take days or weeks to redesign the site or fix an error, and it is advised to let search engines and your users know what is happening by putting the site under construction. If you are running a business and you want your customers to spend money on the site, it is crucial to avoid and fix these basic mistakes. You have to be serious about this, or you'll have already lost your customers before having finished reading this article.
So, without any further ado, let's talk about these powerful WordPress plugins.
Coming Soon & Maintenance Mode
When speaking of maintenance, there is no need to look any further, as Coming Soon & Maintenance Mode plugin is easy to use and will show results in no time. Here is a list of the most useful features, but keep in mind that there are plenty more to choose from if needed.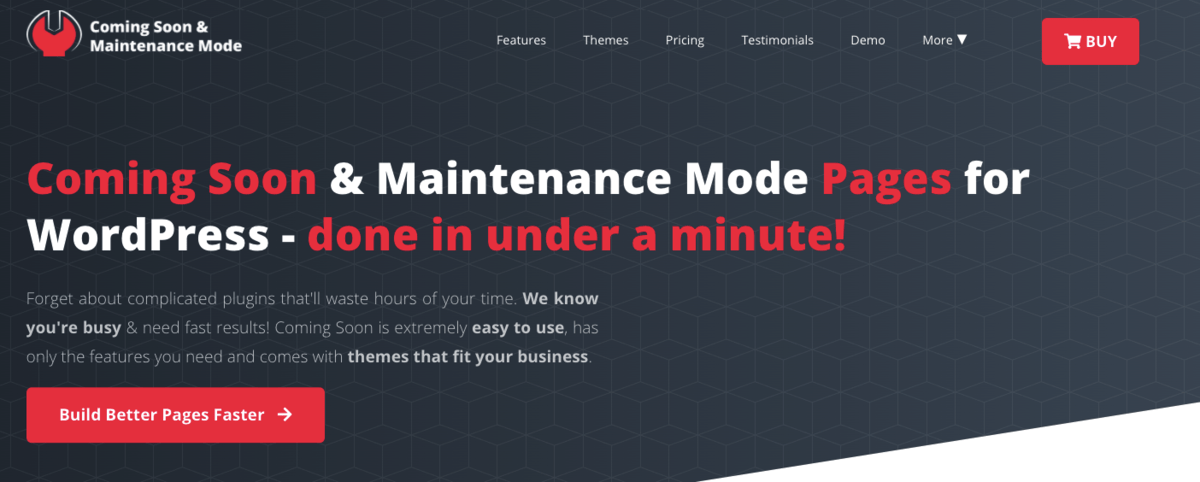 Features
1 Million+ Free Images – free high-quality images with Instagram filters
120+ Remarkable Themes – professional and customizable themes
Get Things Done Faster – easy to use and has just the features you need
Best-in-class SEO Setup – use built-in tests to rank higher in search results
Easy Access for Clients – Secret Access Link feature allows clients to see their site while it is being worked on.
SEO Snippet Preview – access a real-time preview of how your site will appear in search results
SEO Analysis – over 20 tests on different aspects of your SEO with actionable advice
Google Analytics Tracking ID – lets you see your site's stats and tracks the site with the help of Google Analytics
Themes
Preview and activate themes easily from the plugin's settings, without any additional downloads.
PRO license gets you more than 20 themes, while the extra Agency pack, which comes with more than 50 themes, can be picked through the checkout.
Design – Layout
The drag & drop builder has ten completely customizable modules and is easier to use than other competitors such as WordPress builders. Content Overlay adds a transparent background to your entire content section. Content Width shows width in pixels, while the Content Position offers four content-box positions. There are 47 introductory animations to try out.
Design – Background
You can choose a static image background or an animated video background from their 400,000+ images gallery, or simply upload your own content and use it instead. Background Image Size is displayed in their original size, so make sure to resize images for them to become fully visible by covering the entire screen. There are 27 Instagram-like filters and nine predefined positions for your (background) images. You can set any background color instead of images if you like. Add any YouTube video, and it will be played muted and looped.
Design – Logo
Your logo represents your brand, so it is advised to position it properly. You can select logos from the Media Library, or upload and use your own. Maximum height and width are calculated automatically, so it is easy to change the size to your own liking. Logo Title can be used for SEO purposes as well.
WP Force SSL
The technology known as SSL, or Secure Sockets Layer, is used to protect communications between the server and the browser. Securing any data transferred from the browser to the web server falls under this category. SSL certificates are informational files that link a digital key to specific organization information.
A server's installation of an SSL certificate initiates the HTTPS protocol, a padlock, and a secure connection between the server and the browser. SSL is frequently used to secure webmail, workflow apps, card transactions, logins, data transfers, sensitive data transmission, social media browsing, etc. Domain names, hostnames, and server names are linked with the identity and location of the company through SSL certificates.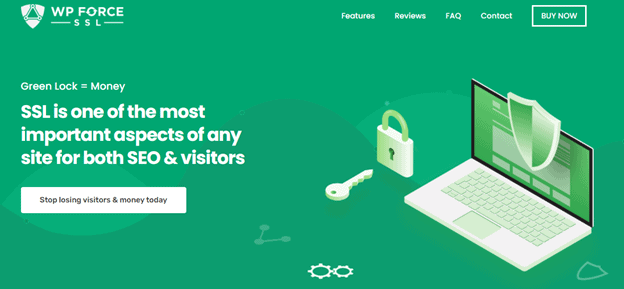 WP Force SSL  WordPress plugin assists with SSL setup, management, and traffic redirection from unsecured HTTP to secure HTTPS. All parameters are automatically set after this plugin is loaded and SSL is enabled. This includes switching the website to HTTPS with either your current or a new SSL certificate.
Any certificate, including both the paid and unpaid variants from Let's Encrypt, may be utilized. Bloatware is not included with WP Force SSL; instead, it only has features that will save you time and are completely reliable.
Under Construction Page Plugin
With the help of the Under Construction Page plugin, within a minute, you can create and configure "Under Construction Pages," "Maintenance Mode Pages," "Coming Soon Pages," and even a "Landing Page." This plugin also comes highly recommended, as it is: super-efficient, quite user-friendly, and very responsive.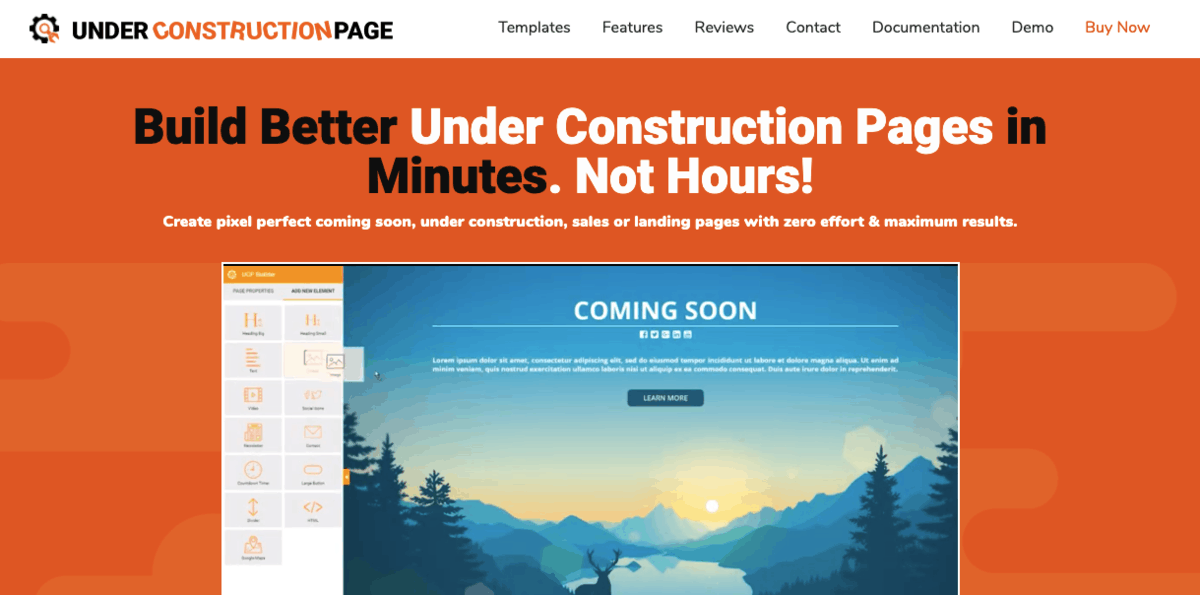 The paid, or to be more precise – the PRO version offers over 50 additional features, which include the drag & drop builder and more than a million HD images. There are over 200 available templates, and it also supports affiliate & traffic tracking with advanced access control. If you have more money at your disposal, there is also the "Agency" version, which offers even more features.
This user-friendly WordPress plugin is perfect for scenarios when your site is under maintenance, as it can hide your site behind the "Under Construction Page," making your users aware of your work.
UCP allows you to collect leads and subscribers via opt-in boxes and popups. MailOptin plugin is integrated for free, and it "plugs in" to MailChimp and or other autoresponder services, making it easy to collect emails.
Options and Features
Under construction mode – on / off.
Automatic End date & time – automatically disable "Under Construction Mode" on a pre-set date.
Google Analytics Tracking ID – enables Google Analytics tracking.
Themes – has more than 200 available themes.
Custom CSS – customize any part of the page to your liking.
Opt-in box, opt-in popup – gather emails and synchronize with MailChimp or other autoresponder services.
Login Button – displays links to the login form and or WP admin if logged in.
Social icons – constantly updated; Facebook, Twitter, Google+, LinkedIn, YouTube, Vimeo, Pinterest, Instagram, Skype, WhatsApp, and more.
Whitelisted User Roles – user roles who can see the actual site, and who won't be shown the "UCP."
Whitelisted Users – users who see the actual site, instead of seeing the "UCP."
Keep in mind that UCP WordPress plugin is officially compatible with these caching plugins: W3 Total Cache, WP Super Cache, Endurance Page Cache, WP Fastest Cache, Swift Performance Cache, SiteGround SuperCacher, and Hummingbird cache.
Maintenance – By WP Maintenance
Maintenance is a WordPress plugin that grants the WordPress site administrator access to site maintenance. Admin can close the site and maintain it by enabling the "503 Service temporarily unavailable" page, and/or by creating a (temporary) page with authorization, which, of course, you can edit through the plugin settings. It also allows you to customize your looks on all devices by adding your logo, background images, or simply using a desired color for the background.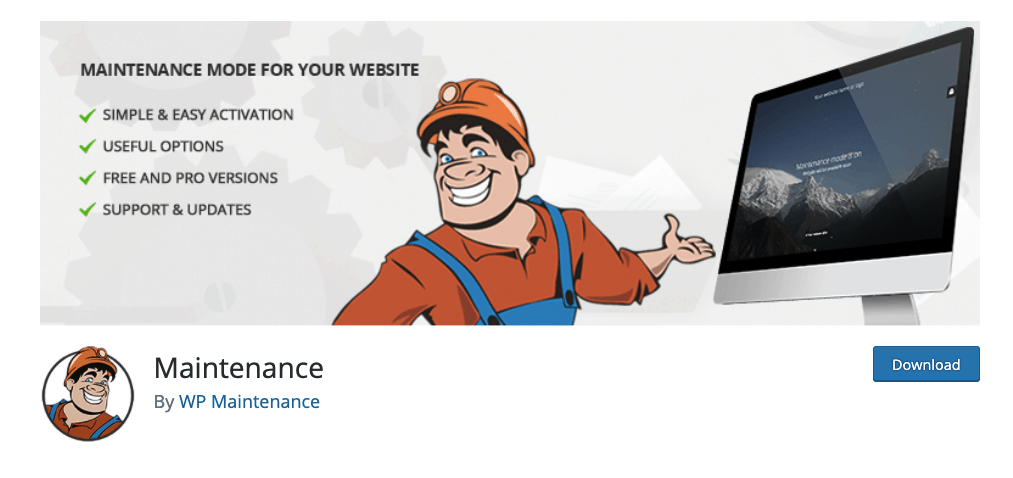 WP Maintenance supports collecting leads and subscribers through opt-in boxes and popups in content. MailOptin plugin is integrated into Maintenance, and it can connect to various autoresponder services, which helps you gather emails.
With Amelia – a free events & appointments booking calendar, adding events and bookings calendar to your maintenance page is super easy. The setup only takes a minute, after which you can start taking appointments.
Features
Fully supported and retina ready HTML/CSS layout.
Full-screen background
Blur effect for backgrounds
Add your logo
Customizable titles, colors, fonts, icons, backgrounds, and headlines
User login (frontend)
503 error on/off
Google analytics support
Exclusions for selected pages (Maintenance mode)
Supports various caching plugins
WP Reset – The Most Advanced WordPress Reset Tool
The WP Reset is a WordPress plugin that is mainly used for quickly resetting your WordPress site's database to the default installation values. With this powerful plugin, you can remove added themes, logos, backgrounds, etc. Thanks to the plugin's multiple fail-safe mechanisms, it is safe to use, so there won't be any accidental loss of files.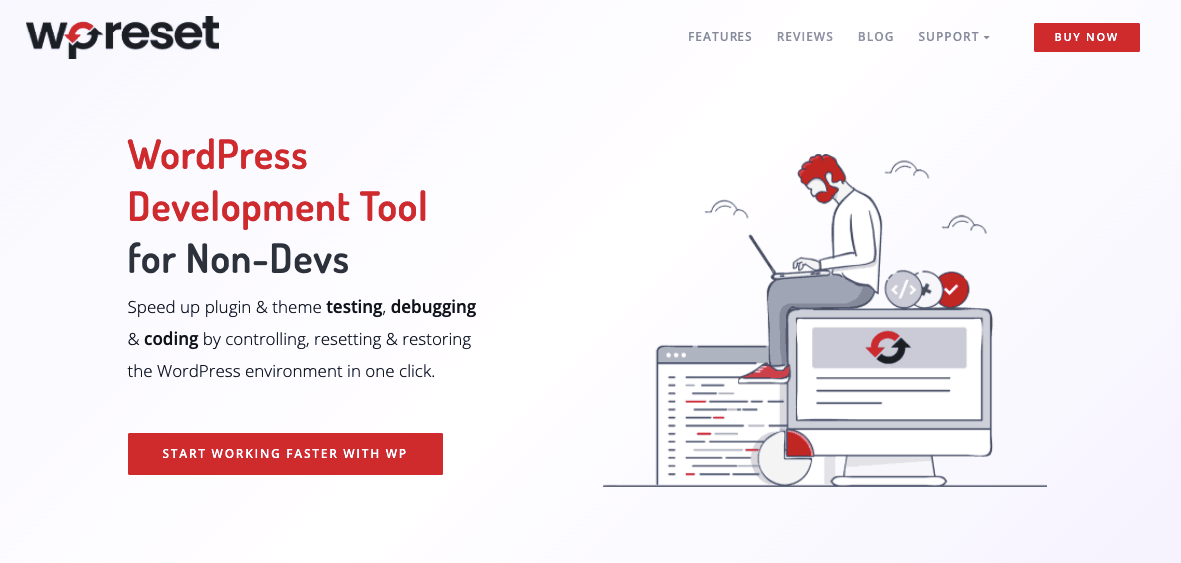 Also, it is used for testing and debugging purposes, as it allows developers and designers to try out a lot of different ideas while saving them a lot of time as the plugin can easily reset the site to the default state.
WPC Webhooks plugin comes integrated into WP Reset, and it securely connects WP to desired 3rd party systems.
It also features WP-CLI support. However, by default, you need to confirm the commands. Don't forget that you can use "–yes" to skip confirmation. Before resetting your page, make sure to do a backup, just in case.
WP-CLI Commands:
"wp reset reset"
"wp reset version"
"wp reset delete"
"wp reset snapshots"
One of the best features is that you can take database snapshots, and then if needed, just revert the settings to your desired snapshot. Developers use this quite often as it is useful when resetting a site to the desired point. There is no need to manually reactivate plugins and/or themes, as WP Reset will reconfigure your environment to your liking.
Create a list of WordPress themes and plugins, and upon selecting the list, the installation will start automatically.
WP 301 Redirects
The WP 301 Redirects is a user-friendly WordPress plugin that will manage your redirects and also improve SEO and overall site performance.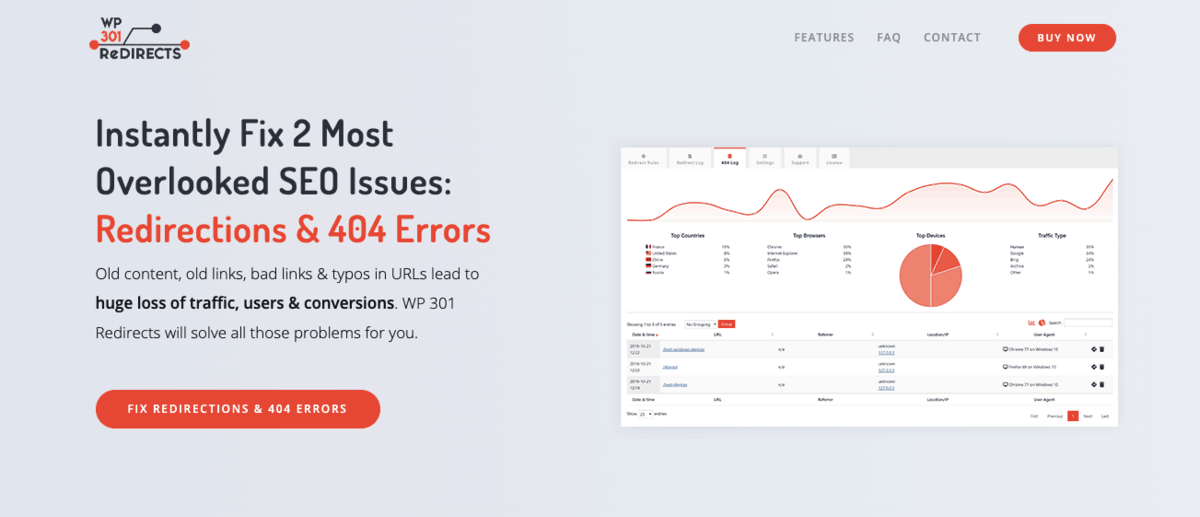 It is easy and quick to install, allowing you to manage Redirections and/or fix 404 Errors. You can safely redirect your backlinks after reposting your content, or if some content expires and you need to redirect users to a working URL. The plugin can also redirect traffic to pages, posts, archives, or other sites. This will improve the user experience and boost your traffic numbers. If you need to, you can redirect your whole site. Many experts agree that this plugin is the safest way to relocate web content without losing SEO and SER. If you are redesigning your site, your users will be redirected to a working URL, which ensures the safety of your content.
According to most developers, the two most overlooked SEO issues are Redirections & 404 Errors. Leaving broken links will affect how search engines and their algorithms see your site, which will negatively impact your SEO, SER, and traffic numbers. WP 301 Redirects can solve these problems in almost no time.
WP Engine Caching
After updating the content on your site, you might not see the changes immediately. This can happen due to slow site caching. Heavy caching is useful for speeding up your browsing experience. WP Engine Caching servers have heavy caching enabled by default, making WP Engine one of the fastest WordPress website hosts.
Features
Page Cache — logs dynamically generated page sessions
CDN Cache — grants access to various global servers for filing assets
GES Cache – Global Edge Security
Object Cache — logs query results
Local Cache —impacts how the site is perceived
GTMetrix
GTMetrix keeps track of your load times, overall page speed, and YSlow scores. The data report can be found in the WordPress dashboard, or in your email reports.
GTMetrix is very useful for tracking all sorts of data and doing different site analysis, as you get reports if the site falls below certain criteria. Also, you can set alerts based on YSlow scores, page load time, etc.
Perfmatters – Lightweight WordPress Performance Plugin
This plugin can be used to disable unnecessary features such as JavaScript & CSS and, in return, boost your overall site response times. For further optimization, disable emojis, embeds, remove query strings, disable XML-RPC, RSS feeds, dash icons, etc. It comes in handy for managing scripts or assets located in your WordPress site's database.
Slow WordPress sites usually result in higher bounce rates and fewer conversions, so make sure to optimize your site well for everyday use. Perfmatters is designed to work alongside your caching plugin, which assures for even better performance if paired correctly.
Conclusion
If you are not familiar with WordPress maintenance, the whole process can be quite frustrating, to say the least. However, if you are serious about your WordPress site, this is something that you will have to face whether you like it or not, so it is better to be prepared. Not maintaining your site will definitely downgrade its reputation and draw away its traffic, which will destroy all your hard work.
Do yourself and your site a favor and give it some maintenance love. If this is not your cup of tea and you have some money on the side, then it might be best to hire a professional and let them handle it.