If you are unclear on how much a newsletter campaigns cost and what are the initial costs of setting up this marketing channel, don't worry, you are not the only one. Even though it's widely advertised and discussed how email marketing campaigns are some of the most useful marketing tools ever, the actual cost of running them is not always transparent.
If you're running a tight ship in terms of budgeting and planning, you should most definitely be curious whether your email marketing efforts survive the cost-benefit analysis.
It is downright impossible to accurately predict the outcome and results of your campaign without actually initiating it.
This means that you will have to go through the initial costs and setup to see if this marketing channel is worthwhile for your business (and chances are, it definitely is).
In this overview, we are presenting you with some of the facts related to the costs of an email marketing campaign. After reading, you will be able to compare the needs of your organization with the actual benefits of email marketing to answer the following questions:
Should I run email marketing campaigns?
Will email marketing have a direct impact on my sales and profit?
Is email marketing still effective in 2019?
What email marketing strategy can I use for best results?
What are the email newsletters providers out there?
The Benefits of Email Marketing
Before you start jumping in head-first into your first email marketing adventure, you will probably wonder whether it even makes sense for your business. Many websites and business owners think they "couldn't benefit from an email newsletter campaign" or that their target audience simply "does not read promotional emails". That might be true for a micro-portion of overall industries, but generally speaking, you are likely to benefit from running an email marketing campaign.
The cost of running a newsletter with 5K or 10K people is much lower than its actual benefits and impacts, which you will soon find out in the break-down below. So, even if you haven't run an email newsletter before, it's high time you start.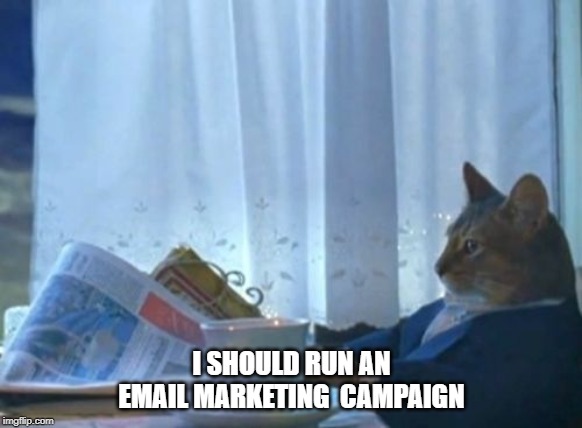 Next to social media, email marketing is the best way to communicate with your target audience and customers. There are even some obvious benefits of communicating via email: it's more personal, direct, and you have clear segmentation opportunities that will enable you to send out a message to exactly those people that the message is crafted for.

The Initial Costs of Setting up Email Newsletter Marketing
If you are just starting out with email marketing, your initial email newsletter setup costs will boil down to the price of the actual design of the email template and content + the subscription to an email service provider. There can also be additional costs like premium subscriptions or A/B testing.
Email Newsletter Design
If you're doing this for the first time, it might be smart to outsource this type of work to a professional. Even though we all have experience with opening, reading, and often ignoring promotional emails, you will likely see a much better result from a carefully-devised email design based on good UX and successful conversion rates.
If you want a DIY email design, there is a number of services that you can use for free or at a premium. Here are some of the best ones:
Canva for Email Newsletter Templates
Canva is a design and illustration tool that can make even the biggest rookie a decent designer. With ready-made templates across industries and niches, you can easily pick the one that fits your purposes the best. Canva comes at a free or premium plan. A premium plan will give you a lot more options in terms of customization, but if you want to go free, you will have a lot of resources available, too. Just select the Email Newsletter template gallery from the homepage, and you'll be amazed by the well-designed and optimized templates.
Pook
Pook is a great email newsletter template collection that will help you edit and customize your email campaign with only a couple of clicks. It has one of the richest template galleries out there, so you will surely find something to your liking. And the best part of all – it's free! Simply choose the design you like and customize it with your own content and links.
Zurb INK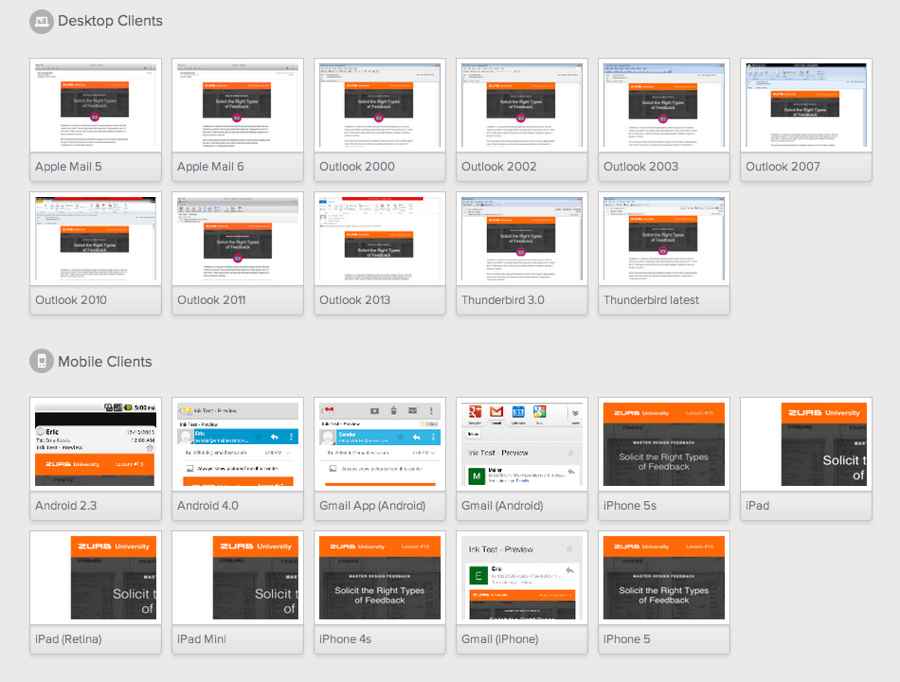 Zurb is another email template collection that will give you access to free highly-responsive and optimized templates. When you opt for the one you like, you can customize it with your own content, colors, images, logo, buttons, etc. There's also a nifty option where you can check how your email template will look like on different email clients.
Email Newsletter Service Providers
Now, you have decided on the email template you like the best, subscribed to a design program or outsourced your work to a professional. What now? How do you actually send out this email master-piece to your email list?
Many users are, rightfully, unclear about why you shouldn't use your own email provider or simply Outlook with your business address for your email marketing efforts. First of all, if you do this, there's a high chance your email will end up in the spam folder. Secondly, you won't be able to track the success rate of your campaign or do A/B testing.
Remember, it's OK not to nail it on your first try, it's what email marketing analytics is for. When you receive results and insight, you can easily tweak your campaign to perform better the next time around.
So, here are some of the best email marketing services you can use for your newsletters:
MailChimp
MailChimp is the absolute king of email marketing service providers, serving happy customers since 2001. The main reason for its popularity is that it's an all-around solution for audience engagement – you can create, design, send out, and analyze the results of your campaign all in one platform.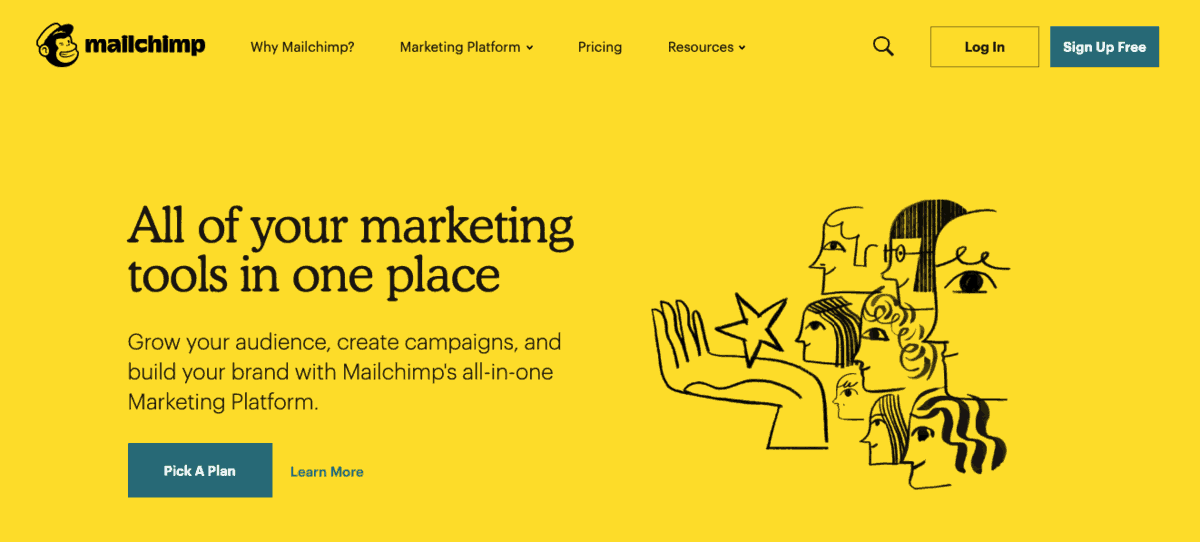 It has four pricing plans: Free, Essentials ($9.99 per month), Standard ($14.99 per month), and Premium ($299 per month). The Free plan will let you run email marketing campaigns for lists up to 2,000 users.
CampaignMonitor
Just like MailChimp, CampaignMonitor is a one-stop-shop for designing, sending, and analyzing your email campaigns. It is used by over 250,000 businesses around the world, with some of the most notable clients being Adidas, UNICEF, and HuffPost.
It has a rich collection of email templates, which you can easily customize using their drag-and-drop builder. This way, you can devise a beautiful email newsletter design without ever writing a single line of code!
This is CampaignMonitor's pricing for running an email newsletter campaign with 5,000 people:


SendFox
SendFox is taking a different approach to email marketing with its edge being in the mixture of customization and automation. It brings ease to your email marketing tasks through creating, scheduling and automating unlimited customized emails so the expenses are cut significantly. It allows you to customize various appearance sections with the beauty of simplicity standing strong as its most shiny jewel. It may not be packed with features as its competitors, but it definitely brings value in other fields, and if you're on a tight budget, this tool might be exactly what you're looking for.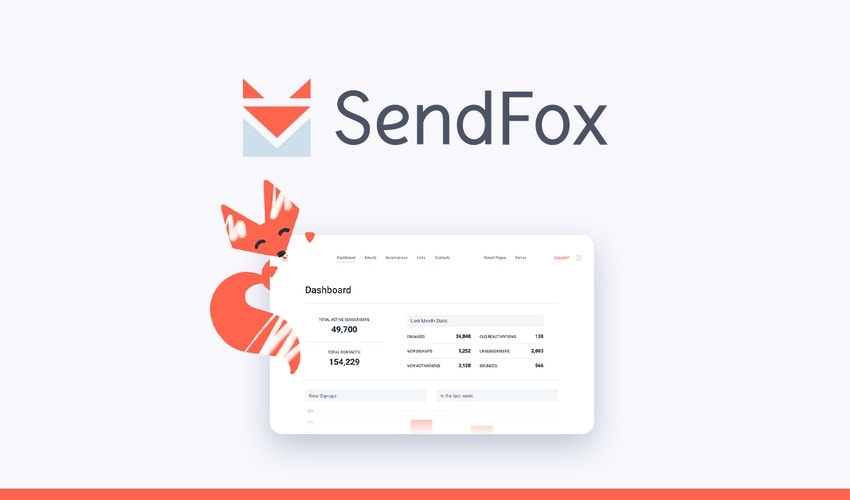 Email segmentation for email marketing budgeting
As you can see, subscribing on an email provider plan for a newsletter with 5,000 people can be quite pricey. Therefore, if you want to limit the budget for your email campaigns, you can use one of the most useful features these apps offer: audience segmentation.
Email segmentation means that you can choose to send out your emails only to a specific section of your audience. Due to the great detail and insight your initial tests and campaigns can offer, you can benefit from segmentation both in terms of budgeting and the overall campaign result.
In other words, after you have sent out a couple of mass-emails, you can extrapolate the audience that reacts to your messages the best and send out a message just for them.
This will reduce the total number of the users you're sending to (which implies a reduction in the email newsletter cost), but will also allow you to focus on engaged users.
Here are some of the best audience types to keep an eye on when segmenting your email list:
Link Clickers: users who open your email messages and click on the links contained in them are one of your most valuable audience segments. If you want to get more traction to your site, make sure you target the usual link clickers.
Email Openers: those users that actually consistently open your email campaigns are a great group A/B testing for effectiveness of bigger campaigns.
Forwarders and Social Sharers: another precious part of your user pool are definitely those users that actually share your message with others. If you target them specifically, you can reach a much wider audience than is your actual email list.
Conclusion: The Costs and Benefits of Running an Email Newsletter with Thousands of People
As you had the chance to find out, running email marketing campaigns is an invaluable marketing resource that can hardly be compared to most other types of B2C communication. When you factor in the personalization, and the direct approach email newsletters imply, you will see that the benefits far trump the costs.
If you're running a start-up or a small agency, it's enough to start with a free or low-priced plan to get the ball rolling. You can easily switch to a higher plan when you see the need for it.