Everybody wants a website with one too many visitors, because that is the recipe for sales, and in essence, money in your pocket! To get there, it usually means that the website is ranking first on Google and that whoever does the marketing knows what they are doing.
Social Media and various blogs have us believing that getting there is an overnight thing. "Just click here, and then there, and enjoy your new visitors!".
With so many SEO tips and tricks out there, it seems rather easy to rank first and receive the attention you want your website to receive.
Still, the truth is, getting there takes quite some SEO knowledge and you should definitely take some to learn SEO online. Search Engine Optimization is turning into a brain surgery these days, and the process surely isn't as simple as it may seem. Google and other search engines are becoming smarter each day, so impressing them might take a bit more work than you originally thought to reach the desired SEO ranking.
Don't get discouraged!
While just stuffing keywords everywhere won't do the trick anymore, it doesn't mean that you have to go ahead and study everything there is about SEO. It could take just a couple of good articles about SEO, or a couple of good plugins if you are using WordPress as your CMS of choice.
Of course, the first plugin that comes to mind is Yoast SEO, and while it immensely helps, there are also other plugins that deserve your attention, too. While Yoast SEO can be of great use when drafting your content, there are other important aspects of your site to cover to achieve the dream.
On the other hand, there are many other aspects of SEO that Yoast doesn't really cover. This is why we would like to present you with another plugin: SEO Booster. Without any fluff, let's present what it can do and how it can help you reach the first page of Google, and you decide if it lives up to its name.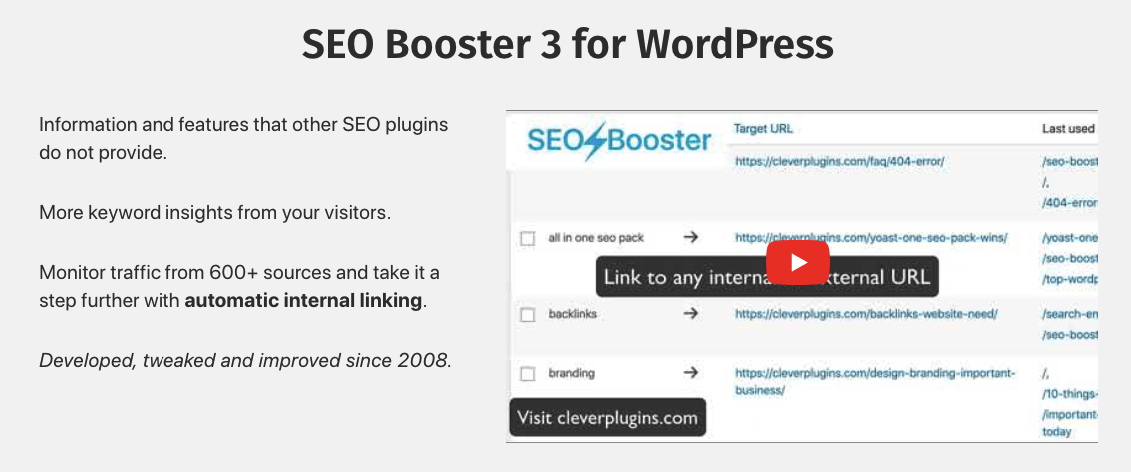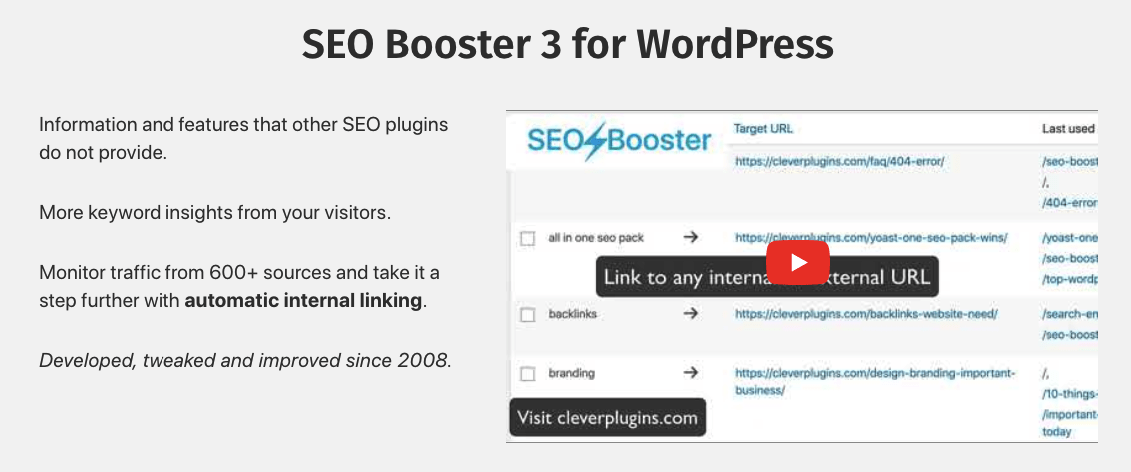 What can SEO Booster help with?
SEO Booster is a plugin that will help you with another level of your search engine optimization. While it can help with some of the more obvious stuff, you can also rely on it to handle things in the background instead of you.
Handling Keywords
Let's start with important things: Keywords. No, it will not put your keyword everywhere and call it a day. It can actually be of great help with picking the right keywords to rank for initially. Unlike the good old days, when you had to spend hours to do proper keyword research to find the one to rank for, with SEO Booster, this is almost automatic.
Due to privacy laws, Google no longer shows publicly what your visitors were searching for initially, which is a bummer. Luckily, other search engines are more generous. Speaking in numbers, around 600 of them.
With the right plugin, such as SEO Booster, you get an overview of these keywords, so that you know what to put in Yoast to get more traffic! Hopefully, you might even get an insight into some new keywords you could rank to improve your website's score, or even, new markets you could enter. You can preview all these keywords within the plugin's dashboard.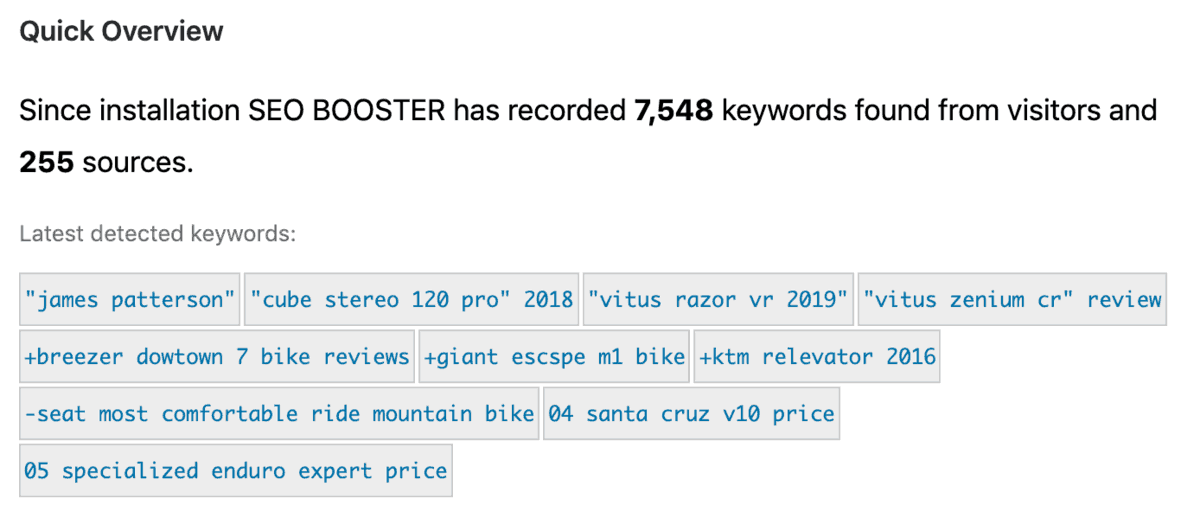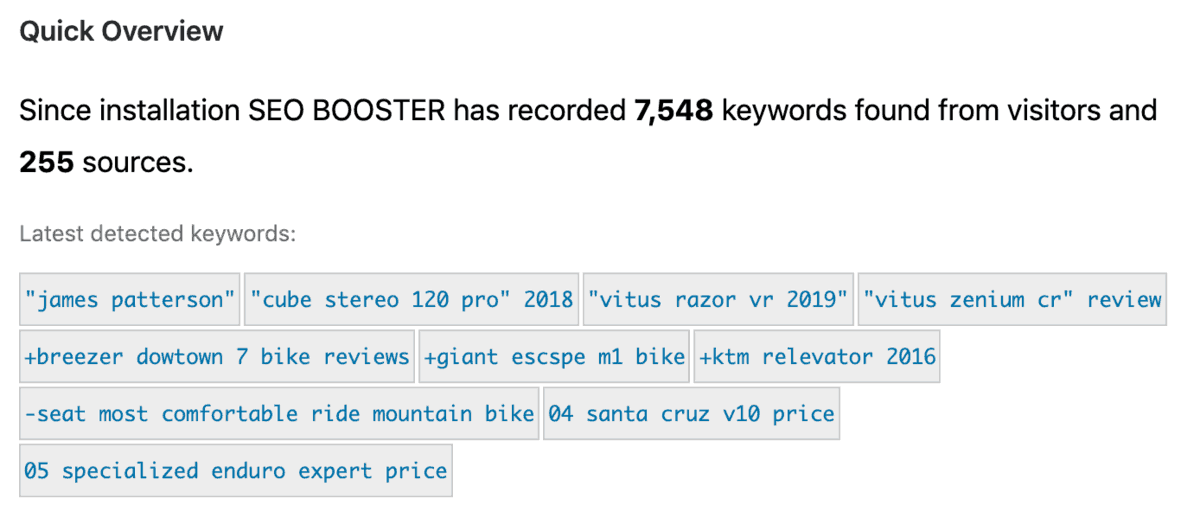 Under the keywords tab, things get more specific. Namely, this plugin gives you an overview of the keywords on your website per page, which search engine uses it, and how many visitors came to the specific page thanks to the keyword. This is an effortless way to see which pages and keywords on your site need more attention.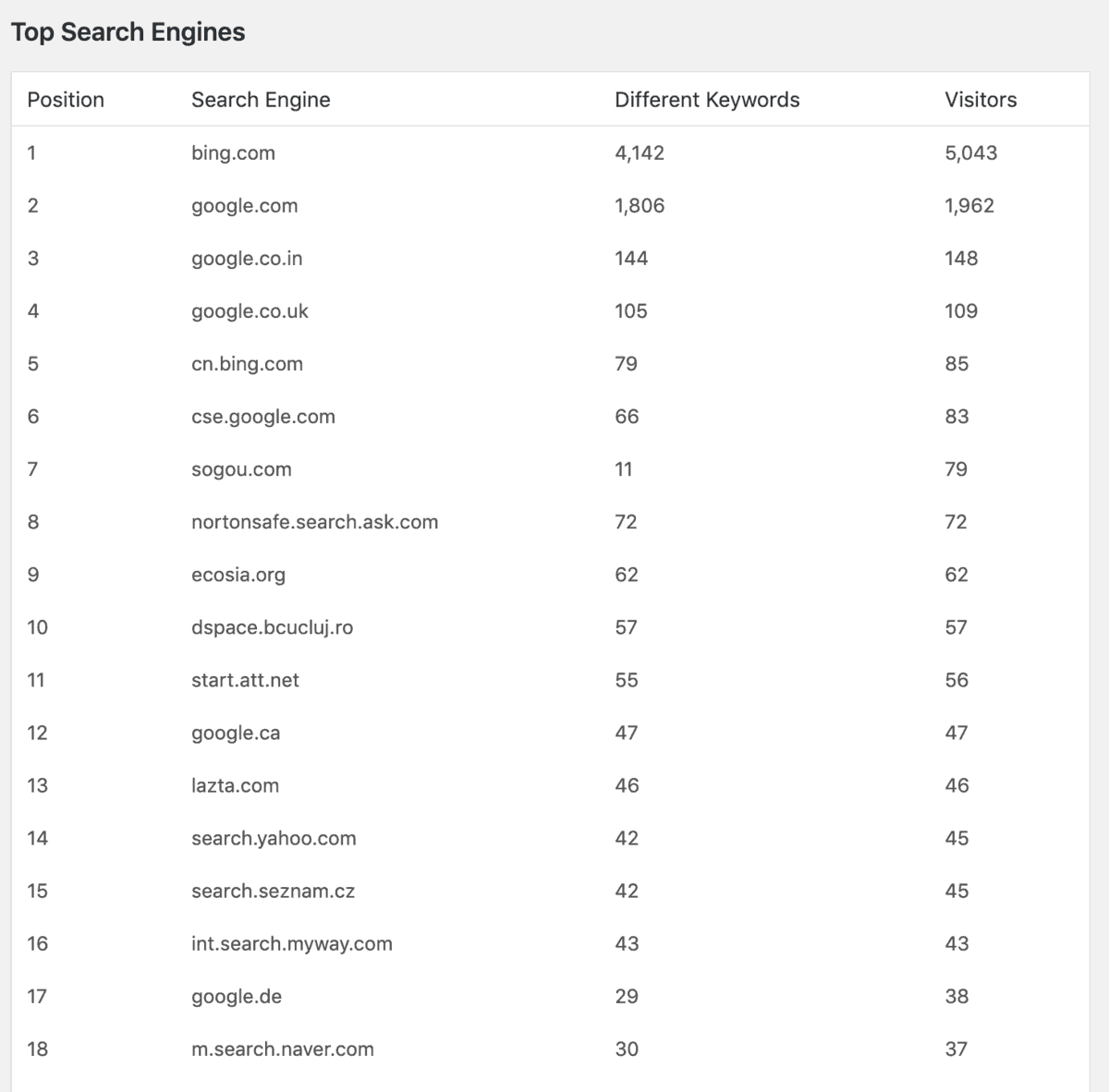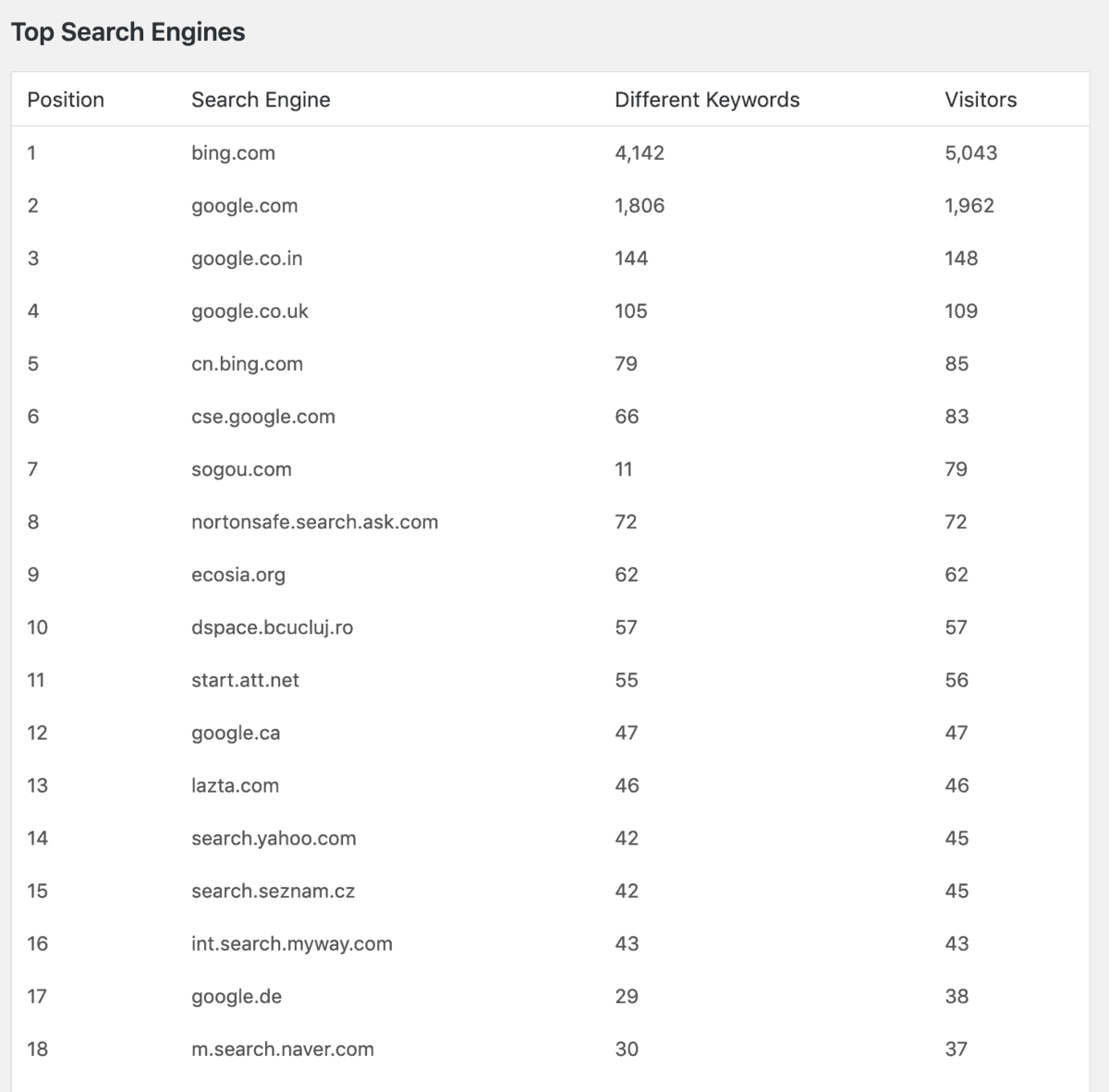 You can further decide to clarify this list by hiding internal searches – or what the people searched for on your website. While this gives you important insight if you are looking to improve your search engine game, you might want to leave it for later. Other available filters on this tab allow you to select whether you would like to see "known keywords" or "unknown traffic," and you can use them to figure out your next step when it comes to your keyword efforts.
Filter the keywords
You might not want all the keywords on your site operational at all times. This is where the "Filter Keywords" section, which you can find under the settings tab, can come in handy. Simply enter the keywords in the provided field, and consider them forgotten.


On another note, if you don't want SEO Booster paying attention to the internal searches, you can have it completely ignoring them. All you should do is check a checkbox.
Auto-Tagging
If you are using SEO Booster to bring some SEO clarity onto your site, this is another keyword-related feature that you will find rather useful. Automatic tagging will add the keywords as tags to the post, to enable proper internal linking structure on your site, and bring some order to your content.
Apart from automatically creating tags for new content, you can also rely on this plugin to search your website for the particular keyword and assign it as a tag to other, related posts. It also works on Custom Posts; you can rest assured that no post will be left unturned.

Still, having too long, or too short, for that matter, tags might not help. This is where tag length comes handy. All you should do is set maximum and minimum length for your tags, and not worry about it any longer.
Automatic Linking
Apart from relying on this plugin to turn keywords into tags, you can also have it help you turn them into links. This is a huge timesaver, which immensely helps with internal linking, and therefore, your SEO score.
All you should do is assign a link to a particular keyword, and turn on automatic linking, and you are good to go! If you set up "Pink Unicorns" as the keyword, and add the link to an article on your site describing pink unicorns, every time you type in "Pink Unicorn" in a post in the future, the plugin will automatically turn it into a link to the same article, without you have to lift a finger.
However, this option is not limited to internal linking. If it was, it wouldn't be of much help to the affiliate marketers, right? Having to add a link to a product's name every time you mention it in one of your posts is no longer a struggle, as you can set automatic linking up even for external links. With the PRO version of this plugin, you can also import the keywords you already have in Yoast SEO, giving you more time to focus on other aspects of your site.
Backlinks
While keywords can be extremely helpful when it comes to pleasing Search Engines and getting their traffic, there is another traffic source that SEO Booster can help you with: the one that comes through backlinks.
Backlinks are still an important aspect of SEO. Not only will the backlinks from popular websites bring you new traffic, but they can also help bump you up a spot or two on search results. Getting your website approved by authority websites in the niche improves your credibility – mind you, no one wants to link to scammy or useless sites.
If you manage to get a link from authority sites, it doesn't only tell your new users that you know what you are talking about. It tells the same to search engines.
On the same note, if you are getting backlinks from spammy sites, that can seriously harm your reputation with Google. This is why you need a way to manage your backlinks, and luckily, SEO Booster can help with that too.
Backlinks Overview
Yes, SEO Booster provides you with another important dashboard – the one that allows you to preview which sites are linking to you. Each visitor coming from another site has a "referral string" attached to them. SEO Booster monitors these and presents them to you within this dashboard: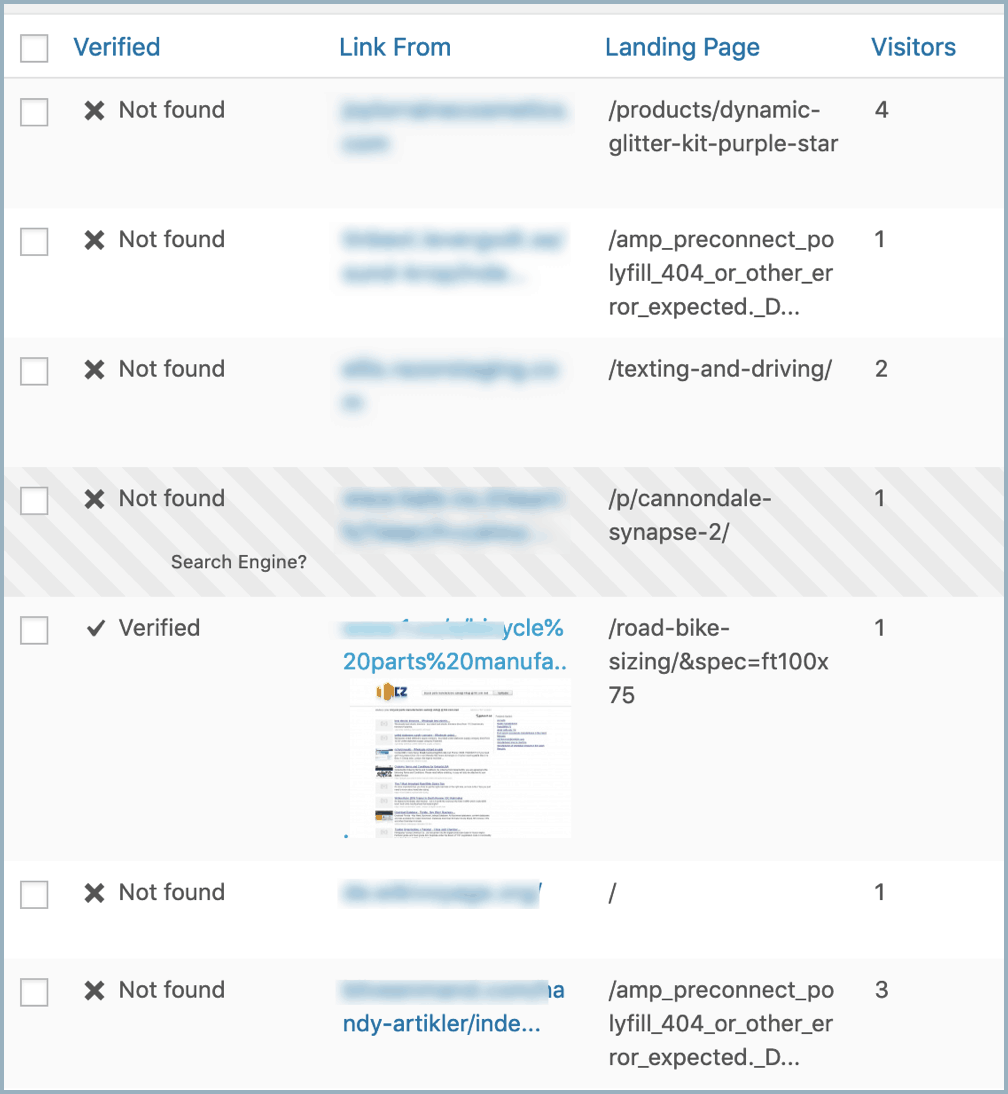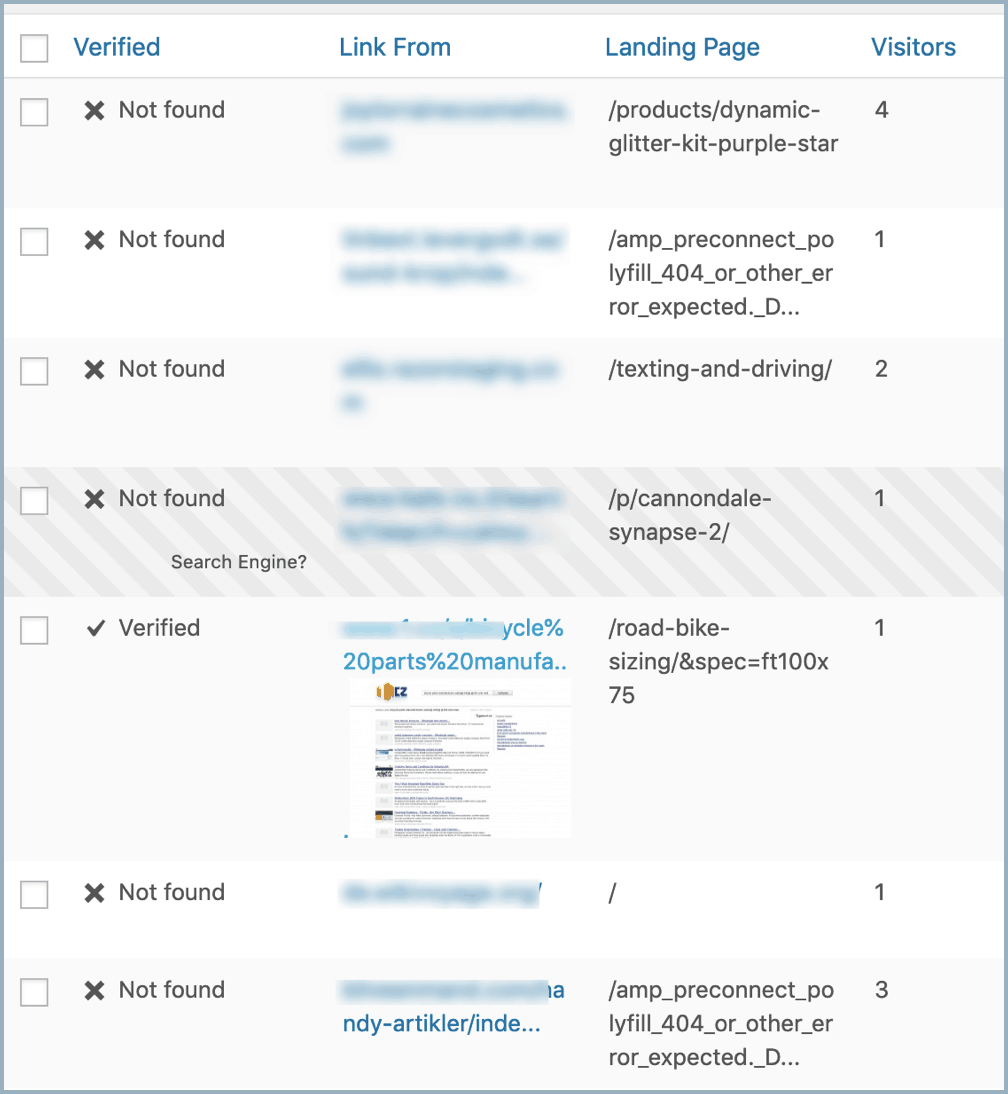 Backlink Checker (PRO)
Unfortunately, these referral strings can easily be fake. While you might see it in your dashboard, the website owner could have decided to cheat you out of your hard-earned link. Manually checking whether your link is actually on their site is important, but also very time-consuming.
This is where the backlink checker comes into play. SEO Booster's checker can save you hours by checking all the links that are sending traffic your way – meaning that it will search a particular website for your link.
If it succeeds, and the link is real, it will present it within the overview as the anchor text, or as an image, as you can see in the image above. If it doesn't succeed, it will present it as not verified. Don't worry; it won't give up as easily: it will try multiple times, and if it doesn't succeed, it will remove the link from your dashboard.
Filter Backlinks
Getting links from other sites is a good thing unless Google regards those websites as spam. If you keep receiving such backlinks, you might consider preventing it, so that Google doesn't start judging you by spammy company.


You can effortlessly do so with SEO Booster – all you have to do is add the particular URL, or domain, to the "blacklist." Just type it in in the filter box. The SEO Booster will take it from there, and ensure that spam won't be coming your way anymore.
Bird-Eye View
This is all grand, but regularly checking all these dashboards to keep in touch with recent changes can turn in a full-time job in no time. SEO Booster took care of this, and it provides you with several features that allow a bird-eye view of the SEO aspects of your site.
Lost Traffic
After a while, some of your posts might turn out to be not so attractive to your visitors, and they need some revamping. Under Lost Traffic, you can easily see which pages need work. It will present you with a list, the last time a visitor has checked it out, and the keyword they used. From there, you can take the necessary actions to improve that.


404 Errors
Sometimes, your pages can show a 404 error. This is definitely not a good thing, and it requires your attention as soon as possible. Once you turn 404 monitoring in the plugin's settings, as soon as a visitor sees a 404 page after landing on your page, you will be notified, so that you can take action. You don't want other visitors seeing it, too!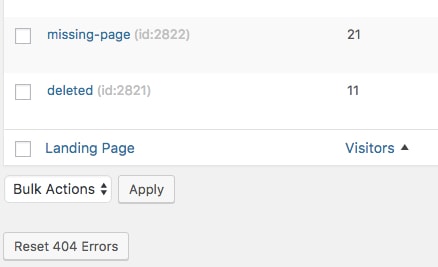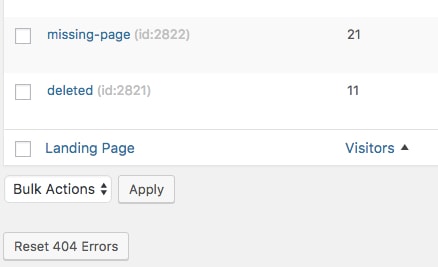 Log
Now, this is the place to go to for the ultimate bird-view of your site. Under this tab, you can check everything that is going on with your site, from backlinks and keywords, but it can also be of incredible help when it comes to debugging!
Weekly Email Reports
If you need changes summed up for you, and you would like to have them weekly in your inbox, SEO Booster can help with this feature. It will send you an email with keyword stats, new backlinks, or 404 errors that it has detected in the previous week.
PRO Features
While all this should be enough to help you in your effort to get to the first page of Google, this plugin has additional PRO features to give you the extra boost.
Apart from the backlink checker already mentioned, and the fact that with PRO version you get to export almost every list within this plugin into a .csv file, there are two additional PRO features that you will probably find rather handy.
Crawled Pages
If you want to take the guesswork out of the picture, then this feature will help you figure out which pages of your site got crawled, when and by which crawler.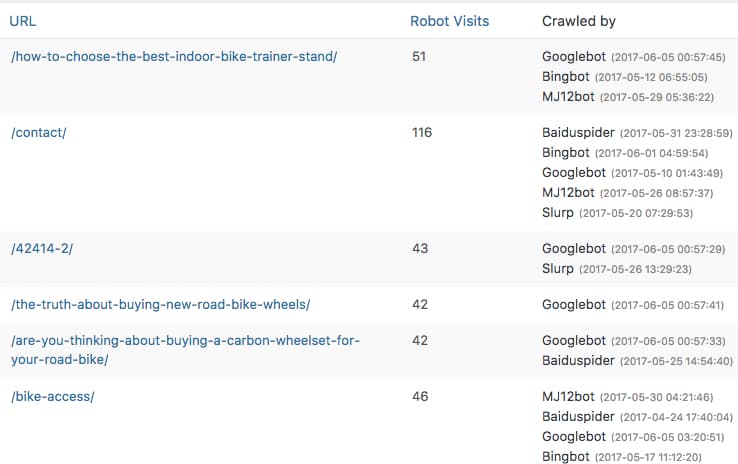 Page Speed Insights
The speed of your pages has another huge SEO impact. If you make your visitors wait, then all your other efforts could be in vain. You need to know how fast your page loads, and continually work on improving that.
With SEO Booster PRO, you don't have to check anything manually. Without you noticing it, in the background, it will perform an audit of your page's speed. Under the "PageSpeed" tab, you can, in a glance, check which pages are running late, thanks to the colorized numbers.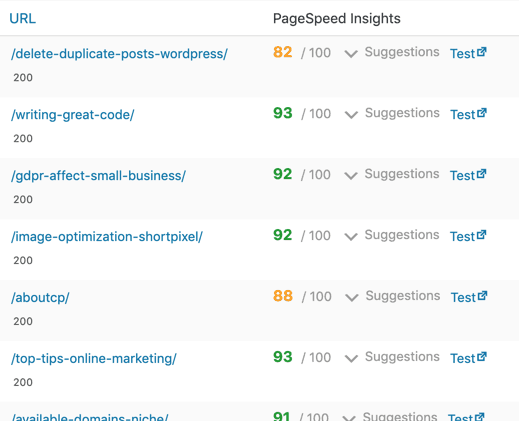 If it's green, you're good to go. If you notice some orange numbers, you can go ahead and check the suggestions dropdown – it will give you some valuable information on how to improve the speed of these pages.
The overall conclusion
From internal SEO to backlinks and the speed of your site, you need to incorporate all into your SEO plans. With this plugin, though, you can get the much-needed help in making your website more visible for your new visitors.
Not only will it present you with the needed stats, but it can also automate many things and get them off your back. Its suggestions can help you get on the right track when it comes to your SEO efforts, and you can rely on it to ensure SEO success through techniques not many other websites utilize. Overall, with carefully selected features that can help you boost your website's ranking, SEO Booster is a good plugin to have in your arsenal.