Your company's landing page has a short window of time to make a first impression. You must start the user through the sales funnel, impart information to help them decide, and build trust all in one shot. How can you ensure you gain the confidence of people who've never met you or done business with your brand before?
According to Edelman's most recent Trust Barometer report, the pandemic shifted consumer priorities and buying criteria. Consumer desire for value is up 37 points, and 88% of people say trusting a brand is essential to their decision to buy. Approximately 32% say if they don't charge a company, it's a deal-breaker.
Gain trust at first sight! This #article is bringing you a few #tips on how to increase brand #trust via your website.
Since trust plays such a vital role in whether people purchase from you or not, you should consider how trustworthy you are in all aspects of your business. Do you stand behind your policies? How does your landing page communicate your policies and reputation? Here are a few ways to increase brand trust via your website.
1. Share Your Processes
When people first land on your site, they may have a few competitors in mind. Think about what makes your brand stand out. What is your unique value proposition (UVP), and how does it differ from others in your field?
Lay out what you can do for the customer to have a clear understanding of what they get for their investment.
One way to achieve this is to be clear about your shipping charges and make them work in favor of your loyal customers. What do we mean by that? In essence, implement special shipping rules for logged-in users. This can be made possible using the WooCommerce Table Rate Shipping plugin.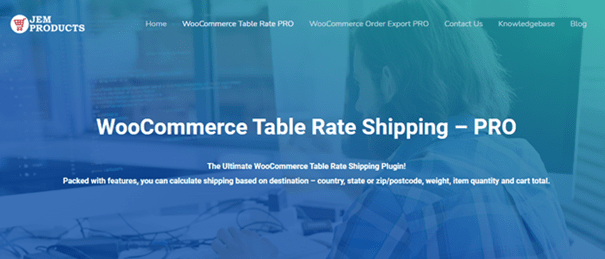 This plugin, along with creating the advanced shipping rules we just mentioned, can also calculate shipping based on weight, destination, quantity, and cart total. Its shipping rules are fine-grained with the help of shipping classes, and its shipping methods can carry unique names. The shipping methods can be hidden, imported and exported, and forcibly used.
Other features that make this plugin worth your attention are: the creation of unlimited shipping zones and rates, addition of handling fees to each order, inclusion of multiple shipping methods at a time, and usage of the highest, lowest, or summation of shipping amounts.
The plugin also has a sister plugin, great for exporting WooCommerce orders, meaning that they work hand in hand perfectly.
Service businesses, in particular, must show what value they bring to the client.
TealBook's landing page looks at how the software works and what it can do for customers. They talk about optimizing investments and keeping supplier data up to date.
2. List Contact Information
Make your contact information easy to find. Traditionally, companies add a contact tab to their navigation bar on the far right. Consumers also expect to see it in the footer and know to hit Ctrl+End on a Microsoft operating system to get to the footer and grab a phone number or email.
You may want to list your toll-free number in the header to show you're available anytime they need help. People are much more likely to trust you to stand behind your products and services if they know they can easily reach you.
3. Show Off your Policies
Ideally, you'll have a set of policies for how to handle problems your customers might encounter. These include your return policy, service policy, guarantees on your product, and even privacy policies and how you keep customer data safe.
Make your policies part of your landing page design so they're easy to find. Users should never have to dig through your site to learn your rules.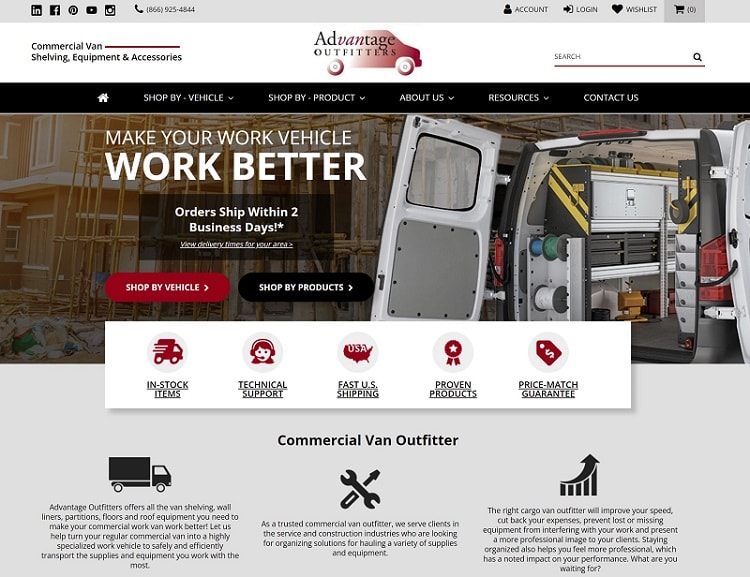 Advantage Outfitters brilliantly uses icons to show off the advantages of choosing them to outfit commercial vans. The user knows what to expect:
A well-stocked inventory.
Easy-to-navigate tech support.
Fast shipping.
A price-match guarantee
4. Offer Live Chat
Consumers may not want to pick up a telephone and contact your company, but they'll utilize a live chat feature to ask questions and make sure they feel comfortable buying from you. You can certainly use a chatbot to answer common questions, but you should also staff your live chat with well-trained agents who can answer unusual queries.
Live chat shows users you are there immediately to help them. They're more likely to trust your brand if you give them accessibility and interact with them.
5. Gather Testimonials
Most people believe the recommendations of peers over what a company says about its products. It doesn't even matter if they know the other person. They just want to see that someone other than you thinks you're great.
Testimonials give you a chance to highlight what you've done for other customers. They show you have happy clients who are willing to recommend you. Share testimonials via text, case studies, or videos.
Teach to One is a math training program with different audience segments. The program is available to schools, teachers, and families. On each landing page, the user sees testimonials from the group. For example, in the screenshot above, a middle school teacher shares how it helps her target students and help those at varied levels.
6. Stay Consistent
All the content on your page should tell a similar story and use consistent language. What is the goal of the page? What action do verbs guide the user toward the objective?
You might also want to make sure your landing page matches your brand design guidelines. Sometimes impressions come from the aesthetics of your site as much as the content. Do you use the brand color palette? You can always add a pop of color for the CTA to mix things up.
Are the images consistent with other images on your site? Do they depict what you're trying to convey? Make sure every element on the page is usable. If you have clickable areas, click through and see if the user gets feedback that their action was successful.
Be Upfront
The number one thing you can do to build trust with your audience is to be honest, and transparent.
Don't try to hide issues. Own up to them and let people know what you're doing to fix any problems.
Be honest, and you'll gain the trust of those who buy from you. They'll also tell others you are a company of integrity and follow through on what you promise.
Author
Eleanor Hecks is editor-in-chief at Designerly. She was the director at a marketing agency before becoming a freelance web designer. Eleanor lives in Philly with her husband and dog, Bear.