You should never lose an opportunity to increase your conversation rates and further improve your business. For this, you will need more contacts and mailing list subscribers, which are acquired through contact forms.
While there are multiple types of contact #forms and many ways one can use them, they're definitely essential and should always look good.
Since you clicked on this article, we'll assume that you're already using Elementor as your page builder and are in need of a tool that will make your forms as appealing as your website is.
If that is the case, then this article is exactly what you are looking for. In it, we will present the best form builder plugins that are sure to work perfectly with Elementor. 
Adding Plugins to Elementor
In order to integrate a separate form builder into Elementor, you'll have to install a plugin. But don't worry, that process is pretty effortless. All you have to do is, open the WordPress dashboard, go to "Plugins", click "Add New", and search for the plugin you need. 
After that's done, just install the plugin and click "Activate". And that's it; you're set. 
Top 3 Form Builder Plugins
Now, moving on to what you're here for – the top plugins for creating forms that integrate with Elementor.
1. Gravity Forms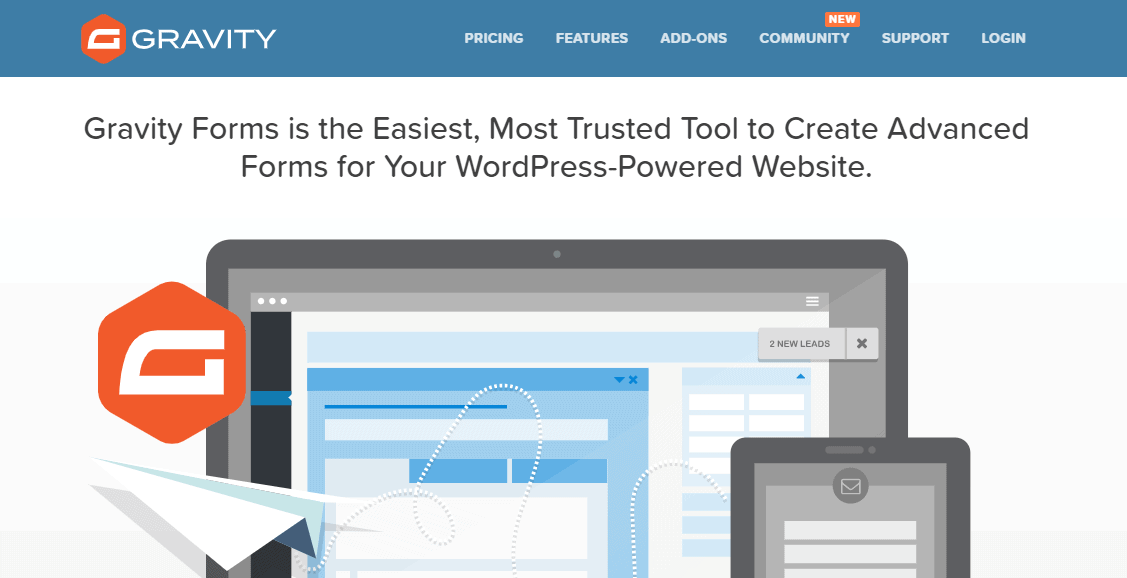 Gravity Forms is maybe the most popular form-building plugin on the market, and it's really no surprise as to why. It's extremely easy to use and has a simple interface that anyone can navigate, but that doesn't make it any less comprehensive or customizable.
Using it, you can create pretty much any kind of forms ranging from surveys and polls to quizzes and online orders.
The configuration settings are the place where you'll be able to control how the forms are interacted with and how they are handled. But possibly the most talked-about feature of Gravity Forms is the conditional logic feature. It can be used to determine which form fields are displayed, ensure that messages are sent where they are supposed to be and figure out advanced routing.  
Some other features include: 
the ability to create multi-page forms

optimization of your forms for mobile

an invisible spam storage feature

creating WordPress user account forms
While this tool does have more than a few fantastic features, you must remember that those always come at a price. For purchasing Gravity Forms, there are a few pricing plans you can choose from, but a thing to keep in mind is that 24/7 support only comes with the more expensive plans. 
2. Contact Form 7
Contact Form 7 is a simply fantastic WordPress form builder. It enables you to manage multiple forms at a time, as well as customize their design. The great thing about this plugin is that the forms you create with it will have your site's design. So, even if you're not really the most creative site developer, you'll be able to make sleek forms that match your site. 
This plugin is completely free, and its support is absolutely amazing.
The forms you create using it will be relatively simple, but so will be the creation process as well. And once you make your desired form, you can add it to any part of your WordPress site using a shortcode.  
Other relevant features include:
integration with Google reCaptcha

the ability to add radio buttons and dropdown menus

the ability to add more fields
Considering it's the oldest plugin of its kind and that it is free, there are bound to be some shortcomings. But if you know at least some HTML, you shouldn't have any problems. However, if that is not the case, customizing the forms might prove to be difficult for you. 
3. Ninja Forms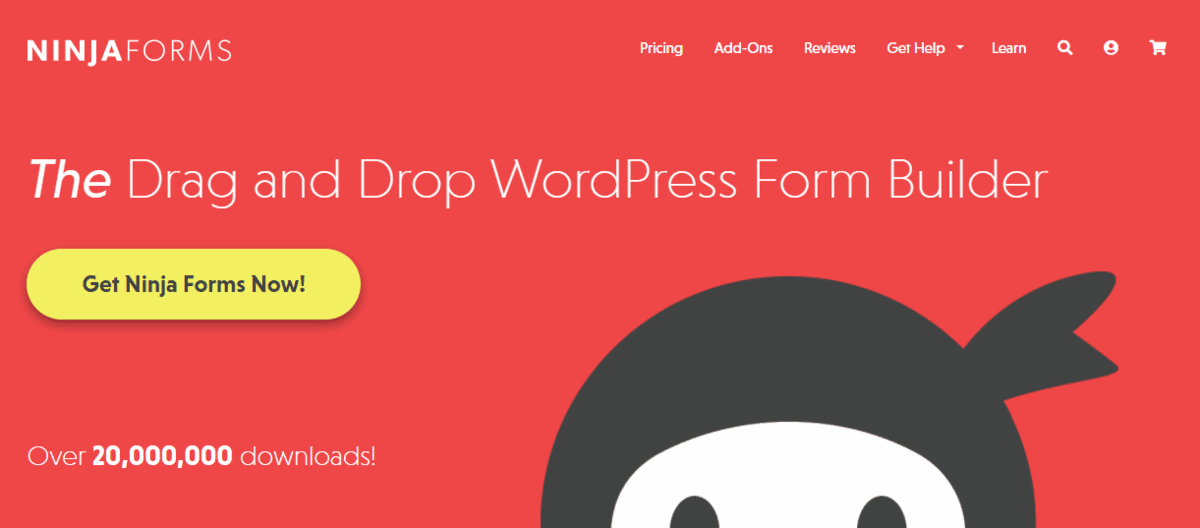 And the final plugin we shall be introducing today is Ninja Forms. With over 20,000,000, downloads it's becoming increasingly popular and taking the market by storm. Undoubtedly, this is partly due to its great visual builder. It makes the plugin 100% beginner-friendly as well as design-friendly, which is great for those who just want to create a good-looking form without much trouble. 
The tool was recently updated to Ninja Forms 3 and is now better than ever before.
Ninja Forms does have a free and a pro version. Both work well, but as one would expect, the free version is rather limited. 
Other features you can expect from Ninja Forms include:
anti-spam filter

great selection of form fields

integration with marketing tools and CRM software

the ability to create a quote request form

over 40 addons (in the pro version) for things like analytics, condition logic, etc.
This is undoubtedly a fantastic tool that helps you create beautiful forms. However, the free version is a bit lacking, and even the pro version is limited when it comes to placing forms on your page. 
Bonus Recommendation
Above, we explained how easy it is to add plugins to Elementor, as far as form plugins are concerned. But to create forms, you don't actually have to use a third-party plugin. You can just use the Elementor Form Widget.
Elementor Form Widget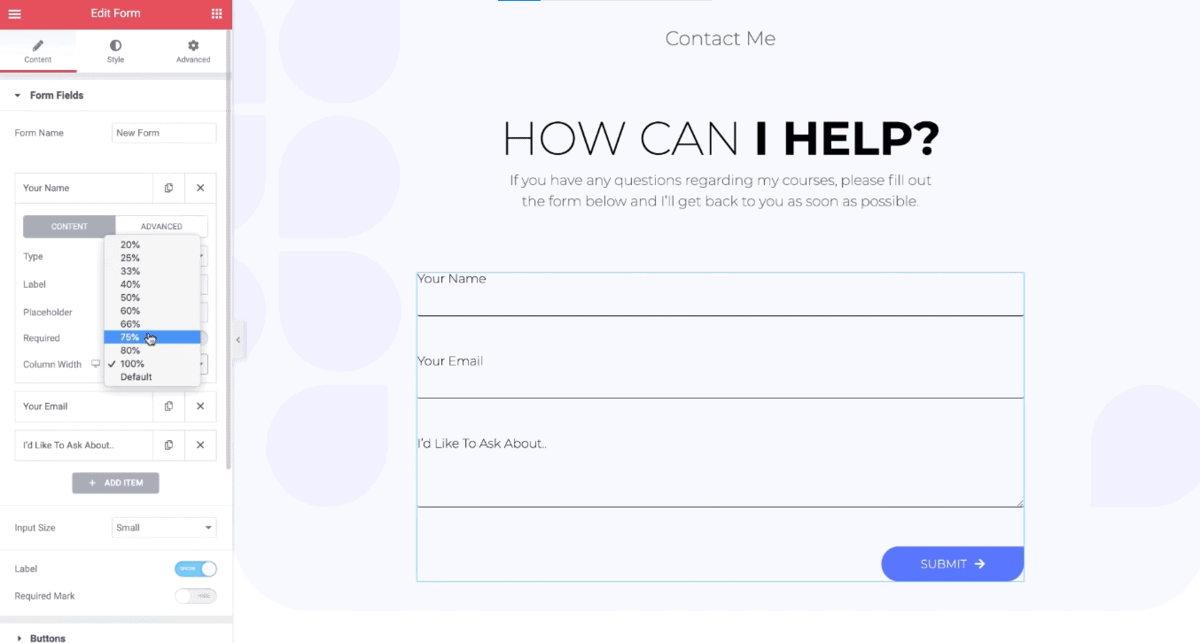 Shown above is the editor you are presented with once you acquire the widget. As you can see, there are quite a few customization options, as well as an advanced tab. The interface is intuitive, easy to use, and lets you create fantastic forms from scratch. So if that's something you've been looking, but couldn't find in a plugin, your problem is solved; Elementor has you covered. 
The editing process of any form is visual, aided by the drag-and-drop builder, and done in real-time. With the widget, you can customize and edit pretty much every aspect of your form, including the spacing, the colors, and the type typography. Also, if you enable the styling of fields, you will be able to add buttons, backgrounds, etc.
Another benefit of creating forms directly with Elementor is that it offers multi-step forms and can be integrated with over twenty-five marketing automation tools like Mailchimp, HubSpot, Zapier, and many others.
Other relevant features include: 
anti-spam filters

the form builder is only one part of a much more comprehensive tool, so there's a lot you can do with it

the advanced fields include options such as data field, time field, and HTML 
Overall, as it is only a small part of a versatile page builder, with the Elementor Form Widget, you'll have a myriad of options. However, it does only have 10 form fields, those being the most common and important ones. 
Final Thoughts 
Creating good-quality forms is a seemingly minor but important step. Your entire page must look sleek and well put-together, and your forms should match that well. So, don't ignore creating them and pick up a tool that will help you design forms that fit your liking.
If you're already using Elementor, then you must be well on your way to having an exceptionally-designed site, and all that's left to add are some details, including forms.
That's where the tools mentioned above come to your aid. In case one of them speaks to you, make sure to get it ASAP. However, since Elementor is already your designated page builder, you can just try using its form-building widget. Just add it, and see if it has everything your forms need. If not, feel free to consult this list again.