The most time-consuming task of all marketing activities is content creation, and what a shame it would be if you or your team spent all that time trying to create the perfect email, and in the end, most of your subscribers don't even open it. All of that time wasted, never to come back again.
Need a tool for testing #email subject lines? This article contains a list of the best ones on the market!
This happens often, but it doesn't mean that you have bad content creators. No single person could ever keep track of all the elements that create viral emails.
That's why you need an email subject line tester tool, and we've already picked out the best ones for you.
1. SimilarMail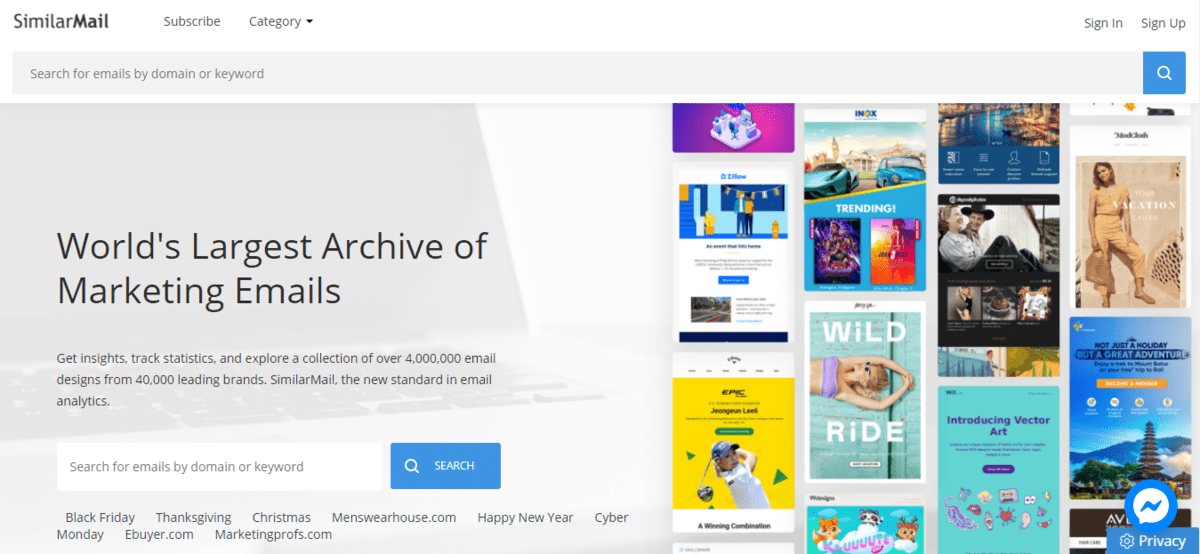 SimilarMail is a fantastic tool any business could benefit from. One of its best and essential features is to help you gain knowledge of current trends as well as aid you in figuring out how to create the best, often viral, emails.
This, in turn, is sure to boost your conversion rate, because let's face it if your emails are boring, people are highly likely to ignore them, and if not, well, exactly the opposite.
Once you gather all the data you need, you'll be able to send targeted emails catered to your audience, as well as schedule them to make sure they arrive at the right moment, every single time.
Mix all of these things with data collected from global trends and competitor marketing campaigns, and you're sure to create a perfect marketing campaign yourself. One of the most powerful aspects of this is truly understanding the influence of keywords and using them to your advantage.
Another great feature of this tool is called SubjectAI, which will be able to predict open rates as well as identify the best subject line you can use to make sure you're always on the top of the game.
And finally, possibly the most interesting part of SimilarMail is its ability to identify the best marketing automation technologies and help you choose the right one for you.
2. Send Check It
Taking the honorable second place on our list is a tool named Send Check It. This tool is perhaps one of the most detail-oriented email subject line testers. It provides you with an overall score of all the stats related to the opening of your emails and offers 16 criteria against which your subject lines can be tested. Here are some examples of the criteria; spammy words, length, personalization, and so on.
Along with this, it also offers a list of proposed changes you should make in order to improve your original score. Most of it is really helpful, not just pointless numbers you won't understand unless you're a huge techie.
It covers all forms of spam mail, use of punctuation, and emojis. So, all in all, Send Check It is most certainly a handy tool, especially if your business is still really small and you can't afford to break the bank.
3. Mizy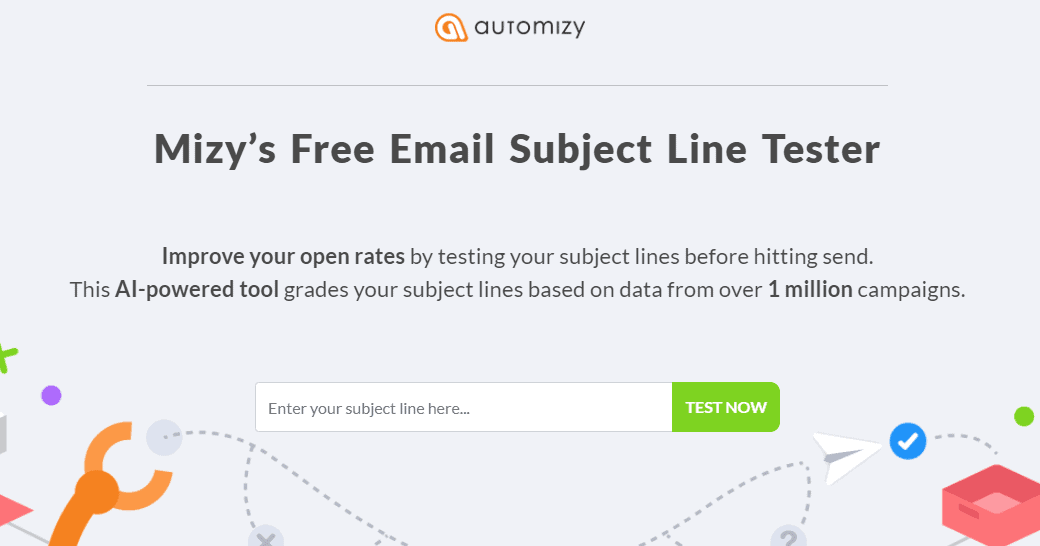 As is the case with most tools mentioned on this list, Mizy claims to help you craft the perfect subject line and increase your open rates through deep-learning AI. Using it, you can test how good your subject line is before you even send your email. Mizy is going to pull it through a database of over 1 million email campaigns and predict how good it's going to perform.
After you enter your subject line and Mizy has finished analyzing it, you're going to get a score from one to a hundred, which should tell you whether or not you have to go back to the drafting table. And if you follow the suggestions Mizy's AI provides, you should soon see an increase in your open and click-through rates, as well as your number of subscribers as time passes along.
4. Touchstone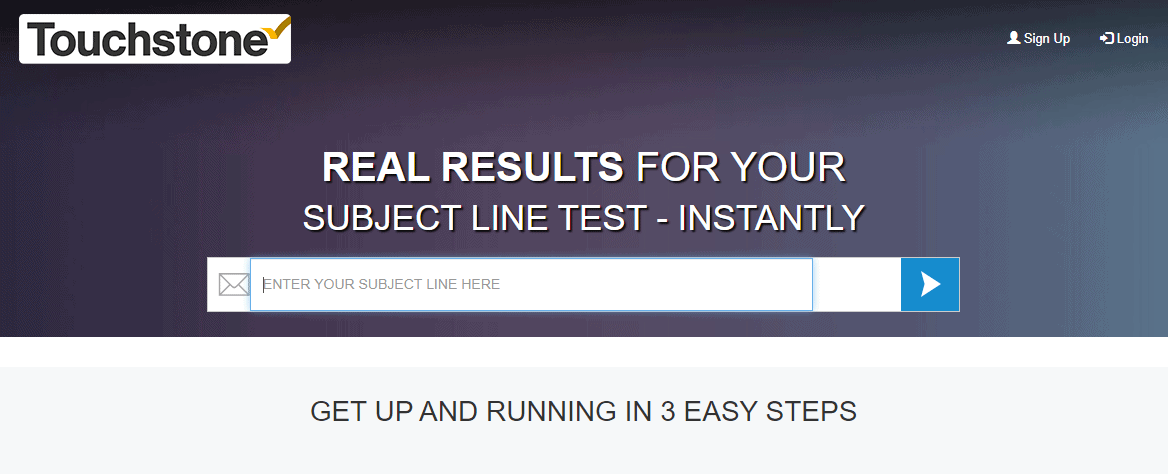 Somewhat different from the aforementioned tools, Touchstone is a virtual simulation of your database. It requires you to upload your campaign data, and then it scans your subject lines as well as compares them to the ones in their own database comprised of over 21 billion emails. The sheer amount of data it can process in mere seconds is astounding, and with such a broad scanning area, the results it provides are bound to be accurate to the highest degree.
Unlike some other tools, it doesn't take a sample size of your database; instead, it takes all of it. And, of course, as you know, more data means a higher likelihood of accuracy.
This tool needs only about 30 seconds to set up the test, and your results will arrive in no time at all.
When it comes to testing an actual subject line you wish to send out, Touchstone lets you scan ten at a time, so pretty much everything about this tool is as quick as it can be.
5. TestSubject
And last but not least is TestSubject. This is a no-fuss, straightforward subject line testing tool. Possibly the greatest thing that goes in its favor is the fact that it was created by people struggling with the same issues as you – wasting their time trying to write interesting emails that just don't seem to be hitting the right note.
You can use it to get a preview of what your subject line and sender info look like on all popular devices. While it may seem a tad unorthodox at first, you can never – and we cannot stress this enough – never forgo the aesthetic aspect of anything you do.
The ability to preview on different smartphone displays is especially useful, as more and more online traffic comes from smartphones. Over 50%, to be more precise, and if that doesn't convince you not to ignore this aspect, there's likely nothing that will.
Final Thoughts
Trying to navigate all of your marketing activities might seem like too much to bear at times, especially when it's expected of you to monitor such seemingly small things such as email subject lines. But, as we all know by now, many small details make a significant difference.
In order to take charge of every marketing aspect that you can, you need the right helpers. No one does everything alone.
So, we hope that this article aided you in finding your perfect helper for this specific aspect.