In the world of team communication, it's no secret that Slack has cemented itself as a top contender. If you haven't used it, chances are you've at least heard of it – it is so well known that its reputation precedes it.
Designed to improve communication among teams in all ways, Slack is one of the most popular online communication platforms out there.
It incorporates and brings together the crucial benefits of all other tools combined with the swift speed of instant messaging. What's more, it also allows users to check it from virtually anywhere. As far as professional communication goes, Slack is a collaborative messaging piece of software that is second to none.
If It's So Great, Why Look For Alternatives?
Simply put, because it may not be the best fit and worthiest choice for every company out there – after all, there is always room for improvement. Among the top reasons why you might want to look for a free alternative to this project management tool are its high price and overall cumbersomeness.
Luckily for those with this mindset, nowadays there are a plethora of free and equally useful team management tools out there. You only need to define your requirements clearly to find the best one.
That said, here are some options worthy of anyone's consideration:
Blink
Blink is an intranet communication app that brings frontline workers, remote teams, and in-house staff together to collaborate and engage seamlessly. Unlike Slack, it lends itself very well to real-time discussions and announcements held on personalized chat groups and news feeds.
A combination of features that facilitate collaboration and productivity as a one-stop solution for employees working remotely in retail, construction, and hospitality sectors, make it all the more effective.
Moreover, Blink offers organized workflow tasks, timely notifications, file sharing options, employee database, workers analytics, and so much more.
Bitrix24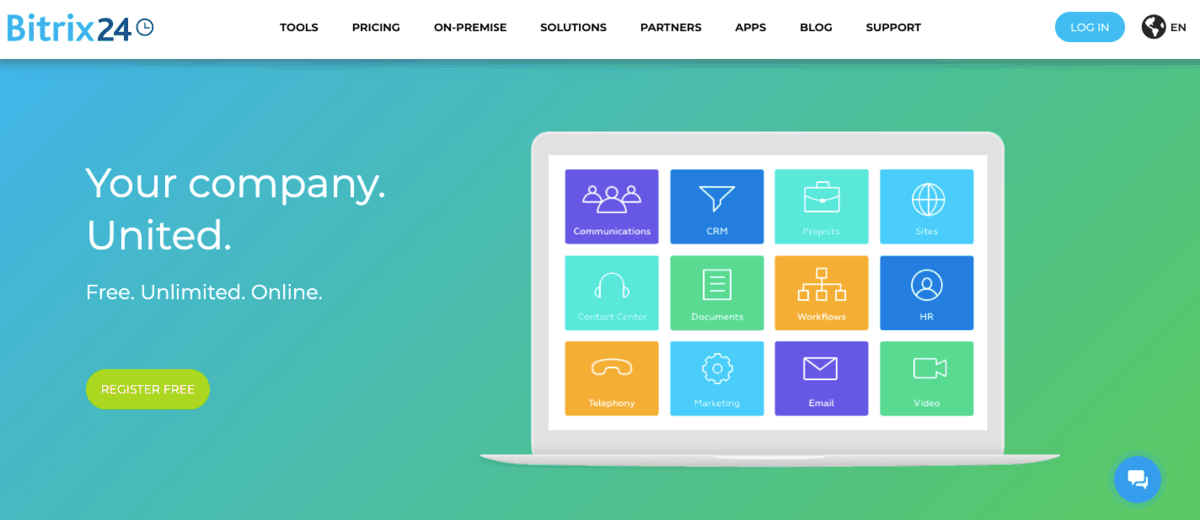 The number one feature that makes Bitrix24 superbly more reliable and advanced than Slack is the fact that it represents a one-stop-shop. It includes time tracking, CRM, communications, projects, and tasks all at the same time. Should you wish to run Bitrix24 on your server, you can opt for the self-hosted version.
Overall, with Bitrix24, you're looking at a very comprehensive suite of management tools, communication, and social collaboration. This because you get full control over source code access, data, as well as additional tools like e-learning and helpdesk. And then there are the customization options and integration. It's a great all-rounder.
Wimi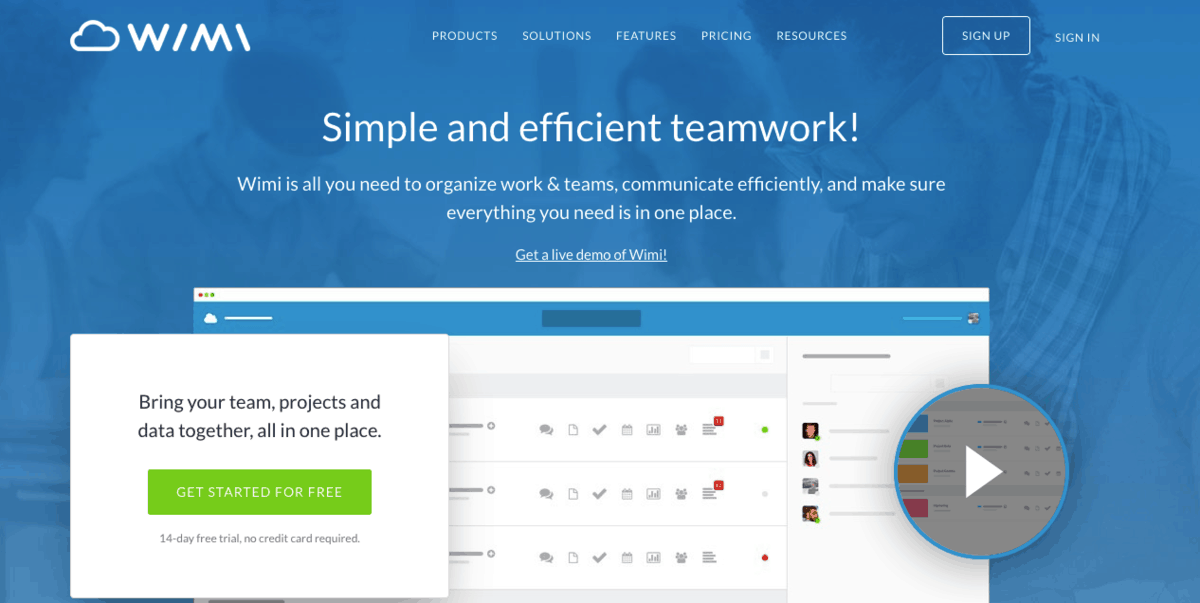 Making sure everything you need is in one place is best done with Wimi. It also allows efficient communication and effective organization of work and teams alike. It is structured in a way that creates a unified workspace for every singular activity or project you need to complete. Adding to that, you can invite participants to the project and get more done.
Wimi also offers video conferencing, calendars, tasks and file management as an alternative to Slack. In fact, it is fair to say that it wins over Slack when it comes to collaboration among team members and also fostering teamwork. When looking to keep everyone in sync, you can also organize team conversations in project channels to better streamline the process.
Troop Messenger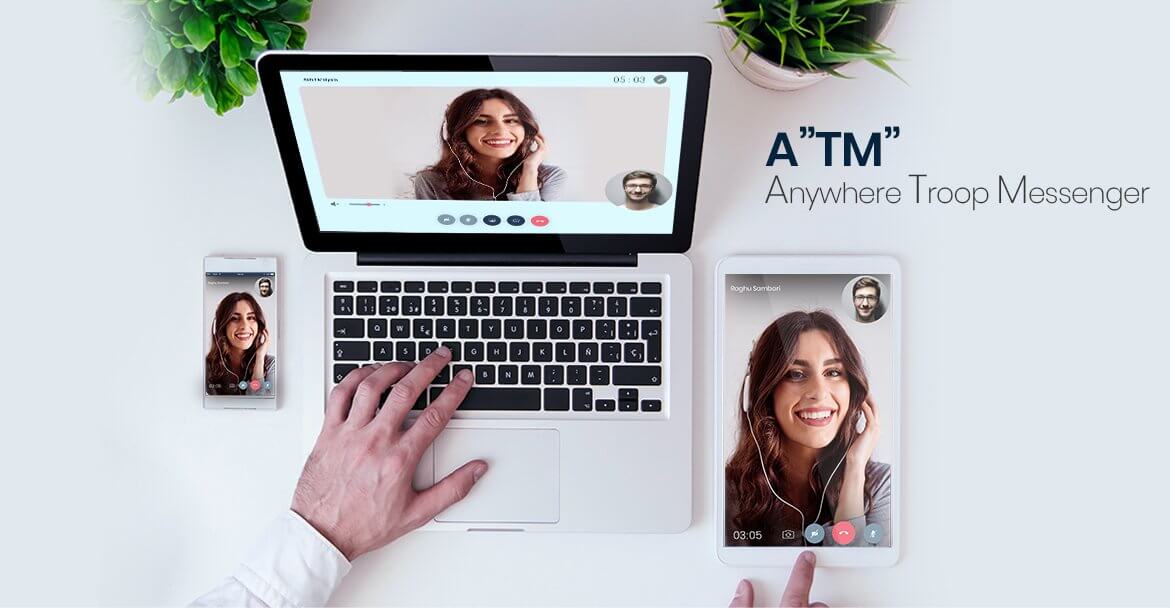 Reliability and security in team communications are the first two terms that pop into mind when Troop Messenger is mentioned. Unlike Slack, this tool allows users to view and access their unlimited message history right in the free plan. This comprehensive team collaboration platform houses innumerable work productive features that let teams have limitless work conversations.
Bring files, work conversations, project updates, the everyday tools your team uses, and more on to this unified business collaborative conversation interface to stay focused. The search and data filtering are flawlessly designed to let you find anything in no time! With the trending "work from home" model, many remote teams are actively using Troop Messenger for its quick to use collaboration features.
HighSide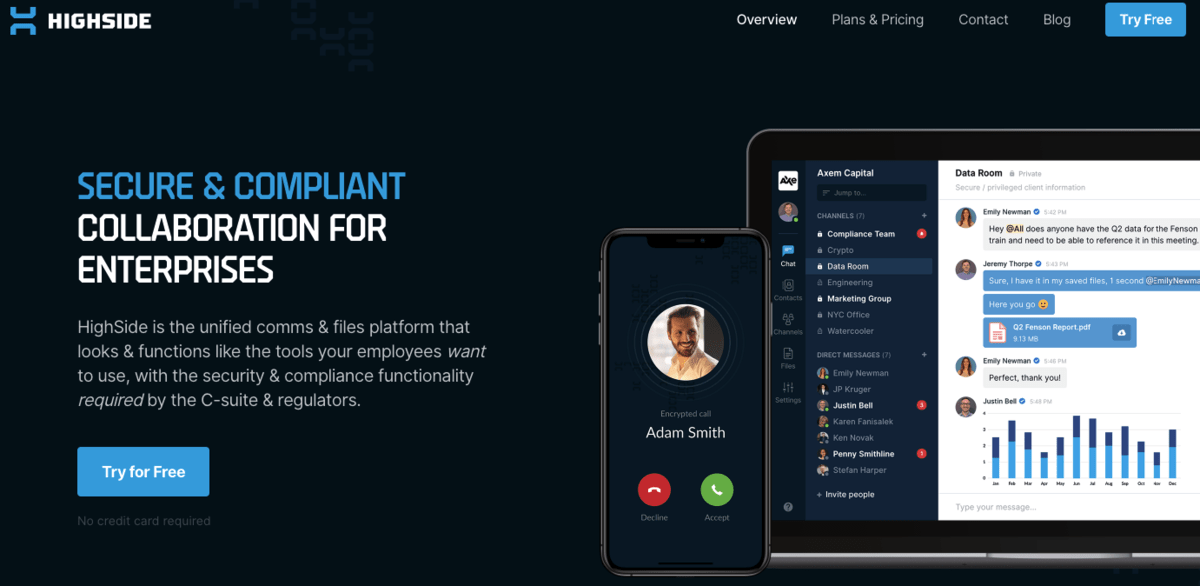 Initially designed to cater to organizations handling sensitive and regulated data, HighSide used to be known as ClearChat and represents a truly remarkable tool. Thanks to securing your team's file-sharing layers and internal communications, it enormously reduces your business risks.
It lowers the potential struggles associated with financial loss, reputational damages, shadow IT, customer attrition, data breaches, cybercrime, and more. Its structure allows it to be effective utilization in government sectors, as well as healthcare, legal and finance sectors – and with great compliance, too. The biggest upsides of using this tool include custom data retention policies, end-to-end encryption, team communication, file sharing, and direct messaging.
Twist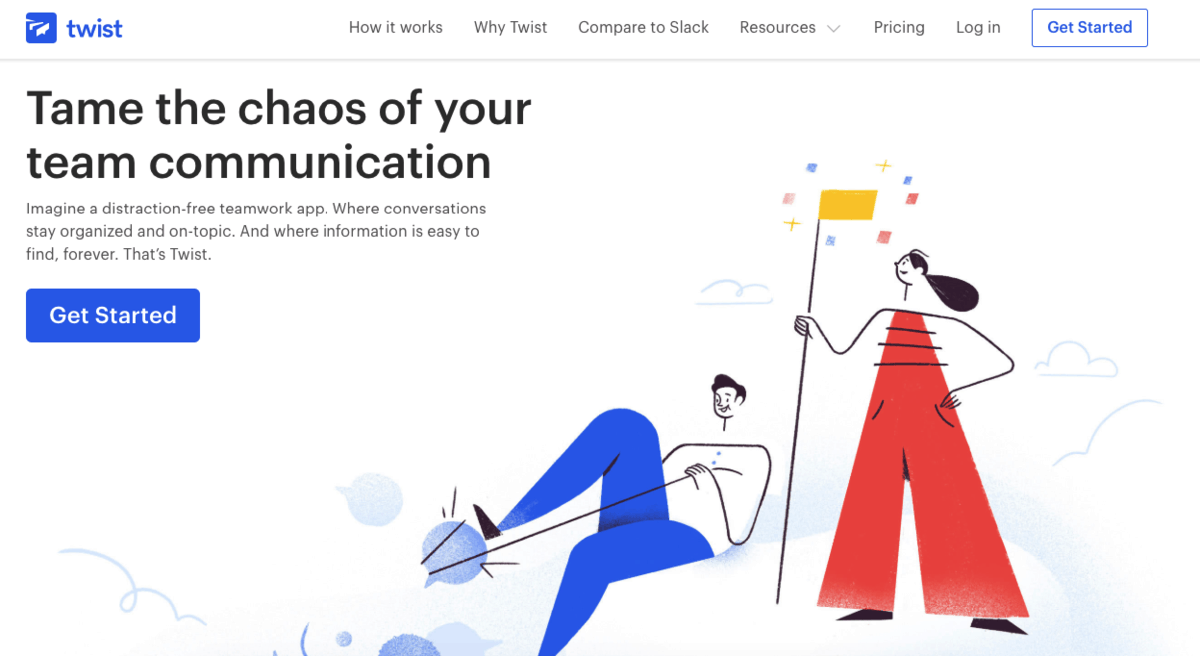 If your team is the type of organization that believes there is more to work than keeping up with group chat apps, then Twist as a Slack alternative is designed just for you. A communication tool by Doist, it offers a more organized and generally calmer way to work together, in addition to providing conversations organized in threads.
Your conversations are kept clearly separated by topic thanks to threads, which means replies will not get buried in an endless stream of group chat. When looking to connect your team to the information they need and also provide the context of the original conversation, Twist truly is a great tool for that.
CA Flowdock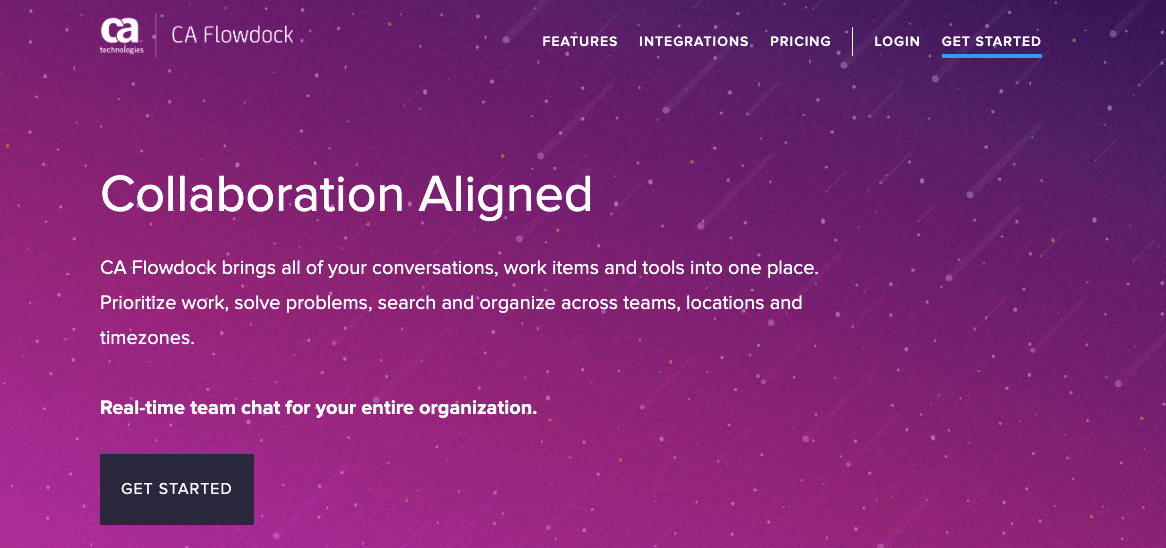 The biggest advantage that CA Flowdock offers compared to Slack is how it brings teams a platform to not only converse but collaborate as well. Essentially, CA Flowdock brings all of your tools, work items, and conversations into one place thanks to its real-time chat software design. It enables you to search and organize across locations, time zones, and teams, as well as solve problems and prioritize work.
With CA Flowdock, you're able to invite individual project stakeholders to receive catered notifications, see updates from your tools, and participate in discussions. Thanks to the search and filtering capabilities in your Integration Inbox, you're able to locate attachments, requests, and work items quickly.
Moxtra
Since everything today is more conveniently used on cell phones, it makes perfect sense that some alternatives to Slack be primarily cell-phone-oriented. That is exactly the case with Moxtra – a mobile-first team communication and collaboration solution that makes team collaboration incredibly simpler by keeping everything together.
Teamwork, as you know it, becomes more productive, painless, and more efficient thanks to this solution. To ensure full control of the team's collaborative environment, it integrates with external services like JIRA, HubSpot, PayPal, Stripe, Salesforce, Dropbox, and Box.
Hive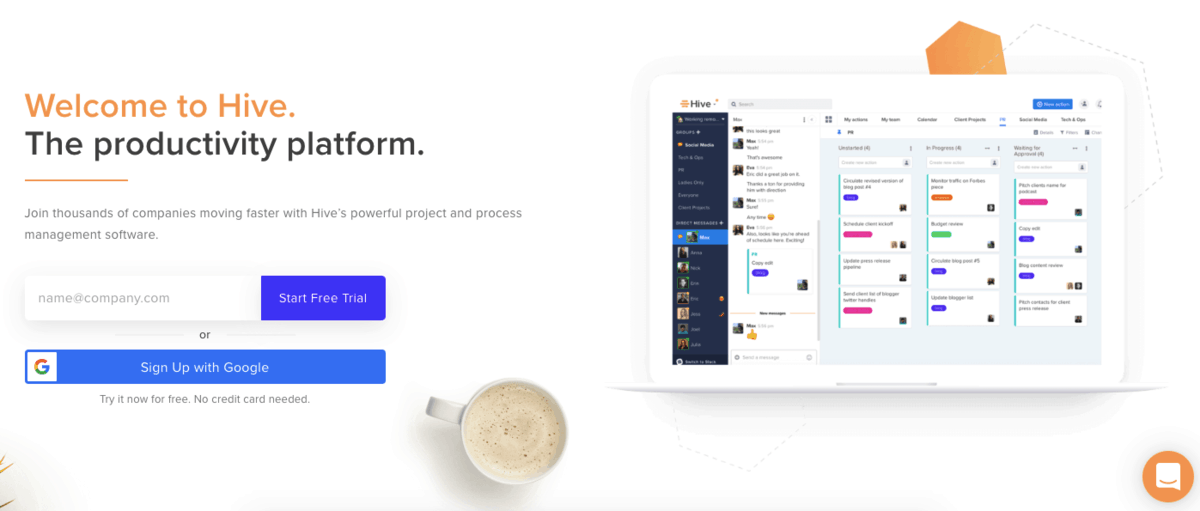 Specifically designed to cater to both small and big teams, Hive offers features like chat, task management automation, file sharing, and the like. It is a project management solution whose architecture is based on a centralized platform designed to allow organizations to track, plan, and execute projects in real-time.
The software also enables users to connect easily with cloud storage, thereby enabling file sharing, access, and collaboration with team members. Thanks to the Kanban-style status view, users can change workloads and deadlines and track project progress with ease.
Workplace By Facebook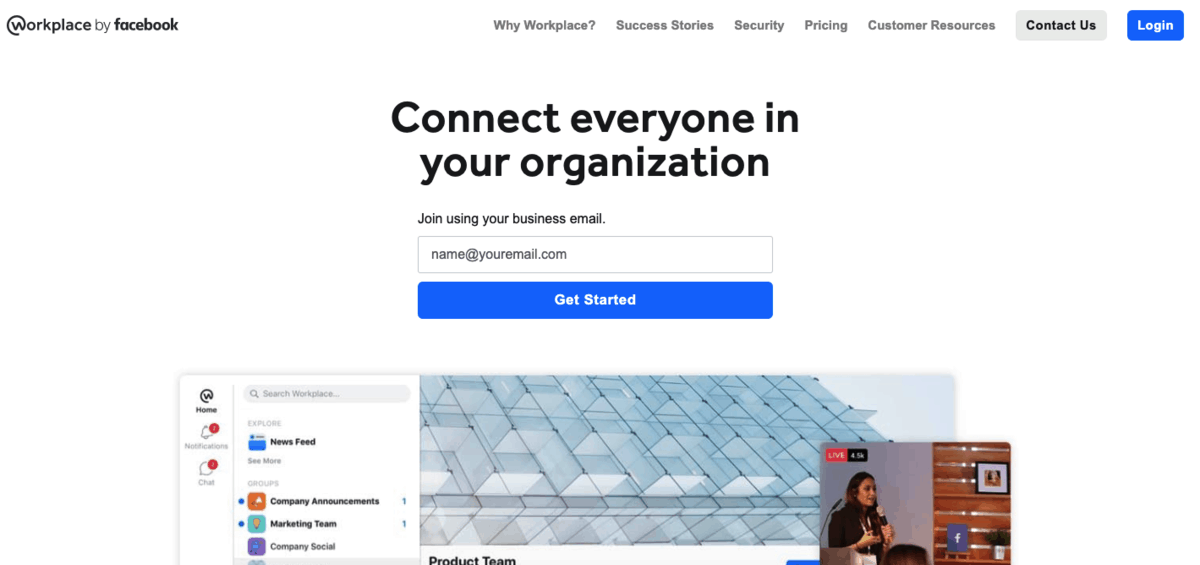 If your priority is to enable your team to communicate and collaborate instantly, then Workplace by Facebook is a social network solution that is guaranteed to get the job done. The team messaging and communication tool is the most notable feature of this solution.
It allows you to create groups for workplace and work chat apps, live video streaming, voice and video calls for both desktop and mobile, as well as groups for in-house communication. Additionally, Workplace by Facebook is also available for iOS and Android users as a mobile app.
Chanty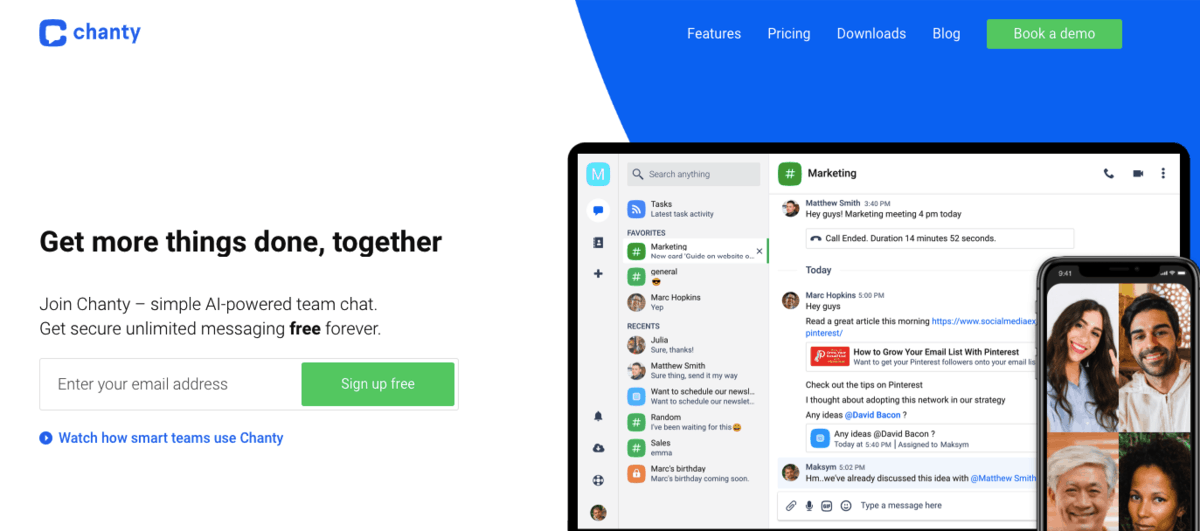 On the market for a Slack alternative with AI power? Then Chanty is the app for you. Chanty not only increases team productivity but also saves time thanks to the fact that it supports the AI trend. In fact, it's on a mission to use artificial intelligence to humanize business processes.
As a result of its crystal-clear user interface, the primary mission of Chanty is to boost team collaboration. The solution guarantees seamless team communication and makes storing and sharing multiple files super convenient with twice more room than other alternatives.
Wire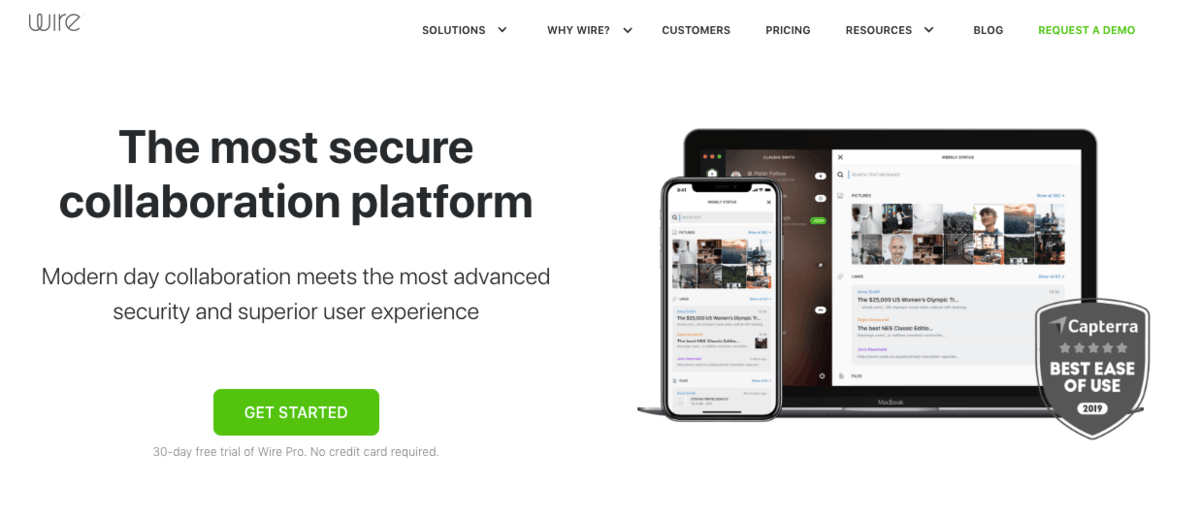 As far as project management tools go, many have unique selling points. When it comes to Wire, the best and most unique thing about it is the fact that it, too, focuses on being a secure collaboration platform. It is ideal for all manner of work communications. Some of the features it offers to individuals and teams include end-to-end encrypted screen sharing, file sharing, video conferencing, voice calls, group chats, and more.
On the other hand, all that security doesn't come at the expense of simplicity. What's more, Wire successfully merges top of the line security with simplicity of use, all wrapped up into a neat set of features. Available across countless web browsers, Linux, Windows, macOS, and iOS, Wire also allows sharing screens with up to 10 people.
Mattermost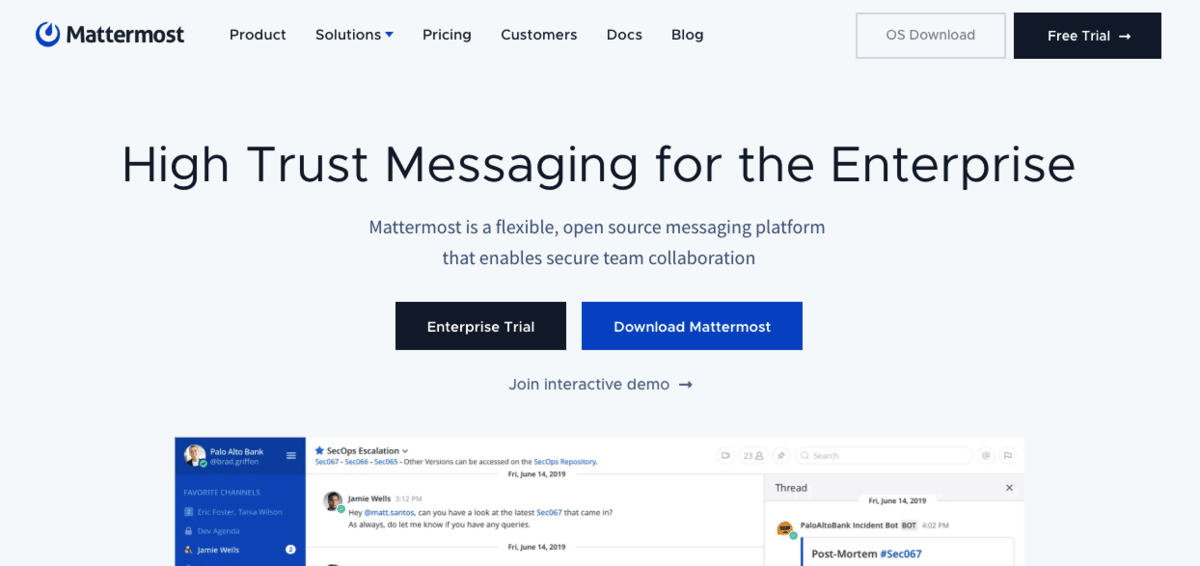 This is an app that allows you to use your own server and store all of your team's important chat data securely hosted there. With Mattermost, you are privy to both private direct messages and public channels alike. The service is also big on customization – you can customize the features in it to fit exactly the way your team operates.
You're also able to keep up with chats and share files on the go, thanks to Mattermost's mobile apps. It doesn't end there, however. You can also have your team sign in exactly the way you want, add announcements, choose whether team members can edit their messages or not, set the email server you want to use and select your team's language.
Ryver

Ryver is designed to emphasize speed and effectiveness. The most significant advantage of using Ryver as an alternative for Slack is the fact that your departments and teams will be able to get files, messages, and other vital information amongst each other almost instantly.
Offering unlimited integrations, storage, search, guests, teams and users, this is a web-based solution that also boasts a rich and open API with support for integration services with systems like Dropbox, Box, Zapier, Google Drive and Gmail. And not only that – users are also able to comment on team posts, send chat messages, and see videos, images, and URL previews right inside chat messages and posts.
Rocket Chat

The simplest way to describe Rocket Chat would be to say that it is similar to Slack in terms of being an open-source platform. However, it is much less intimidating than the former. You can rely on it to replace tools like Slack, HipChat, and email. You can use it to access video/audio conferencing, file sharing, screen sharing, chatting in real-time and collaborate and communicate with your team.
Rocket Chat can be accessed from virtually any device that has access to the internet. This includes Mac, Windows, tablet, or mobile devices, as well as those using Android or iOS native mobile apps. Best part? You're able to use the community plan for free – it's the Pro plan that starts costing you monthly or annually.
Glip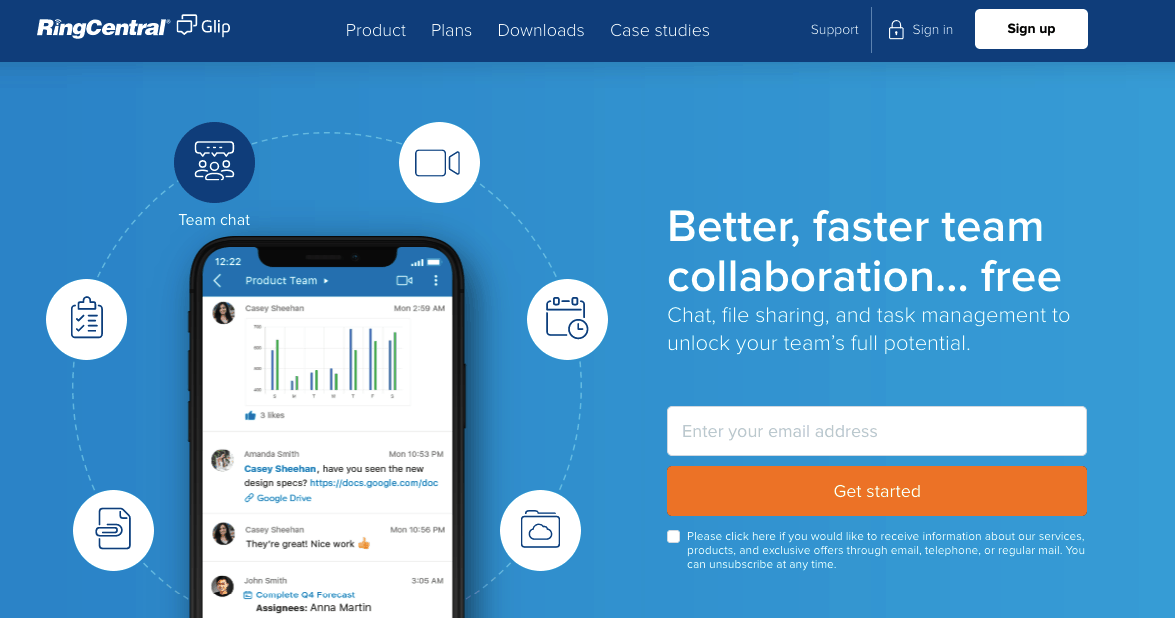 Simply put, Glip is a team collaboration and messaging tool that works exactly the way you want it to. It allows users to use group video chat, chat in real-time, connect with individuals, as well as manage communication and files from multiple sources. This is thanks to integrations with programs such as Box, Jira, MailChimp, Salesforce, GitHub, asana and many more.
Because of the way it was designed, Glip can simultaneously be used as a central platform for team communication and project management, as well as task management for better team communication.
Jostle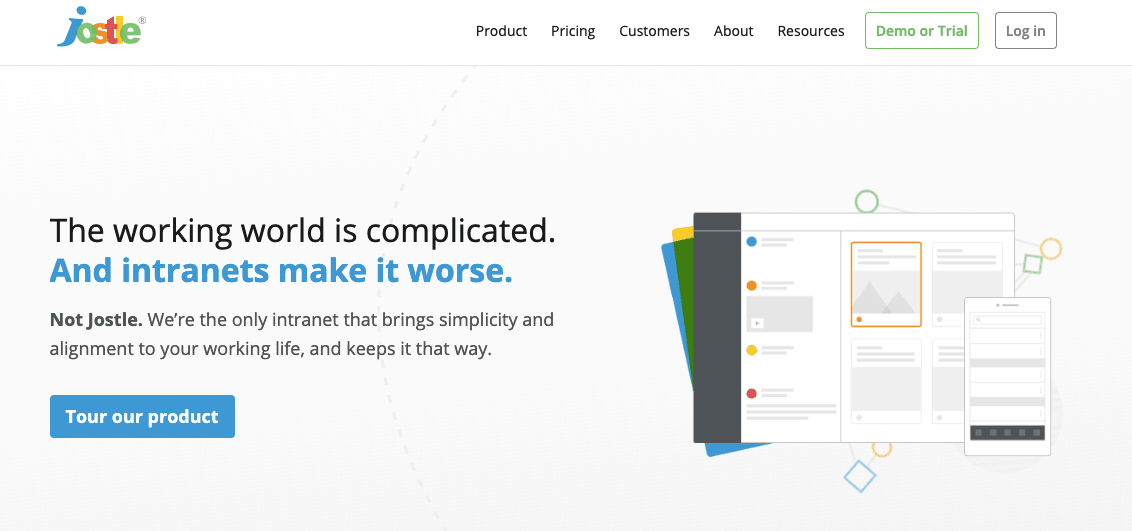 If you're looking for a great tool for office communication for publications, events, and news, Jostle should be your top pick. A cloud-based tool, Jostle comes with an intuitive intranet to help you make communication happen and, at the same time, improve employee engagement.
Users can recognize contributions, invite participants, align teams, share news, and even conduct live polls thanks to this social networking solution. Thanks to the discussion feature, teams are also able to create party invites and share them with employees, as well as initiate private conversations.
Jabber

Based on XMPP (Extensible Messaging and Presence Protocol), Jabber is an instant messaging service. Boasting desktop sharing with HD voice and video, Jabber enables clear communication thanks to its softphone features. A product of Cisco, Jabber also allows you to use the real-time presence information to your advantage.
Not only can you view the availability of contacts within and outside of your organization, but you can also reduce delays. Regardless of whether we're talking desktop or mobile, Jabber allows you to access all of its features with equal ease of use – including, but not limited to video conferencing.
Fuze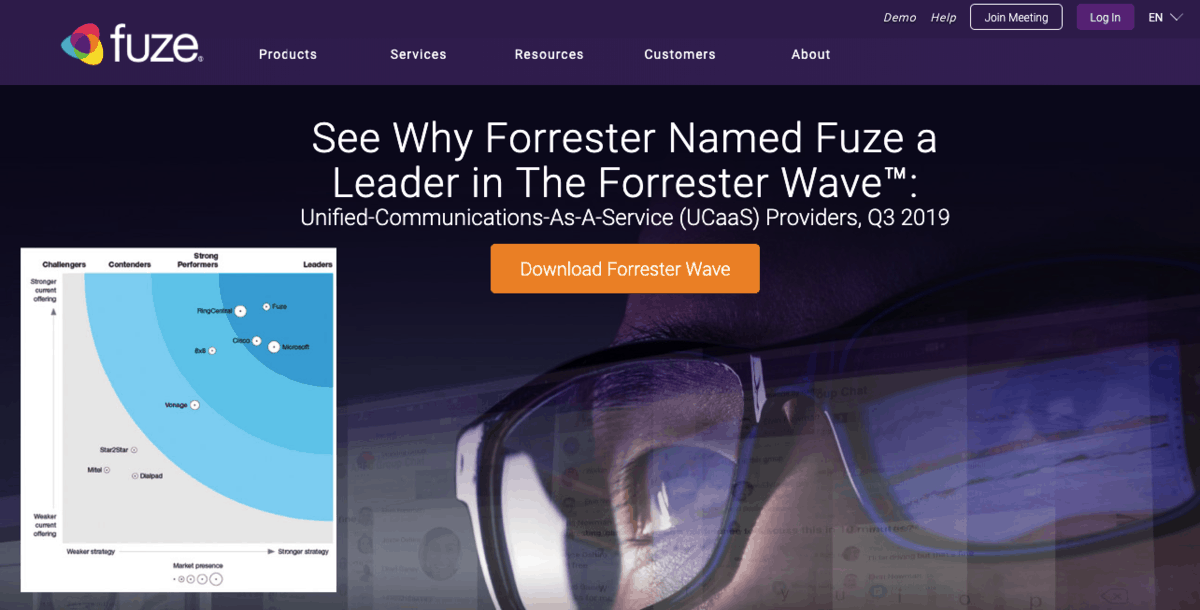 Fuze connects organizations and people across various devices. A cloud-based video conferencing solution, Fuze uses a reliable and secure global platform to power business conversations and unifies messaging, video and voice in a single application in the process.
To drive workforce productivity and enrich every conversation, it combines simple user experience, third-party enterprise integrations, and an intelligent platform. As a result, it makes for a more than adequate addition to this list of powerful yet effective Slack alternatives.
Plutio
Plutio is a management software that has combined all of the essential sectors for creating the ultimate centralized, deeply customizable platform. The creators understood the importance of simplicity, which is why the interface is super simple to figure out. Ranging from tasks to projects, all the way to customized workflows and communication – everything can be adjusted to your preferences and is withing clicking range so you are always up to date with all of your colleagues' assignments.
And that's just the beginning of its superpowers since you can add logs, schedule calls, track time and your business transactions, powered by a simple drag & drop editor to speed up your workflow, but still powerful to ensure that all of your assets get handled in record time.
Overall
Slack might be your software of choice, and it is not surprising, with all the amazing features it has. But is it the perfect choice for your requirements, though? Are you really comfortable with paying so much for a communication tool?
Now that you know about all the other alternatives out there, maybe it is high time you tried something new. Also, saving a bit while you are at it as a bonus!