When faced with a need for an all-round mammoth of a solution for your relationship management needs, it's not easy to overlook the giant that is Salesforce CRM.
Salesforce is a one-stop-shop system that uses one centralized platform to cover marketing automation, sales, lead management, and several communication channels. It also doesn't hurt that it has a stellar reputation for being one of the most effective and leading software providers in the world with tens of thousands of satisfied users across the globe, each of which testifies to its functionality and usability. What more could you want, right?
At the same time, there's more to it than meets the eye.
More often than not, Salesforce CRM is viewed as being a platform that is simply much too powerful for developing businesses and startups.
Many of these would rather focus on and utilize a basic portion of the system, as that would cater to the modest customer base they have much better.
With that in mind, there are a number of alternatives to this Goliath of a relationship management platform that is more than worthy of looking into especially if you're working on a tight budget where every cent of investment counts.
Here are some contenders you'd be wise to check out if you're looking to find a better fit for your organization's needs:
Pareto CRM


If you're on the market for a player with project management as its competitive edge, then look no further than Pareto CRM. This player in the CRM arena blends PM features with valuable customer relationships seamlessly, in addition to ensuring everyone stays on the same page throughout the process thanks to making sure all team members can monitor progress.
It is designed to cater specifically to project-oriented small businesses, freelancers, agencies and small, developing teams, it was envisioned as a complete package to ensure everything from finances and schedules to entire projects stays in order.
Pareto also differs from the lot when it comes to collaboration – team members are allowed to make better decisions on projects as they can share their ideas, insights, and suggestions and make comments in real-time. And with plans starting at $17 per month, Pareto CRM is also quite affordable.
AmoCRM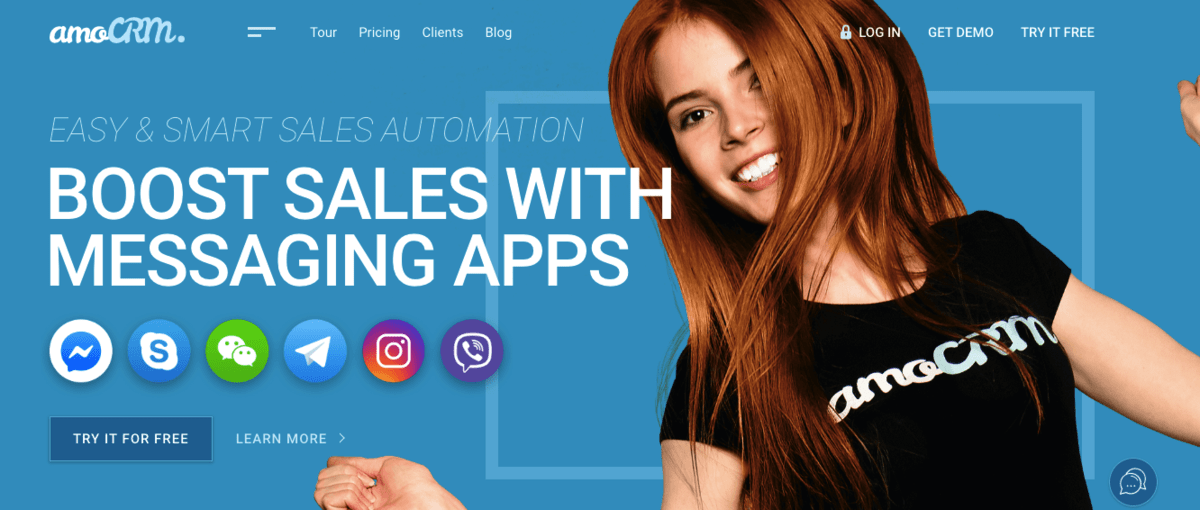 User-friendly above all else, amoCRM is also a B2B sales and lead management platform at the same time. Not only does it help you make smarter sales decisions by allowing you to maintain an organized database, but it is also designed to convert first-time contacts into leads. Additionally, it enables you to maximize the potential of your reps and tracks your performance in order to allow you to have a complete picture of your progress.
When it comes to the best part of using amoCRM, it has to be is the simplicity of use – its interface is much like familiar social networks. Basically, you can keep track of all notes and contact details, as well as manage all your information with just a few clicks. Due to its architecture, it minimizes the manual import errors that can occur if you were to entrust communication to a digital solution. As a result, amoCRM is able to assist in fully automating even the most complex CRM operations.
Nutshell CRM


If you are on the market for a smart solution designed to enable your sales representatives to be more successful, then look no further than Nutshell CRM. Basically, Nutshell CRM was envisioned as a tool that small companies would be able to utilize in order to not only win more deals but to also win them more quickly. In order to achieve that, it cleverly integrates with software that the majority of businesses already utilize in some form or other – think Google G Suite/Gmail or Microsoft Office/Outlook.
Because there is no need for a CRM administrator or implementation consultant, Nutshell CRM allows you to be up and running in literally less than 24 hours. Free customer support and onboarding assistance are offered by the vendor, not to mention that you can use the free trial to see if the app is a fit for your needs before investing. The pricing packages are more than affordable, making this option a viable one to explore if you're looking for effectiveness on a small scale.
Nimble


Built to incorporate an insightful, yet simple relationship manager that helps companies build better work relationships in a multi-channel world, Nimble is one of the more popular alternatives to Salesforce CRM. Designed to provide relevant context to conversations, the app offers a quick, convenient, and smart way to engage, track, and nurture business contacts.
The nifty thing about Nimble is the fact that it uses its platform to bring together all your communications, collaborations, calendar, and contacts and then also gets information from popular social networks such as LinkedIn, Twitter, and Facebook, eventually linking the info to your business contacts. As a result, you can only use the single solution that is Nimble to find companies and individuals related to your business, instead of going from one app to another. Basic in its design, this platform is highly effective when it comes to nurturing contacts.
Bpm'online CRM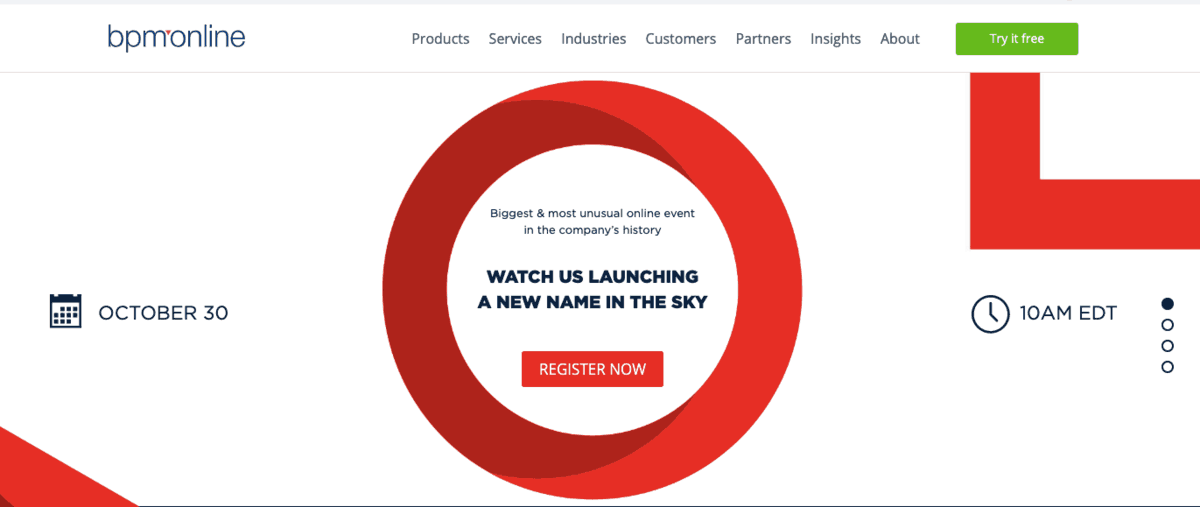 Thanks to merging business process management tools with customer data, this process-driven CRM was designed to help you better and more easily coordinate your sales, customer support, and marketing activities. It comes with options for scalable features for large enterprises and SMEs alike – and you can also sign up for a free trial plan first if you'd like to take the software out for test drive before getting serious.
Envisioned to allow companies to not only design but also automate processes to boost customer service and surpass their expectations, Bpm'online is designed around the BPM platform. Customization is made simple thanks to the use of drag and drop tools for both cloud and on-premise deployment. Additionally, this software successfully maintains its look and feel across different phone and tablet platforms thanks to its compatibility, and also works smoothly with such leading productivity apps as Google Calendar, MS Outlook, and MS Word.
Zoho CRM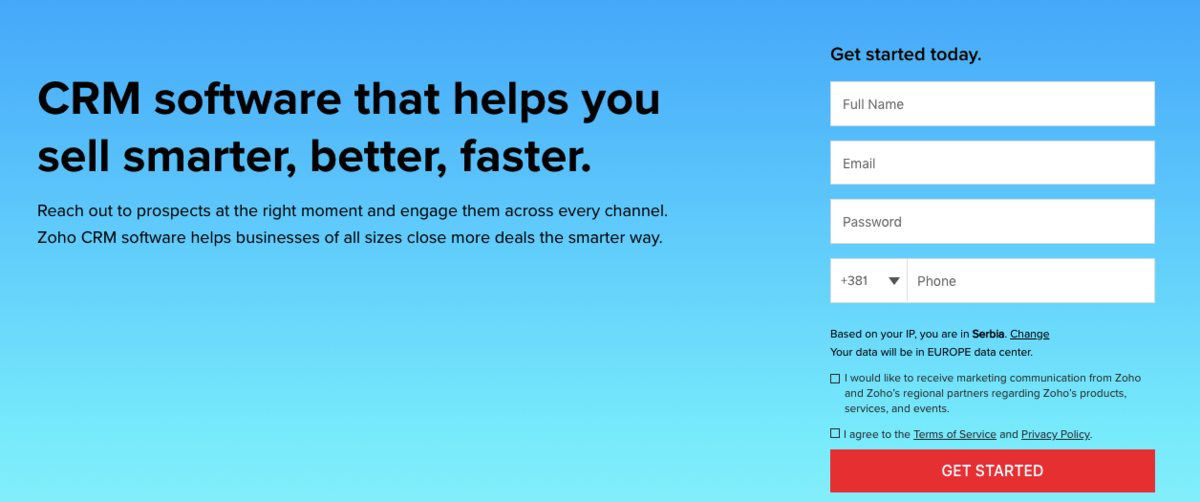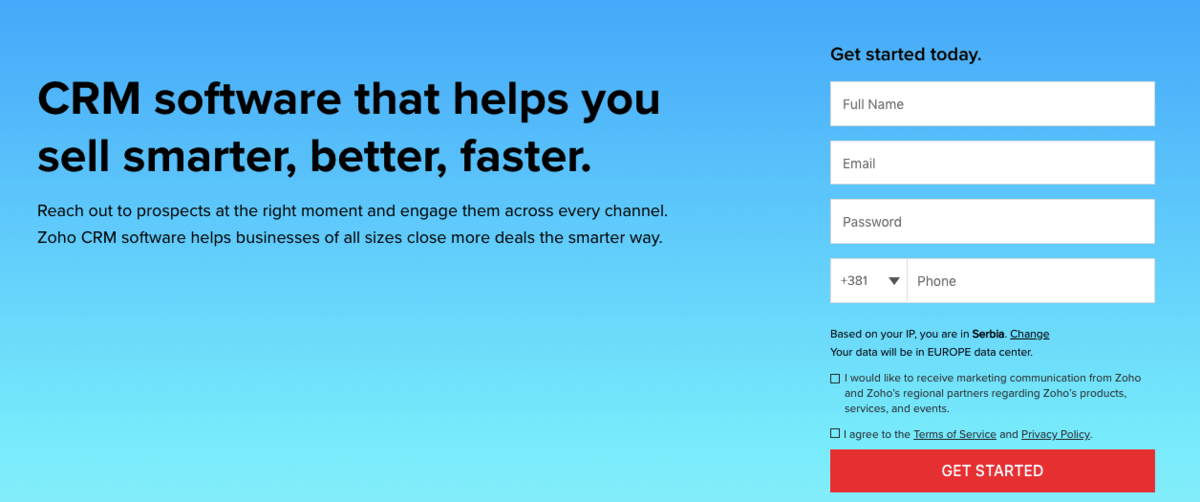 If your main goal for investing in a CRM is to attract, retain and satisfy customers in order to grow your business consequentially, then you'd be wise to look into the widely used web-based CRM platform that is Zoho CRM. Three of the best reasons for investing in this app are purchase control, sales pipeline management, and lead and contact management. These features can be combined to your liking in order to ensure effective use of the software, with an easy-to-use, refurbished interface.
The main module navigation panel is located on the top of the home screen for easy searching, and the home screen has been remodeled to show ten different components. Additionally, the dashboard can be customized to suit your specific business needs. To summarize, Zoho CRM is integrated with Google Apps, allows you to make maximum use of social media, gives access to vital data in real-time and automates important sales operations.
Insightly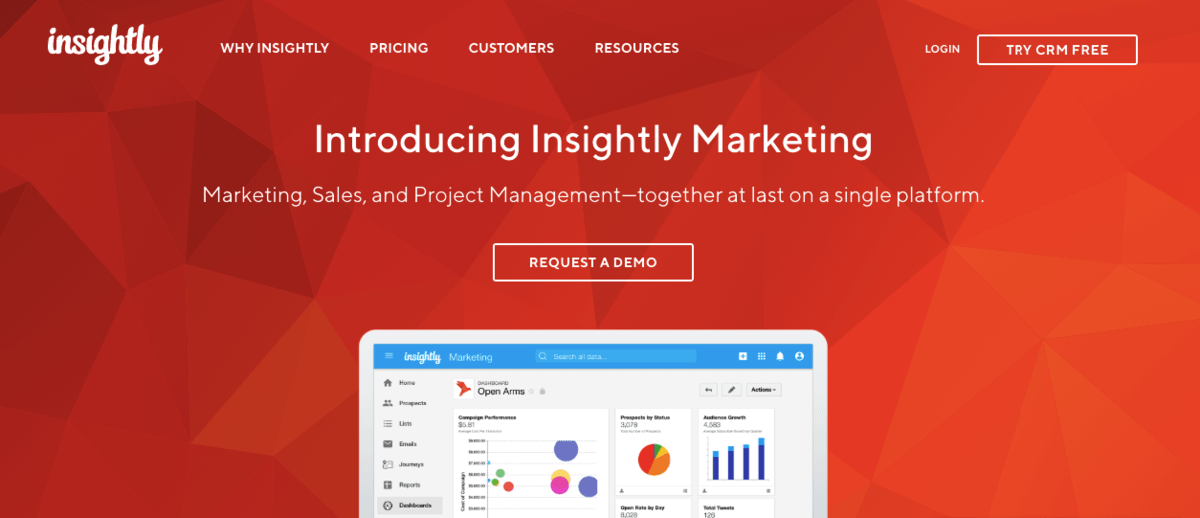 With more than 500,000 users worldwide, Insightly is one of the leading online small business CRM solutions. At the same time, a particular benefit of choosing this solution over others is that it also offers very specific, enterprise-level modules for multi-level organizations and large companies.
Some of its key features include contact management, pipeline management, and task management. These features can be used to enhance productivity and efficiency, improve collaboration among team members, boost customer communication, track deliverables to clients, have a good overview of your operations, and get clear sales visibility.
Additionally, the app was designed to be compatible with Kindle, iOS and Android mobile platforms, and to also seamlessly integrate with widely-used solutions like Google Apps, Gmail, Evernotes, MailChimp, Office, and Outlook. In order to cater to the needs of all companies, the vendor offers flexible pricing plans. There is also a free plan on offer for startups and small businesses.
Pipedrive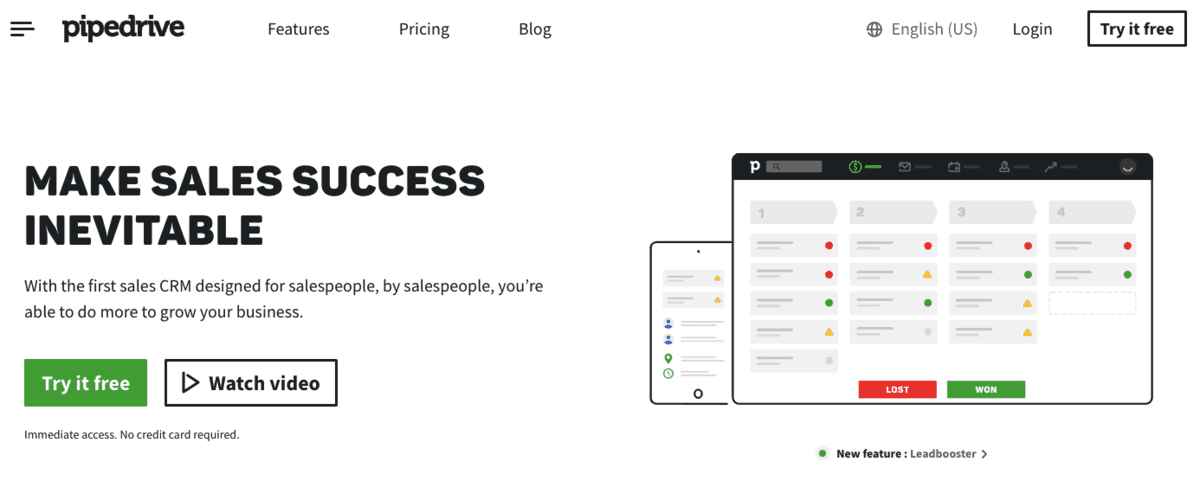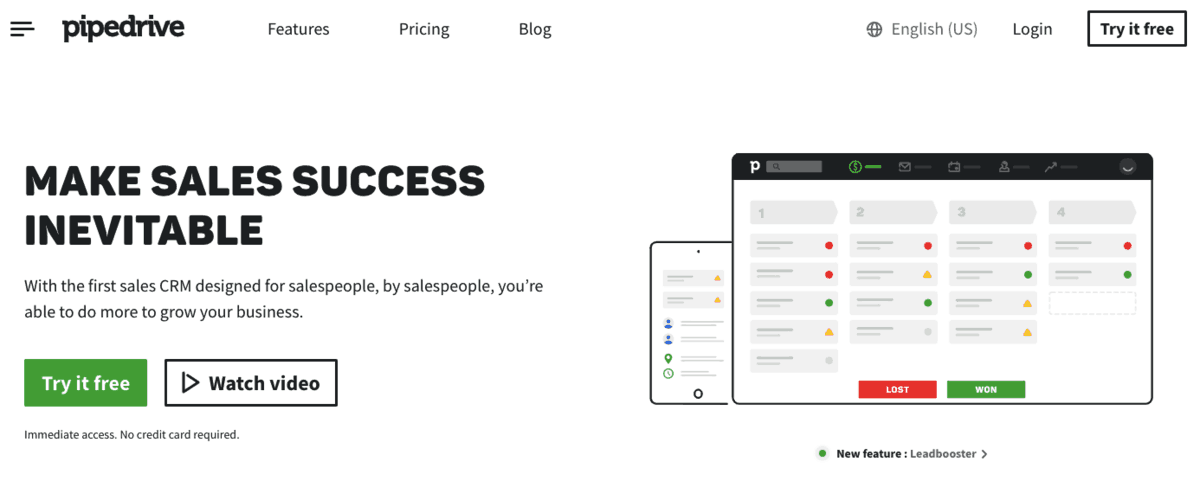 Highly praised for its robust suite of tools on offer, another reason why Pipedrive is viewed by many as a top CRM choice are its high-quality sales pipeline management features. Designed by experienced sales professionals and hardcore web app developers, Pipedrive was engineered to organize your business leads efficiently in order to not only allow you to focus on priority deals but also to give you a good view of your sales.
Setting up your account is done quickly and easily, and the same goes for other important operations. Like with other Salesforce CRM alternatives on this list, the vendor also allows a free trial version of the app in order for you to make sure it is a good fit for your business needs before investing.
Your sales team can also make use of Pipedrive to be productive in the field due to the fact that the app is fully mobile optimized. Additionally, Pipedrive offers seamless integration with Google Calendar and Google Contacts, as well as a number of other leading business solutions. Companies with any budget can find their ideal plan thanks to flexible pricing packages.
Freshsales
Just a couple of reasons that make Freshsales CRM stand out in the CRM market are the fact that you can make use of multiple integrations, you can store all operations in the cloud and setup is incredibly easy. What makes it especially investment-worthy if you are a small or midmarket business is, at the same time, its main advantage: it allows you to depict where exactly leads are coming from easily. Thanks to its multiple communication channels, Freshsales can also nurture, score, and distribute leads (in addition to capturing them). It also comes with advanced features like auto-dialers, call recording, call routing, and affiliate management.
Not to mention, it also boasts very useful revenue analytics tools, presented to you in the form of very attractive and accurate reports thanks to pertinent source and rep metrics. You're able to organize results exactly the way you want by applying a number of different filters when summarizing your data and you can also master the art of matrix reporting, make summaries and quickly create charts and tables on top of all that.
vCita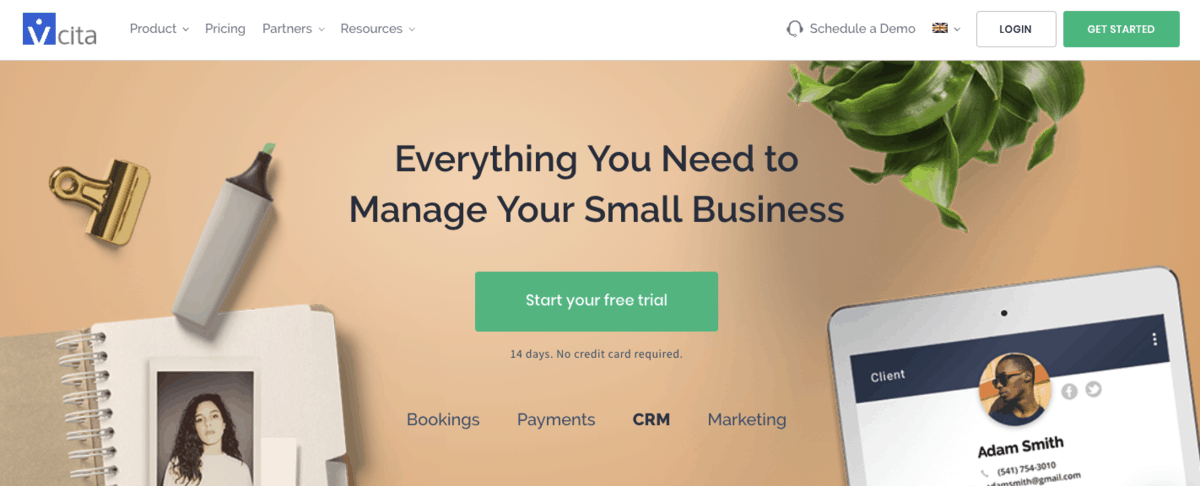 Designed specifically for small businesses, vCita is a comprehensive business management and customer service. Essentially a cloud-based all-in-one hub, vCita integrates important tools to assist users in running their daily processes and tasks, such as calendar and online scheduling, client portal, client management, billing and invoicing, lead generation, SMS and email marketing and the like.
Simply put, vCita facilitates simple and efficient customer interaction and is accessible anytime from anywhere. Some of the features that make this solution noteworthy include an integrated appointment scheduling and services menu, customizable fields, styles, texts and forms, HTML contact form generator, multi-device calendar management, contact form Facebook plugin, and client interactions management. 
Copper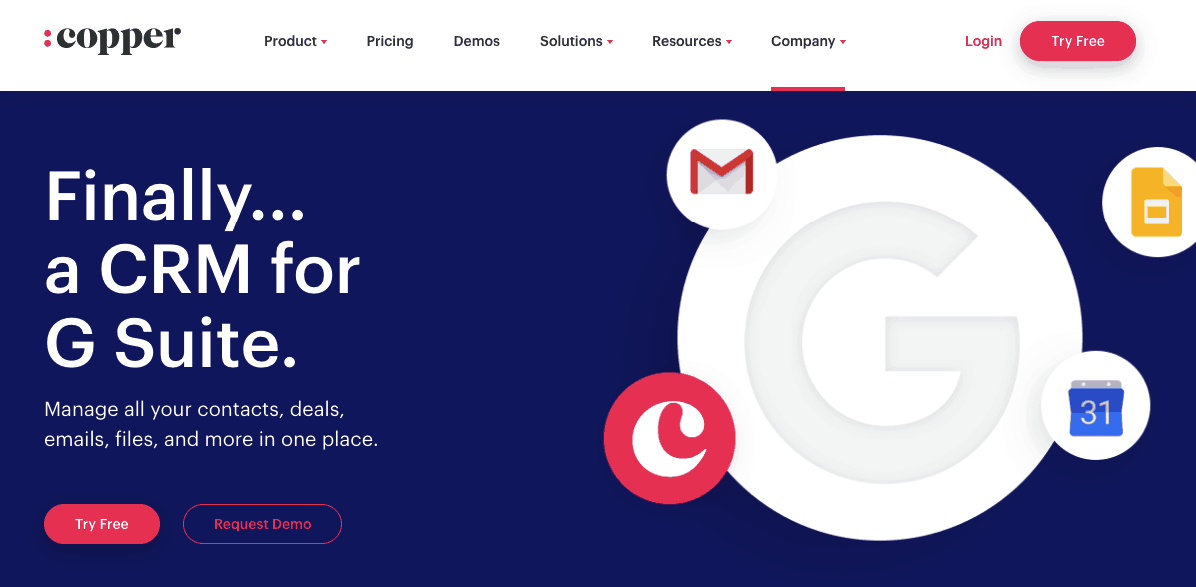 Designed and engineered to streamline and enhance marketing and sales activities, Copper is a cloud-based CRM platform trusted and used by more than 12,000 businesses worldwide, among which giants like Google and Uber. It enables you to avoid wasting too much time on cumbersome data entry tasks and instead to focus more on building lasting relationships thanks to its robust array of relationship management solutions and smart interface.
One of the best things about Copper is the fact that it allows for a more streamlined and faster workflow. It goes without saying that customer and sales lead data are vital to any business; however, entering them manually not only takes a lot of time but also negatively impacts the opportunity to create and sustain relationships.
Thanks to Copper, you're able to spend more time winning loyal customers and say goodbye to manual data entry. Moreover, Copper also comes with API capabilities that allow it to seamlessly integrate with virtually any software environment your business uses – thereby eliminating any issue of system incompatibility. Other features that make Copper worthy of consideration include leaderboard, goal tracking, sales forecasting, bulk email sending, Gmail and Chrome extension, activity and lead insights, single sign-on, multi-currency.
Overall
There is a good reason why Salesforce is the most popular CRM out there. Still, each of these alternatives has its benefits. If you are struggling with one-too-many features Salesforce provides, give them a try to find the perfect fit for your business!