Introduction
A group problem-solving technique, brainstorming, involves the impromptu introduction of original ideas and solutions. This method calls for a lengthy, rambunctious conversation in which each group member is urged to think aloud and offer as many ideas as they can be based on their varied knowledge.
Learn how to organize #content ideas and #AI-generated #keywords on #DigitalWhiteboards
Brainstorming content ideas in a team can often be uninspiring and dull without some sort of visual aid. Even if you succeed to brainstorm ideas and research them, you will still be left with a bunch of data that often makes no sense.
This is where ContextMinds comes into play. It offers you a digital whiteboard packed with AI-generated keyword suggestions, where you can organize all those ideas.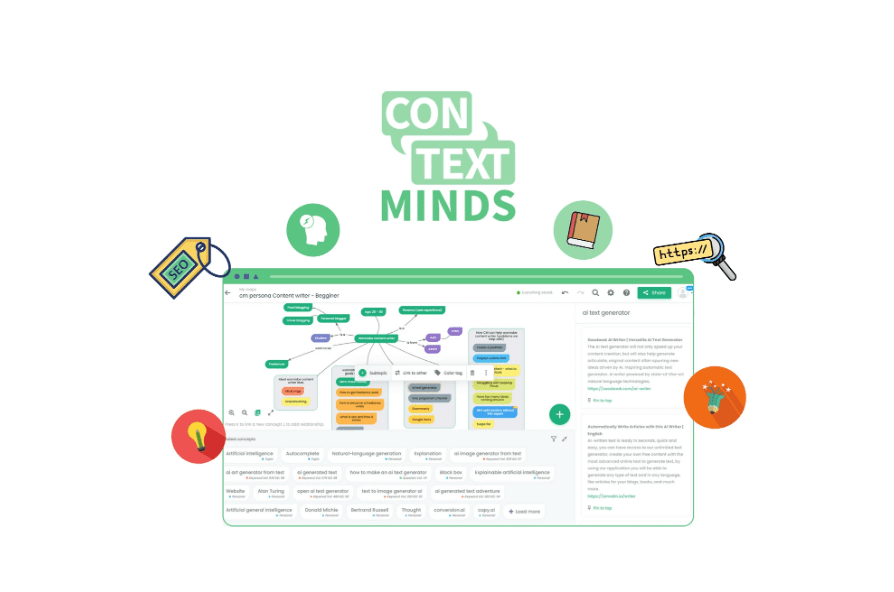 Overview
This tool helps you organize your content ideas and keywords visually. You will easily research, organize, and visualize your content ideas with user-friendly mind maps. You will also have access to AI-generated topics, keywords, SERP results, and academic research. It is a great choice for bloggers, content creators, marketers, and other similar professions.
Features
As we mentioned, you can use virtual whiteboards to organize content ideas into mind maps, outlines, and boards. Also, you can get AI-generated topics in real-time with stats on search volume and keyword difficulty. The drag-and-drop functionality lets you arrange suggestions anywhere on the whiteboard and group them per your liking.
The AI assistant will let you dive into your research by clicking any topic or keyword. By doing this, you can find keyword metrics, SERP results, and academic papers related to the topic, and you can get AI-generated paragraphs on the topic.
In case you are forgetful, you can add resources, videos, and other mind maps to pinned notes, so you do not lose track of your research. It is very useful that you can share your mind maps with clients and teammates.
Also, you can export your maps either in a PDF, PNG, SVG, or text document, even without an account. If none of these two options suits you, you can share a link that anyone can open, without creating an account.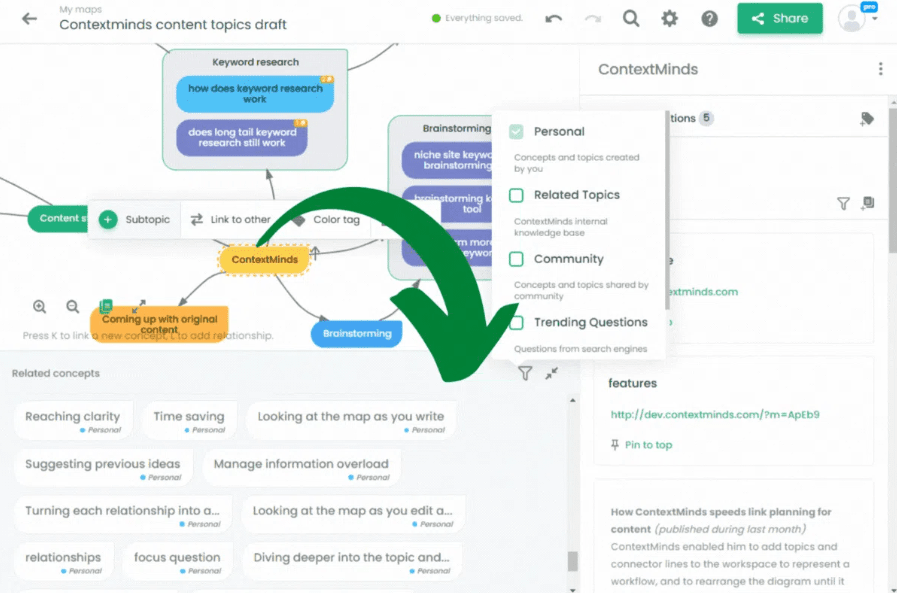 As the title suggests, this tool leverages AI capabilities and learns from everything you create. This is used to improve suggestions and ideas you will be presented with, meaning you will never lose any ideas. With this functionality, you will be able to easily find topics and keywords from previous maps and access pinned notes and resources.
Pricing
All offered plans provide users with lifetime access to ContextMinds, all future Pro Plan updates, the option to stack up to 5 codes, and a 60-day money-back guarantee. All plans include features such as unlimited private maps, AI idea generation, and relevant keyword generation.
The Single plan costs $69 for a one-time purchase and gets you 6000 topic and keyword lookups per month, 1500 web and AI article suggestions per month, 1500 AI-generated paragraph topics per month, and 1 internal user.
The Double plan costs $138 for a one-time purchase and comes with 12000 topic and keyword lookups per month, 5000 Web and AI article suggestions per month, 5000 AI-generated paragraph topics per month, and 3 internal users. The Multiple Plan costs $207 for a one-time purchase and comes with 20000 topic and keyword lookups, 10000 Web and AI article suggestions, 10000 AI-generated paragraph topics, and 6 internal users.
Conclusion
Never lose any idea anymore with ContextMinds. This tool will help you not only come up with ideas, but also organize, save, and share them with other team members or clients. Feel free to check out this tool and try it out.