If you are running an online store, or any business of a similar sort, you will most likely want to convert casual visitors and "digital window shoppers" into real, paying customers.
The problem that often presents itself in this task is the lack of trust. People don't really tend to trust online stores as much as they do real ones. This is where social proof comes to your aid.
#SocialProof is a psychological phenomenon where people mimic the behaviors of others in an attempt to reflect correct behavior in a given situation.
But how does this help your online business? Well, let's put it this way. If you were window shopping somewhere in a city unknown to you and saw 2 shops, one packed with people and plastered with positive reviews on the windows, and the other almost empty with nothing good to say about itself at first glance. Which one of these do you think you are more likely to walk into and actually buy something?
Social proof notifications help you and your business bring in that sense of trust and mimetic behavior into the digital sphere. Using them will increase conversions, save a lot on acquisitions, and most importantly, build credibility.
So, stick around and take a look at our top picks for apps that can help you get started with social proof notifications, see exactly how they work and how much they can do for you and your business.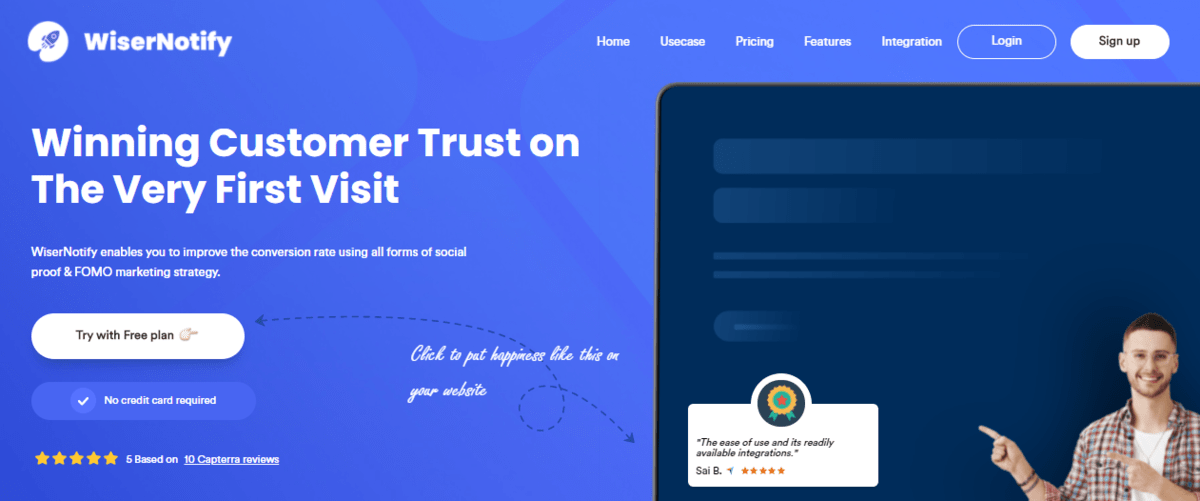 WiserNotify is extremely easy to install and use, and it is going to make running your business a whole lot easier. With it, you can easily access your real-time reviews and get your recommendation notifications from Facebook, Twitter, or any other social media, as well as decide how and when to show the notifications in question.
While the notifications get people onto your page, useful tools like social media counters and video pop-ups are just some extra encouragement to sway things your way.
WiserNotify also comes with over 60 fully customizable notification templates and an option to implement a language translator, so you can be completely accessible worldwide.
Another neat feature is that you can see how effective your notifications are, as this tool provides you with exact data on conversion rates, goal tracking, and notification performance stats which displays the number of visitors, clicks, and much more.
To learn more about this app check out their promotional video:
FEES: AppSumo currently has some special offers in place for lifetime deals of WiserNotify. The Single version will cost you only $69, the Double $138, and the Multiple $207.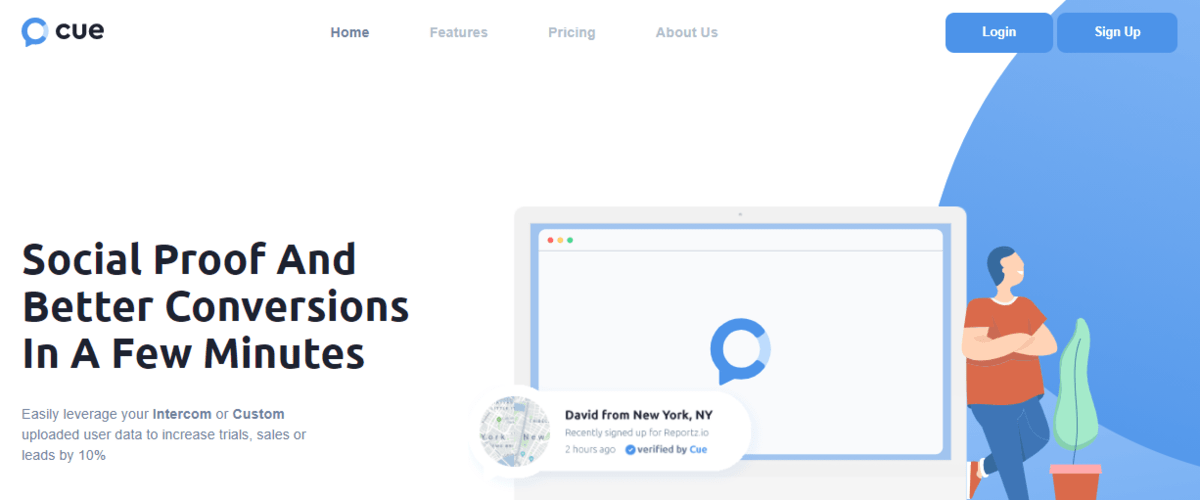 Cue comes with a vast array of customizable notifications. You can change the tone, color, template, type of conversion, pretty much anything your heart desires in regards to your notifications.
To make the process of including social proof notifications even easier, you can simply copy JavaScript code and paste it onto your website. And like any other social proof app, Cue will aid you with turning visitors into leads, and through its service, will make it a whole lot easier to turn those leads into actual paying customers.
Cue is advertised as a highly converting product, and to back up that claim, they have come up with a neat system of Hot Cues and Urgent Cues. Hot Cues come up after Cue has been shown to a visitor 3 times and help your conversion rates significantly. The system of Urgent Cues relies heavily on the idea of FOMO or "the fear of missing out", and therefore additionally enhances social proof signals.
FEES: Cue currently offers a free 14-day trial, so you can test the waters and decide for yourself if you like the app. In case you decide to upgrade from the freemium to the premium, it is going to cost you $15/mo.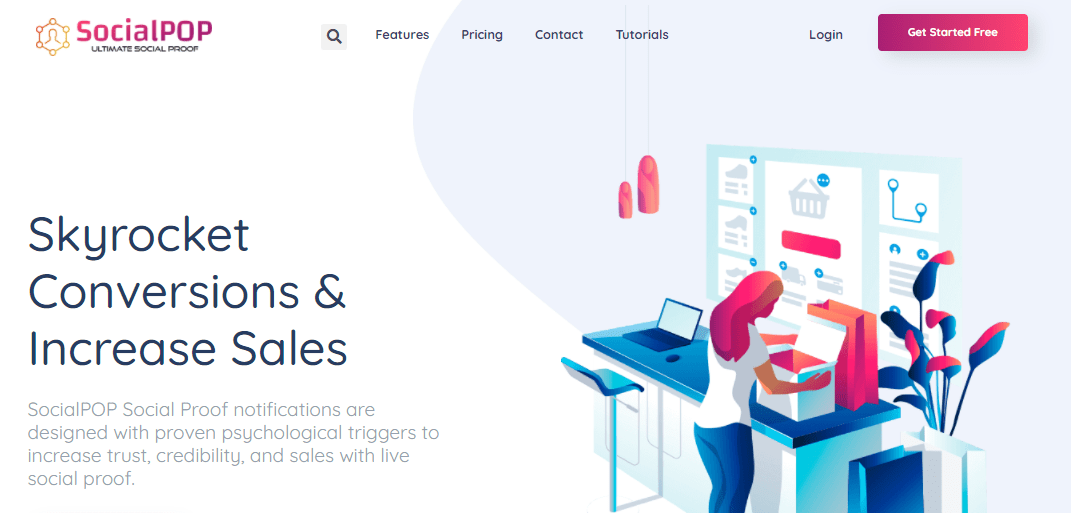 Along with customizable notifications, SocialPOP offers a fully customizable informational bar, so you can cater absolutely everything to your wishes and needs.
Two very useful bars that they advertise on their website are the collection bar and the coupon bar. The former allows you to collect leads with ease and without possibly distracting your users, the latter gives your visitors a handy coupon to use (that you can place on the bottom or the top of your website).
SocialPOP also lets you add a live counter onto your website, so that your visitors can see how many people are on your site at any given moment, which has been proven to generate more trust. You can further aid your business with SocialPOP by tracking your conversions over a longer period of time, as well as monitoring your latest ones.
FEES: SocialPOP does offer a free version, however as is customary, that version is quite basic and only allows you 2 campaigns and 2 notifications a month. To have 5 campaigns and 5 notifications a month for a single user you have to update to the Silver plan, which comes around to $19/mo. The Gold and the Platinum plan both offer more campaigns and notifications, as well as multiple users. The former costs $49/mo and the latter $99/mo.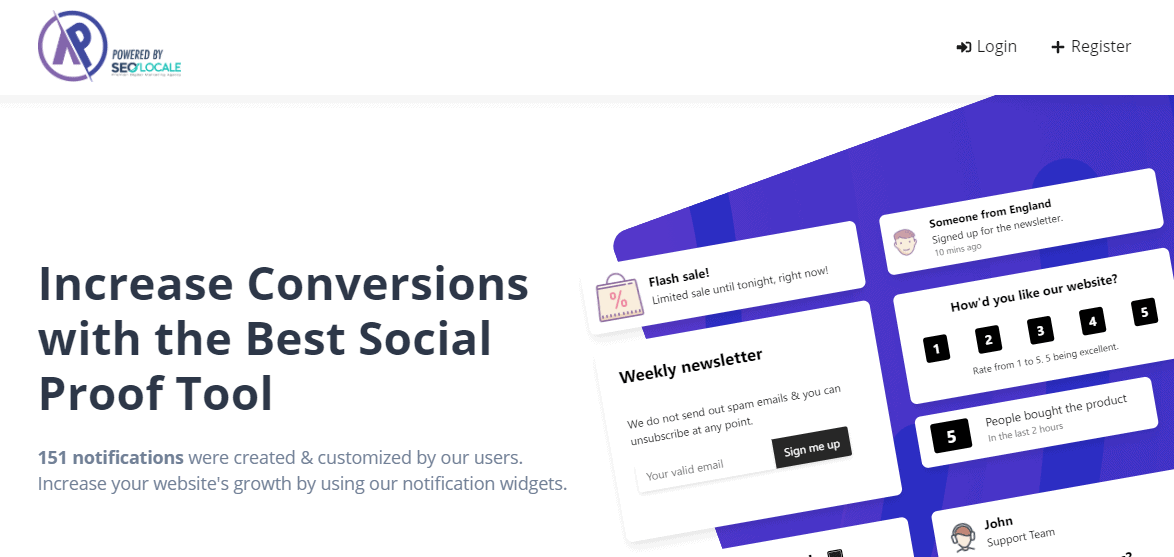 Much like SocialPOP, Notify Proof offers a high degree of customization in all areas. The tool itself is very easy to set up and navigate, plus, integration on any site becomes simple when using Notify Proof.
The simple add-ons that the tool offers can aid you in converting leads into paying customers. Also, one interesting thing Notify Proof offers is a countdown collector. The countdown collector helps you create a sense of urgency by setting up a countdown timer, and once again, FOMO is back to help you.
Notify Proof also has an option that allows your visitors to leave feedback in emoji form.
This is a highly effective and efficient tool as it still provides you with all the information that you need, while not taking up too much of your or your visitors' time.
FEES: Notify Proof comes in a free version offering you one campaign and one notification a month. Their website also shows an option for a free trial, however, to see the pricing plans you have to sign up.
Ready to Start Using Social Proof Notifications?
Once you've realized how much these apps can actually help you in growing your business, attracting more customers, and in turn generating more revenue, the only thing left to do is to choose the right one.
Our recommendation would definitely be WiserNotify as it doesn't require you to deal with pesky subscription fees and it's extremely simple to use and navigate, while simultaneously drumming up more interest in your shop and helping you grow faster than ever before. So, are you ready to start social proofing?