Every business, including yours, should be profitable. That means getting more customers interested and closing more deals. However, to achieve that, you need to offer more than just a good product or service.
You need to think about great #CustomerService, helpful technical #Support, the overall #CustomerExperience, and offering value to the right customer.
Luckily, we live in a world that creates something new every day and we have to thank technology for that. Likewise, we have to thank technology for apps that can help businesses close more deals and offer better customer service to their clients.
That is why, in this article, we will list the top 3 apps of this sort we think you should try and use for the benefit of your business and clients.
1. Sam.ai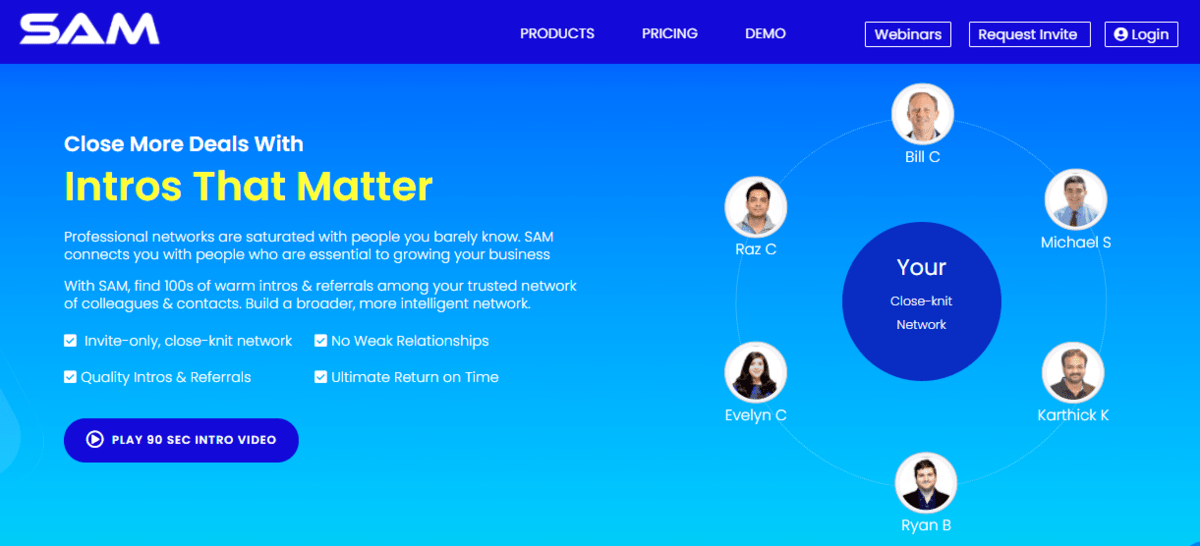 Sam.ai is a network-powered relationship and introduction management platform that is built on conversational AI. This platform helps you increase your outreach capabilities which are powered by people in your network.
How does this work? Well, the platform analyzes your email contacts and gives you access to some details about them, such as who has kids or who likes skiing. That way you can build a better connection with the people you already know, but didn't have many details about. It can also help with building long-term client/customer relationships.
You are able to get all of this information from Sam.ai because its AI collects data from multiple touchpoints and looks at company data.
Looking through the information is very simple as the platform has a user-friendly interface that features contacts, tasks, and customers. You can search through the information based on a title or industry to find something that could be useful to you. You can also sort your contacts by relationship strength.
Moreover, each connection can serve as an introduction to a new contact.
The platform comes with a great support center offering how-to videos and webinars to help you learn how to use it. The platform is also iOS and Android friendly and it is the only network-powered CRM with fully voice-activated conversational AI, which means you can ask questions, instead of typing everything.
Sam.ai costs $59 as a lifetime deal on AppSumo and can be used by 2 users. For 5 users, you need to pay $118, or $177 for 10 users.
2. Velocify
Velocify is a lead management solution that is perfect for businesses that sell products or services over the phone or via email (for example, mortgage brokers, educational institutions, and insurance organizations). It is a web-based CRM platform that automates your sales and combines lead management and customer relationship management into one solution that is user-friendly.
The platform monitors all lead generation and sales actions to help you increase your conversion rates and provides you with detailed revenue reports that are customized in real-time.
The platform can be integrated with Salesforce and the Dial-IQ system, so you have mobile access to your leads. Its algorithm automatically allocates leads to specific team members and will notify them via email or SMS.
Velocify is cloud-based and comes with a friendly and easy to use dashboard from which you can check reports, sales activities, staff success rates, and more. It also comes with a calendar and a scheduling application. Moreover, using it, you can create a digital point-of-sale solution and invite your customers to easily complete applications, upload documents, e-sing them, and order services.
You can also personalize your communication and tailor it specifically to your customer or referral. Plus, you can compare yourself to your competitors and see the areas where you can improve.
3. Yesware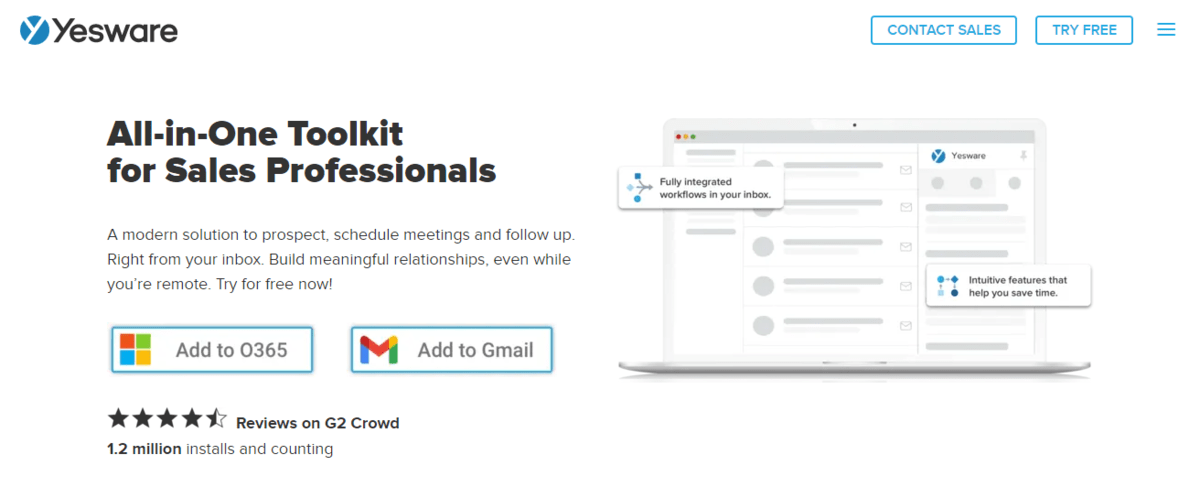 Yesware is a platform intended for reaching out to prospects, and scheduling meetings as well as follow-ups. With it, you can personalize messages for each customer, book meetings, and get notified once a prospect is interested in your product or service.
You can track emails and see when a recipient read your email, decide when a prospect could become a customer, as well as how and when to reach him/her. You can see a lead's history (what emails were opened, when did they view an attachment, etc.). You can create custom email campaigns and track them to see who is interested. Plus, there are many email and follow up templates you can use to quickly set up a follow-up email or send a reminder.
The platform can be integrated with Salesforce and LinkedIn. You also get a meeting scheduler that integrates with your calendar so you can see your availability, set up different meeting types and lengths, and get a booking confirmation.
On your dashboard, you can see who engaged with your emails, week by week trends, open and reply rates, and much more. You can find your most engaged prospects so you can lead them down the sales funnel and get them to become a customer.
Lastly, you also get reports on different analytics so you can see what works and what should be changed.
Another great thing about Yesware is that you get a 14-day free trial so you can see how the platform works, all the features it offers, and if it is something that could help your business increase its number of conversions before you decide to buy it.
Conclusion
In this article, we showed you 3 apps that can help you with your customer relationship management and with improving your conversion rates. You should definitely consider using them because it is really important that you offer personalized services and products to your customers as that is what is expected from you.
The app we think would provide you with the most features is Sam.ai.
It is a well-designed and reliable app and we think it gives you a lot of useful information about your clients so you can know who from your list of leads is just a prospect and who can turn into a paying customer.