What are the steps in the customer buying process? How can you better support them through the buyer's journey?
If you want your #customers to complete the #sale, you must look at your methods through each phase of the sales funnel and ensure you're meeting all their needs.
According to reports from IBM, the pandemic sped up the move from physical to digital stores by about five years. The way consumers shop is different than before COVID-19 struck. Depending on their comfort level with e-commerce, your buyers may need more support than ever before.
We'll look at the different phases of the buyer's journey, the pain points consumers face along the way, and offer ideas to solve problems. You'll also see a few examples of online stores thriving in the new economy.
1. Provide Information
At the start of the buyer's journey, they don't know who you are or the products and services you offer. So it's your job to engage and educate consumers about your business model and products.
Put yourself in the shoes of your typical customer. What information would they most want to know? You can look back through old customer service records to see what people ask. Know your target audience and what drives them.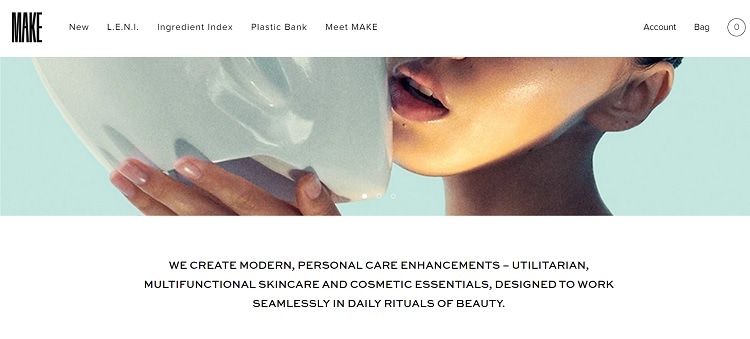 MAKE offers customizable beauty products. At the start of their sales funnel, they use beautiful images and text to showcase what they do.
They use a single sentence to explain what they do. However, as the user scrolls, they find out the company uses sustainable botanicals, they lab engineer natural ingredients, and their commitment to remove plastics from the oceans.
2. Seek the Need
Before the customer can make a decision, they must admit they have a need. Spend time digging into the psychoanalytic of your target audience. What is the pain point driving them to your site? How can you enhance and meet their needs?
For example, if you sell hair bows, perhaps the pain point is that the person's bangs are in their eyes, or they want their hair to look neater. Next, consider the emotions driving the problem, such as pride or a desire to see clearly. Once you've identified the reasons for your particular buyer, talk about how your product solves the need.
3. Describe the Process
People are incredibly busy. They might have five minutes between meetings to place a quick order. Therefore, you must communicate the process to them, so they know what to expect. Use bullet points and break down the steps from order to fulfillment.
Keep your system as short as possible. Wherever possible, combine steps and cut out unnecessary ones.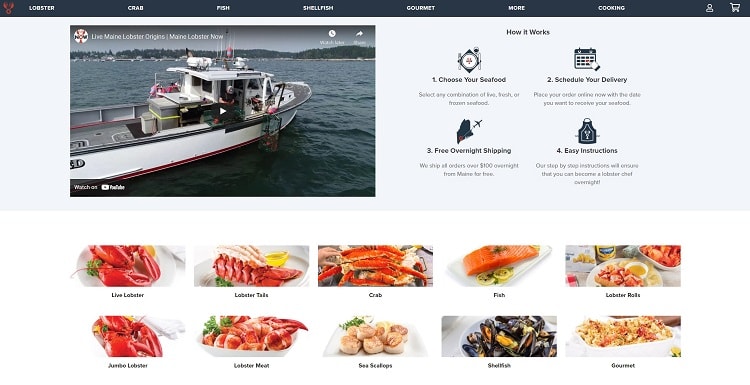 Maine Lobster Now uses icons and headings to highlight four simple steps from ordering to putting fresh lobster on the table. Note how each section requires only a glance. If the person needs more details, there is a sentence under each header.
4. Use Live Chat
At some point in the buyer's journey, your customers will have additional questions you didn't answer in the description or previous funnel pages.
A live chat feature is something you can pre-program with a list of frequently asked questions.
You should also have trained agents to answer those queries without a programmed answer. For example, live chat may mean the difference between a customer ordering and abandoning the shopping cart.
5. Add Videos
There is an old saying that a picture is worth 1,000 words. Videos help highlight your products in a 360-degree view. If you know your item solves a particular need, you can show the solution in real-time. Look for places to add videos to enhance the buyer's journey.
For example, you might add a 360-degree video of a new product to highlight the different features. You could tell a story, share a testimonial or offer ideas through your videos.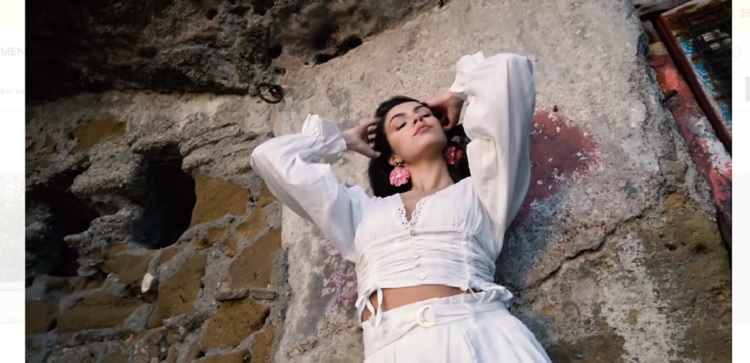 Shein sells clothing and accessories. When you click on any of their new arrivals, you can also choose to watch a video of a model wearing the outfit. In addition, you'll gain ideas for accessories and see how the item looks on from different vantage points.
6. Help the Decision Process
At some point in the buyer's journey, they received answers to every question, and they now face the decision to buy or not buy. Think about the negative factors which might dissuade someone from carrying through with the purchase.
Negative feedback from online reviews or friends may sway them to buy from a competitor. Do your best to ensure you receive excellent reviews and meet the needs of current customers. The other reasons include the high cost of shipping or uncertainty about the item.
If you've answered every element of the need throughout the sales journey, you eliminate much of the negativity and have a higher likelihood of the user converting into a customer.
7. Simplify Checkout
Many online retailers find that they lose customers during the checkout process. Either you create too many steps, and people grow weary, or they dislike shipping or other added costs. Look for ways to simplify the steps and offer discounts on shipping and add-ons.
Vitacost shows precisely how many steps you'll need to complete by using tabs. You must fill in the basic shipping information, choose a speed, share your payment info and click "Place Order". It's an upfront and simple process that helps urge the user through the final stage of the buyer's journey.
Look for Bounces
Where do people bounce away from your site? Look for the pages where they leave. Try different methods to improve your sales funnel until your conversion rates skyrocket. The more attention you give to each stage of the sales funnel, the better your results will be.
Author Bio:
Eleanor Hecks is editor-in-chief at Designerly. She was the director at a marketing agency before becoming a freelance web designer. Eleanor lives in Philly with her husband and dog, Bear.