Whether you have a website, blog, social media account, or something else, I am sure that videos can take the content you post there to a new level. But, the problem is, video editing tools are always way too complicated to use and you need to spend endless hours learning how to work with them.
Another problem that is always popping up, especially if you are only getting started, is the price. #Video editing #Tools are, in most cases, too expensive for a regular user.
Luckily for you, in this article, I will present five video editing tools that are easy to use, not expensive and that will take the quality of your content up a notch. So, let's get started!
1. Wave.video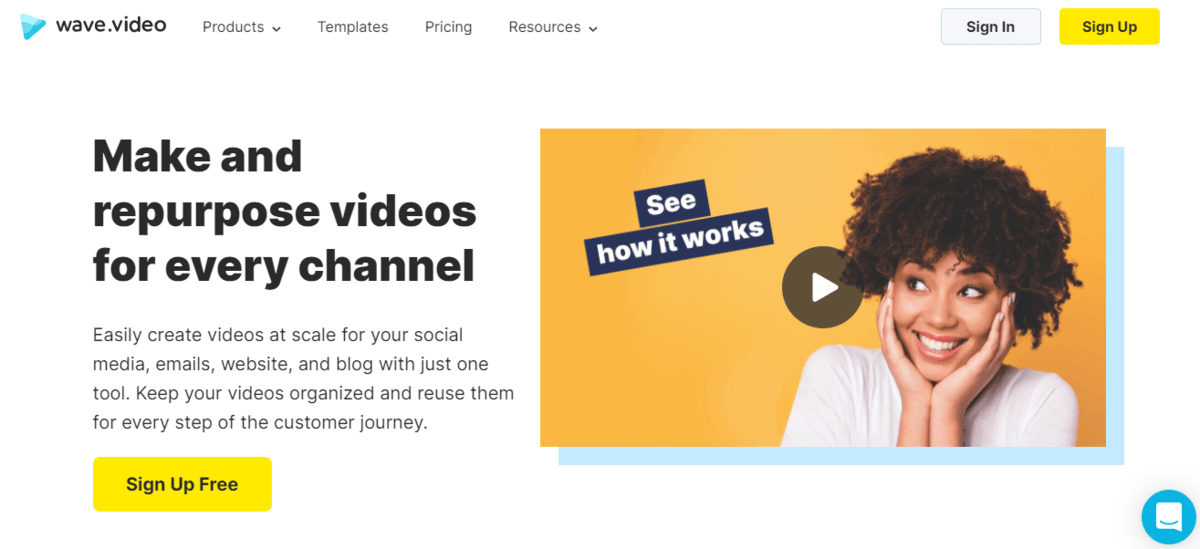 Wave.video is a very powerful video editing tool and is perfect if you are creating videos for a marketing campaign or some sort of advertisement. It comes with thousands of video templates in multiple formats, different filter options, and 200 million media assets. What this all means is that you can make every video unique, no matter how many of them you need to make.
You also get customizable landing pages and a toolkit for automatic captions that will make video editing easier and faster.
You can even add your own logo, branding, font, or graphics in order to promote your business in the right way. And if you really want to capture the viewers' attention, you can also add GIFs and animated text to your videos.
This video editor gives you endless options and has so many features that it is really hard to describe them all. But you do not have to worry, because it also offers a free webinar that will show you how to get the most out of this tool.
Pricewise, this tool can be yours for $59 or $118 (both lifetime deals). And if you end up not liking the tool, do not worry, there is a 60-day money-back guarantee, no questions asked.
2. Vimeo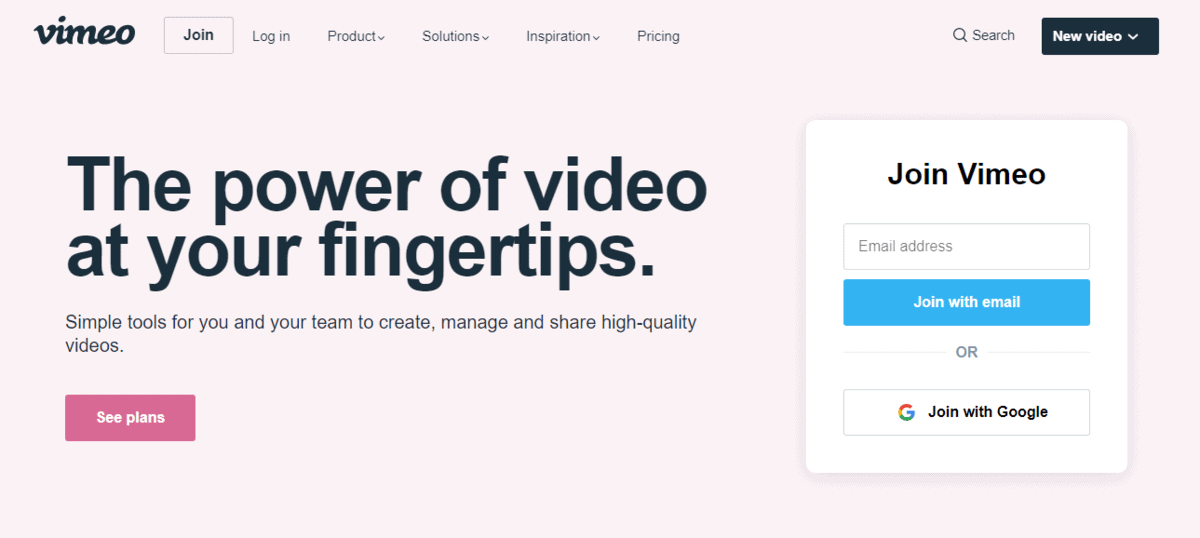 Vimeo is a video editing tool that offers you very simple service. You choose a template that best suits your video, or you can pull one out from their stock library. After that, you can customize basically everything including fonts, layers, colors, etc.
Vimeo has a smart editor that does the job for you. With the push of a button, the editor will create an eye-catching video in a matter of seconds. Also, Vimeo comes with video marketing tools that will help you get the most out of your videos by advertising and distributing them in the right way. You can even keep track of their performance online.
When it comes to pricing, Vimeo can be yours for just seven dollars per month. But there are different plans that vary in price depending on the size of your videos. The price for the premium version with all the features is 75 dollars per month. There is also a free trial, but with that, you can not really do much if we are being honest.
3. Animoto
Animoto is a video editing tool that is aimed at small businesses that want to expand their audience and get more customers. It is suitable for creating any type of video content, no matter if it is intended for an online store, blog, social media account, or something else.
It comes with a very simple drag-and-drop interface which is very easy to use. It has also partnered with Getty Images so you can use over a million stock photos for your videos (but that is only available in the Business and the Professional plan).
On top of that, Animoto offers professionally designed templates for every occasion.
When it comes to pricing, they have a free version, but a monthly subscription is needed to use all the features. The prices go from 39 dollars per month to 89 dollars per month.
4. Biteable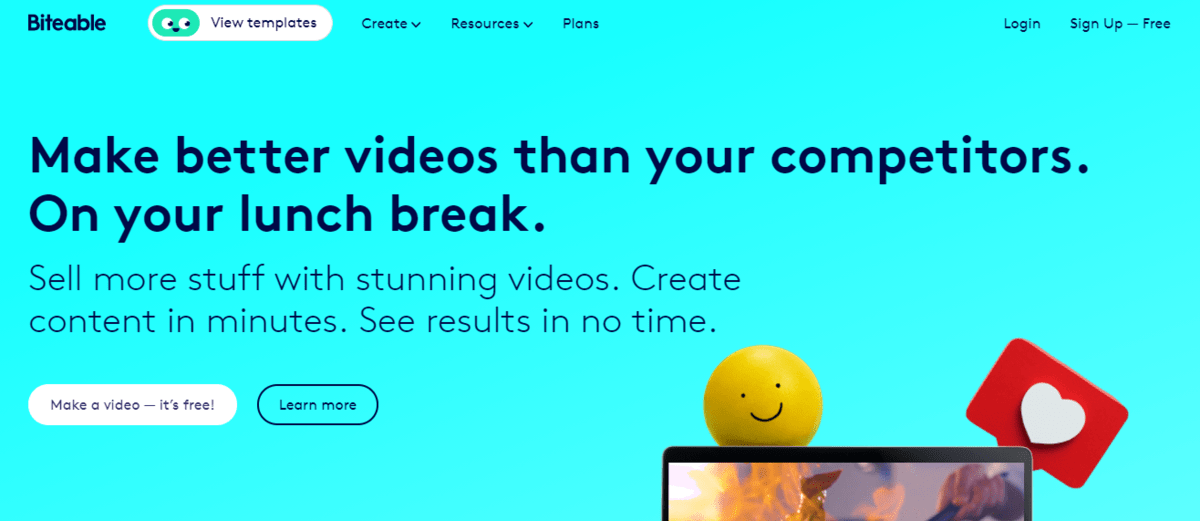 Biteable is a video editing software used by a lot of famous businesses such as Cisco, Panasonic, Microsoft, and IBM. They offer more than 800.000 real-life stock videos and animations for your content and a wide range of templates for every situation. Their videos are royalty-free and you can use them forever as well as share them anywhere you want.
What is especially great is the fact that they enable you to make a video for free before subscribing, so you can really test out their features. Also, they allow you to pick out which type of video you need to make, and based on that, they provide you with templates, animations, and stock footage.
A free version is available, but the videos created with it are watermarked. Besides that, there are two plans, one for individuals and one for professionals. These do not offer the same features, that is why their prices are so different. To be exact, the prices are 19 dollars per month for the individual plan and 99 dollars per month for the professional plan.
5. Wistia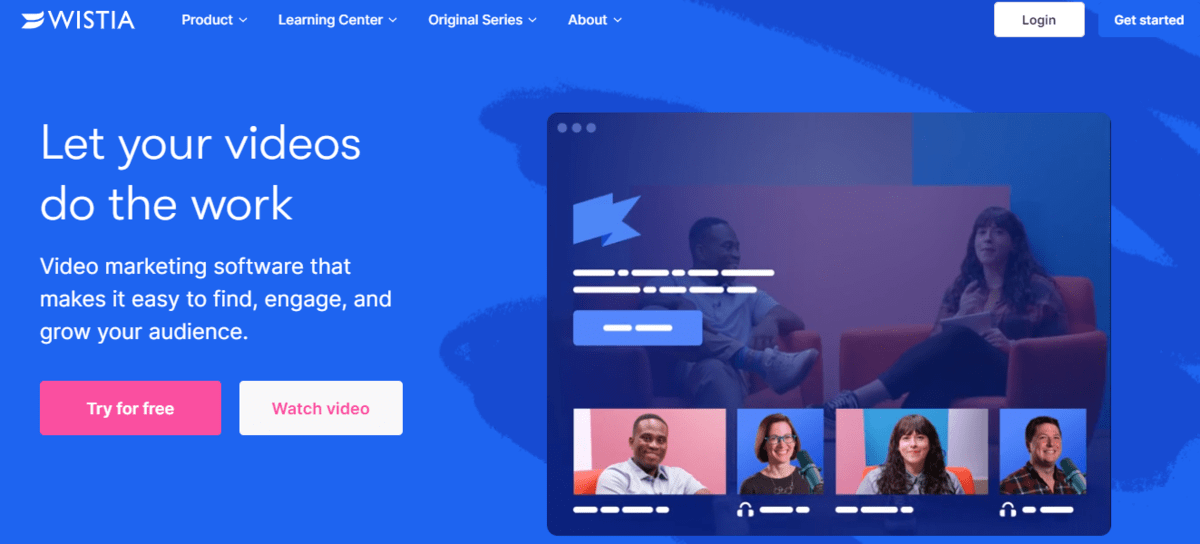 Wistia is a tool that gives you a video editor along with a marketing tool and is mostly used for podcasts and similar content formats. It offers the best viewing experience with its high-resolution edited videos. Its SEO for videos helps you get a bigger audience and more views. And its marketing automation integrations will captivate the viewer and make the most out of your content.
Wistia also has the ability to show you data beyond just views, so you know exactly how and where you need to promote your videos to get a bigger audience.
The only problem is the price. They do have a free version, but only with some basic features. For the pro version, the price is 99 dollars per month. There is also a business version, but its price is not listed and we can only imagine how much that costs.
Conclusion
After introducing you to all the options, we have to say that the one that stands out is for sure Wave.video. It has similar features to the rest of the tools, but only it comes as a lifetime deal and has a 60-day money-back guarantee. So, be sure to check Wave.video out, because there is currently no better video editing tool around.