One of the most effective ways to bring in additional business is offering discounts to new or repeat customers. Whether Black Friday is approaching or you're going through a seasonal slump, people often expect deals during certain seasons. Use specials to your advantage to close sales when they're most needed.
According to Statista, around 88% of consumers use coupons while shopping. More than half of 18- to 39-year-olds believe discounts and coupons for online purchases are "very important".
The current #economic climate is uncertain due to shutdowns and uncertainty about when life can return to normal after the #pandemic. People are more careful than ever before how they spend their #money.
Just offering a great deal isn't enough to draw in new clients, though. You have to know your audience and showcase the special in a way that makes sense to them. There are eight factors to consider when listing an offer on your site to grab attention and tug at the emotions.
1. Place the Offer on Your Landing Page
You want site visitors to easily be able to find the special. Showcase it on your landing page above the fold and make it the focal point. You can do this with bold colors, large images, and beautiful typography.
If you have details on the offer, you can always list them on a separate page. Keep things short and to the point on the landing page.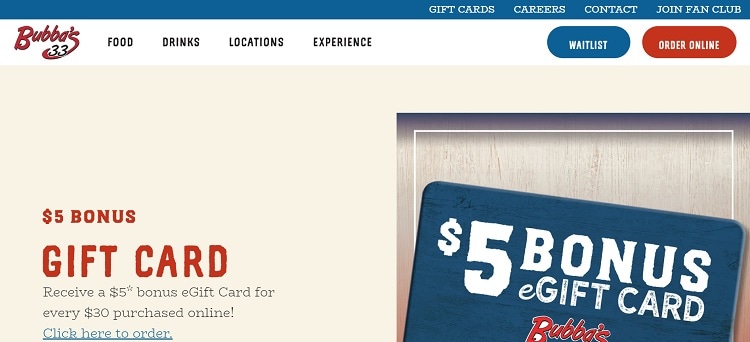 Bubba's 33 showcases its holiday offer of a bonus when you buy gift cards. It uses a large image of the card and a vivid red font stating the promotion. When a user lands on the page, their eye immediately goes to the picture.
2. Know Your Audience
Part of choosing the right language and images to draw people into the offer is knowing your audience. If you haven't already created buyer personas, dig into your customer details, and develop some generalizations about the type of person who buys from you. Once you have those details, it's easier to figure out what kinds of promotions they'll care about most. For example, if you're a restaurant owner targeting families with kids, you can release restaurant promotions like discounted children's menus or meal bundles for the entire family.
3. Use Accents
Adding an underline, arrow or other accent draws attention to your latest deals. Try to keep these elements in the same color family as your brand palette. However, it's also OK to add a burst of color here and there. Anything outside the norm draws the eye. Use your best design judgment to move user attention to the special.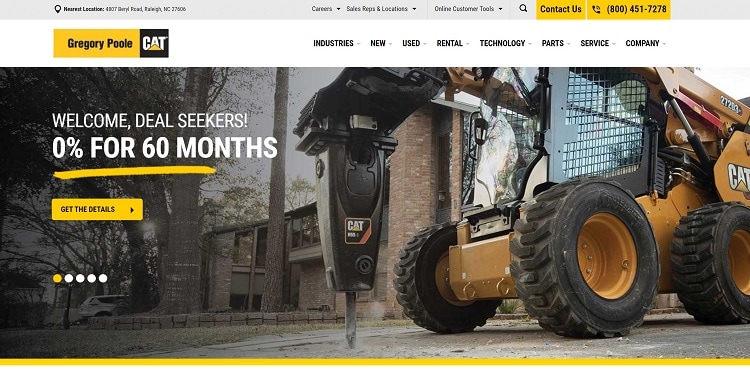 Gregory Poole Equipment Co. provides 0% financing for 60 months on select equipment. It adds a note to one of its hero slider images and uses a wide yellow underline to highlight the offer. There is also a call to action highlighting additional details on the special.
4. Tell a Story
Why are you offering a special deal? Users know companies aren't necessarily looking out for their best interests. When you're transparent and share the inner workings of why you do what you do, people are much more likely to trust you.
If you're running a sale to help bring in more business during a slow period, tell your customers. Explain you are cutting prices to bring in cash flow during off-season months. Be open and honest about your motives and how you're also looking out for your customers.
5. Find a Theme
Another idea is to tie your deal into some type of theme. If your customers like sports, mesh your offer with your favorite sports team. For example, if the Pacers win the playoffs, you get 50% off these products. Look for ways to tie into what your buyers already love.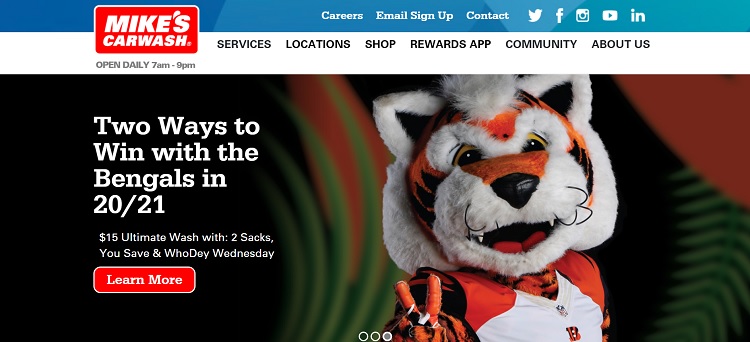 Mike's Carwash features a tie-in to the Cincinnati Bengals. Anytime there are two quarterback sacks in a single game, it will give you $5 off an Ultimate Wash the next day. It also donates to a foundation supporting local youth. It lists scheduled games on the page so you can follow along.
6. Ramp up Your Descriptions
When presenting a deal to your users, you want to clarify precisely why it is a good value. Perhaps you only have a limited number of the item. Maybe it is discounted a certain amount.
Make sure the description of the product or service clearly shows what buyers receive for their money.
Have you ever ordered something and thought it was a good value, only to find out it was a smaller amount of the item? You don't want to do that to your customers as you can damage your relationship with them going forward. If there is anything different about the product you're offering, let customers know.
7. Show How Much They Save
Some people hate to do math. Don't make them guess how much they're saving or what you're offering to them. List the discount and include specific numbers. Include notes on the monetary savings, percentage off, or how your deal helps them get more for their money.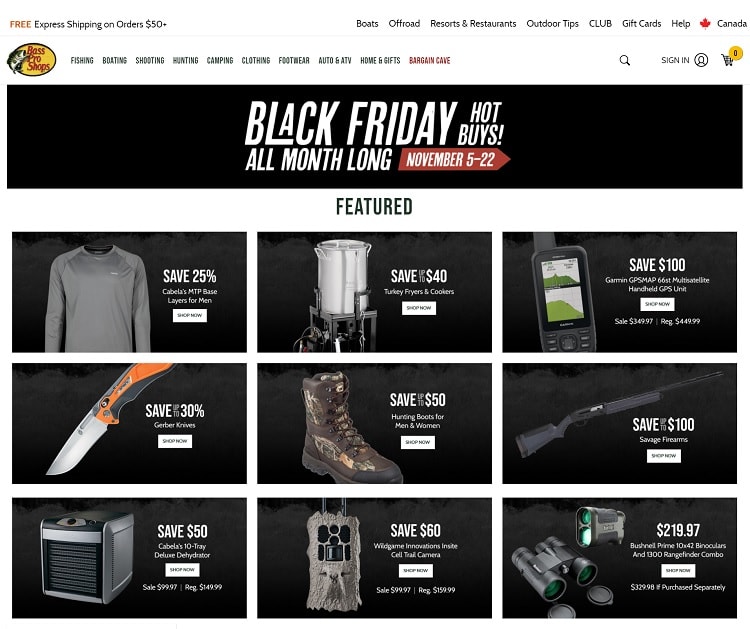 Bass Pro Shops lists Black Friday deals by featuring some of its top offers. These are the items drawing people into physical and online stores. Note how it highlights how much you can save on each item. Subheadings say things like "Save $100," "Save up to $40" and "Save 25%."
8. Tap Into Their Emotions
People want to know how buying an item impacts their life. Every customer has a pain point driving them to your site for a solution. Once you fully understand who your audience is, you can guess the problem they're trying to solve. Offer them the answer, explain why it's a good value, and describe how owning the product will change their situation.
Be Flexible
One of the great things about offering deals on your site is that you can change them frequently. If customers aren't responding to a particular special, lose it and try a different approach. Make sure you follow the discounts your competition proposes and be a step or two ahead with yours. With a little planning and by understanding your customers, you'll increase your conversions and keep your clients happy.