Themes are developed, upgraded, and updated over some time. So, we have a case that some WordPress themes, which until yesterday were highly sought after and used, today may not be the first choice for many.
However, the best WordPress theme can be with a paid license, but there are also free WordPress themes that stand out and are very high quality. Every day, in greater or lesser numbers, web admins search for a good WordPress theme for creating online courses. Naturally, they are looking for the best for themselves, so let's mention some of them in this article.
Have you checked these #WordPress #themes out that will make your online #courses look more eye-catching? We have prepared a list of the top 12!
Further, you can read our list of the best premium WordPress themes designed to help you quickly create any e-learning website or educational institution website.
1. ECoursify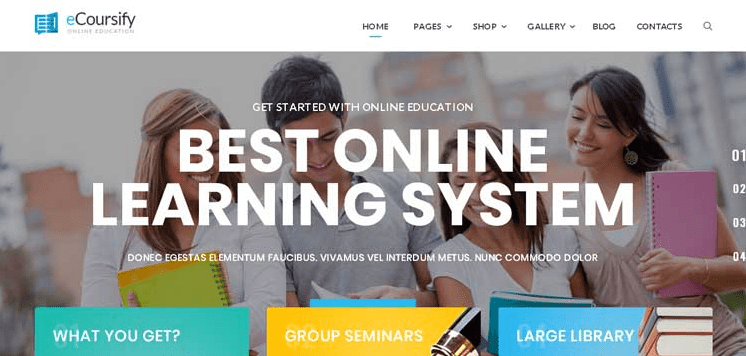 ECoursify is a WordPress theme dedicated to creating any website for educational purposes. Whether you want to share certain pieces of information about academic institutions or promote courses online, this WordPress theme has everything you need.
They created this WordPress eLearning theme to improve learning management and to be effective. It will offer you a chance to develop courses, a list of teachers, the services you provide, and like. Also, it integrates with WooCommerce, which will allow you to sell your classes online.
2. Skilled
Skilled is a gorgeous and very eye-appealing WordPress theme. It is also very well structured, simple to use, modern, easy to respond to, and dedicated to creating educational websites. Today, it advanced into a genuine and decent foundation for web admins with or without experience in website development.
Also, this WordPress theme offers the ability to connect to WooCommerce to sell your courses. In addition, what makes it stand out is that you can even integrate with Sensei. Also, it is possible to incorporate a calendar of events so that your students can easily keep track of the dates of your courses.
3. Guru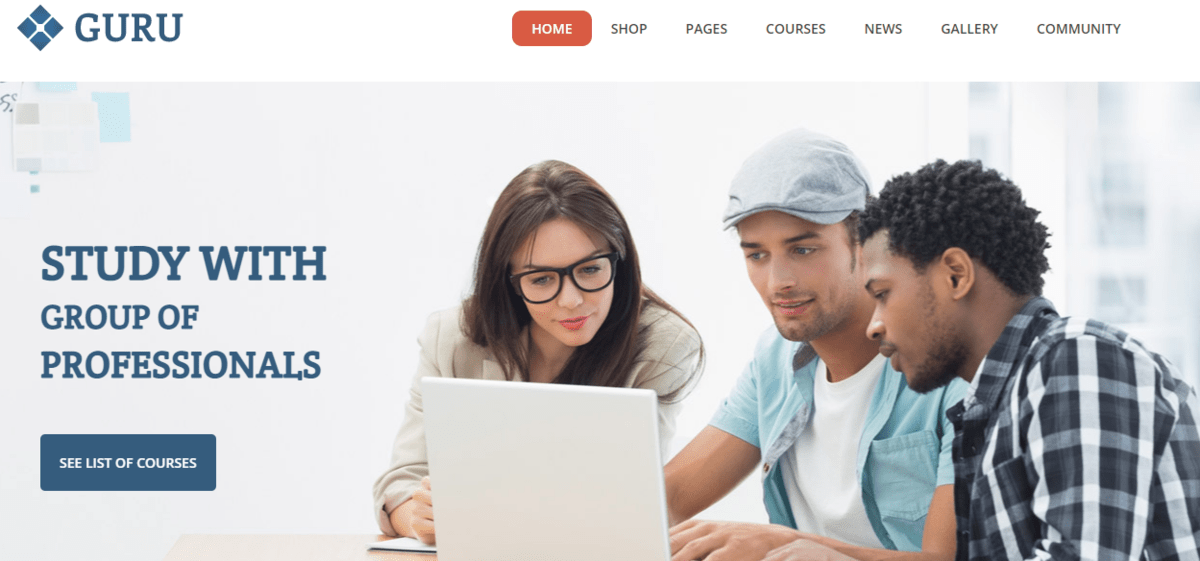 Guru also has a comprehensive learning management system that you can use to create your e-learning websites. Also, it will allow you to connect with your students. Using the bbPress plugin, you can turn on the user forum on your website. Through integration with WooCommerce, you have the opportunity to sell e-books to your students.
In addition, it has other features such as student and teacher profile management, course tracking. And that's not all; there is even event management, compatibility with the WMPL translation plugin, Sensei support, event calendar.
4. Studeon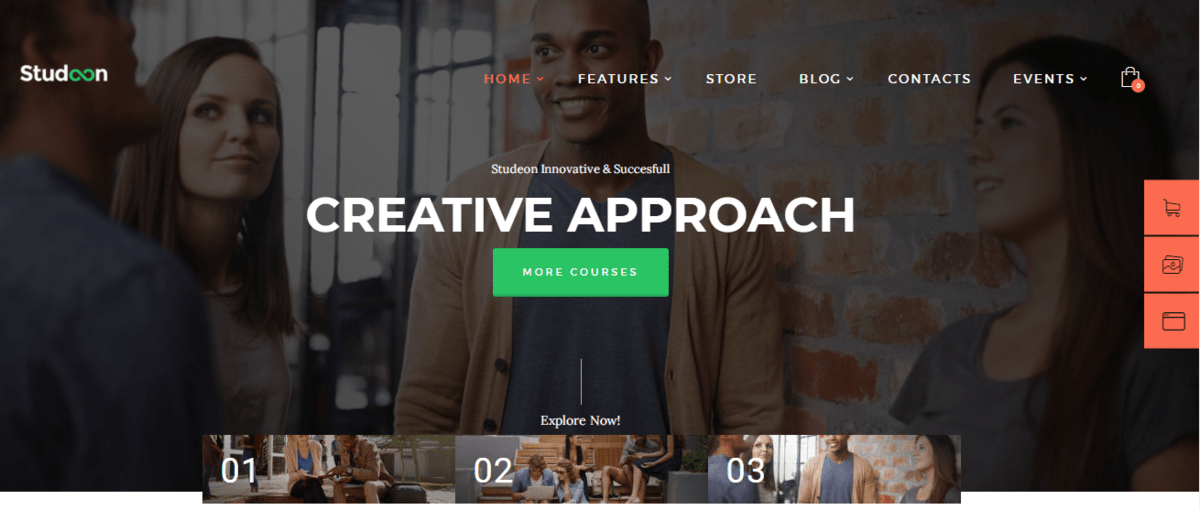 Studeon is another excellent WordPress theme with a sleek look and interface that will appeal to many students and educational institutions. This WordPress theme is a perfect option for educational institutions such as colleges, schools, training centers, foreign language learning, or eLearning websites.
However, among the essential features, it also offers perfect integration with several popular add-ons:
intuitive navigation,
control panel,
search bar with autocomplete,
regular updates,
support for several shortcuts,
easy installation, and many others.
5. Educatito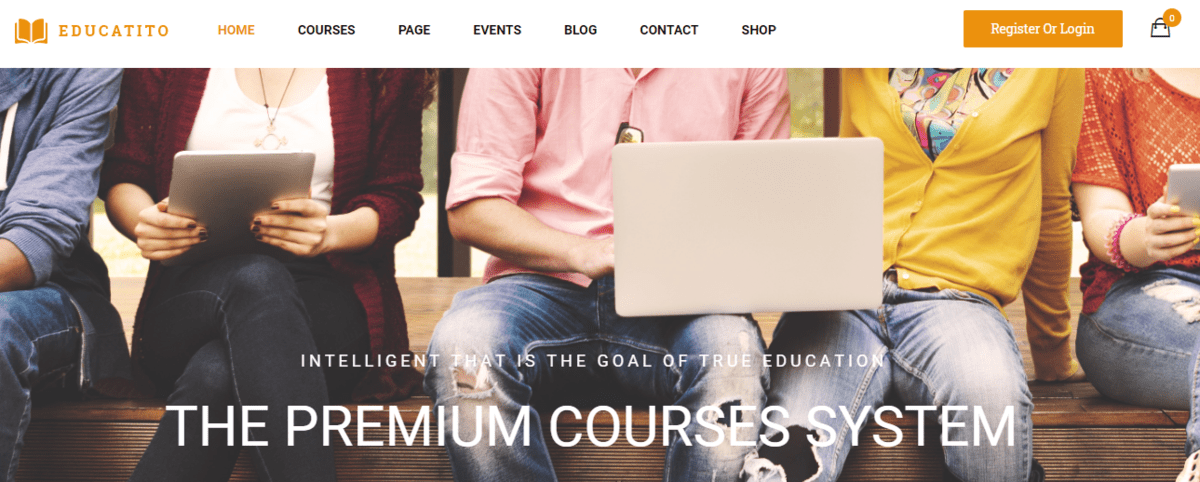 Like all WordPress themes on this list, the Educatito theme comes with a beautiful look, whose purpose is to help you quickly create an educational website or e-learning website. So, this is a WordPress theme that targets several niches in this category.
Also, it has many configuration options and an intuitive visual interface that will allow you to install and configure a website in minutes. It is compatible with add-ons WPML, WPBakery, Slider Revolution, LearnPress, WooCommerce. Besides this, it contains a powerful control panel that will give you complete control over your website.
6. Smarty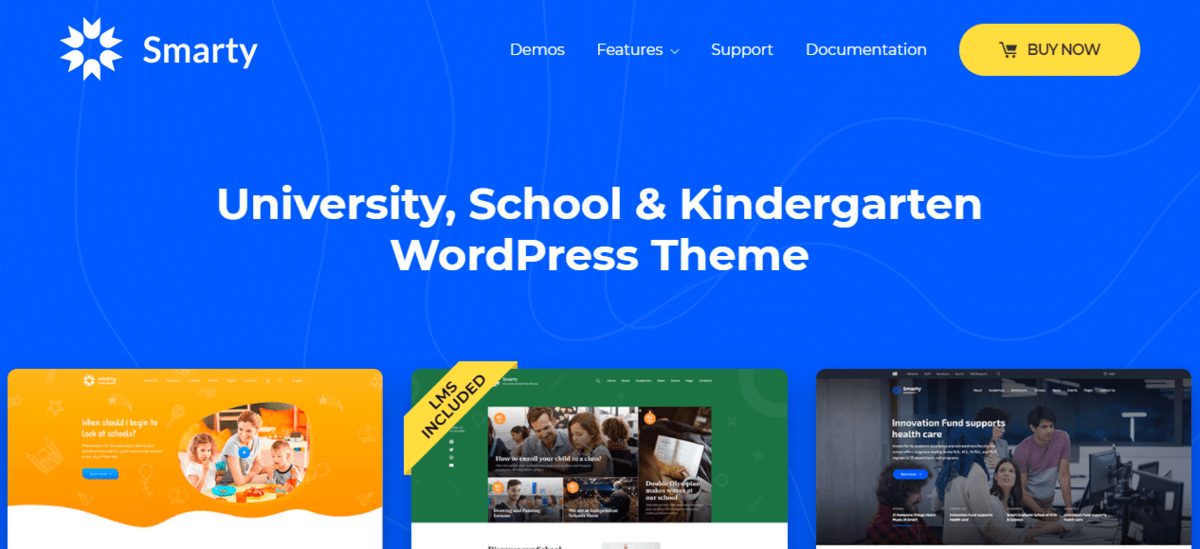 Smarty WordPress theme is a trendy WordPress theme in this niche. It is designed to work perfectly on a variety of devices and browsers. In addition, many of the add-ons that come with this theme bring incomparable simplification in handling.
This way, you will find, among other things, profiles for your classes and teachers, event leaders, detailed documentation, responsive customer support, and much more. However, this is one of those WordPress themes that you will have to try.
7. Cedar High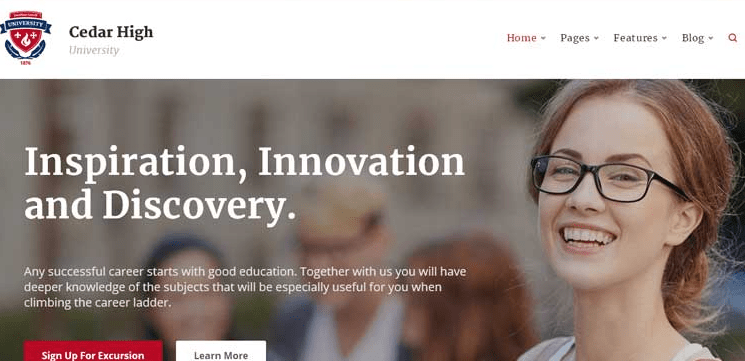 Cedar High is a very eye-appealing and powerful WordPress theme that will help you create many university websites. It is ideal for any professional webmaster or beginner and does not require any prerequisites to take it in hand.
Still, home page templates are designed to help you avoid any problems. Overall, this theme offers exceptionally high-quality design solutions, and the installation is, thanks to the advanced tools that are mainly focused on web development, very fast.
Also, the theme is compatible with the Elementor plugin and contains a powerful control panel that will give you complete control over your website.
8. Sekolah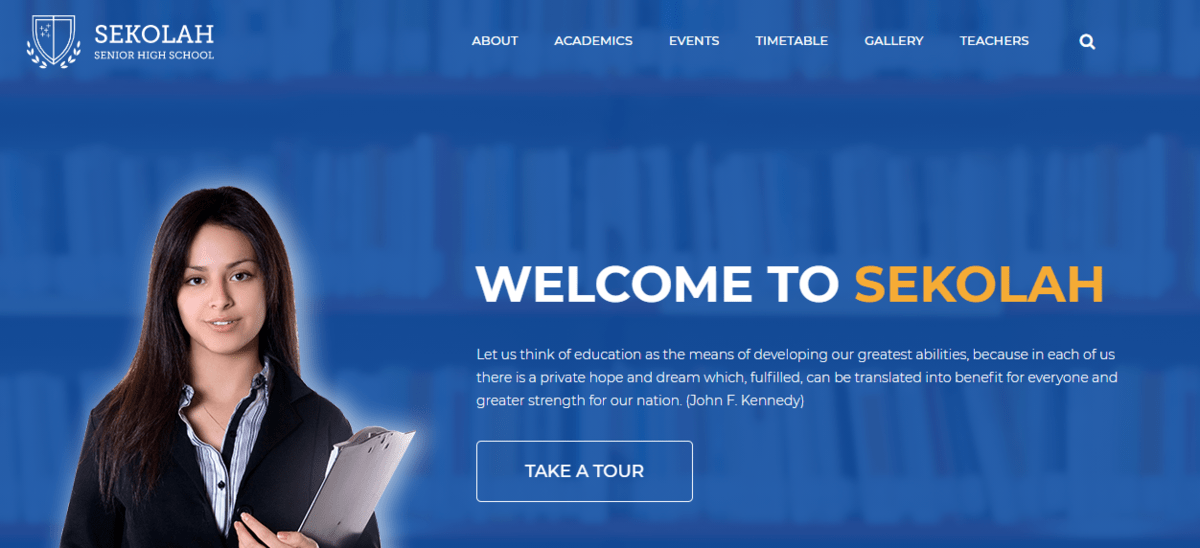 Sekolah is a clean, modern solution designed to help you create a website for schools, colleges, and other educational institutions.
This WordPress theme will allow you to manage students, organize lessons, manage the time of individual courses, and much more.
Sekolah offers you multiple home page templates, a highly customizable design. There is even a section that presents your teachers and a calendar of different activities. Furthermore, a dashboard brings together all the statistics of each teacher and student and user profile management.
9. Training Institute
Training Institute is a WordPress theme that offers you features that can give your website all the reputation it needs. As the name suggests, you will have a website like a real institute for learning and training.
This WordPress theme is very flexible and will allow you to manipulate it as you wish. There are a lot of valuable features, and creating your style will be very easy.
In addition, the overall design is fully responsive, and none of your customers will encounter any problems, no matter which device they use. The dashboard is intuitive and user-friendly, giving you access to a wide range of options that you can modify to make your site unique.
10. Educator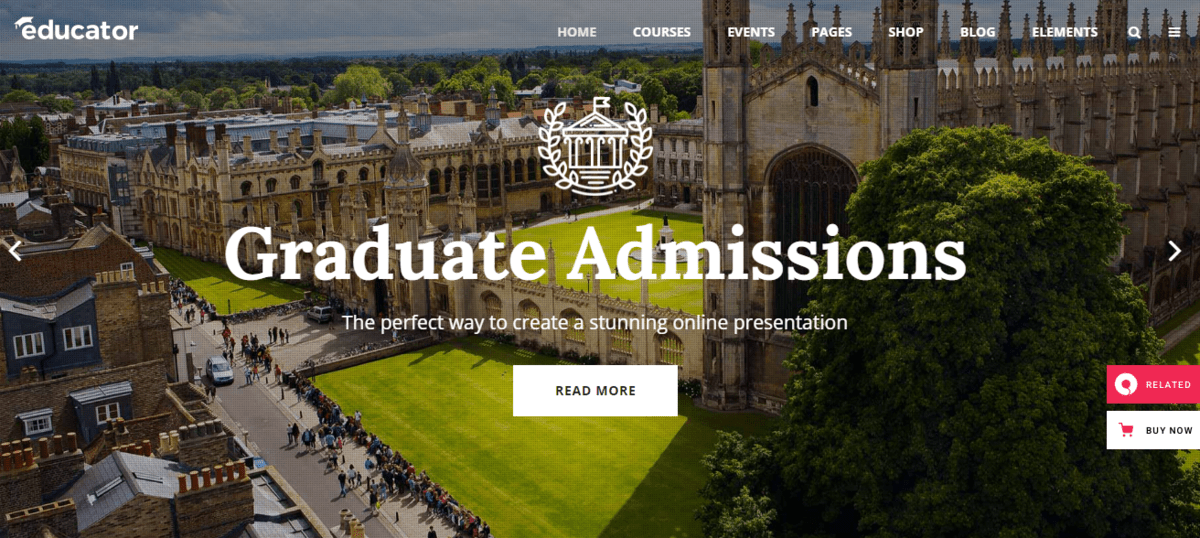 WordPress theme Educator is one of the more expensive WordPress themes you can use. However, the reason for that lies in the set of unique features that have enriched this theme.
It is a WordPress theme designed to help you create an eLearning website, but you can also create a website for any educational institution.
Furthermore, it is compatible with several modern accessories and integrates Visual Composer, Slider Revolution, and Timetable, which will save you vast amounts of money. Its customer support is also very professional and will not hesitate to help you get started with this WordPress theme.
11. Clever Course
Clever Course is a phenomenal WordPress theme designed to help you create a website whose primary purpose will be to provide comprehensive educational support to students and others.
Creating and selling online courses has become a very lucrative activity. However, you do not have to worry much about charging for lessons because Clever Course is compatible with Stripe, PayPal, Authorized.net, and PayMill.
Also, Clever Course has a sophisticated administration panel that is easy to use for all users. Its layout is well designed and very intuitive, providing one of the most acceptable WordPress themes.
12. Kallyas
Kallyas is an intuitive and versatile WordPress theme. It is a flexible platform for building all types of websites. It is suitable for purposes from business websites to professional websites and more. Beautiful widgets for portfolio and gallery will allow you to present your services to your audience. With its e-commerce capabilities based on the WooCommerce plugin, Kallyas is your genuine retailer.
However, with this theme, you will get the possibility to sell your lessons easily and quickly. Best of all, you will not even need to hire a graphic designer. The Bootstrap Framework ensures full compatibility with all currently available devices and platforms.
Conclusion
If you are looking for a good WordPress theme for a particular purpose, it would be best to enter a term in a search engine. You will get multiple choices, look at the offer, and read user comments.
WordPress is a platform where almost all websites can work, and it is simply impossible to choose the best WordPress theme for everyone.
However, the best WordPress theme can be any if it suits your needs and the content you want to publish. It is crucial to have a regularly updated topic, is safe, fast, and supports modern SEO standards.