Each one of us has not one, not two, but dozens of accounts for various online platforms, such as social media, email, banking apps, dating apps, etc. We all know that to access those accounts you will need credentials, a username, and a password. Remembering all these credentials isn't an easy task, regardless of age and memory.
A lot of people make the huge mistake of using the same password for all of their accounts, risking having them all hacked if the credentials of just one are cracked.
It seems that these types of people never came across something called a password manager. Password managers will not only store all of your valuable login information but will also help you in generating passwords that will be hard to crack for even the most skilled hackers. The passwords you come up with yourself most likely aren't the strongest ones, even though you followed all the "password forming tips" found on the internet. Remember, if you had access to those tips, so did the malicious hackers.
Besides ensuring that you have the best possible password when logging into online platforms, most password managers will auto-fill the login form and not require any action from you except pressing the login button. Companies that create password managers are aware of the importance of keeping your data safe so all the data they do keep is stored in highly protected digital vaults. You already might be using a password manager that came integrated into your browser, but those aren't nearly as powerful as the ones we will be talking in this article, the ones thought to be the best online password managers.
Forghetti
With a catchy name that kinda makes you hungry, Forghetti tops our list for its uniqueness, while it still serves its higher purpose. If you are looking to forget all of your passwords, but replace them with doodles instead, read no further.
Unlike any other password manager on the list, Forghetti actually helps you generate super-complex passwords instead of storing them anywhere. All you have to do is create and remember a doodle, which looks like the one you would use to unlock your mobile device. When you do so, all you have to do is draw the doodle again, to access any of your accounts you have added to the list. You can use this great password manager on mobile, tablet, laptop, and desktop, and it is also compatible with all operating systems available on the market. It also allows you to safely share your password with anyone you would like to share your Netflix account, for example.
What's more, this password manager will not limit you to just passwords. You can also use it to keep your PINs safe, as well as to keep all those "Safety-question's answers" in place. Let's be honest, what was the name of your first pet? Does the goldfish count? This password manages comes for free, but you can upgrade to the premium version which is £1.99 per month.
Dashlane
Dashlane is an all-in-one password manager packed with features. It works on mobile and desktop devices such as Windows, macOS, Linux, Android and iOS. Besides being a password manager, Dashlane can also work as a VPN allowing you to browse the whole internet securely, even the content not available in your region. Dashlane is available in a free version, allowing you to store 50 passwords on one device, but also in a paid version that has extended features and costs 59.88$ per year.
With Dashlane passwords can be saved both locally and across all your devices. It keeps track and receipts of all your online purchases, so you won't be wondering where your paycheck went. A great feature of Dashlane's is that it monitors the web for any data breaches and warns you if your account was one of the compromised ones. Identity and theft recovery tools are also available, but only in the premium plus version which costs 120$ per year.
LastPass
The free version of LastPass allows you to store up to 1GB of login info and other confidential information. Importing your passwords from browsers is quite easy and all of them will be stored on the cloud, which means you can have a LastPass account on multiple devices. This password manager will work on any platform and won't require an installation of a desktop app since it comes in the form of a browser extension.
LastPass gives you the possibility to share information with other LastPass users. Users of the premium version have a feature called emergency access which gives access to your data, to a person you put as an emergency contact, in case you can't access the information yourself. The premium version costs 36.00$ per year.
1Password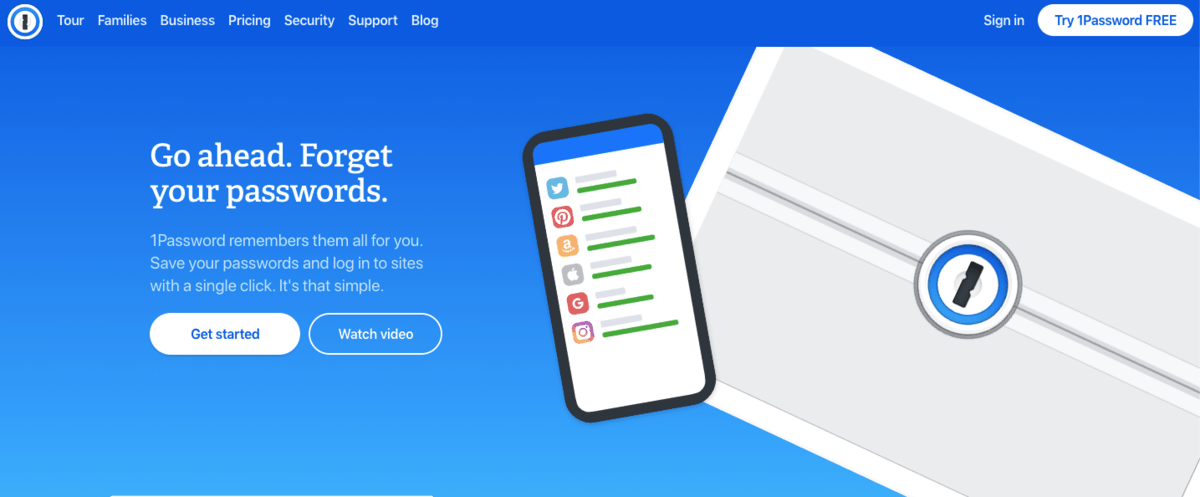 While 1Password doesn't have a free version, it does have a 30-day free trial. The price you will pay for the services of this password manager is 35.88$ per year. What sets 1Password apart from other password managers is its unique travel mode, which when turned on, removes sensitive data from your device while you are crossing international borders so even foreign border security agents can't get ahold of it.
Another interesting feature is the possibility for you to create guest accounts for accessing your Wi-Fi and home alarm system. Since it has a command-line tool, it can work on any type of device. All the passwords you save using 1Password are encrypted and can only be decrypted with a dedicated key you receive.
Bitwarden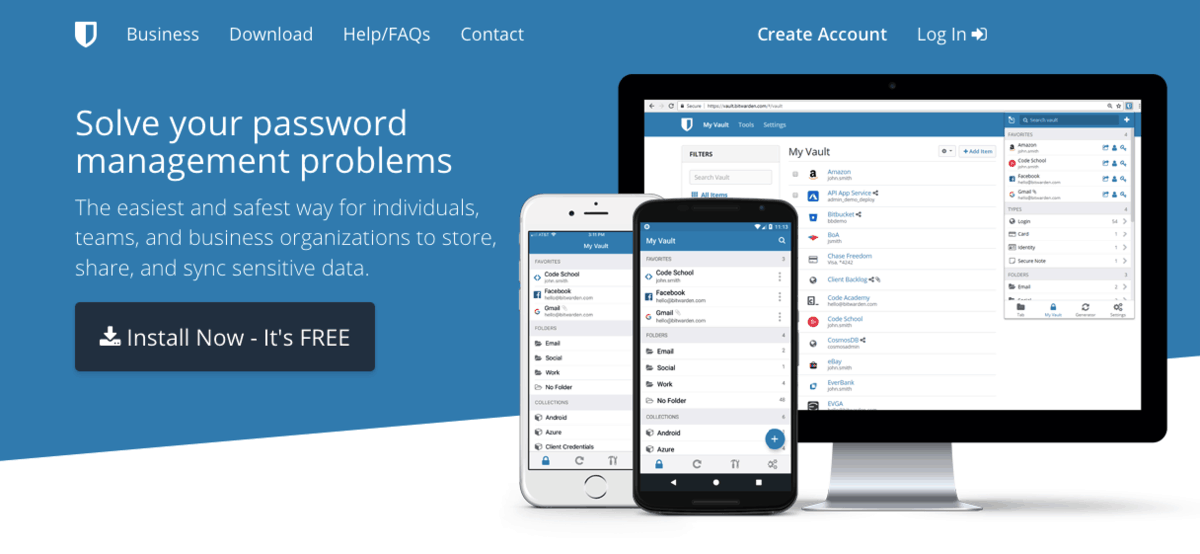 Bitwarden is an open-source password manager, meaning its code can be inspected for faults by anyone wishing to do so. It comes in a free version or a 10$ per year one. It works even on browsers like Brave and Tor and is available in a desktop app or as a browser extension. Premium version comes with 1GB of storage, and all additional storage is paid 4$ per GB. The premium version will also do checks of the strength and health of your password vault and will come with customer support.
Keeper
Keeper is great for personal, business and even enterprise use. It can do restoration of previous records in case you need information that was saved in one of them. Using Keeper, you can store anything from passwords, passports, driver licenses, and other important documents. It gives you the option to create a list of people that will receive access to your information in the case of an emergency.
Keeper will warn you about data breaches and when you have a weak/reused password. If you have a multiuser Keeper account you can set permissions for who can edit, share, read, and transfer ownership of the saved data and documents. Keeper also comes with a private messaging app through which all communication is 100% protected. Unlike other password manages, Keeper will allow you to reset the master password key and will work even on a Kindle and Blackberry. It has a free version, allowing an unlimited number of passwords one device, and a paid version at 25.49$.
Zoho Vault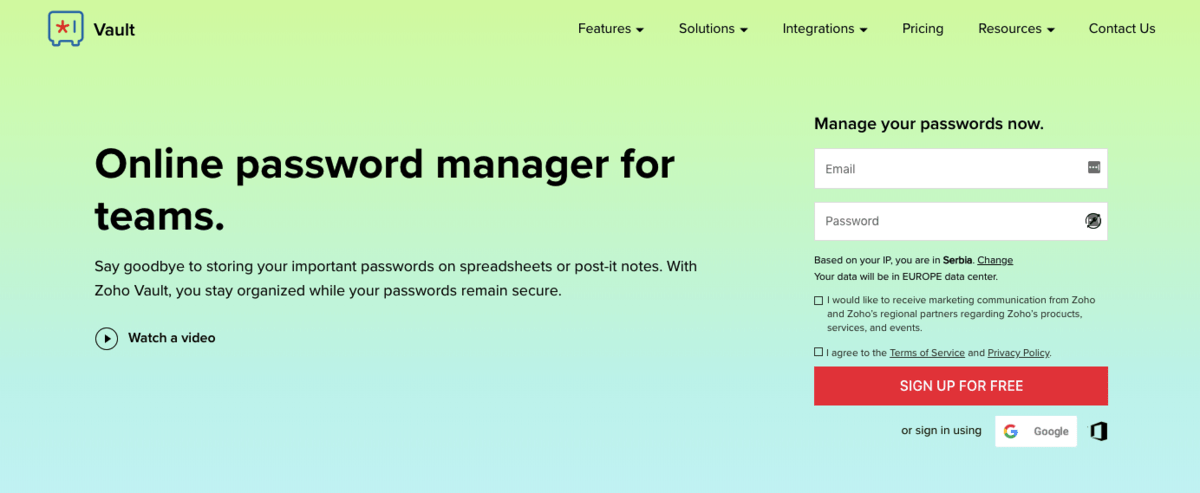 The free and paid versions of Zoho Vault differ quite a bit. While the free version is more for personal use, the paid one is more intended for enterprises. A small drawback of Zoho Vault is that it has no form-fill option and can't change passwords in bulk. The paid version allows password sharing, user management, and automated account backups while the free one doesn't.
The paid version also has the ability to limit users based on their IP address, an emergency mode for sharing passwords marked as sharable in cases of emergency, activity reports which show who is behind any change that has been made, and active directory integration which manages access and permissions for devices in a network.
KeePass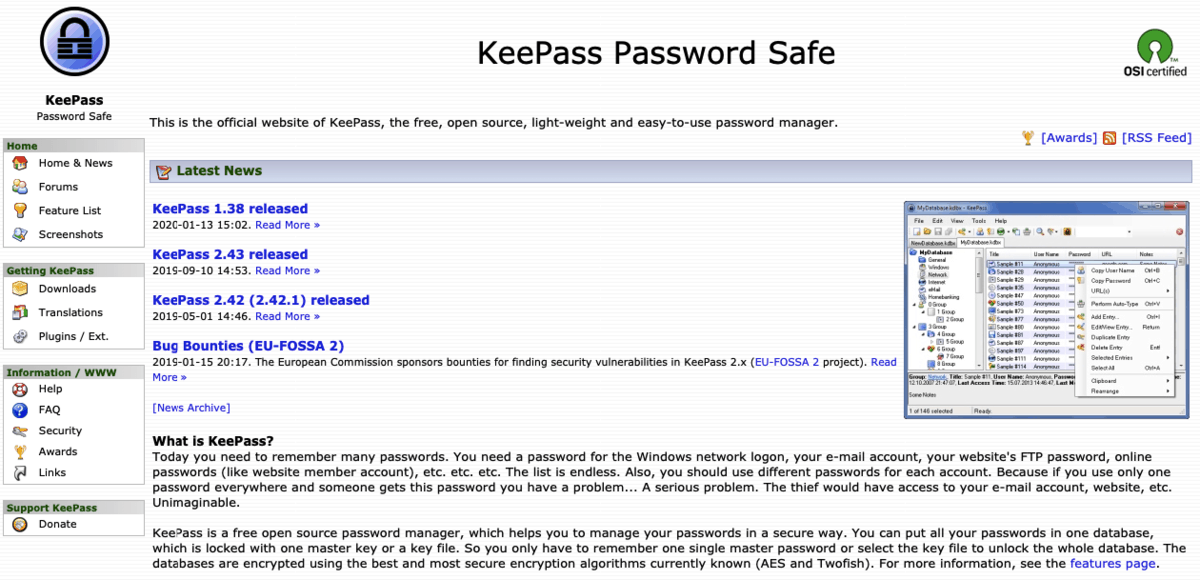 KeePass secures your files in an encrypted vault on the cloud, which is accessible only using a key and/or password. You will be personally doing the synchronization of the database file using something like Dropbox for instance. This is great for those who want to have full control over the synchronization process. It doesn't need to be installed since it runs from an inserted USB and will support a number of file formats. It doesn't have a mobile version but is open-source and completely free.
Overall
With an array of useful tools available on the internet, there is no reason not to outsource this issue to a tool, too. Whether you are using the same easy-to-remember solution as a password everywhere or keeping extremely complex passwords on a piece of paper somewhere, keep in mind that there are quite some handy alternatives to your password management. Check these out if you don't have one set in place, or let us know of your favorite alternative in the comments below!