Your days of drowning in spreadsheets, having information scattered all over the place, and struggling with impossibly difficult scheduling are over! Staying on top of project management has never been this easy.
There are various SaaS project management tools that will alleviate troubles with project planning, discussing budget fees and make your work easier.
We can all agree that handling spreadsheets, managing budgets, and successfully teaming up with your co-workers on delicate tasks can be a time-consuming thing that makes the whole project that much less fun.
This is why we've decided to give you a hand and research the best SaaS tools for project management on the market right now and single out the SaaS solutions we feel work best at handling all of the aforementioned issues!
The seven project management tools we're about to show you are at the top of the game with these five key aspects:
Scheduling – the majority of the tools listed here offer you a calendar, which makes it super easy to keep track of tasks and when they're due, so there's no stressing over deadlines.
Status update – It's important that every team member is aware of every project and its current status, which is exactly what these tools offer. You can update the status of each project, letting everyone know how far along you've come.
File sharing – all files are neatly placed and available to each member of the team at all times.
Communication – quick and easy communication among team-members is ensured along with any other additional feedback the project manager may offer.
Reporting – it's clear that project managers are supposed to be on top of things, which is why this helps them see the task progress and that it's being handled appropriately.
Must-Have Saas Tools for Project Management
1. Basecamp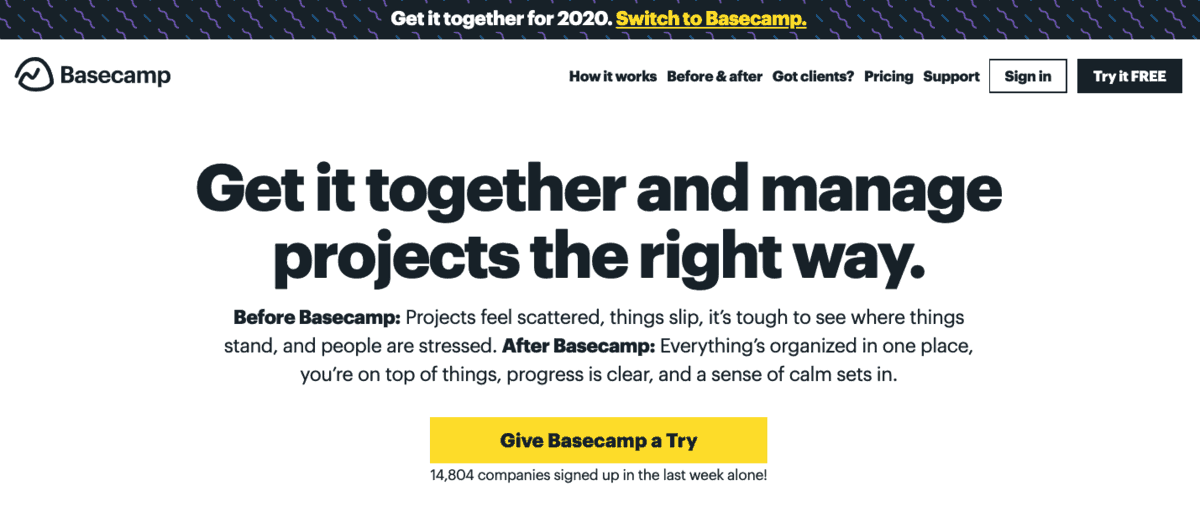 Here's why Basecamp is one of the best SaaS project management tools out there. Firstly, it offers your users to leave comments (always a welcome feature), and it also sends you an email every single day about your current project and how far along your team-members have progressed with it, along with any necessary updates and statuses.
A very solid search tool offers you a quick and effective way to find any files you're in need of without frantically scrolling up and down while searching for it. It's also important to note that despite being a great project management tool in general, it still doesn't offer milestones of customization options, which may not be ideal for everyone's needs.
2. Teamwork Projects
Teamwork Project offers you all the features you may need to collaborate on a successful project in a smooth and timely manner. Some of those amazing features include Milestones, Task Management, File Storage, Messaging, and Time Tracking tools.
You're also going to have a ball visualizing your entire project with the help of the really neatly marked calendar, Gantt chart, and set-up reporting, and it also allows you to use Dropbox, Google Drive, and Box.com for file management support.
3. Zoho Projects
With Zoho Projects, you're highly unlikely to go wrong as it offers a multitude of necessary features and here are a few reasons to assure you of why that's one hundred percent the case:
A simple, uncomplicated interface where you'll find everything easily with zero issues in the process.
Project planning – it does all the work for you basically, what with breaking down all of your current projects into smaller units that are much easier to manage.
Gannt charts – they help you see and understand how your tasks are coming along.
Collaboration software – it allows for a smooth and timely conversation between all those involved with the project (vendors, co-workers, clients, and such!)
Successful integration with Dropbox and Google Apps!
4. Asana
Among so many phenomenal features Asana as a project management tool offers (dashboards, conversations, tasks, projects), the one feature most of the users are absolutely in love with is that they're able to add custom domains and track only what's of their utmost interest, with no wasted time.
One other really handy feature is the Team Pages, where team-members can share all of their ideas and inputs on projects that everyone can see and react to, while also offering you the Smart Box, where only the vital messages are sent to you so that you don't lose time scrolling back and forth through messages that don't pertain to your project.
5. Podio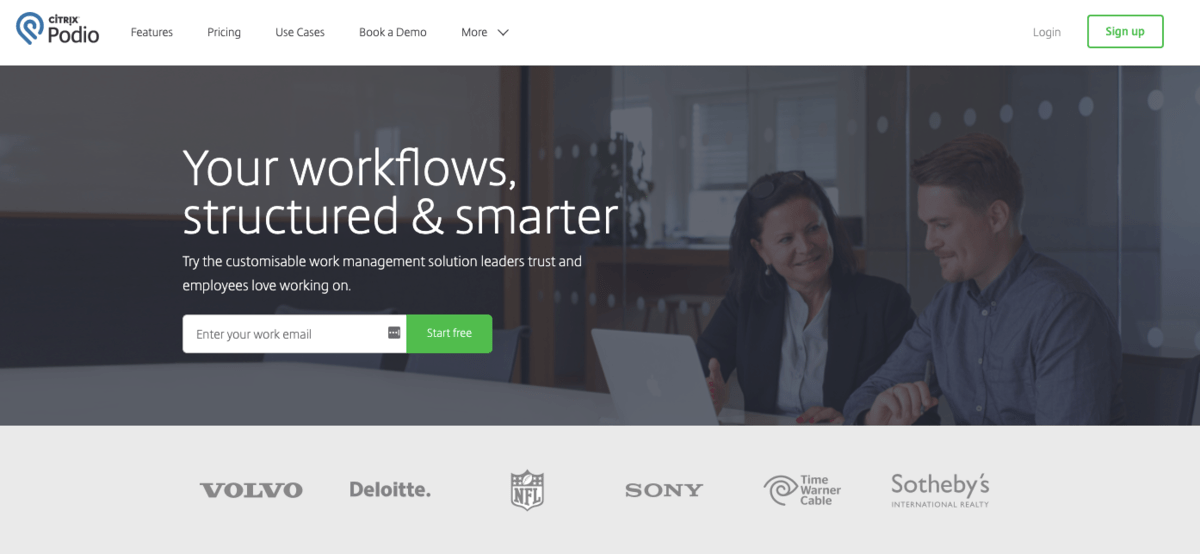 Podio has been regarded as one of the most promising SaaS project management tools, and not only that; it has also been named the Best Online Collaboration tool in 2016 by PC Mag! Businesses mainly use it to help with the organizational aspects and also for its communicative features. In fact, you can use the tool if there are parts of the project that you would like to communicate with a marketing agency for SaaS companies that you collaborate with.
Users can easily personalize the whole thing (by choosing their own content structure, reports, and overviews). There are a neat file storage system and the ability for the users inside the same company to chat with each other, along with a  user-friendly task management flow.
6. Monday.com
Monday offers an extremely well-organized interface, with important bits of information highlighted, the ability to change status updates on each project, which allows for the project manager to always be up to speed with each team-member and their tasks.
With this workflow, it's extremely easy to visualize all key elements, like time management, progress, and deadlines for every project. Each member of the team is therefore included and able to see how everything is coming along and if there are any questions regarding the task, there's a specific chat section for each project to discuss it and receive feedback from your project manager.
7. Workfront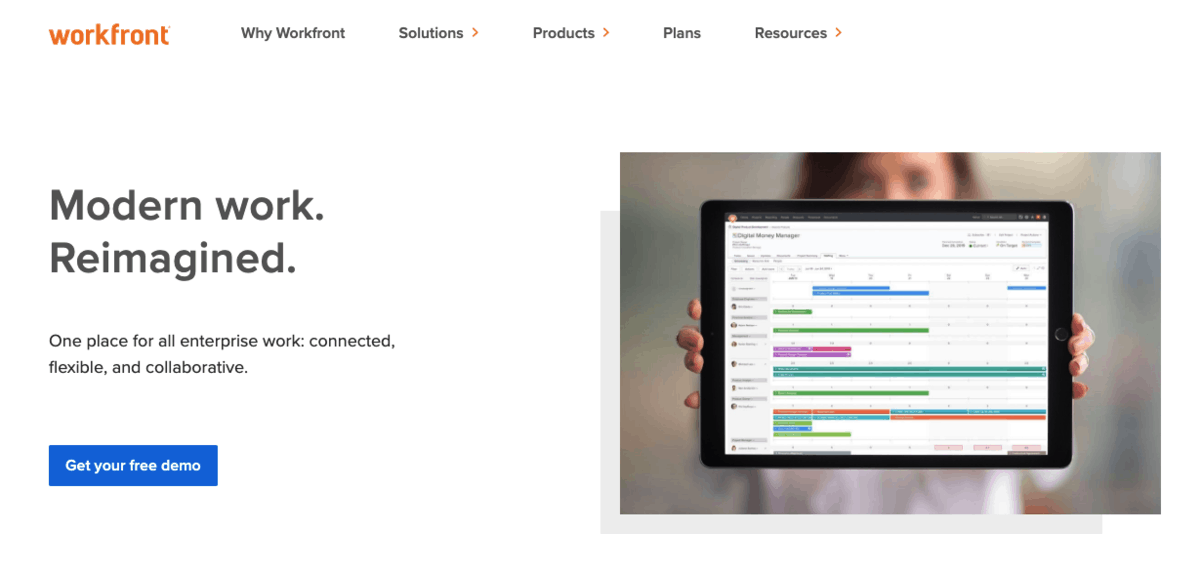 Workfront is a project management tool that is not only user-friendly, but also it can be combined with a multitude of different systems, some of which are: Adobe Creative Cloud, Google Drive, and Microsoft Outlook.
This amazingly handy SaaS project management tool offers project dashboards that can be personalized by its users, reporting in real-time and a good view of all current tasks and operations! One other really cool feature is the tool that neatly sends notifications to teams about the task in progress!
Conclusion
Finding the right project management tool is highly dependent on your business needs and aspirations for the future of your business, but one thing's for sure – without it, your projects wouldn't be done in nearly the same effective manner.
If you need help with the organization of all your projects, crave better management of your teams and their individual tasks, and yearn for a clear view of all ongoing operations at all times, then one of these seven tools is going to be your life savior!
Fast and efficient scheduling, easy communication, highlighted deadlines, and task progress is just some of the various features these tools offer. Hurry up and pick one and finally start enjoying collaborating with your team members and organizing your projects. Work has never been this fun!