When you're starting a website, you are most probably doing it with the goal of attracting as many people to it as possible. Various search engines, of which Google is the prime example, play a vital role in that process because they rank websites and determine which websites will be displayed first when a certain phrase is typed in.
If you have the right keywords in articles on your website, in your other content or ad campaigns, search engines will be able to connect you to a larger audience.
However, not all keywords are equally important. Imagine, for example, that you're going on a trip to New York, but you don't know which sights to see. You may search for "things to do in New York" or "best places to see in New York" or something to that effect. The thing is, there are many people all over the world who think just like you and will probably type in the same thing, and thus, that particular keyword will grow in volume – the bigger the volume, the more searches are conducted with that particular keyword. You also have to take into consideration keyword difficulty – a metric that, broadly speaking, shows how difficult it will be to climb your way up a search engine's ladder.
So, you generally want to aim for keywords with LOWER difficulty in order to make your way to the top easier.
As you can see, there are several parameters to take into consideration, and there are bound to be multiple keywords that apply to the same topic. Because of that, a list of relevant keywords should always be compiled to help you optimize the content on your website/webpage. This is especially important if you're publishing new content regularly and want your every article to rank well (bloggers and people promoting their affiliate links will be particularly interested in this, for example).
You should also remember this: just as language evolves and changes over time, so too can keywords change.
New keywords can appear and rank very highly, while the old ones can plummet in popularity and not connect you with as many people as before. It is therefore recommended that you revise your keywords every now and again to keep track of the latest developments.
But don't let all of this discourage you! While there may be a lot of keywords out there, there are also plenty of handy research tools that can save you a lot of time and even provide a lot of helpful info. You can easily get a whole lot of keyword-related data just by typing in the term that interests you. Still, some keyword research tools are better than others, and you should really go the extra mile to get all the help you can in order to achieve your goals and appear at the top of the first page of your favorite search engine. Here are the most popular choices.
Google Keyword Planner
While Google Keyword Planner is pretty basic when compared to the competition, it has two major advantages: it's completely free to use, and the data comes directly from Google, which means you can be sure you're getting all the good stuff. A very neat feature is that you can see how much people are paying on average per click when bidding for a keyword.
Moz Keyword Explorer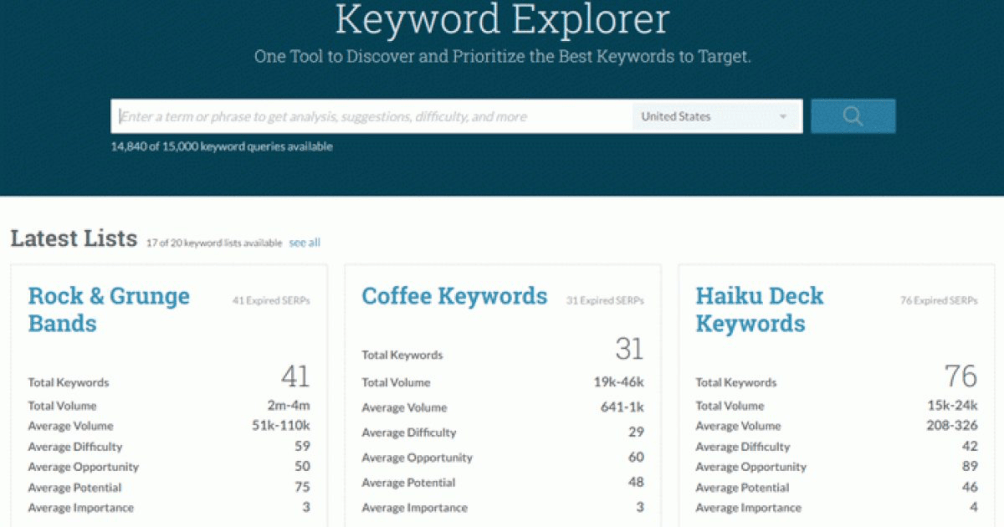 What's impressive about Moz Keyword Explorer is the fact that it takes the keyword you type in and gives you some really intelligent suggestions related to it, suggestions you probably won't find anywhere else. On top of that, it can show you how many clicks you can hope for if you reach the top 10 on Google, which can be extremely helpful for your marketing strategy. Moz Keyword Explorer has a limited free starting package that can easily be upgraded for a fee.
Jaaxy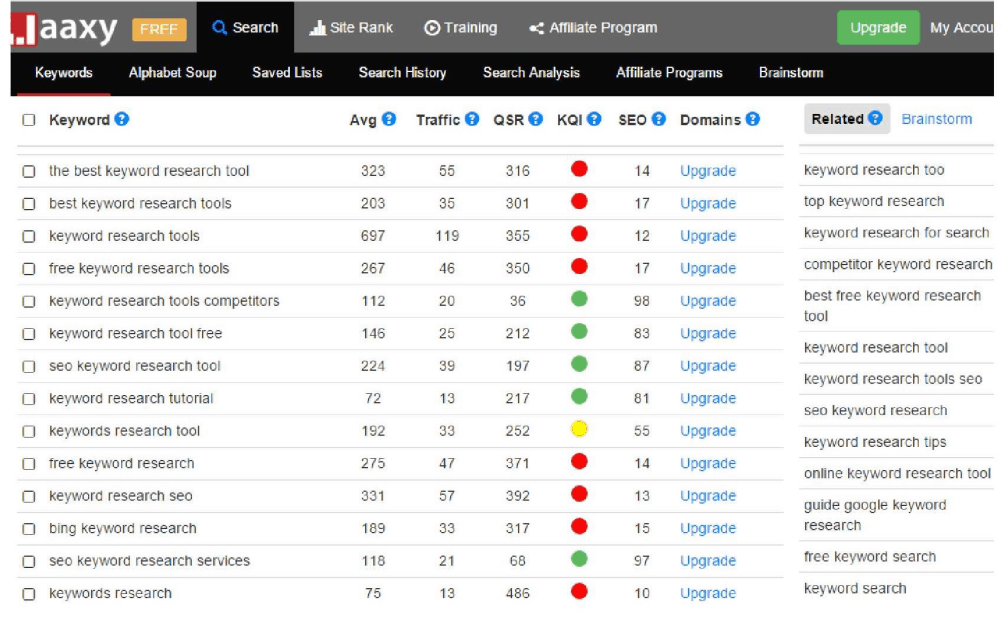 The sheer volume of similar keywords Jaaxy can provide you with makes it worthy of appearing on this list of best keyword research tools. But there's more! With this tool, you can see what the competition is up to because it will show you the exact number of websites that are trying to reach the top of Google's list with the same keyword you're planning on using. Therefore, you can see how big of competition you'll have to deal with. Sneaky, huh? Oh, and the price is quite low compared to others, or you can simply pick up 30 free queries.
SEMRush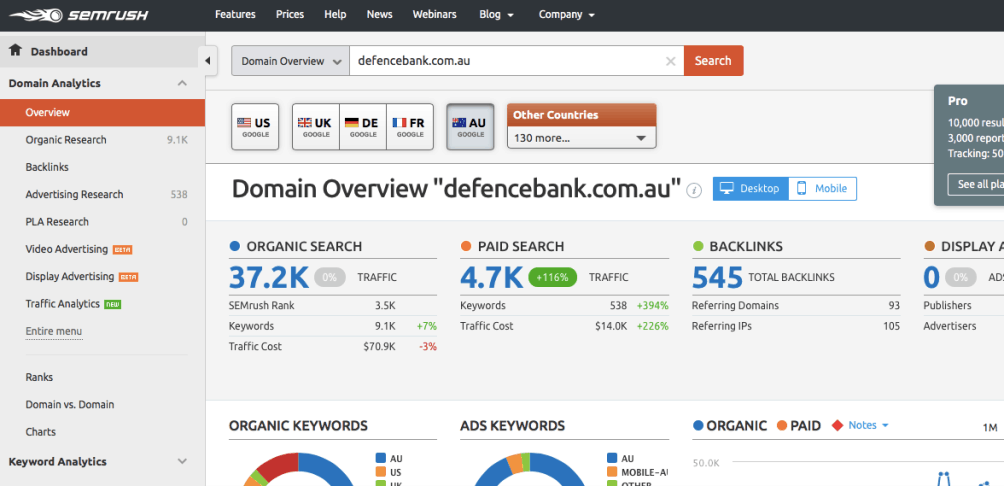 Now, SEMRush is not your average keyword research tool. This is because you don't have to search for keywords here but instead can browse for other websites or URLs, i.e., your competitors. SEMRush will tell you which keywords they are ranking for, and you can really dive deep to find something really unique and valuable. This is a great tool to have, although it has to be said that the price is not exactly bottom-tier.
Ahrefs Keywords Explorer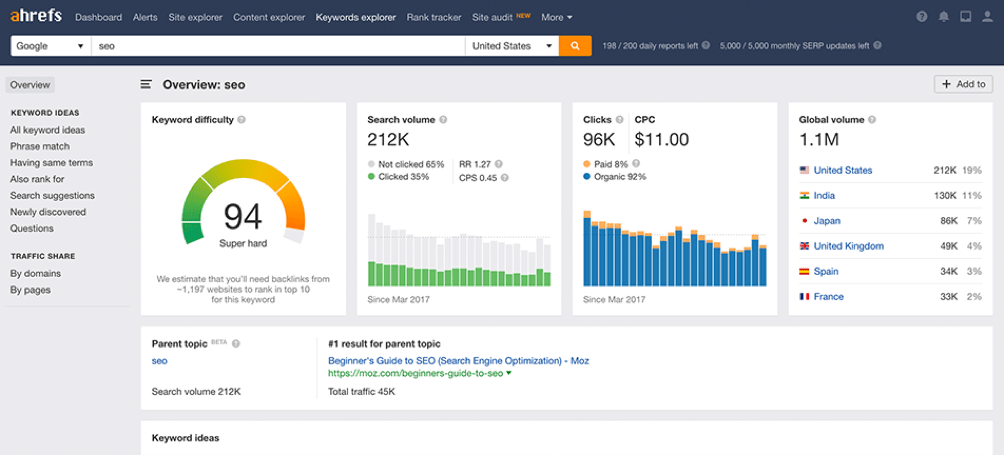 A huge advantage of Ahrefs Keyword Explorer is the amount of data it provides. With this product, you will get the EXACT number of backlinks you need to get in order for your page to appear on Google's first page. Furthermore, it also provides you with things like click-through rate search volume and stuff like that. It's not free (there are four pricing tiers, with the cheapest costing you 82$ a month), but it is widely considered to be one of the best, if not the best tool out there.
Conclusion
So, to conclude, keyword research tools can provide you with a lot of very useful data, with some of them even giving you a pretty clear picture of the kind of competition you will be facing. Using one of these should really be the cornerstone of any digital marketing strategy. Find the package that fits you well, and the keyword research tool does its magic. Your chances of success will grow exponentially after that.