You got it all right, your text is playful and powerful, your emojis are on point, and your message is ready to be spread, but there is that one thing that pokes your eye – the pesky link that you inserted is all across the screen of your audience that keeps them as far away from clicking as possible. It looks sloppy, messy, and to mention suspicious with its countless characters, which completely drives attention away from your masterpiece post that is one click away from entering the newsfeed.
If you're struggling with these hideous links, it's time for you to meet the most satisfying tool of your social media routine – the link shorteners!
With these life/post savers, you can simply paste your link and get a shortened version that you can edit, and give them a new fresh cut that will make them stand out with simplicity and creativity. Also, it makes it a perfect connector between you and your audience because the awesome link description that you came up with will be the first thing that catches their attention and viola, just like that you made it to the top of their newsfeed. After your posting, you can easily track its success by the insights that the URL shorteners provide, and when combining it with other performance tracking tools, it will definitely pack a punch skyrocketing your campaign all the way to the top.
Here is a list of the best, most practical URL shorteners available on your search bar:
Bit.ly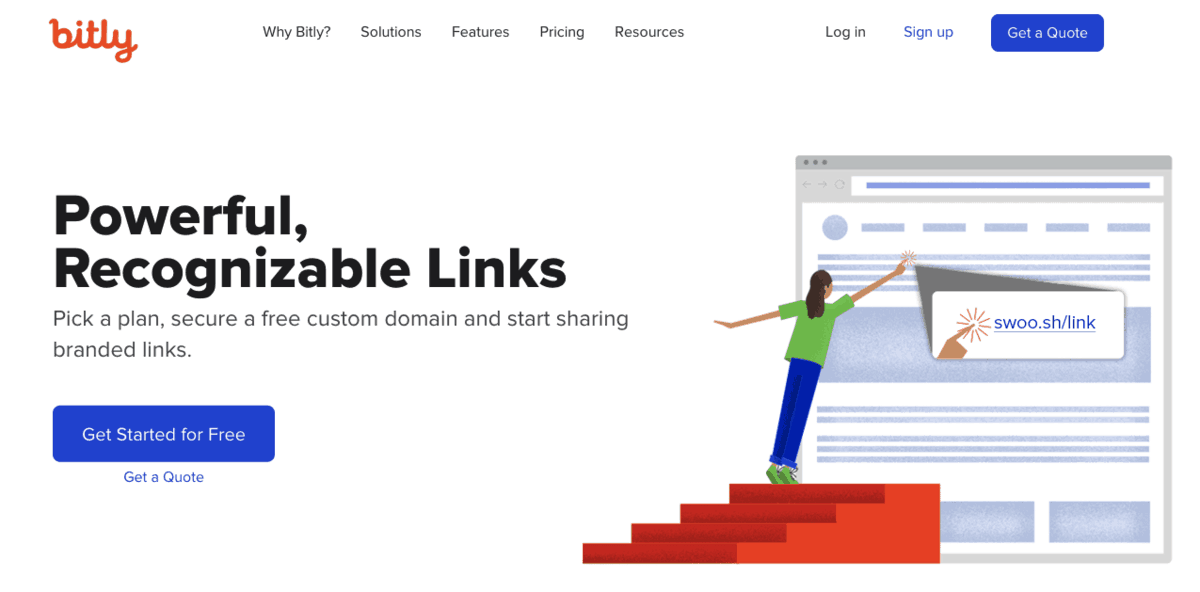 Simple, elegant, and as efficient as it gets. Bit.ly is one of the (if not the) best URL shortening services, and with its straightforward layout and smooth user experience, it will become the first site you open in your browser in a blink of an eye. It offers a variety of metrics, including channel stats, click-through rates, and geographical background of the people that clicked on your link. With a free account, you can create and track up to 500 branded URLs and 10,000 non-branded links. On the other hand, if you decide to purchase a premium account, you can create as many links as you want with more detailed metrics and analysis, perfect for those end of moth reports on the success of your posts and/or campaign. The premium account costs around $500 per month. Does the value live up to its price? Give them a visit and make your call
Rebrand.ly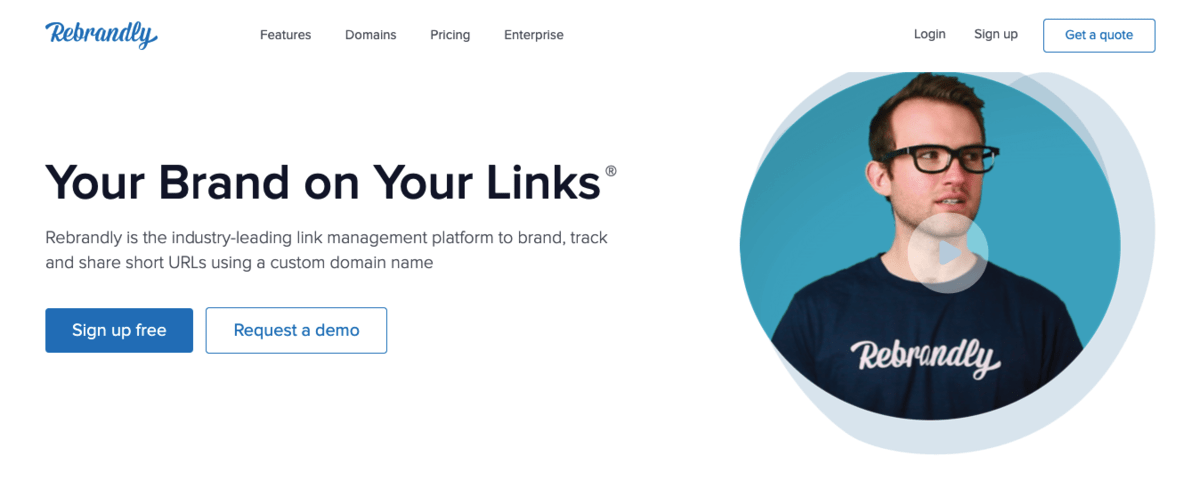 The true gentleman among the URL shortener crew with a level of class that speaks for itself. Rebrand.ly focuses on branding your link with detailed metrics and the ability to integrate with over 50 other platforms for its distribution. Also, you can set the URLs to auto-expire if you wish to terminate them and the end of your campaign, for example. To add extra spice, Rebrand.ly supports links with emojis, enabling you to use your imagination in creating the catchiest link of them all. You can get a variety of packages if you decide to subscribe, and for $449 per month, you get (and be ready for these numbers): 2,000,000 tracked links, 200,000 branded links, and 20 custom domain names. Give those links a trim they deserve!
IS.GD

When it comes to simplicity, nothing matches the services that  IS.GD provides. IS.GD is a URL shortener that has its purpose and sticks to it. As soon as you visit their website, the only thing that flashes before your eyes is its main mission – the ability to transform the long link into a smooth, short one as fast as it gets without any additional services. Over 66.000.000.000 users pledge their loyalty to this reliable tool. Are you ready to join the pack?
TinyURL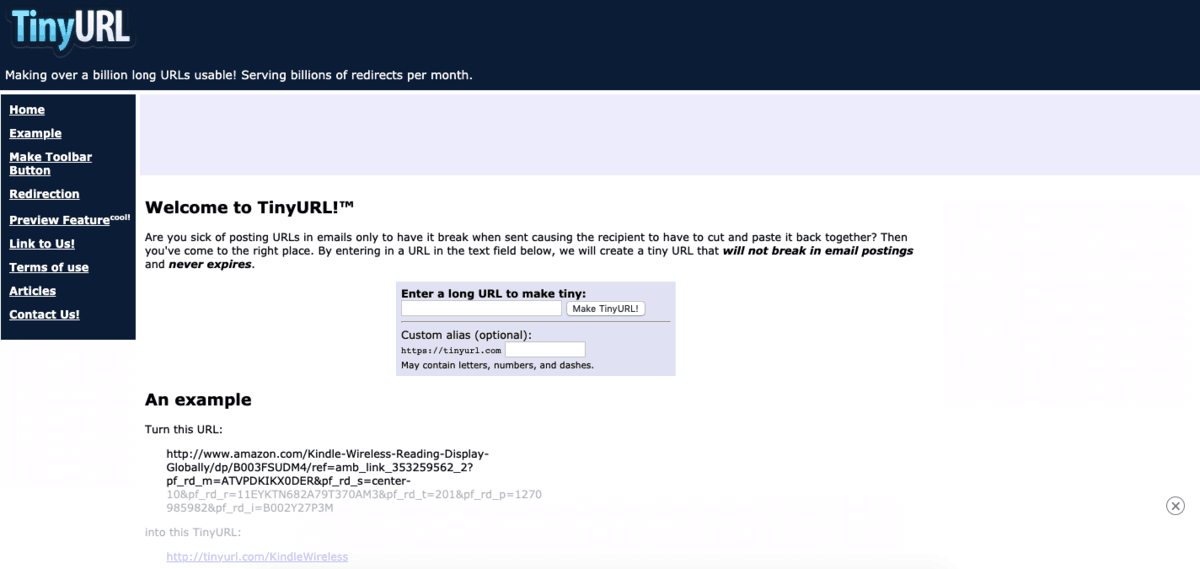 If you are looking for an efficient, simple, and easy to use URL shortener that is completely free of charge, stop looking because you've just hit the jackpot with TinyURL! When you go to their website, you immediately get all of the info you need. Simply paste your link, and you will get a generated short version and a second one that can serve as a web page's preview link. Let me ask you a question. Did you ever send a link in an email that completely fell apart and made the recipient collect the pieces, cut it, and paste it all back together? Since I know that the answer is yes, I will skip to the solution right ahead. Copy the link, shorten it with TinyURL and watch your stress fade away with a neat, clean link that doesn't require anything more than clicking on it. In addition, TinyURL links never expire so you can use them as frequently as you want, without restriction. Copy, paste, and enjoy!
Tiny.CC

We finish our list with another classic that never fails to get the job done. Tiny.CC is allowing you to shorten and edit your links with detailed insights and a well-known domain that is just luring your audience into clicking. URLs are customizable, but also temporary, so if you want permanent links, you can become a paid subscriber and enjoy a variety of benefits, such as adding logos and colors, embedded tracking, website connecting, etc. Give them a try, we guarantee that you won't be disappointed.
To sum it all up
URL shorteners offer many advantages in the form of a more aesthetic and professional appearance, a detailed performance tracking, and an easy sharing concept. Forget about those character restrictions (like on Twitter), and bring the most out of your words with a proper clickable URL.  The best part is that they actually make a difference because they bring results! People are more familiar with shortened links, and because of that, they will bring you more clicks, likes, and much higher engagement. They are trustworthy, practical, and solve quite a few common problems that will make your social media experience much more enjoyable. Pick the one that suits you best and become a true social media master with a shortener that you need to start using NOW.