Animated videos are fun to watch but not always fun to create. That requires a lot of hard work.
In this article, we will try to make creating these videos easy as well as fun again by introducing helpful software.
Want to create #animated #videos? This article will introduce you to some of the best animated video software in the #eLearning market!
This software is often found in the eLearning market. eLearning, aka learning online from your bed as long as you have a working computer and stable internet connection.
So without further ado, this is some of the best animated video software in the eLearning market that will help in getting Youtube subscribers!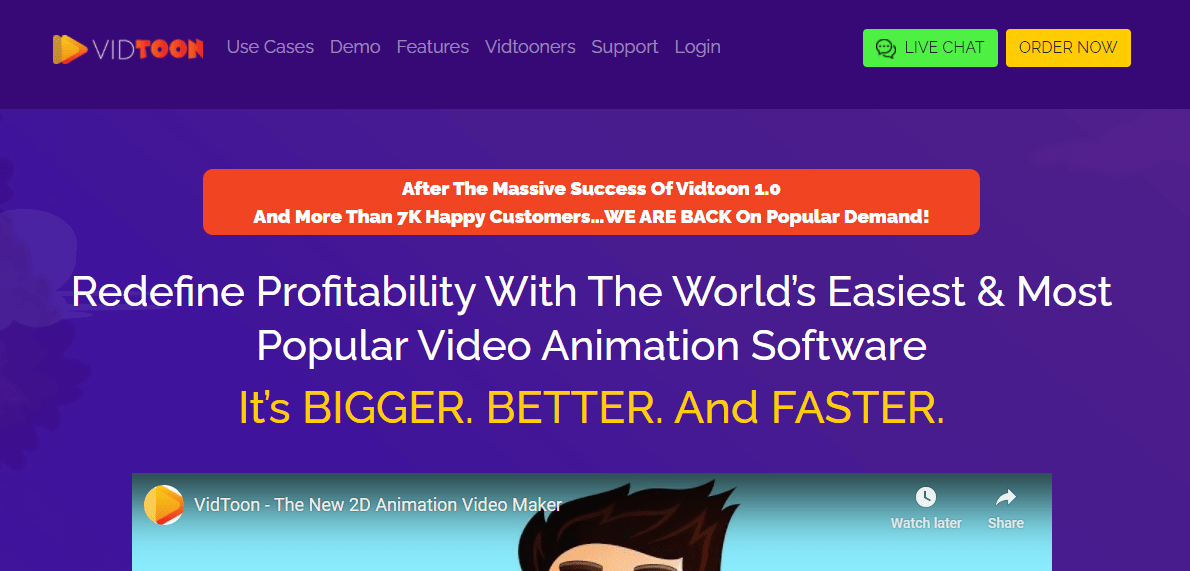 You want your point to get across, your message to be heard, your ads to be seen, and animated videos will help you with that.
Unlike all the time-consuming and money-wasting software out there, Vidtoon 2 is a real catch! You will be surprised by the quality this software has to offer. It is so simple, yet so remarkable. Plus, it works both on PC and MAC.
This animated video software will be a game-changer in your digital marketing. It will help you save time when creating videos with its drag-and-drop feature. One could say it's very similar to explainer videos software.
More things that will help you save time and make the creative process easier are: 40 characters, 200 royalty-free music tracks, 50 cartoon HD backgrounds, unlimited GIFs, icons, stocks images, video exporting (no added fees), video publishing in FHD, and so much more.
There is a learning curve, but Vidtoon 2 has that covered as well with its demo and walkthrough videos. But if you still can't figure out some of the features, Vidtoon 2's amazing customer support will guide you through them step by step.
What's more, you get all that for a $49 one-time payment!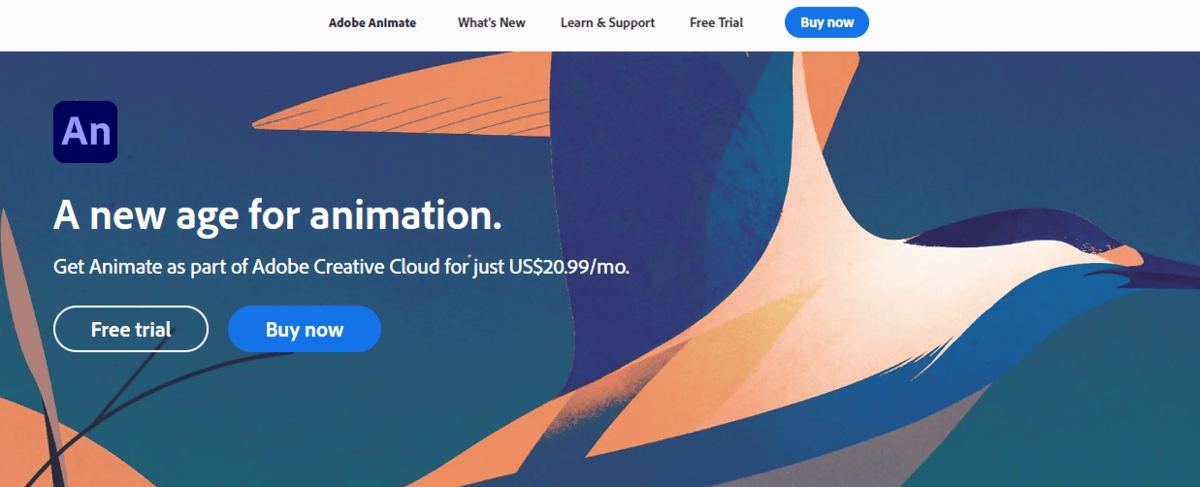 Previously known as FutureSplash Animator and Macromedia Flash, Adobe Animate is used to make animation, interactive web content, and flash games.
Animations created with this software can be published with HTML5 Canvas, WebGL, Flash/Adobe AIR, and custom platforms like Scalable Vector Graphics (SVG).
It supports iOS, Android, Windows, and macOS as well.
Some of the new features that will come in handy are: advanced rigging, quick sharing and publishing, asset panel, and getting started tutorial.
Advanced rigging is all about combining character, rig, and motion into one to make your perfect piece of animation art.
Quick sharing and publishing make sharing your work online simple and effortless.
Asset panel will help you save time because it offers premade assets like backgrounds, audio, rig, character, and motion.
Getting started tutorial is a helpful resource that will make operating this software easier for beginners.
Adobe Animate also allows you to import your code directly within a project you are working on using ActionScript or JavaScript.
The price of this software is $20.99/month.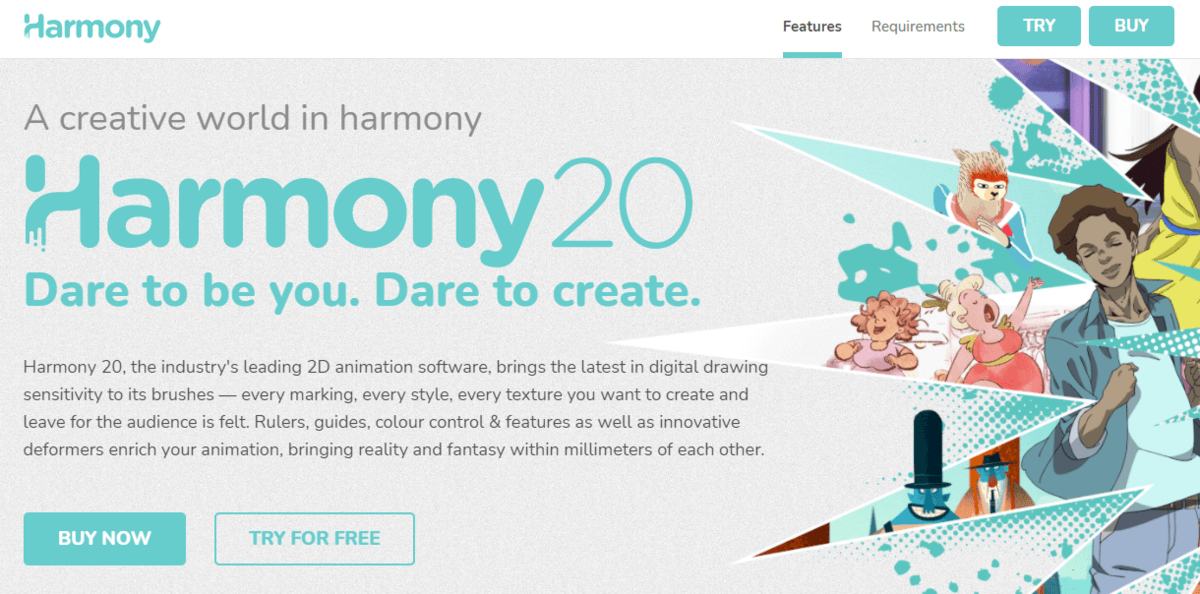 With this animation software, you can make your creations come to life. It works perfectly with your drawing tablet, so grab that tablet and let out your creativity.
All of its settings are completely adjustable, so you won't have to worry about things like brush opacity. Plus, you can also upload your paper drawings or digital images.
This software is available in three versions: Harmony Essentials (introductory edition for students and enthusiasts), Harmony Advanced (advanced edition for freelancers, studios, and other creatives), and Harmony Premium (complete professional edition for studios, small creative businesses, freelancers, and schools working on the most demanding projects).
Although the learning process isn't beginner-friendly, there are free tutorials and official training videos.
The price of this software is: Harmony Essentials €18/month (€215 annual), Harmony Advanced €43/month (€520 annual), and Harmony Premium €82/month (€985 annual).
Make your drawing digital with Toon Boom Harmony!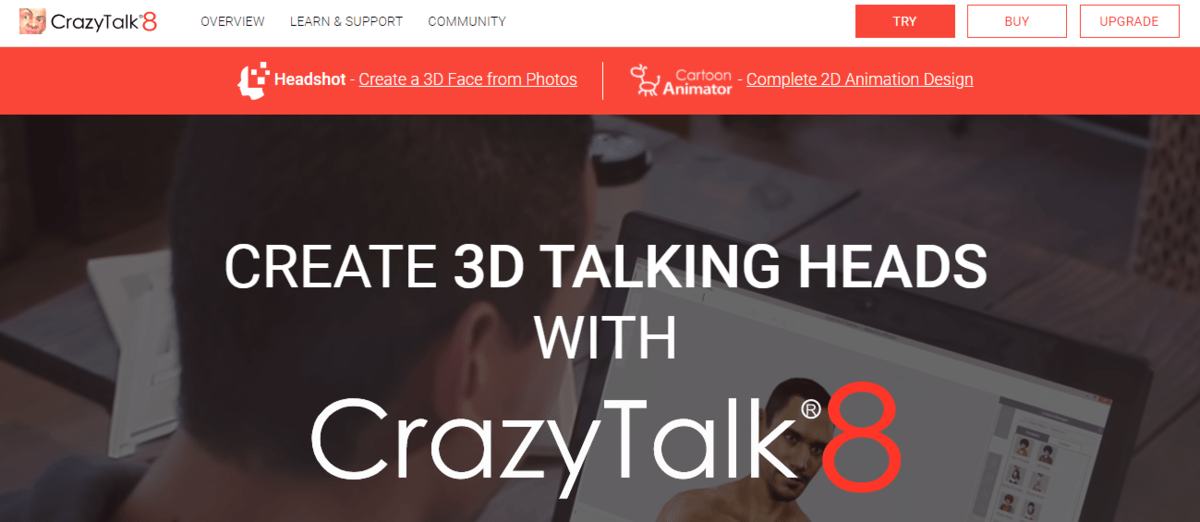 CrazyTalk is designed to create cartoon character animation by doing photorealistic scans of faces on 3D models.
This software is focused on the upper body and face animations. It has a photorealistic face scan feature that can use voice and text to animate facial images.
This software has three modules: video production, social and family, and marketing and training.
Video production is used for transforming images into talking characters.
Social and family, with this one, you can have so much fun, especially when making a family photo or video album, fun holiday cards, or animated characters for e-mails or e-cards.
Marketing and training lets your online representatives distribute your business, branding, or training (eLearning) services.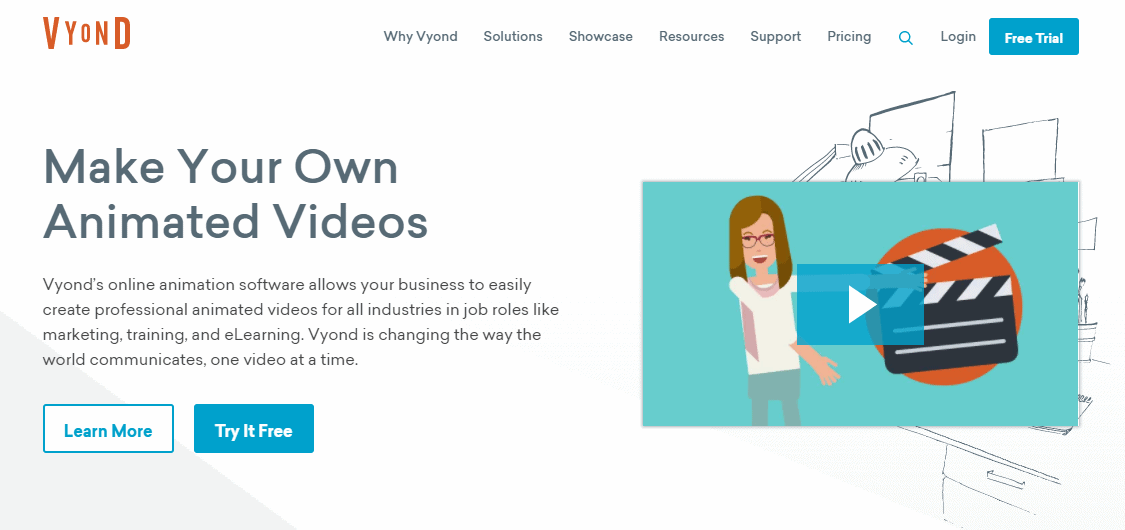 Vyond is animation software using which you can create engaging videos. It has three visual styles: Contemporary, Business-Friendly, and Whiteboard.
Contemporary will allow you to take your ideas to the next level by designing characters with more modern looks.
With Business-Friendly, you can provide your audience with informative and interesting videos without investing major funds.
Using Whiteboard, you can create content by physically drawing and creating illustrations. After the content has been created, you can match the voice-over and video, as well as include music samples.
Depending on which plan you buy (Essential $49/month, Premium $89/month, Professional $159/month, and Enterprise custom pricing), you can get the following features: Team Collaboration, Export Options, Branding, Character Creation, Support, Security and Training.
We must emphasize that only the Enterprise plan will have all the features listed above. Still, with the Essential plan, for example, you will get Export Options, Branding, Character Creation (Business-Friendly and Whiteboard), and Security (most of the features).
Conclusion
Unlike with other software, with Vidtoon 2, there is no recurring monthly fee since it has a lifetime price.
With that out of the way, the only thing you will have to worry about is how many projects are coming your way.
Hopefully, we made choosing animated video software easier with this article. And of course, thanks for reading!