Having a website is one of the most important parts of running a business in today's world. But what is a website worth if no one sees it. That is why your website has to be among the first ones shown in search results, or a customer might visit a website belonging to your competitors instead.
Statistics show that over 91% of adults use search engines to find information and that about 95% of people only look at the first page of the search results. Google dominates among search engines with over 90% of the market. So, moving up one position in the Google search results can increase your click-through rate by over 30%. All of this information tells us that being at the top of Google search results is really important.
You can have the best #website ever, but it's worth nothing if no one visits it.
For that reason, in this article, we are presenting you with a tool that will help you get to that top – The SEO Checklist by SEOBUDDY. In short, this tool is a step-by-step guide that helps you determine which SEO actions you need to take to get more traffic for your website.
What is stopping people from grabbing SEO opportunities?
At first, when people hear or read the word SEO, they almost immediately think of something complicated and hard to do. In reality, it is the complete opposite. The truth is that SEO is actually really simple if you know what you are doing. Of course, it does require research and dedication, so if you're keener on resorting to the best SEO companies, your approach is still valid, as long as this crucial aspect of your website isn't overlooked.
The thing is, you should not give up on SEO if your efforts do not work the first time. But with the SEO Checklist by SEOBUDDY, your success is almost guaranteed.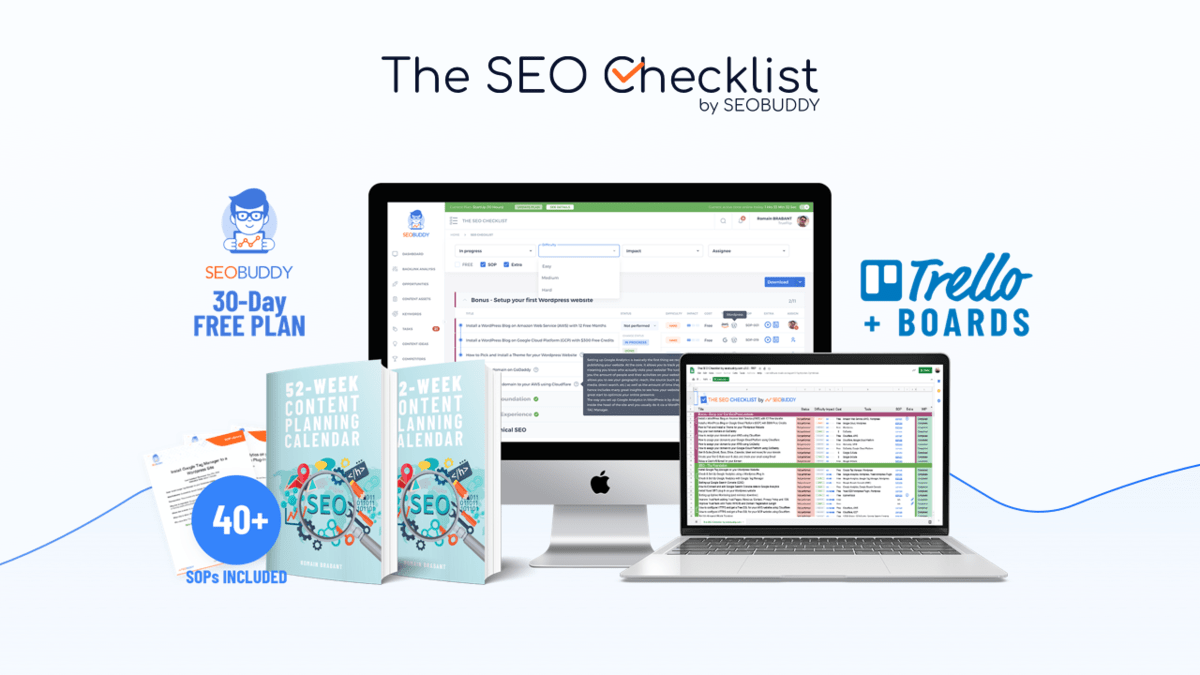 Another misconception about SEO is that it is old news and outdated. Again not true. Search engines are not going away soon, and that is a fact. So, it is really helpful and valuable to know how to capture search traffic.
Another thing that makes people give up or never try SEO is the fact that they are not sure what they are doing. They get scared of how complicated and time-consuming SEO is, which is a big mistake.
Again, with the SEO Checklist by SEOBUDDY, all of these concerns can be erased.
The power of SEO
To acknowledge SEO's real power, you have to think about what your prospective customer/visitor is doing when they are using Google.
When using Google, people type in exactly what they want because the time of mindless surfing through Google for something interesting ended a long time ago.
A Google search is pretty simple. Someone goes online, types into the search bar what he/she wants, and clicks on the first few results. So the most important task here is to get your website among those results.
What is The SEO Checklist by SEOBUDDY?
The SEO Checklist by SEOBUDDY is a step-by-step framework, a guide that gives you certain tasks to complete that will help you reach the number one spot in Google search results.
It consists of all the exact steps you need to take to make this happen, along with detailed guidance on how to implement each step.
This checklist provides you with a Google Sheets file made up of over 100 key SEO action steps.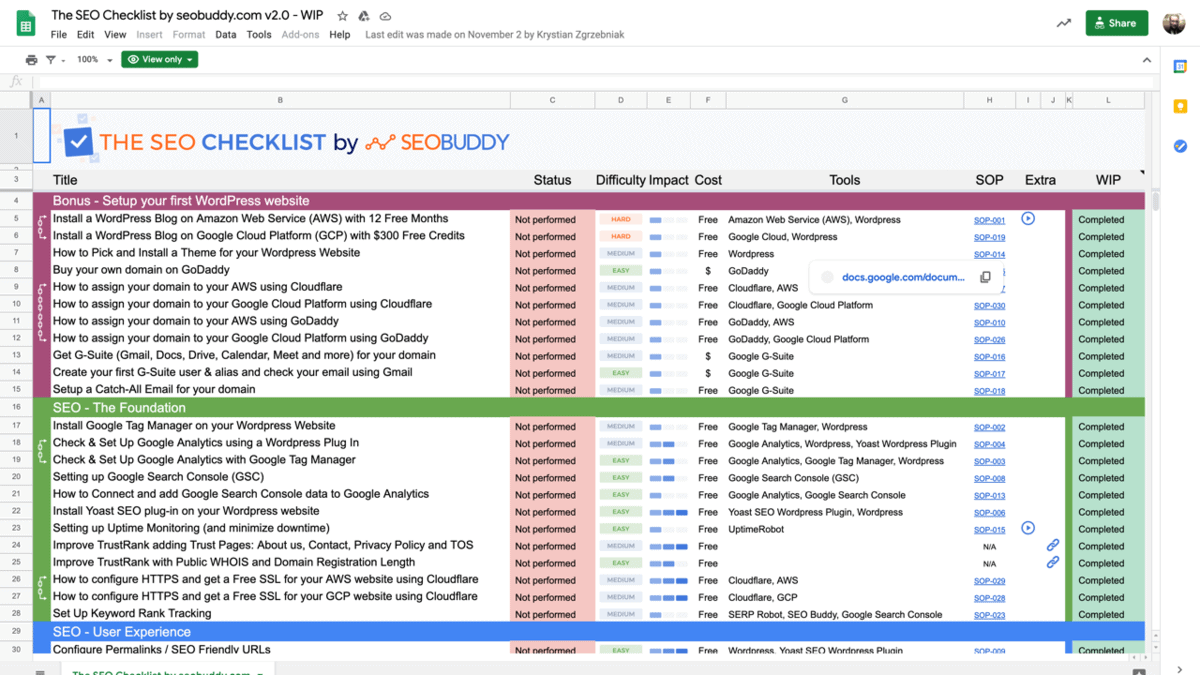 It is highly interactive and interesting to use. And one of the most important features of the SEO Checklist by SEOBUDDY is its simplicity. It is easier to use than an eBook! That way, you do not have to waste time reading pointless material; instead, you can start working on your SEO issues immediately.
The format of this checklist is what is so amazing. Again, it is not hard to read or understand, unlike some huge blog post or a 150-page eBook that will take all day to read. It gives you a laser-focused vision of what needs to be done.
The SEO Checklist by SEOBUDDY acts like your own roadmap; it shows you every important SEO task you need to complete to get more organic traffic and optimize your website.
With the SEO Checklist by SEOBUDDY, you will see a bigger picture of what needs to be done to optimize and rank your site better. You will be able to track what you have and have not done, so you do not miss any important stuff.
You will also be able to follow along easily thanks to super detailed step-by-step documents.
What does the SEO Checklist by SEOBUDDY include?
When you buy the SEO Checklist by SEOBUDDY, you get a ton of useful and practical tools that will help your website reach the top of the Google search results.
First, you get a 102-point SEO checklist (Google Sheets file) and a web app.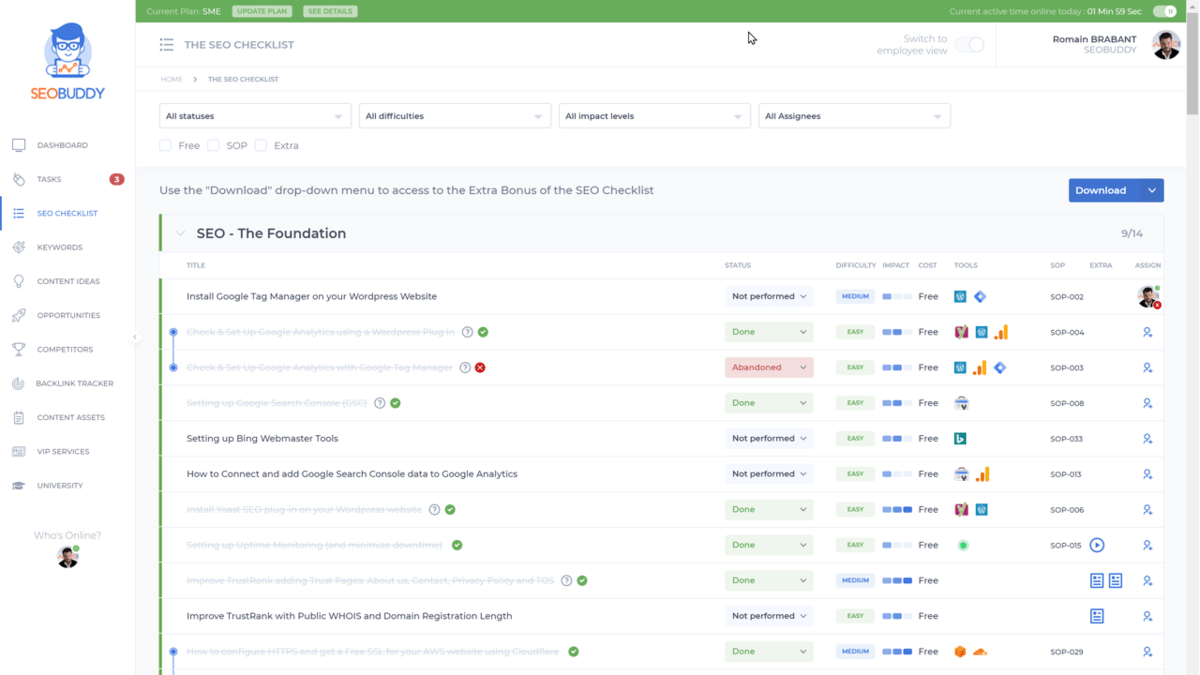 Next, you get 44 step-by-step process documents, which are basically detailed standard operating procedures spanning over 200 pages. You also get a 50-point content distribution checklist (Google Sheets file) and the SEO Checklist eBook (PDF file of 63 pages).
Lastly, you get a 52-week content planning calendar method (PDF file of 12 pages).
What does the SEO Checklist by SEOBUDDY look like?
The SEO Checklist by SEOBUDDY's interface is pretty simple and easy to use. You have 8 columns. First, a column with the title of the tasks that you need to do. Next, you have a column named Status. A task's status can be either Done or Not performed, and you change it when you complete the task.
After that, you have the Difficulty column. This column tells you if a task is easy, medium, or hard to do, so you can organize yourself when it comes to which tasks to do first.
The next column is called Impact and is pretty self-explanatory. It tells you how much of an impact a certain task has on your website's position in Google search results.
After that, you have the Cost column. It says if a task is free or paid. Most of the tasks are free. Those that are paid are marked with a $ sign. Some tasks may even have more $ signs, indicating that they are a bit more expensive to complete.
The next column is Tools. It tells you which tools you need for a certain task.
Then comes the SOP column. This is a column containing direct Google Drive links to the SOPs needed for each task.
The last column is called Extra. There, you can find any additional items needed for the task.
With that said, keep in mind that a medium or hard task may have less impact than an easy one, and an easy task can use up more tools than some hard tasks.
SEOBUDDY SOP Collection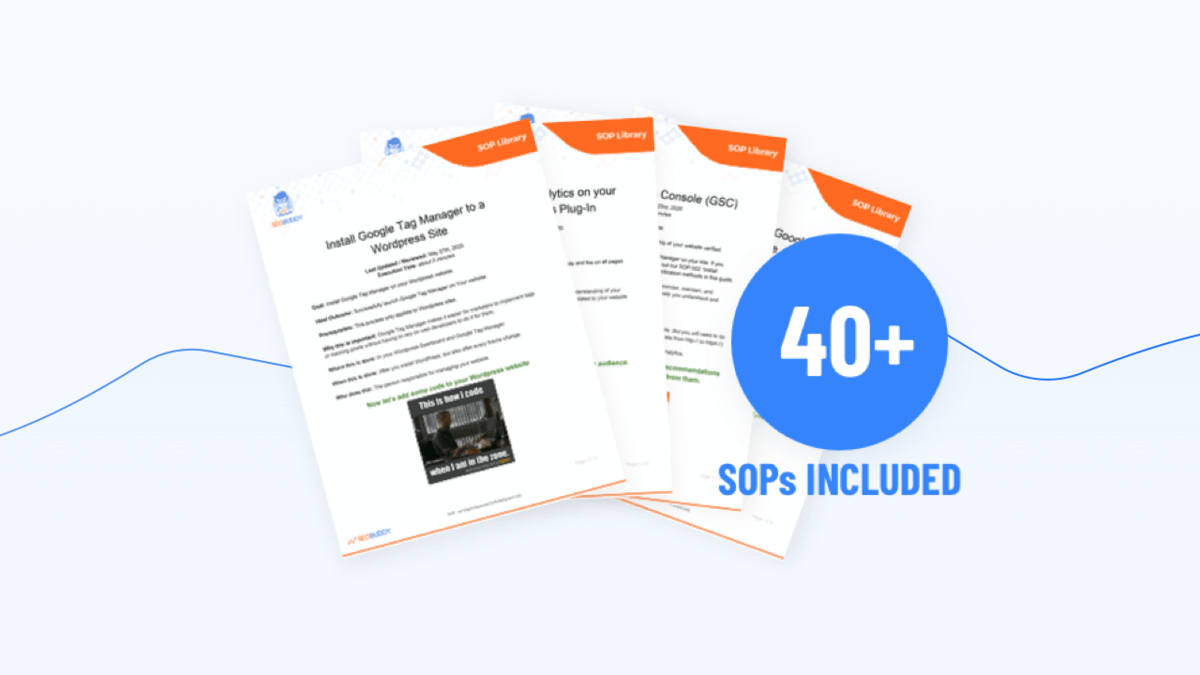 When you get the SEO Checklist by SEOBUDDY, in a bundle, you get access to the SEO Checklist, the SEOBUDDY SOP Collection, and the SEO Checklist eBook (as well as some bonuses, but we will talk about them later).
In the SEOBUDDY SOP Collection, you get 40+ SOPs (standard operating procedures). SOPs are instructions on how to implement the steps from the SEO Checklist. These SOPs are what people from SEOBUDDY call idiot-proof detailed instructions.
They are so simple that literally anyone, even people without any previous knowledge about the topic, can follow them and thus complete the tasks. Every SOP explains a process, step-by-step, with screenshots and tips.
Through these SOPs, you follow proven SEO procedures that have worked in the real world. In them, you can find the exact instructions you need for a specific SEO task.
In a nutshell, you can learn basic steps as well as more advanced procedures. This could literally save you from weeks of training new hires.
Information contained within the bundle
Information that is contained within the bundle is divided into 8 parts. We will go through them one by one.
Foundation
When building anything, you have to start from the foundation; the same principle is applied in SEO. In the foundation part, you learn how to set up Google Analytics as well as start tracking your keywords and important metrics in Google Search Console.
User experience
Here, you learn how to check if your site loads quickly and if it is mobile-friendly. This part also makes sure you have short and easy-to-read URLs and that you can see where improvement is needed.
Content
In this part, you learn how to use Google to get SEO-boosting content ideas. You learn how to do keyword research quickly and effectively. What's more, you can even use the SEO Checklist to master updating old content for SEO.
Performance
Here, you learn how to make sure your website runs like a high-performance engine. You can learn how to fine-tune your website for an SEO-boosting performance, optimize images to help website speed, as well as choose a web host and get the most out of them.

On-page SEO
It is crucial that you make every page on your site easy for search engines to find and people to use. In this part, you learn how to position keywords so that Google notices and values your content. You deal with images so that Google can understand and include them. You learn how to get more clicks in SERPs with better page titles and meta descriptions.
Off-page SEO
Before you can convert people, they need to know about your website. Off-page SEO is there to make sure you create awareness about your website. This part helps you learn how and where you can get the most valuable backlinks for your site and learn effective outreach strategies as well as link building.
Technical SEO
Here, you learn how to set your site up for success and avoid common technical pitfalls that can harm your SEO efforts. You can then guide Google, so it looks at your most valuable web pages, keep URLs/links/meta tags clear, tidy, and user-friendly, structure your site properly, and submit sitemaps to Google.
Local SEO
In the last part, you learn how to optimize local listings in search engines and major directories. You can then maximize your exposure to prospects that live locally as well as gain more customer reviews and use them to boost SEO.

Cost
In the bundle, you get the SEO Checklist Google Sheet + Web App (value 82€), the SEO Checklist eBook (value 24€), and the SEOBUDDY SOP Collection (value 124€).
As I said earlier, you also get bonuses, more precisely four of them – the SEO Checklist Trello Board (value 9€), a 52-week Content Planning Calendar Method + Trello Board (value 24€), one month Startup Plan on SEO Buddy (value 39€), and the Content Distribution Checklist (value 39€).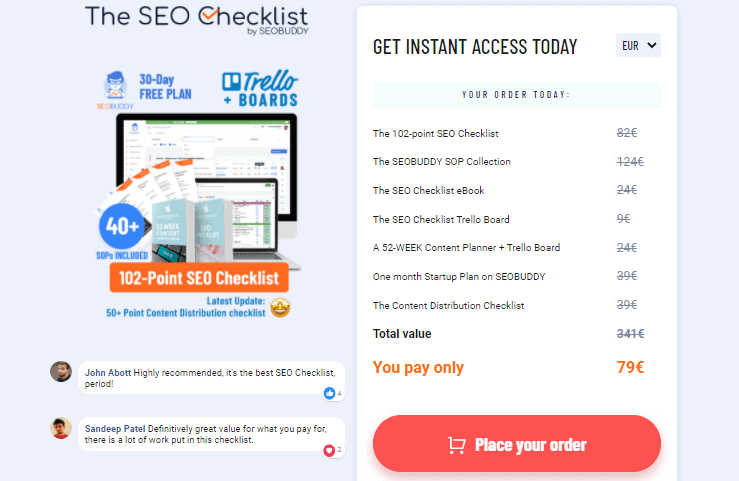 The whole bundle costs 79€, but you can get 25% off with the coupon code "WEBFACTORY". Still, even without a coupon code, this price is amazing!
Conclusion
As you could see, the SEO Checklist by SEOBUDDY is an amazing tool, with a lot of potential and power to take your website to the top of Google search results.
Be sure to try the SEO Checklist by SEOBUDDY if you plan on running a serious business, as it is a great investment.
Also, do not forget to use our coupon code. Best of luck!