The best way to explain something to your customers is through videos. Unfortunately, video explaining is such an underrated form of providing knowledge. While it is not used in the mainstream world as much, marketers use it daily. This action of giving knowledge through videos has its unique name, and it is called Explainer Videos.
So, in the short term, what are explainer videos? The easiest way to explain them is that they are short-form videos that we primarily use for marketing purposes—also, sales which can emphasize the company's services and products. You can see these types of videos on the bare beginning of a high-efficient website.
Do you want to #connect more with your customers? Take a look at these #explainer video #tools, and in the short video, tell #important details about your brand and products.
Why are they beneficial? Sometimes people are skeptical of a specific product, which is normal, but this leads to the cause of them probably not buying it. However, to maintain that, a short video explaining and providing the most crucial information can drive your conversion rates and sales crazy.
Further, in this article, we bring you the top 5 explainer video tools that every website host needs.
Keep in mind a little goes a long way. Keep it simple and classy, okay? People like fun, quick stuff, which keeps them intrigued. Long and boring videos will make them lose their focus and even forget what they are watching. Ready? Let's get started with the first one.
1. Promo
So clearly, Promo is an online video maker. Users rate this company as one of the top tiers in making online videos. Don't feel skeptical; they are not bluffing. This company has helped over 1 million businesses worldwide. And also, the fascinating fact is that they created over 60 million videos in the last 5 to 6 years.
Wow, we know! It is a pretty massive amount of online videos.
Further, they present to you over an estimated amount of 3,000 templates that are simple and easy to use. Also, the fantastic thing about these templates is that they include music that is licensed so that you won't get in trouble.
The video editor part, well, don't be hesitant when you hear this. People often assume that this required some thrilling skills, while in fact, it does not. Their video editor is super user-friendly, and anyone can use it to create videos.
The reviews are pretty astonishing, 9.5 out of 10 stars, and they have over 500+ reviews that grow every day and are just getting better and better. You can try it for free, select your business type and get going. Also, there are packages which start from the basic, one being 39$ dollars a month. The price is incredibly affordable and fair for such quality.
2. Powtoon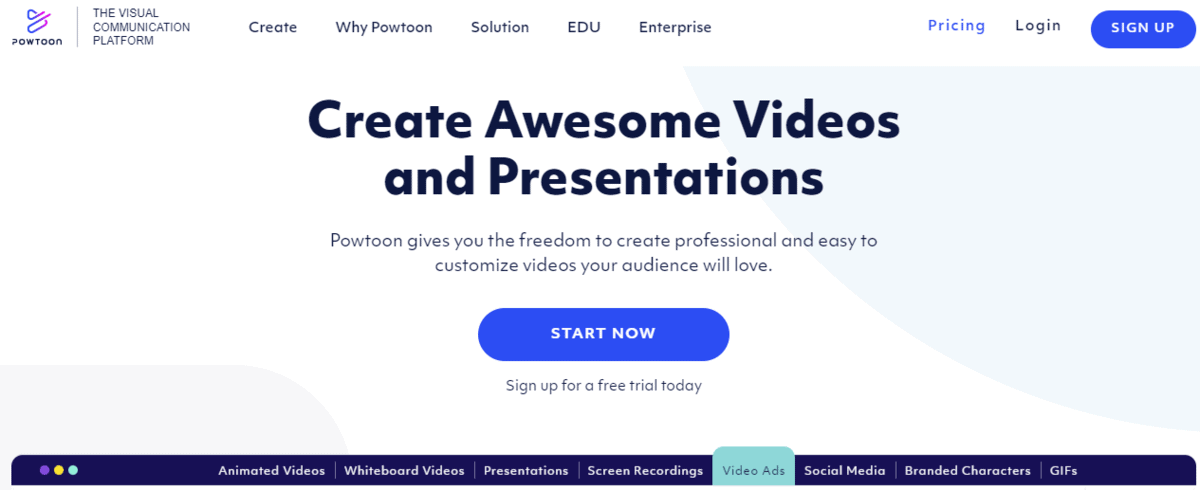 If you are familiar with the concept of iMovie, you should pretty much get the hang of this one pretty quickly too. Powtoon offers similar stuff as the previous tool, such as music. Also, we have to mention that they are currently counting 30+ million customers. Many CEOs had lovely comments about the site's features.
The tracks that Powtoon offers you can use in the form of only one through the whole video. They offer a free trial; while the pro plan is 89$ a month, the pro version is 197$ a month. You also have the agency version, and the pricing for this is 99$ a month. With this plan, they provide you over 100 GB of storage and custom fonts.
3. Raw Shorts
This algorithm works unusual because it is far different from the other two gadgets that we mentioned before. Also, you can start making your video from scratch. Or even you can upload your script, and their learning algorithms scan your text and present it in a video form.
Also, Raw Shorts generate a voice-over, and they determine which assets suit your script in the best way possible. However, it is essential to know that there is a 200-word limit per script processing. Their pricing varies from 49$ a month, or if you would like to spend more on a business version, it goes up to 89$ for a month.
4. Animaker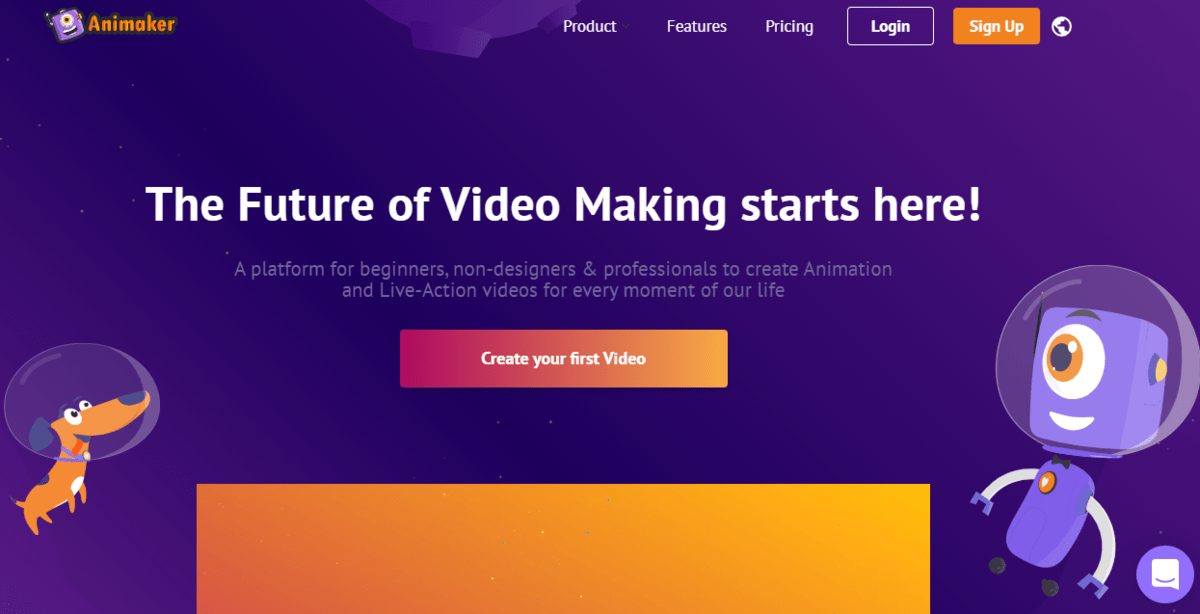 Animaker, the one who does it best. This company claims to be ahead of the competition. They rely on the astonishing software that their top-tier team is developing. They offer you unique premade free templates.
Also, they provide you with helpful tutorials, depending on what you're searching for. They have tutorials for each type of video. You can shot videos in 4K. Animaker is a safe platform even for beginners since you don't have to have any experience with video-making.
They offer a variety of 100+ stock videos and photos and over 1000+ templates. You can make your video in under 5 minutes. It is hard to state this because it is not something you see every day, but this company has over 10 million happy users. Their pricing starts from 19$ a month, and it can go up to 59$.
5. Toonly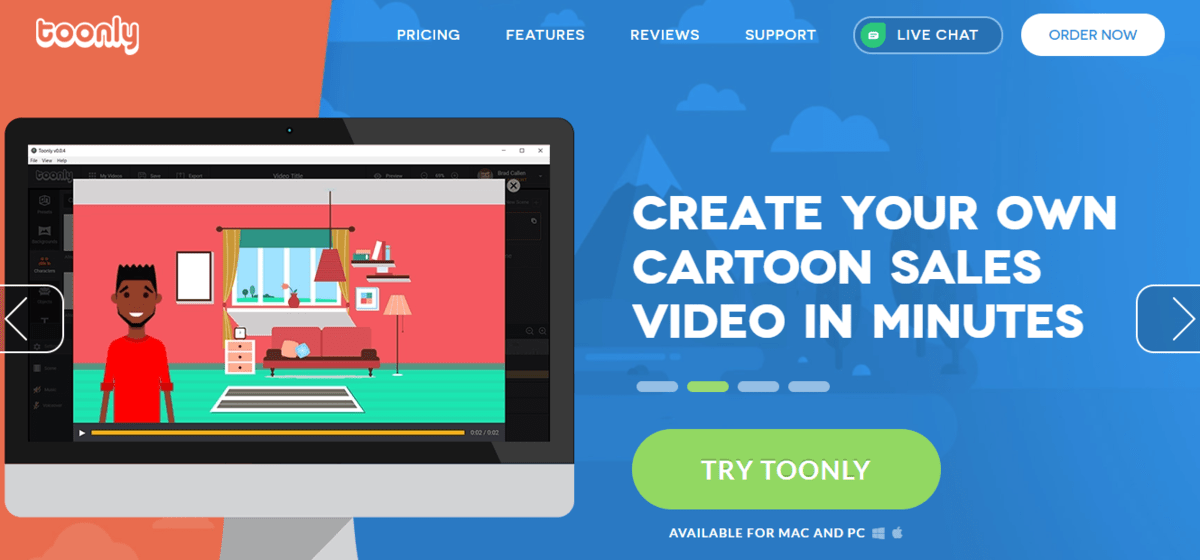 Toonly ranks as one of the most uncomplicated gadgets to use. This company guarantees that you can make a simple video in just a minute. The difference between this and the other tools is that this tool resembles the old-fashioned way. Meaning that you need to download it to your computer; it is not cloud-based.
The only thing for those of you that are on a budget is that this tool does not offer a free trial. But don't feel hesitant right away; the pricing is perfectly affordable and can fit anyone's budget.
Their pricing starts at 39$ a month for the standard plan. But what you have to be aware of is that their traditional program provides you with unlimited videos, approximately ten premade scenes, and a total of 20 audios.
Also, their pro package starts at 69$ a month, where you also have an unlimited pack of videos accompanying 20 premade scenes and a total of 142 background audios. You should check this out and give it a try!
Conclusion
In conclusion, I think that we have all gathered the crucial information from this article.
The importance a video can carry can be pretty mind-blowing. You can teach and present to millions all across the world but only with the right tools.
However, don't doubt the trends of modern technology. Videos have a better impact on the youth. And youth can increase your conversion rates drastically, leaving you with amazing new customers and videos. Your users are your best friend, and it is crucial to keep them happy.
And, to keep them happy, you should make more videos to try and connect to them on a deeper level. Animating your character and showing your true self, people love that. Let's get to filming!