Are you looking for VPNs to use in the USA?
You came to the right place!
In this article, we will show you the 5 best free VPNs for the USA that you can use to keep your online activities safe.
So, let's get started!
5 Best FREE VPNs for the USA
Proton VPN
Atlas VPN
NordVPN
Surfshark
ExpressVPN
5 Best FREE VPNs for USA – Overview
You are probably wondering why are the above on the list of the 5 best free VPNs for the USA.
Here is a bit more on what makes these 5 VPNs great.
Proton VPN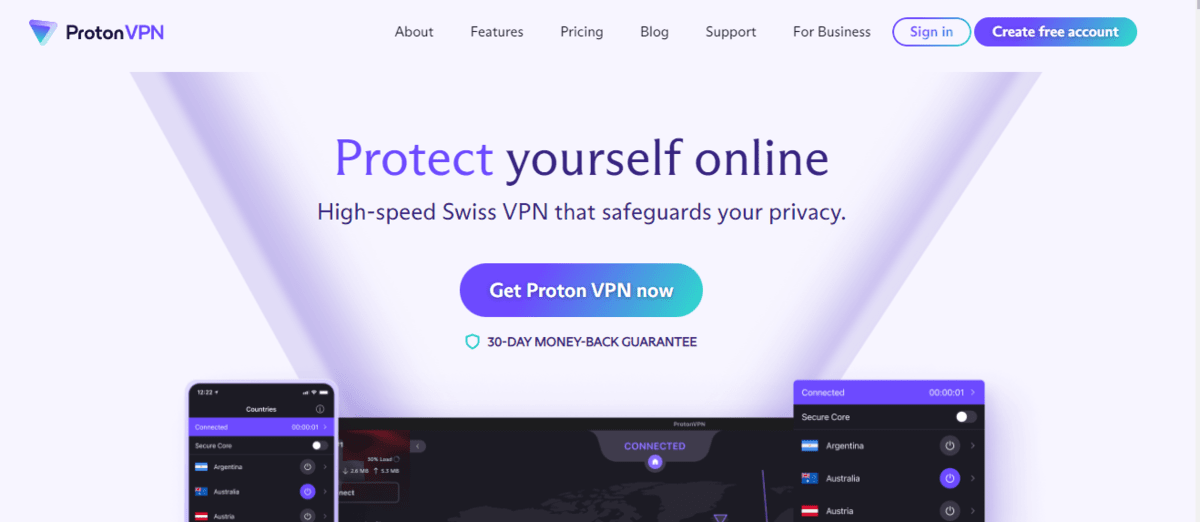 Proton VPN is one of the VPNs that have the best free subscription. The VPN has no limitations on the amount of data free users can use.
This is the best free VPN to use long-term because it basically has no limitations. Also, the Proton VPN has all the core features that keep you safe online.
It also has well-structured, open-source, and audited apps with all core features.
But, there are also some limitations. You can use VPN with only one device at a time, and the list of available locations is slight. You can only connect to servers in USA, Netherlands, and Japan.
Atlas VPN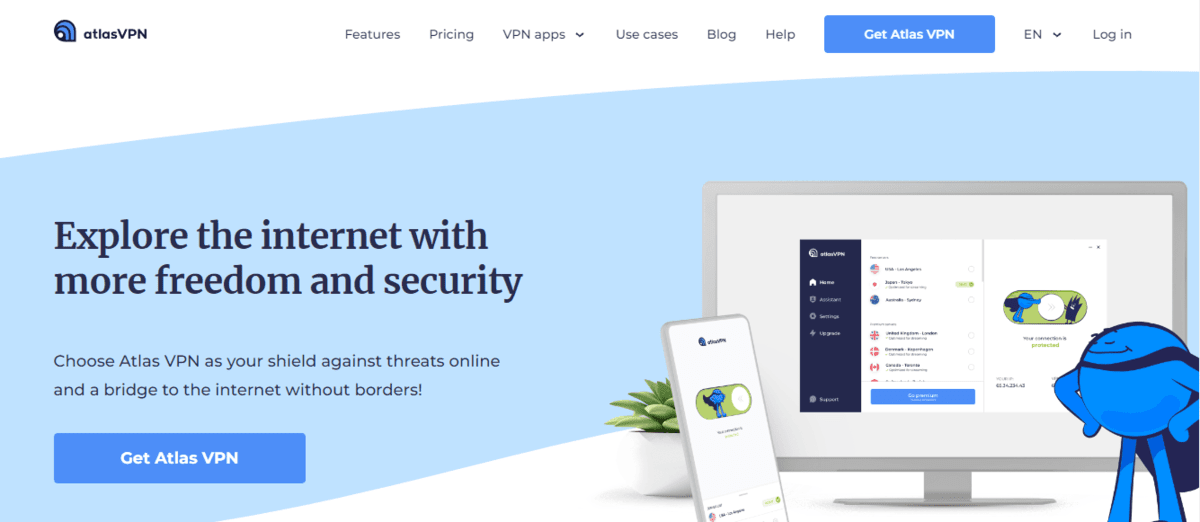 One of the flaws of this VPN is the number of offered locations.
Atlas VPN offers only three locations for users New York, Los Angeles, and the Netherlands.
However, this VPN is rapid, offering the possibility to connect from multiple devices simultaneously.
The VPN also comes as an app, although it is only available for iOs.
Other than that, Atlas VPN will offer you decent protection when online. The VPN has a data breach monitor that informs users if their data leaks. The Network Kill Switch also protects you and your data in case of an unstable connection.
The feature will temporarily stop online activities.
NordVPN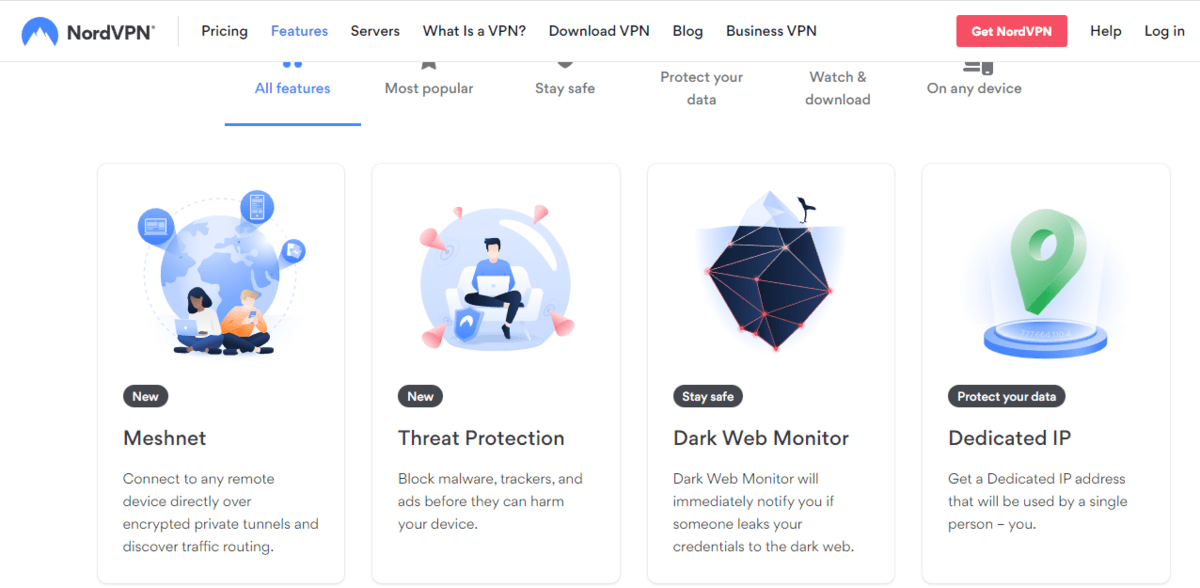 Not only NordVPN is one of the best VPNs for the USA, but it is also one of the most famous and most used.
NordVPN does not track, gather or share your data by encrypting all shared and received information.
It has servers across the USA, and some of the locations include Atlanta, Buffalo, Charlotte, Chicago, Dallas, Denver, Los Angeles, Virginia, New Jersey, Miami, New York, Phoenix, and more.
NordVPN is also straightforward to use, and it provides double VPN protection.
One of the best features included in NordVPN is the smart algorithm that allows users to locate the fastest VPN server based on location.
Surfshark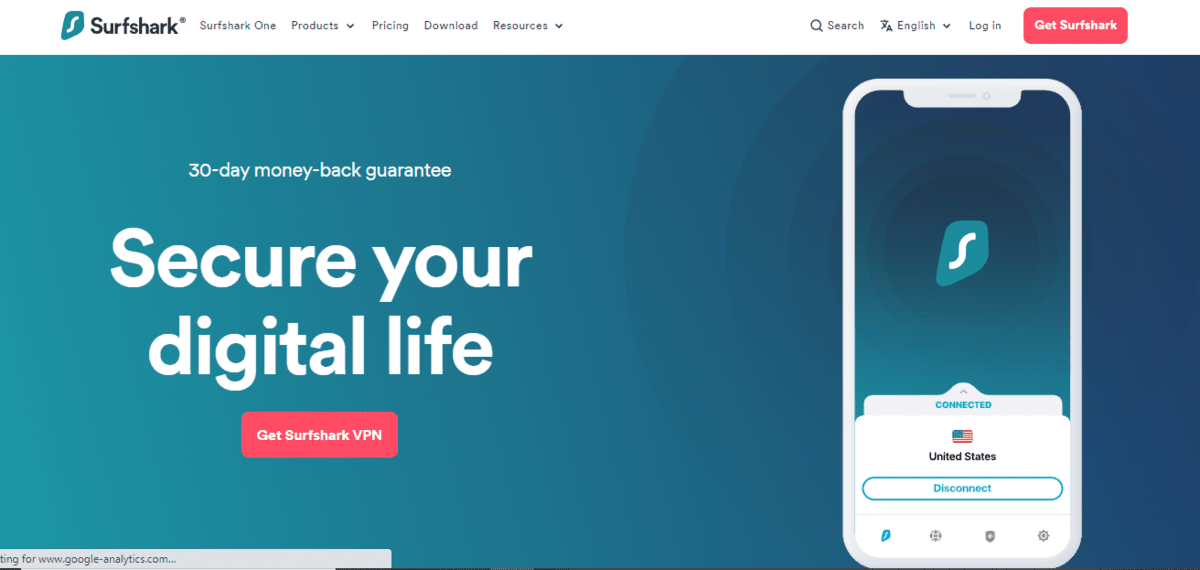 This VPN is designed for users who use VPN for streaming.
Surfshark offers fast and secure access to streaming websites, offering VPN servers in Miami, Orlando, Tampa, Charlotte, Atlanta, New York, Boston, Buffalo, Detroit, Las Vegas, and many other cities.
Surfshark also protects you from DNS leaks and does not record your IP and WebRTC.
This VPN is available for Windows, Mac, iOS, Linux, Android, and FireTV, and you can use it to unlock Netflix, YouTube TV, Amazon Prime, and Hulu.
According to experts, Surfshark is the best VPN that offers P2P connection via VPN on particular servers.
ExpressVPN

This is one of the best VPN providers worldwide, and many consider it the best VPN for gaming, torrenting, and streaming.
When it comes to safety features, ExpressVPN has top-notch features like:
TrustedServer Technology – No data is being saved on the hard drive.
Forward secrecy – Change the encryption key each time user connects to the server.
Full leak protection – Protection against DNS, WebRTC, and IPv6 leaks.
Threat Manager – Blocks third-party monitoring software that tracks online activity.
When it comes to speed, ExpressVPN works perfectly, loading everything almost immediately.
Final thoughts
This was a list of the 5 best free VPNs for the USA that you can use for pretty much anything you want.
Our vote goes for the Proton VPN because it does not have data limitations.
But if you choose Atlas VPN, NordVPN, Surfshark, or ExpressVPN, you cannot go wrong.