These days it seems like you always have to write something. True, it's mostly in electronic form, but no matter if you're working or if you're at college, there is a lot of writing to be done.
E-mails, seminars, reports, articles, even blog posts – millions if not billions of lines of text are being written every day in English, and they should all be proofread.
Especially if you're in a hurry, typos can easily happen. Or maybe English is not your mother tongue, and you're just not sure if you should put the definite article before this one noun or not. It's all perfectly natural, happens to everyone. Proofreading can take a lot of time, especially if your text is long, and even then, it's quite possible that you miss something (trust me, I know).
Fortunately, there are plenty of online tools for checking grammar and proofreading your texts, which can help your text shine. Not only that, but they can also save you a ton of time by pointing out mistakes immediately as they happen. Therefore, if you're writing a lot, you really should consider getting yourself one of these.
Here are a few sentences on each of the best online tools you can find.
1. Grammarly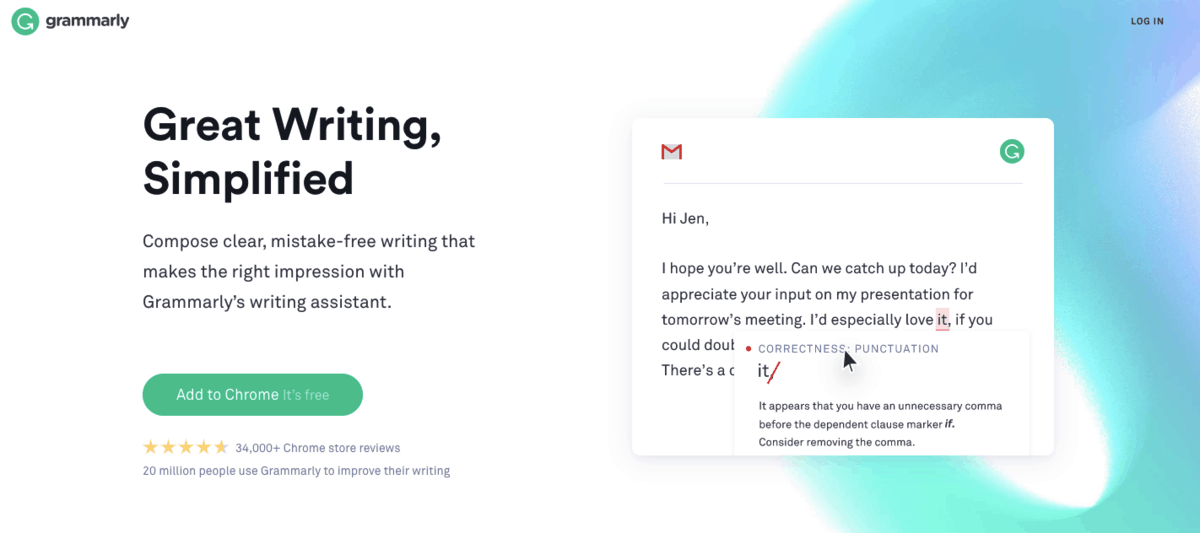 This online tool probably doesn't need any introduction. Grammarly is among the best and most widely known grammar-checking tools, but it can do a whole lot more. Its advanced algorithms will scan your text and determine its style and then suggest words that would be a better fit if you need them. It can even detect plagiarism!
Do you think it sounds too good to be true? Think again – the software works absolutely flawlessly, and you can even add words to its dictionary, words that are specific to your area of expertise so that the software doesn't recognize them as mistakes. There are free and premium versions, but the free version is perfectly fine if you're not writing too much, to be honest.
You can get it as an extension for any of the main internet browsers (Chrome, Firefox, Safari…) and even install it on your mobile device or get the version for Microsoft Office. Literally, everything you write can be checked by Grammarly instantly.
2. Language Tool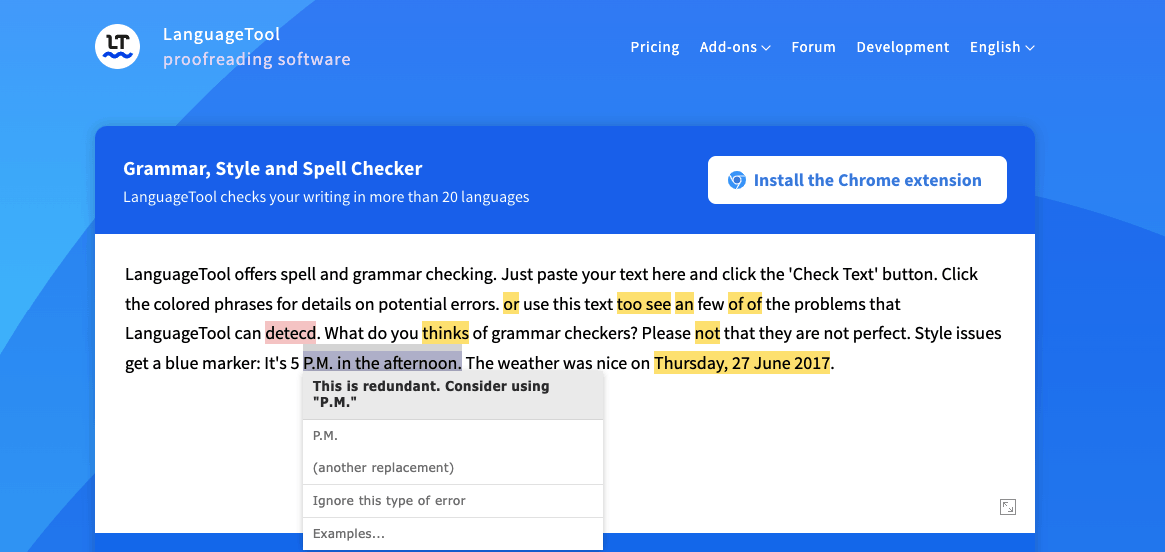 If, however, you have a lot of writing to do not just in English, but in some other language, Language Tool could very well be the solution because it covers almost 30 different languages in total. This software covers grammar, spelling, and style errors, all of which are color-coded to help you detect them more easily. It can even check if you've input your ISBN or IBAN correctly.
As for the availability, you can get it as an add-on for Firefox and Chrome, but it also works with MS Word, Google Docs, and even Libre Office. Language Tool also has a free version, but it's limited to 20000 characters per check. Still, it works quite well if your texts don't exceed that limit. If you want to buy one of two upgraded versions, you can get a monthly, quarterly, or annual deal.
3. Ginger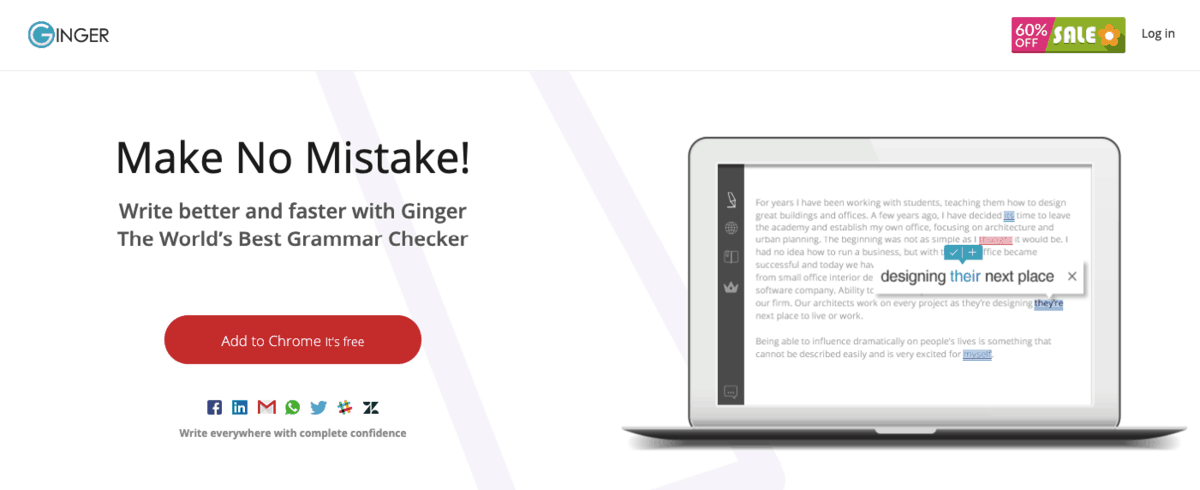 This one is quite interesting because, in terms of quality, Ginger is right up there with Grammarly. The software was developed in 2007, so it's quite well established on the market and has had plenty of time to grow and develop. And it shows! Apart from checking your text thoroughly, this tool can help you rephrase parts of it to achieve better readability. Not only that, but you can easily translate your text to dozens of other languages! And that's not all – Ginger also comes with a dictionary that gives you define the words you're using and can even help you practice writing.
The Ginger grammar checker is available as a desktop version, but it also supports Microsoft Office, Android, iOS, Chrome, and Safari. On top of all that, you can get 100% of your money back within a week if you want to return the product for some reason.
4. WhiteSmoke
Last but not least, on this list, we have WhiteSmoke. Again, it offers pretty much everything other candidates mentioned here do – grammar, spelling, and style will all be checked, but you have a dictionary too and the ability to translate your text into about 50 different languages. What is nice about this software, though, is that it has a whole bunch of templates ready, which can make sending something official so much easier. What is especially commendable is the fact that they have even thought of people with dyslexia and provided them with a writing assistant.
All internet browsers are supported, as are Windows and Mac computers, plus the product integrates with Outlook and Word easily. You can choose between the free version and three premium plans, which can stretch up to three years. If you're in this for the long run, you can get some really great deals if you commit to this period.
Conclusion
Well, those are, without a doubt, some of the best online tools for checking grammar. Sure, there are plenty more good products out there, but you will find the four up there widely recommended by anyone who analyses this kind of software. No wonder, given the options you can get.
Not only can these tools fix your mistakes immediately, but they can also help you improve your writing by giving you suggestions on how to make your texts more readable. Furthermore, many of them can even translate your text to a multitude of different languages, something that can be exceptionally helpful if you, for example, have a website in several languages or are thinking of introducing that feature. And these are not some new and untested products, either. Most of them have been around for years and have been fine-tuned to perfection, with all the most common writing errors being soundly covered.
Therefore, whichever product you decide to go with, you won't be sorry. Examine their features and see which one fits you best.