Events are a powerful way of promoting any website. Other promotion ways such as ads, email outreach, and others, are also useful, but they cannot compare to the in-person feeling an event gives you. They are a great way to promote your products, services, or abilities. Adding one of the other promotions to your event is a great move since you can utilize, for example, social media to additionally promote your event.
If any of you have ever organized or planned an event, then you know that this is not an easy job. Especially if you are organizing and promoting an event online via your WordPress website, the default WordPress calendar will leave you wanting more. Luckily, there are plenty of WordPress plugins that can help you create and manage events without any struggles. So, whether you are launching an events business, or you want to increase the exposure of your events, you can find the right tool for you.
If you are organizing and #promoting an event online via your #WordPress website, these plugins are worth checking out
Some plugins are as simple as adding a calendar to your website to alert users of upcoming events, and some plugins include complex functionalities like ticketing functions, resource and time allocation, attendee management, email follow-ups, etc.
Here is a list of some of the best WordPress plugins you can use for your event management.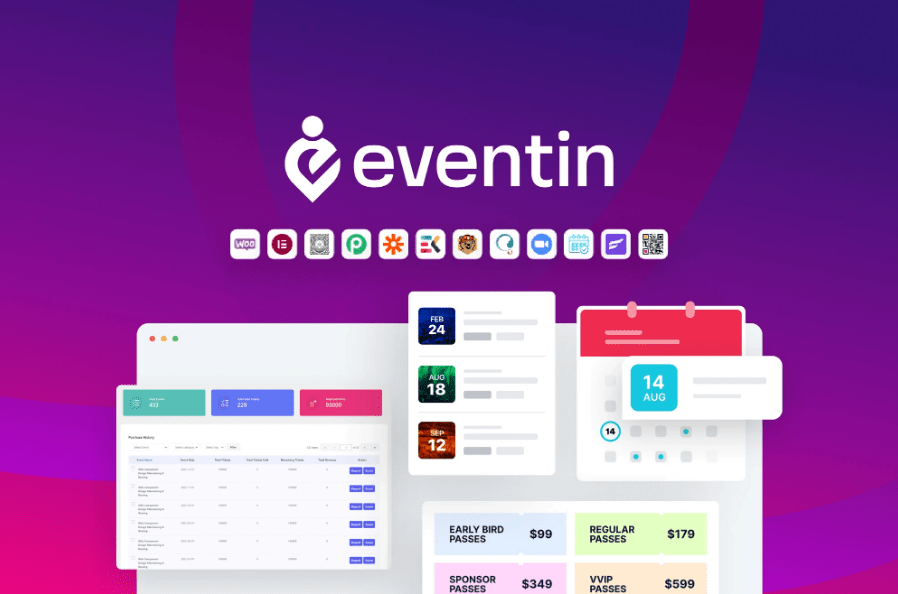 Eventin is a WordPress plugin that helps you manage unlimited events and sell tickets at no extra cost. There are custom schedules, speakers, and event countdowns you can utilize when managing events. You can choose also from one-time or recurring events at no additional cost. Additionally, there is the option to launch dedicated event websites by using drag-and-drop builders. That's not all. With Eventin, you can also organize virtual events from your WordPress console by utilizing Zoom meetings and webinars. It integrates with popular tools like Zapier, Google Calendar, iCal, and WooCommerce. Other features include registration forms with unique ticket IDs, event locations with Google Maps, individual turnout tracking with Groundhogg and FluentCRM, attendance and sales report exporting as a CSV file, multi-tier pricing, special coupon options, etc.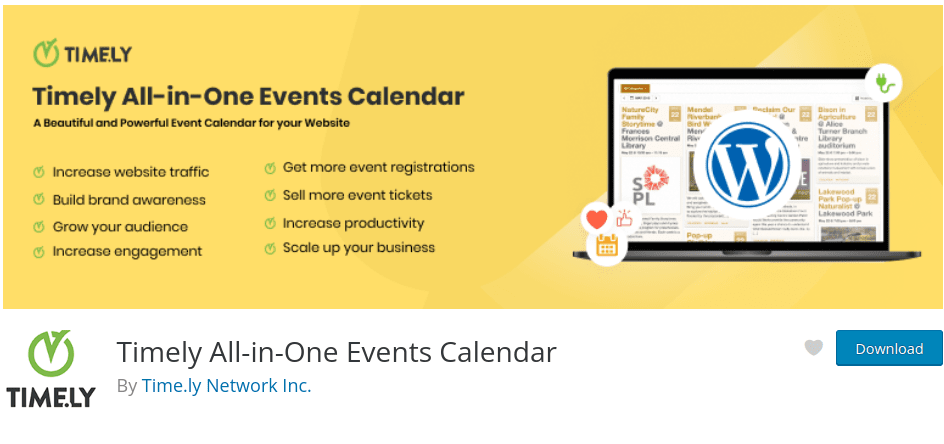 This is a free event calendar plugin with more than 80k active installations on WordPress. With Timely, you can easily create, manage, and share events, whether they are in-person, virtual, or hybrid. It gives you a great user experience with attractive visuals and advanced features. These features include a responsive and mobile-friendly design, a central dashboard available in multiple languages including English, French, Spanish, Portuguese, German, etc., a public calendar display on the week, month, or agenda views, and different view setup on mobile and desktop, multiple preset themes, customizable toolbar, event filters by category, tags, venues, and organizers, easy event creation, media library, social share buttons, etc.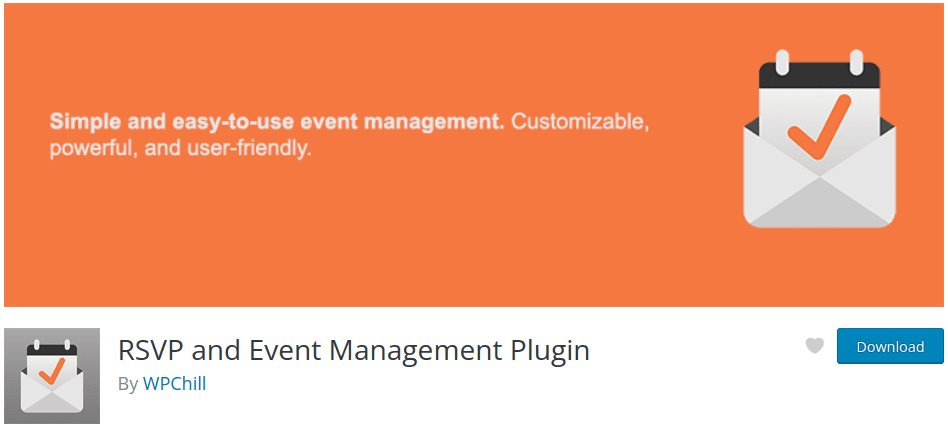 The main goal of this plugin is to help manage attendees for your events. It is great for weddings, business conferences, church gatherings, birthdays, etc. The front-end is highly customizable. The main features include open registration and private attendee lists, custom questions, import and export attendees, the ability for attendees to add additional guests, easily customizable text, passcode or no passcode to RSVP, easy attendee management, email notifications, etc.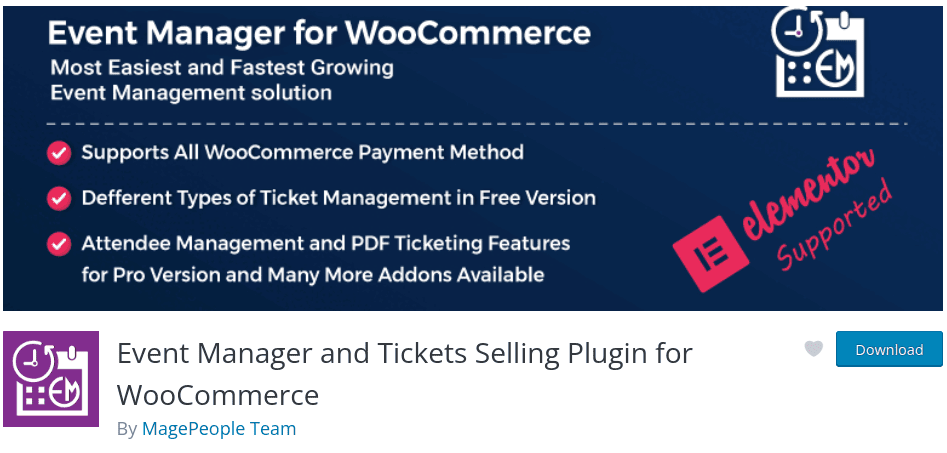 If you are using WooCommerce, then this is one of the best and most useful plugins you can have if you are managing any events. This plugin uses WooCommerce to take payments, which provides freedom for using popular payment gateways via WooCommerce. All versions of WordPress are supported by this plugin, so you do not have to worry about anything on that part. Key features include support for all payment methods available on WooCommerce, cross-browser support, responsive design, SEO friendly, multilingual translation support, shortcode availability, managing event ticket type, quantity, prices, category, and organizer, and showing event venues using Google Maps, viewing registered attendees from WooCommerce order details, etc.
This is a full-featured event registration plugin based on the principles of flexibility, reliability, and powerful features. Main features include beautiful calendars, search pages, lists, booking forms, easy event registration, recurring and long event registration, booking management, multiple tickets, multi-site support, multiple location types (in-person, or online), BuddyPress support, guest/member event submissions, assign and view events by location, custom event attributes, event categories, Google Maps integration, widgets, RSS feeds, iCal, and Google Calendar integration, and much more.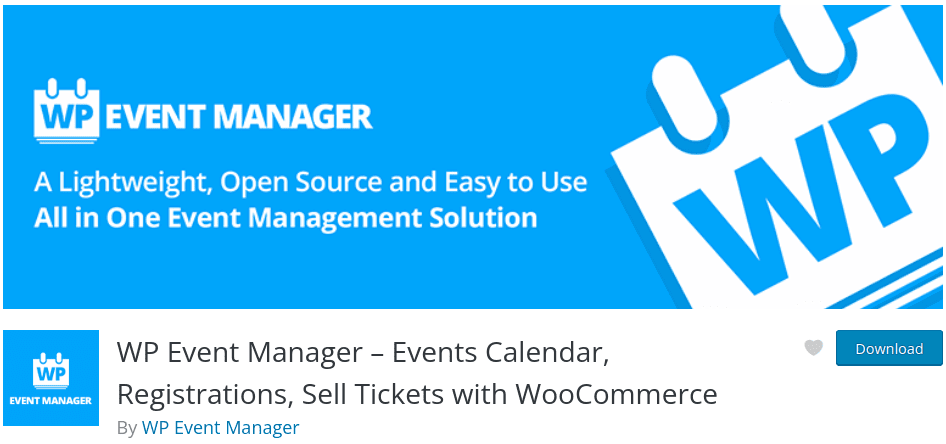 WP Event Manager is an intuitive and snappy WordPress solution for creating and managing events. It does not have any unnecessary features and bloat. It is lightweight and scalable and helps you implement a full-featured event management system in WordPress for in-person and virtual events. It is compatible with almost any WordPress theme out of the box, and it offers several ways to customize the look of your events listings. Main features include the option to add, remove, and organize event listings using a familiar WordPress interface, event location assignment for each event, custom event fields creation, and login functionality for event organizers to access features such as viewing, editing, deleting, and canceling events, live previews, etc.
Conclusion
As with any other use case, WordPress plugins are the best option to easily create and manage events, whether they are live or virtual. There are tons of features and functionalities offered by all of these plugins that will help you have a seamless process of event creation and management. We compiled this list for you to quickly learn about all of the key features and benefits of each plugin. One of the overall best plugins with complete functionality is Eventin, so you should check it out.