Communication with the people who visit your website is absolutely vital if you want them to come again, share your content, and recommend you to their friends.
You need to be able to react quickly and efficiently to answer any questions a prospective #Client may have, and a #CallTracking tool is just what you need to for that.
With this kind of tool, no call from your clients will go unanswered, and there are many other features good call tracking tools will have in their arsenal. But which tools are the best and what features do they offer? That's what you're about to find out!
Here's a list of five call tracking tools you absolutely must consider.
Callback Tracker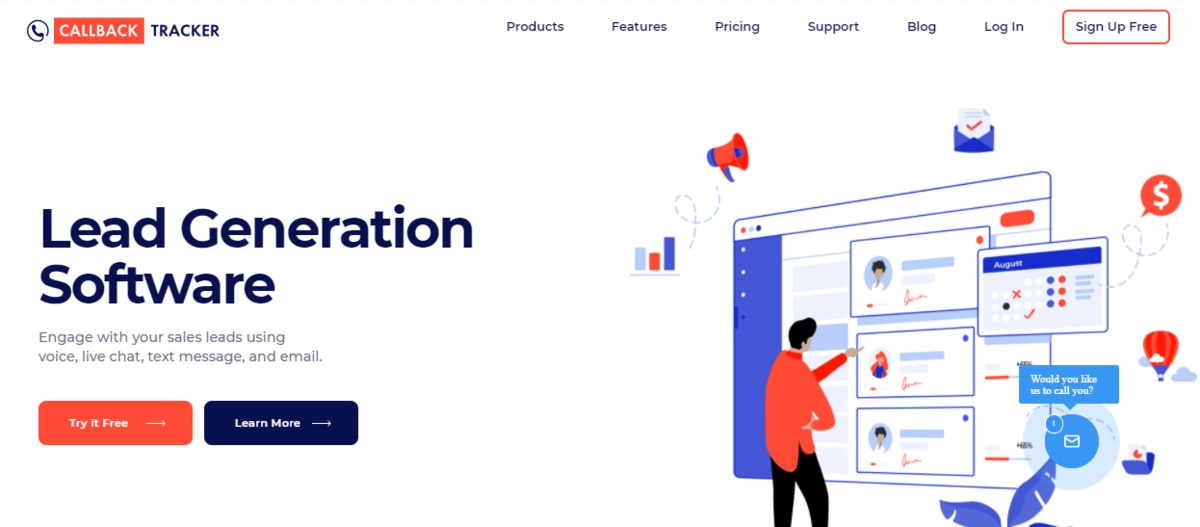 Callback Tracker is an app that offers much more than just the option to call someone back. With it, you also get live chat and the ability to communicate with your website's visitors via e-mail or even SMS messages. Furthermore, it is also possible to schedule a call, so your potential clients can actually tell you when it suits them best to get in touch with you.
Callback Tracker works with literally any website, and the installation process is very easy to complete, so you will have your customer support service improved in a couple of minutes.
On top of that, it works perfectly with tools like Google Analytics, Salesforce, Zapier, and many others, which just adds an extra layer of value to this product.
As far as the pricing is concerned, there are three tiers to choose from – Single, Double, and Multiple – which will set you back 69$, 138$ and 207$, respectively. The latter two also feature branding removal, adding to an already impressive array of customization options.
PhoneWagon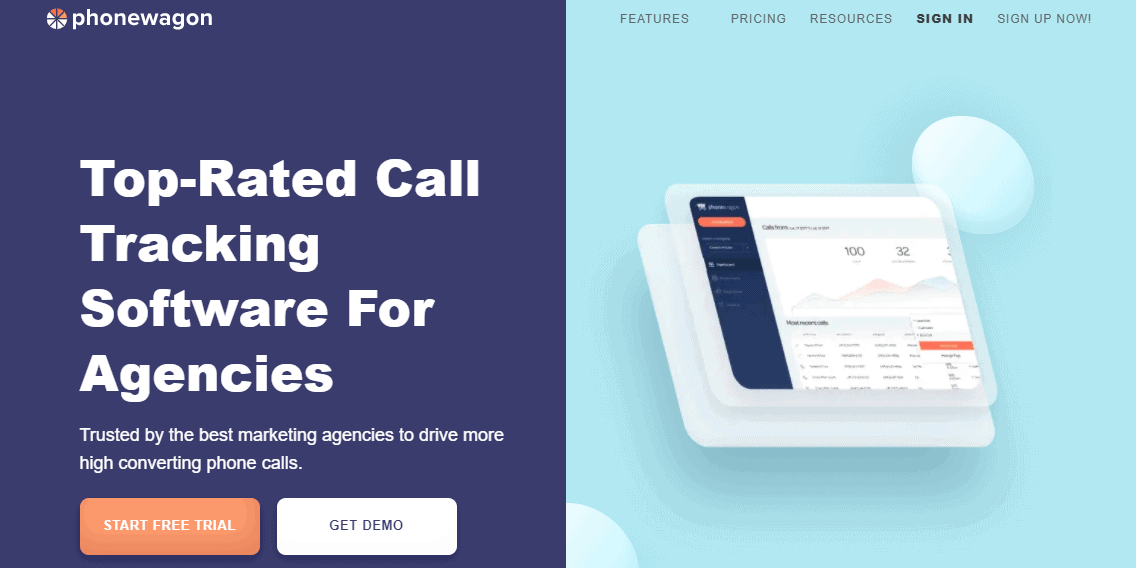 PhoneWagon is a great tool to have if you want to see how effective your marketing campaign is. It does so by analyzing voice and SMS conversations and allowing you to access all of that in a flash.
A very neat feature of this product is that you can tag a conversation as good or bad, depending on the quality of the lead you get from it.
PhoneWagon also allows you to make your marketing investments much more efficient because it has a dashboard that is very easy to use and which allows you to easily see which campaigns are doing well and should be invested in some more, and which should be abandoned.
Furthermore, you can also utilize this tool in combination with Google Ads to get a reading on which keywords are bringing you conversions, and which are not making any significant impact.
With this tool, it is also possible to manage multiple accounts from one place, so the starting price of 45$ per month doesn't seem to be unreasonable.
CallTrackingMetrics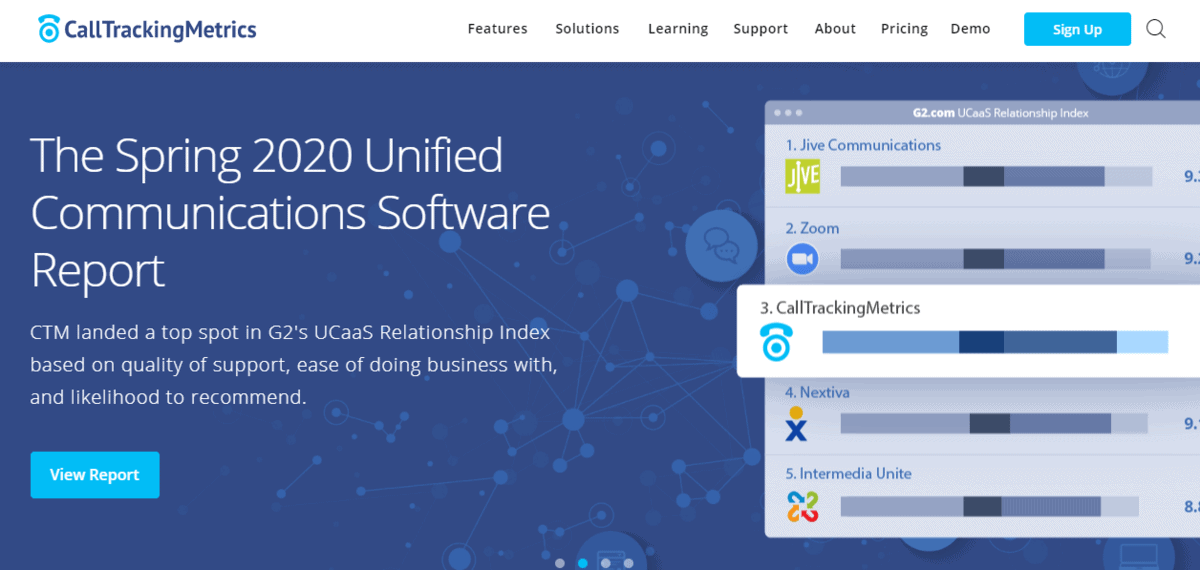 Another very interesting solution primarily for marketing purposes, CallTrackingMetrics will go through the transcript of every call to find notable keywords that will then be categorized. This makes monitoring the satisfaction of your customers and keeping an eye on your sales much easier.
But that's not all. CallTrackingMetrics will change the phone number you have on your website to the format that fits the area code of the person calling. That way, the number will be more relatable, so any visitor on your website will be much more likely to make the call.
Finally, the app can also take into consideration various data about the caller, such as their age and even behavior to connect them with a support team member who is most likely to suit them. This is great because if you're talking to a person you immediately like, the chances you'll buy something from them grow exponentially.
With CallTrackingMetrics, there are three plans to choose from, but if they don't fit your needs, you can create one yourself and then check with the team behind this tool how much it would cost. The lowest price is 39$ per month.
Ziwo

Ziwo is also an ingenious solution. This communications hub allows you to manage your calls pretty much however you want – you can track calls, mask them and even enable call whispering, a feature that allows an admin to help an agent by giving them the right information at the right time. And speaking of agents, they can easily work from home thanks to the Roaming Agents feature that is very easy to activate.
It is also possible to set up a survey after every call to measure customer satisfaction, set up a priority queue, and monitor all kinds of statistical data which helps you assess the quality of performance for every single agent.
When it comes to pricing, Ziwo has a pretty unique approach. There are no plans, no packages, just one single price of 109$ per agent per month. That means you get access to all features right away, and there is no paywall to worry about whatsoever. Yes, it's a fairly big investment, but you can be sure your customer service will be top-notch.
Agile CRM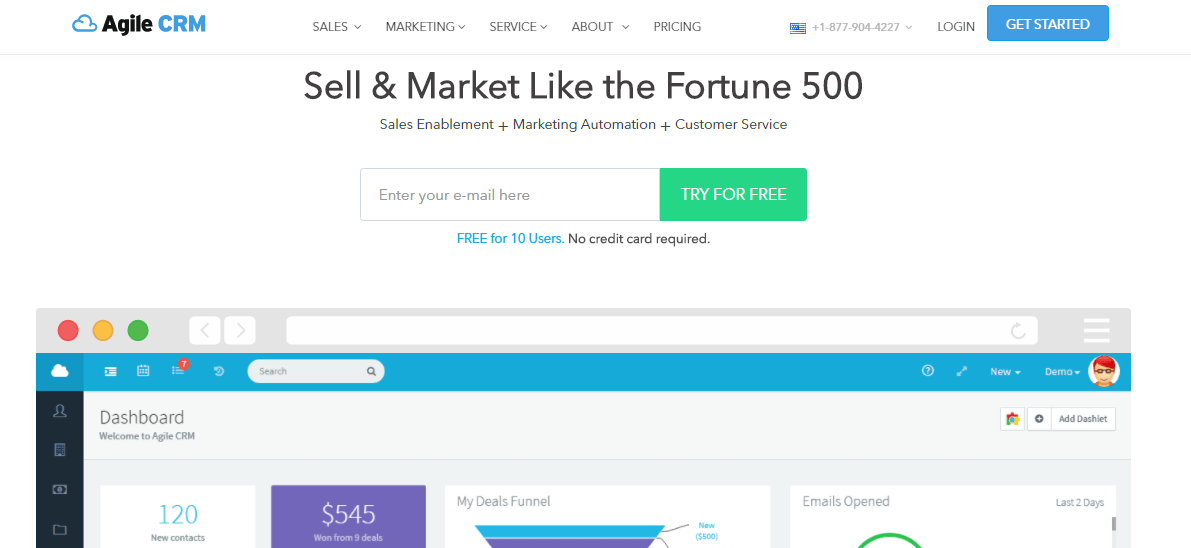 Agile CRM claims to be an all-in-one CRM software that brings together the sales, marketing, and support aspect of any call. Indeed, with it, you can establish an efficient helpdesk, set up pre-formatted replies, and do so much more to help anyone who comes to you with a question.
As far as the calls are concerned, you can come up with various scripts, set up automated voicemails, and people will always be able to get in touch with you with a single click.
On top of that, it also covers all kinds of marketing, from social networks to e-mail marketing and anything in between. Not to mention that it can be integrated with all sorts of things like Twitter, Facebook, LinkedIn, and a range of Google Apps. Add to that the fact that you can easily manage appointments, projects, and contacts, and you have a really versatile tool in your business venture.
The best part is that you can start out with a free package and then move on to premium packages (starting at 8.99$ per month if you subscribe for two years) when you get the hang of things.
Conclusion
We hope you liked our top picks for the best call tracking tools. If you were to ask us to pick our favorite, then we would have to say, Callback Tracker. But that is not to say that the other tools aren't just as good. So feel free to make your choice based on your needs and budget of course!