If you find yourself reading this article, you've probably been wondering – how can I make my business more competitive?
In truth, you'd be right to think so. With global markets more competitive than ever, businesses need to substitute complacency with proactiveness to achieve competitive advantages and greater portions of market share.
The need for a forward-thinking approach is only accentuated by the #economic fallout of the ongoing #pandemic where #consumers have less to spend and become harder to please.
For any business or organization operating an e-commerce platform, you're most likely aware of the importance of site design when it comes to drawing in customers. However, have you ever considered the importance of providing a multilingual website?
Did you know, for example, that only 25% of internet users are native English speakers? Or that, 72.1% of consumers spend most or all of their time on websites in their own language?
With these figures in mind, the benefits of a multilingual website become all the more apparent. Going multilingual not only gives you access to new customer segments who speak foreign languages but also enhances the level of customer personalization on your site. And this can only be a good thing, with a recent Forbes article highlighting that customers spend 48% more when their shopping experience is personalized.
What's more, with 900 million customers expected to purchase products internationally online in 2020 alone, getting a multi-language website is a smart choice. The only question is – how?
How can I translate my website
After you've made some key decisions such as which international markets you're targeting and how many languages you're going to cater for, it's time to choose how best to translate your site. While a number of different options are available, it's important to consider both budgetary and temporal limits to your expansion project.
Generally, you have three options to choose from when approaching your multilingual project:
Automatic Machine Translation
Human Translation
Hybrid Translation (Automatic & Human)
How Technical Do I Need to Be to Undertake Website Translation?
Before we move on to the detail of these three website translation options and what's involved in each, it's worth saying a quick word about the technical side of the process. Do you know what strings are? Which languages your template supports? Whether your site uses Unicode? Don't worry if not – while there are some technical elements to the process, a decent translation company that provides website translation services will support you with every step along the way. Of course, you'll have to be somewhat more self-sufficient if you choose to go down the automatic machine translation route. Let's take a look at that first.
1. Automatic Machine Translation
When talking about automatic machine translation, essentially what's being referred to is software that can translate source languages to target languages instantly or automatically. Google Translate, Microsoft Translate, DeepL, and Yandex are all examples of machine translation providers to keep in mind when thinking about automatic translation.
Historically, automatic machine translation providers have gotten a bad reputation in terms of translation quality.
However, significant developments in translation technology and AI have seen it become increasingly accurate and reliable in recent years.
Nowadays, automatic machine translation is a practical solution for many businesses and organizations looking to achieve a multilingual website. It provides a time and cost-efficient translation solution, allowing you to translate thousands of pages instantly and scale up to international markets rapidly.
However, it's prudent to avoid free solutions that may not draw upon the best machine translation solutions available on the market.
2. Human Translation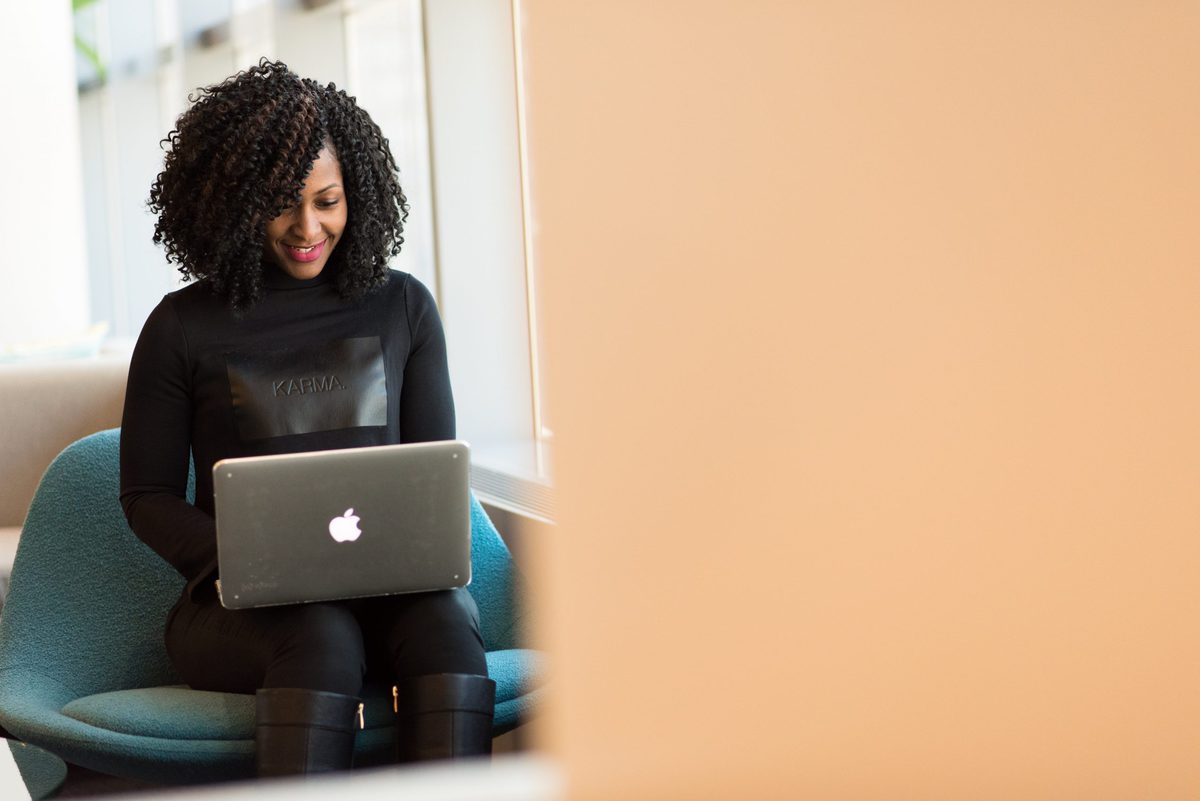 On the other end of the spectrum, there's always the possibility to avail of human translations for your multilingual project. This is usually achieved through the hiring of professional translators on a freelance basis or by involving a translation agency.
Using human translators comes with the benefit of impeccable translation quality and accuracy, as humans can better understand linguistic nuances associated with the context. On the converse, however, this solution can be quite costly, both financially and on time.
When it comes to your translation workflow, if you've got thousands of pages to translate on your site this could take a significant amount of time and deter your ability to scale up into new markets quickly.
When looking at this from a financial perspective, again if you've got hundreds or thousands of web pages to translate – the outlook is quite bleak. With professional translations (depending on the language and provider) costing on average between $0.10 – $0.25 per word, the bill can quickly accumulate. For example, for a website with 20,000 words at a cost of $0.15 per word, professionally translating this into one language would cost approximately $3000. Double this amount for two translated languages and so on.
Additionally, you'll need to consider the cost of upkeep with this option. Each time your website's content is updated you'll need to contact professional translators and start the process again.
3. Hybrid Translation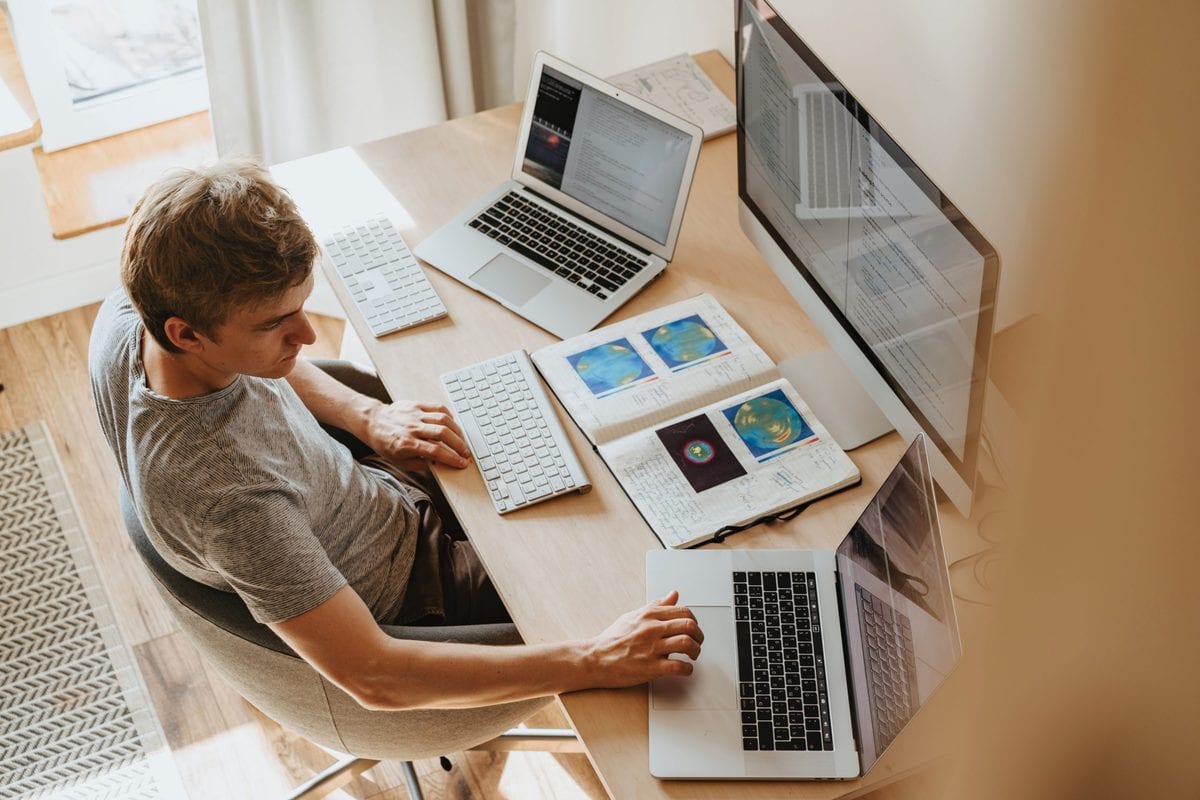 Thankfully, choosing a translation solution isn't all black and white and hybrid solutions that encompass both machine and human translation exist. Such solutions bring together the speed and efficiency of machine translation solutions with the accuracy of professional translations.
For example, for most pages on your website, machine translation from a reputable provider will be more than sufficient. However, there are instances where professional translations may be a necessity on your site. For example, it may be in your best interest to have the homepage of your website 100% accurate as it generally contains important information and is a visitor's first point of reference.
In practice, such solutions use machine translation to do a quick first layer of automatic translation on all pages on your site and then have professional translators review and rework the most important pages. This can greatly reduce both time and costs associated with using professional translations only.
Introducing Weglot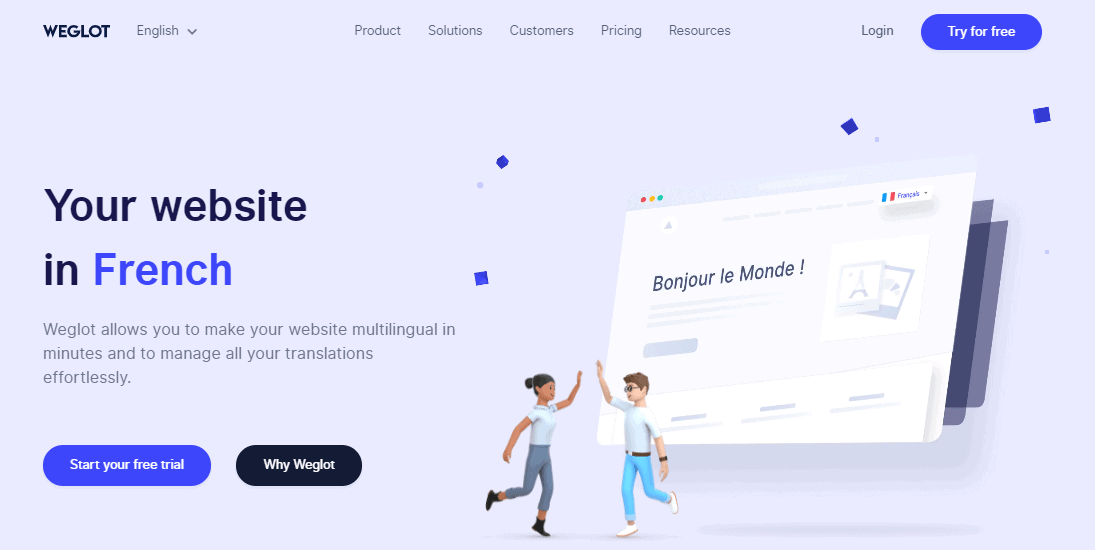 One such solution is Weglot which combines speedy neural machine translation with post-human translation editing. Drawing from numerous machine translation providers, Weglot chooses the best provider for each specific language meaning it's the perfect option for embarking on a multilingual project. Additional benefits include:
Rapid installation and set-up: As a no-code translation solution, setting up your multilingual site couldn't be more simple. Weglot auto-detects all of your site's content, including metadata and content from other plugins. Your multilingual site can be up and running in as little as 5 minutes.
User-Friendly Translation Management: Managing and editing your translations with Weglot is an intuitive and hassle-free process. You can manually edit your automatic translations easily using the Weglot dashboard. The solution also boasts a "visual editor" tool allowing you to edit translations in a live preview of your site.
Compatible with any CMS: Using WordPress, Wix, Squarespace, or even something else? Not to worry, as Weglot is compatible with any CMS. You can check out integration guides here.
SEO-Optimized: Being an SEO-optimized solution, Weglot automatically indexes your site's content following Google's best practices. By translating all your metadata and adding hreflang tags automatically your international SEO is covered!
Dedicated Support: With a rigorous support team committed to answering any query or issue within one business day, you'll be supported along your multilingual journey every step of the way.
Translating your site with Weglot
1. Sign up for Weglot
To sign up, head over to Weglot.com and click on the button labeled "Try for free" in the top right-hand corner of the page. From here, you'll be prompted to a registrations page as illustrated below.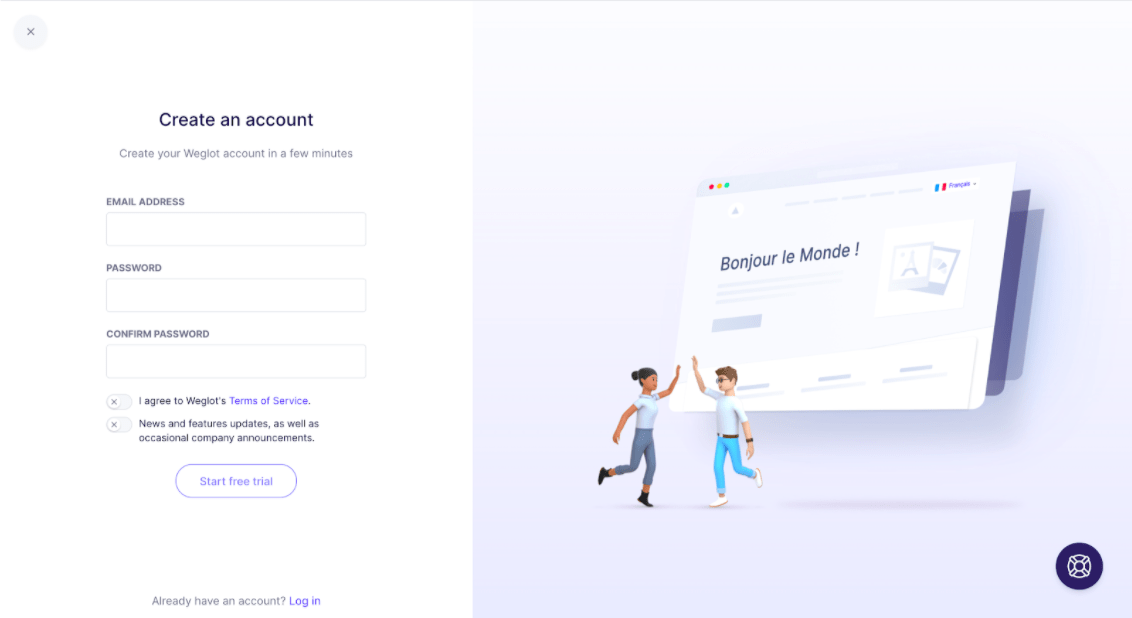 Weglot offers a complimentary 10-day free trial for new users. So, once you've entered your details, created a password, and accepted the terms of service your trial will be activated.
2. Create your multilingual project
After this, you begin creating your multilingual project. Choose a project name (something related to your site) and choose your website technology as the set-up process will vary slightly for each CMS.
3. Complete your Weglot set-up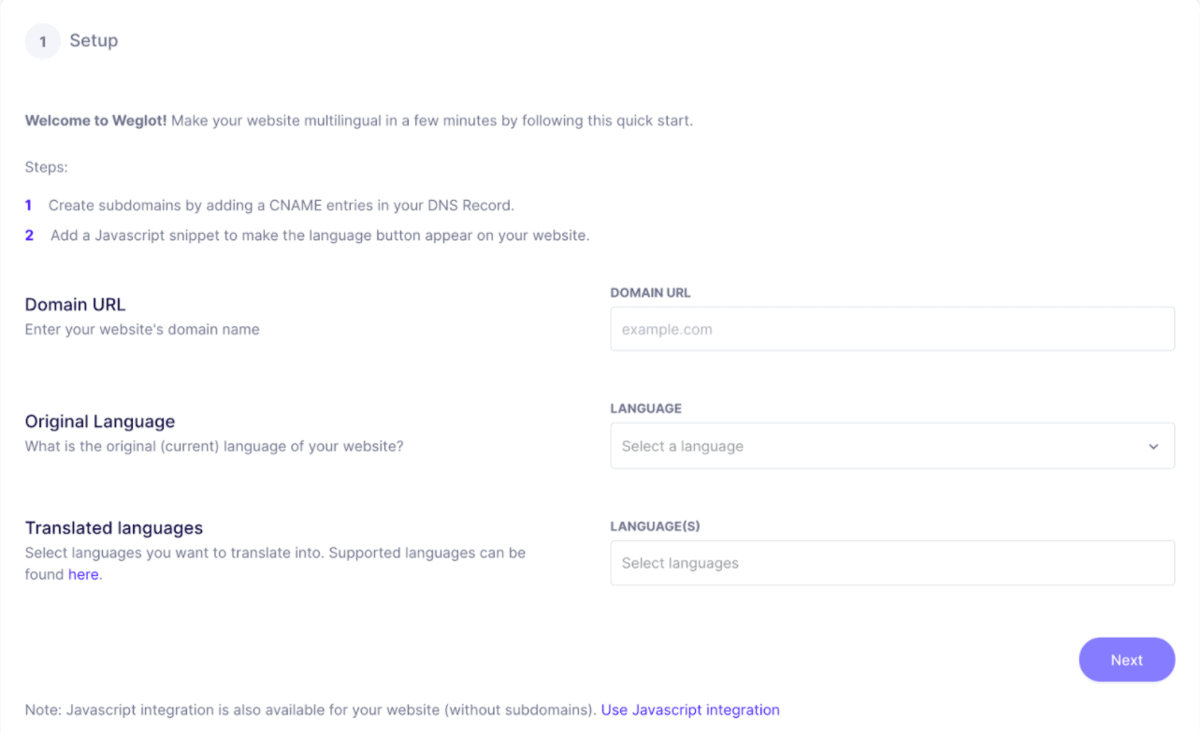 Finally, you'll be brought to the set-up page where you'll fill out some final details to get your multilingual site up and running. Regardless of the CMS you're using, you'll be asked to fill in your website URL, the original language of your site, and your destination language(s).
Upon clicking "Next", Weglot will generate your unique API key which you'll link to your website to facilitate translations. Specific instructions for finalizing this set-up will be given for each CMS. Finalize your configuration and ta-dah your multilingual site is ready to go!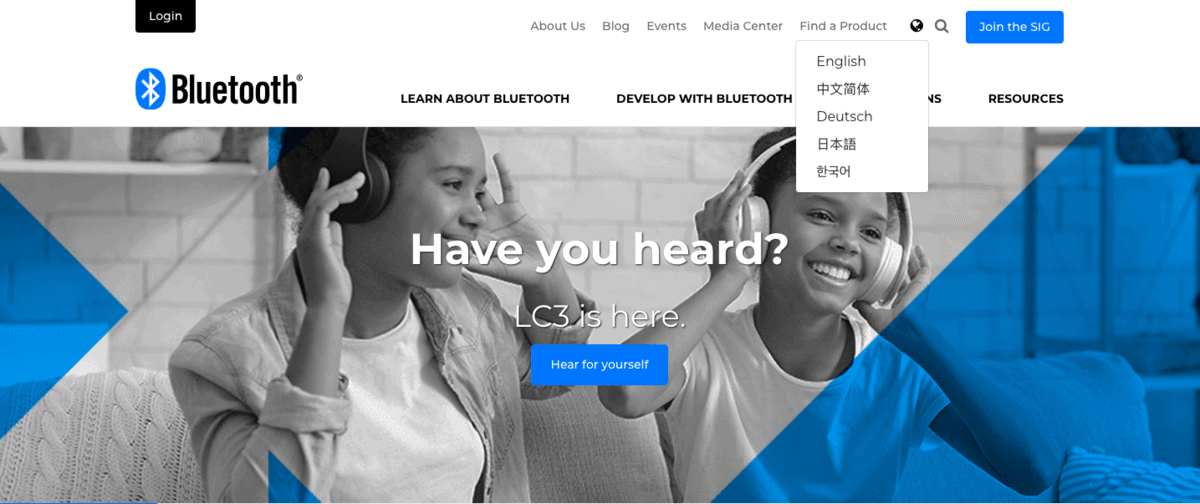 A language switcher will automatically be added to the bottom right-hand corner of your site pages allowing your website visitors to change between languages. However, you can also customize the position and design of this language switcher as Bluetooth has above!
The Future is Multilingual
With the global e-commerce market constantly growing and with consumer behavior shifting towards more cross-border activity, businesses with a multi-language website will have a huge competitive advantage going forward in what are uncertain economic conditions.
Fortunately, going multilingual is far from the daunting task it used to be and couldn't be easier thanks to intuitive solutions like Weglot.
Why not Weglot's 10-day free trial to see how it can help you stay competitive and expand your global reach.