Starting a business in itself is challenging because there are a million little things you need to think of. One of them is finding a domain name that will align with your company, your vision, and your goals.
Who says you have to come up with a #domainname by yourself when there are so many #generators out there? Get to know the best ones in this article!
Finding a domain name can be tricky at times, especially if you think you have found the perfect one, but it turns out it is taken. Luckily, there are domain name generators that can help you.
In this article, we will list the top ones you can find on the market!
1. Lean Domain Search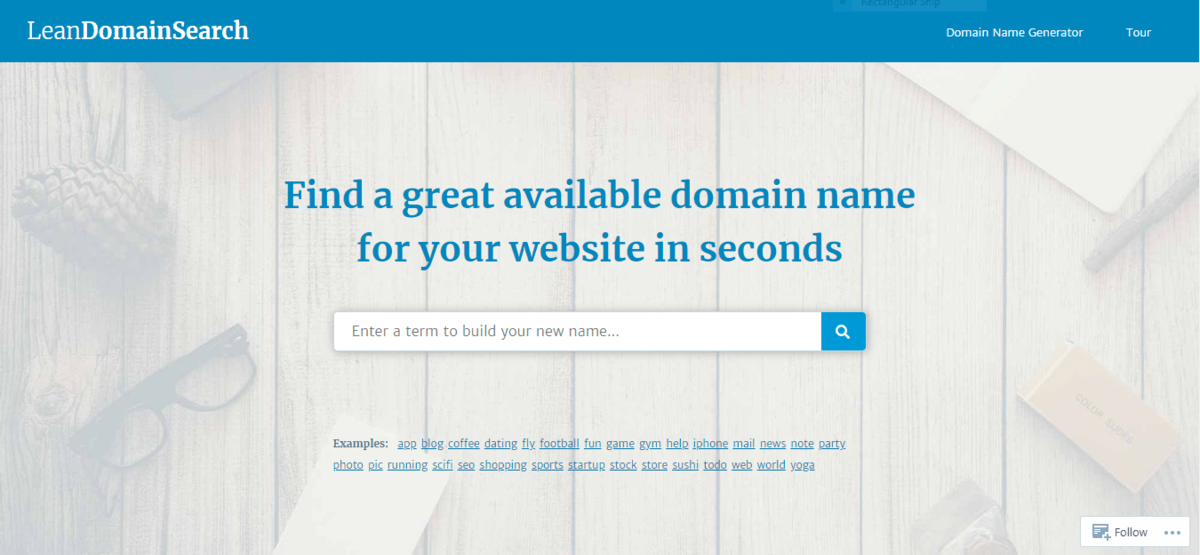 Lean Domain Search is a great way to check if your chosen domain is available. You just need to enter keywords that you believe reflect and define your business or brand. Click on the search domain buttons, and you will be automatically redirected to hundreds of options where you can choose your perfect domain name.
You can use this tool as a way to brainstorm and use its suggestions to come up with your own creative name. You can also filter your searches (according to length, alphabet, or popularity). Moreover, all the results are available in the .com extension.
Probably the best thing about this tool is that it is completely free.
2. Name Mesh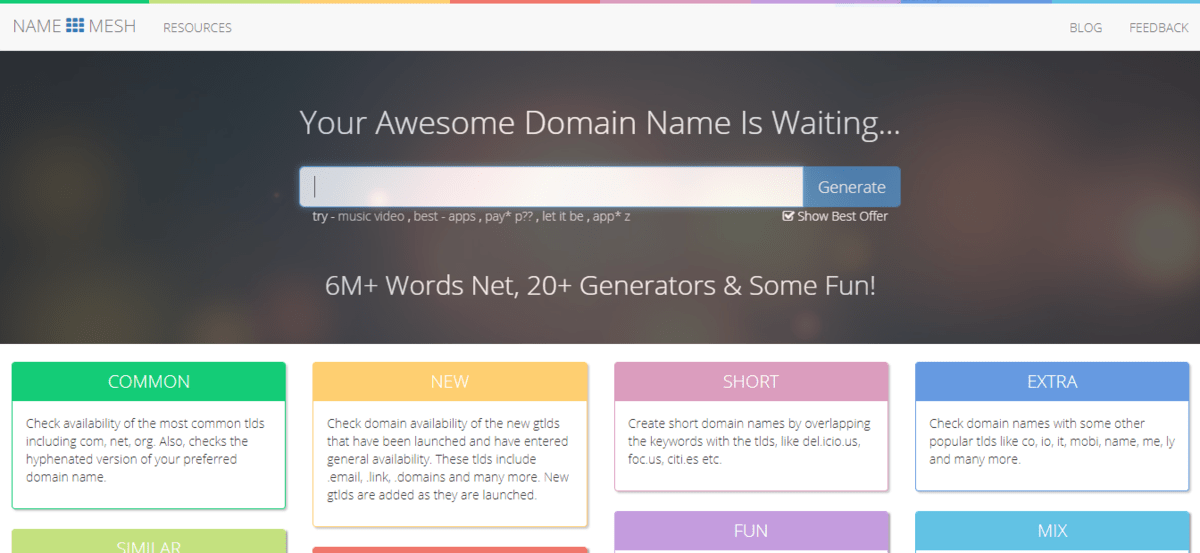 Name Mesh is a generator that works best if you want to have or include more than one keyword in your domain name. You can create your domain name based on categories, such as new, short, SEO, common, or fun.
This tool is very easy to use. You can search for your domain name using different categories and you get suggestions for the options you can use (for example in the Fun category).
The domains come in different extensions, which is quite nice because you can choose whichever extension you prefer or want (.net, .org, .hr, .com, and others).
Also, this tool is completely free.
3. Nameboy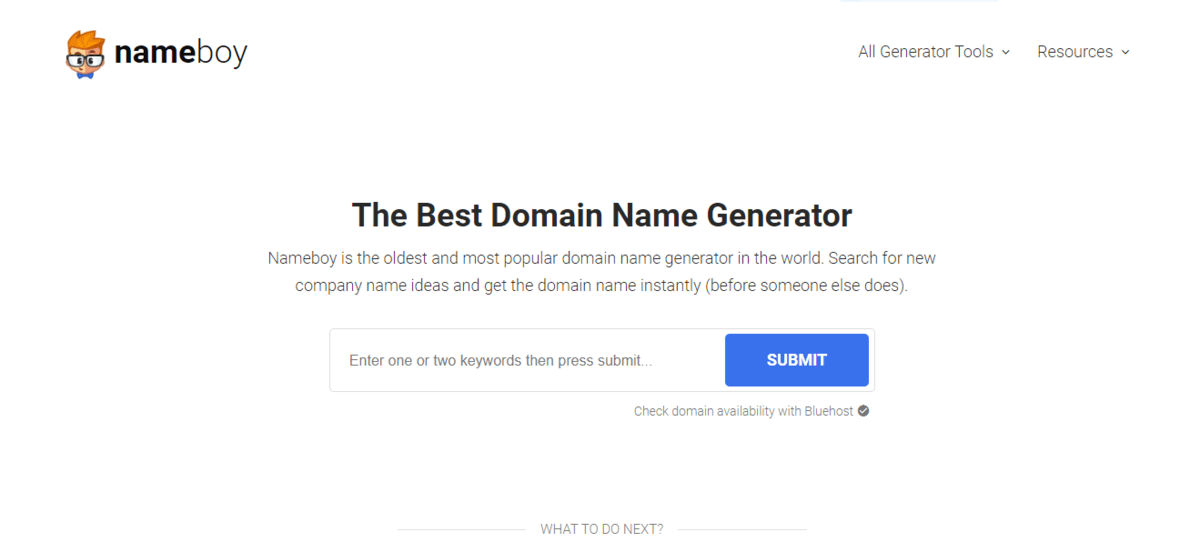 Nameboy is one of the few generators you can use to build your website and get a domain name for free. You can create a website, name it, make a WordPress blog, and get web hosting.
This site has step by step guides and tutorials on these matters that you can follow and get some advice on how it all works. It will also tell you the best tips on how to choose a good domain name (use keywords, make it easy to spell, keep it short, and make it brandable). This is great if you want to have an extension on your domain name different than the usual .com one.
Again, just like with the other domain name generators, you type in your keywords, and you can see the availability of the domain names. This tool cross-references the availability from registrars such as GoDaddy and it will show you if a domain name is available for resale. It also allows you to add hyphens in your domain name.
This tool has different categories of generator tools so you can choose specifically what you need the domain name for (is it a business name, store name, blog name, brand name, or more).
4.HostPapa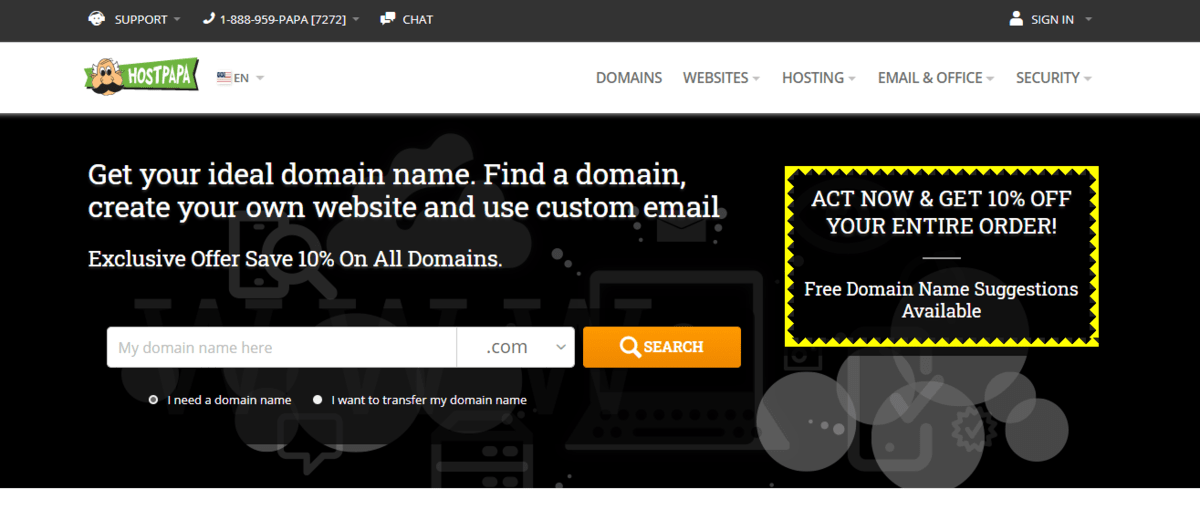 HostPapa is more popular as a web hosting service provider. However, using it, you can also check and see if the domain name you want to use is available.
It is not a classic domain name generator, but it will show you if the domain name you wish to use is available. If not, it will provide you with some alternative names and extensions you can choose from.
The use of the domain name generator and searcher is free, but there are some other premium services available, specifically web hosting.
5. NameCheap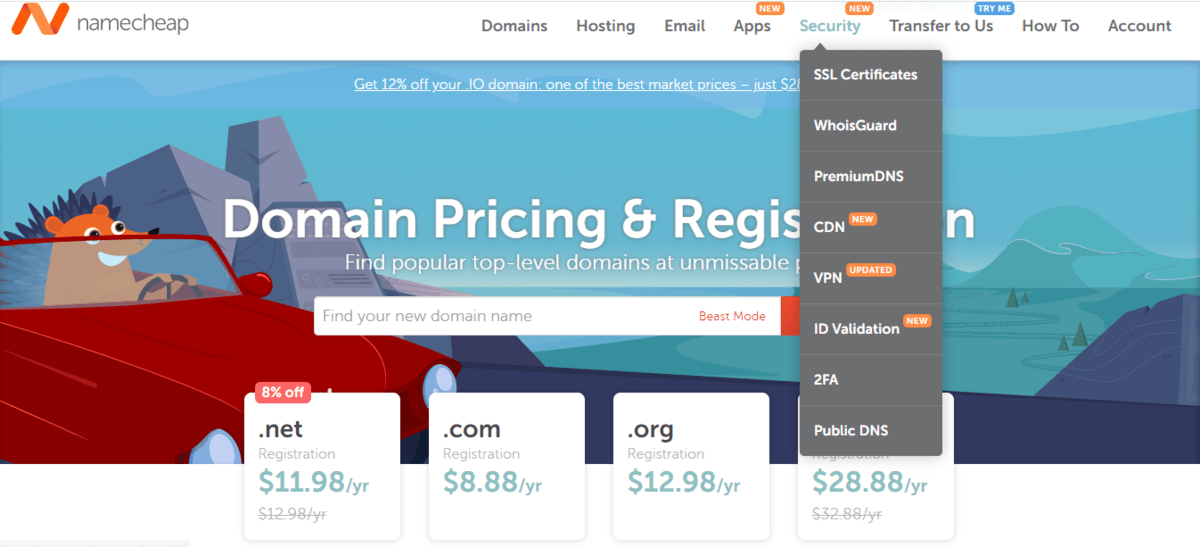 NameCheap has a domain name generator called Beast Mode. In that generator, you can enter up to 5000 domain names or keywords, select what kind of TLDs (top-level domains) you want to include in your domain search, add preferences by categories or select all available, and the generator will search for the available domain names.
There are numerous filters you can use, such as the price range of domains, premium domains, hide unavailable domains, use domain hack, etc.
Unlike the previous domain name generators we listed, this one is not free. How much will you need to pay depends on what kind of extension you want to use for your domain name.
6. Bust a Name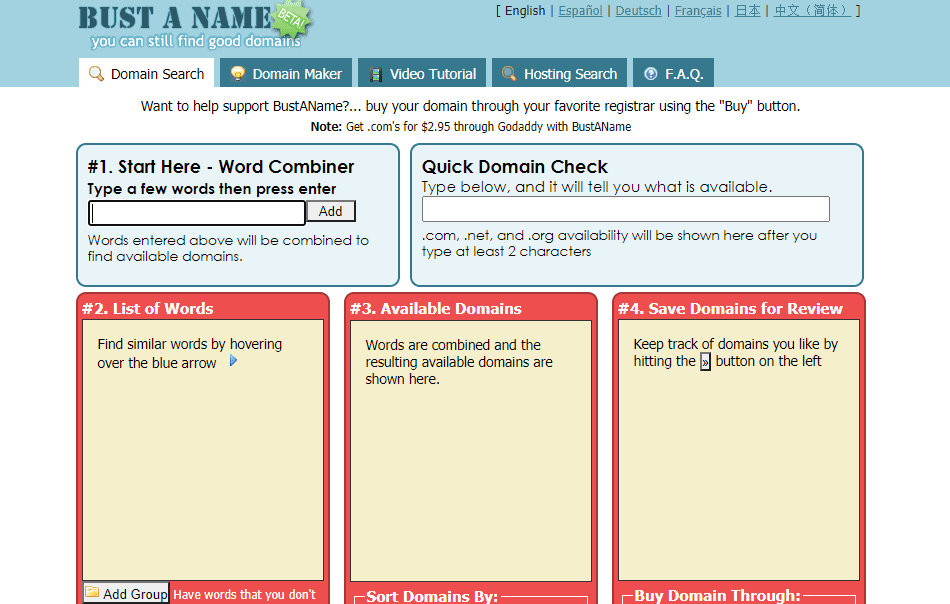 Bust a Name is a pretty cool generator that lets you fine-tune your domain name. Using it, you can also check the availability of other domain extensions (not just .com).
Once you open this tool, there will be two sections, one is a word combiner for your domain name search and the other is where you finalize and verify the name.
If you do not know what your keyword could be, you can start a random search. This might help you get some ideas.
7. Domainsbot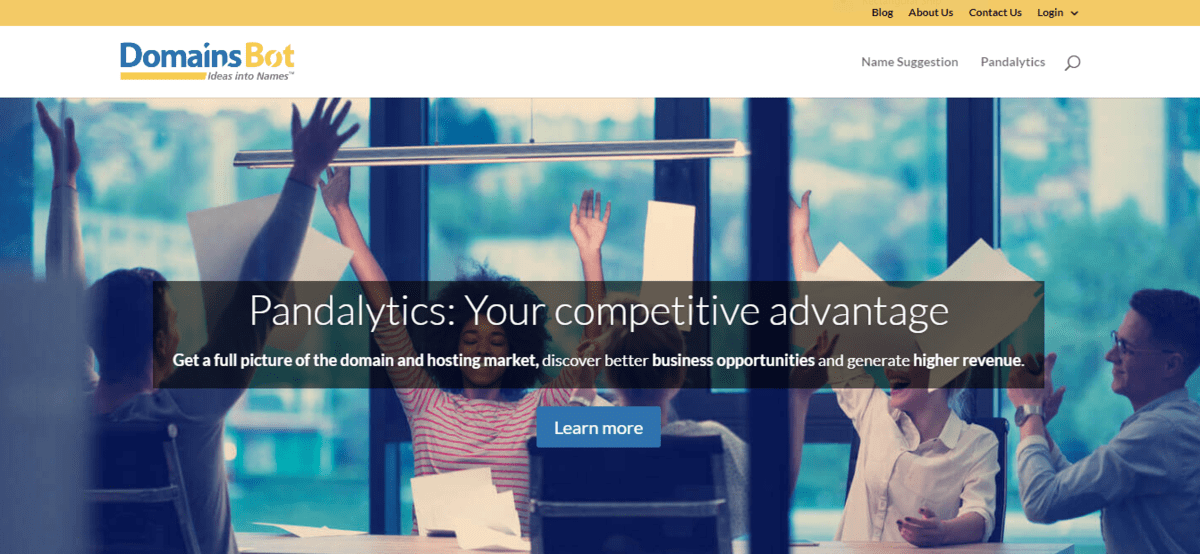 Domainsbot is a domain name suggestion tool and a domain name search tool. It allows you to start by researching a keyword so you can find available domain names based on that keyword or similar keywords. You can also change and check the extensions you wish to use, add or change suffixes and prefixes and register your domain name once you have found it.
Another cool thing is that this domain name provider is GDPR compliant so it will protect your privacy.
8. NameStall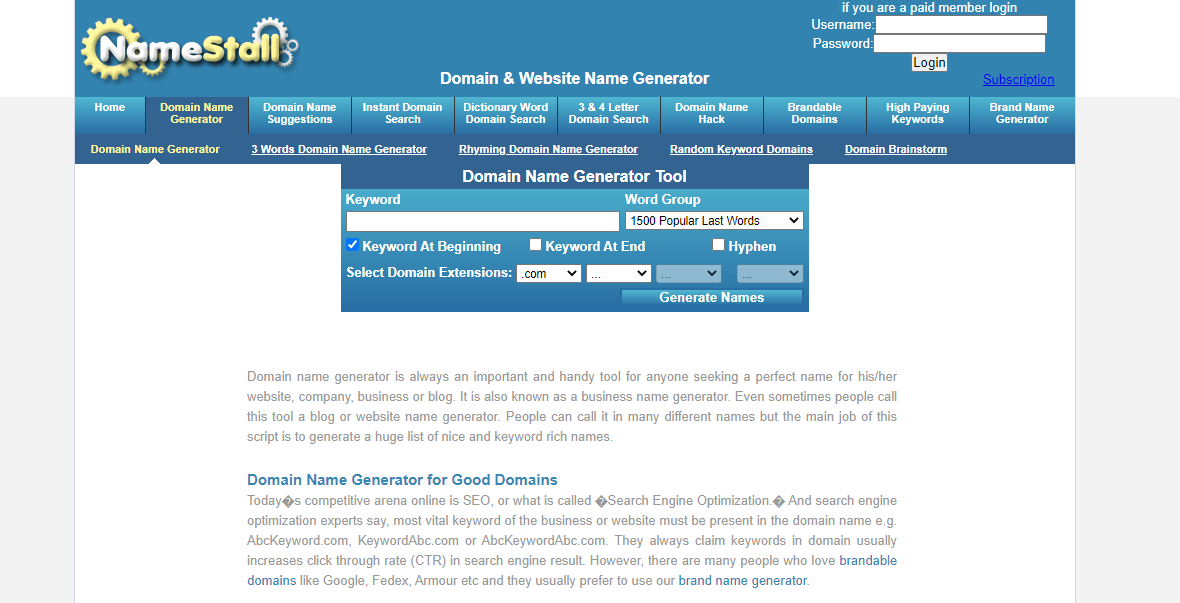 NameStall is very cool, especially because it gives you some flexibility if you wish to choose a business domain name. You can have your keywords at the start or the end of your name, and you can choose country-specific domain names.
You can also advance your search with 100, 500, 1000, or 1500 popular words related to your keywords so you can find something that you might like.
9. Impossibility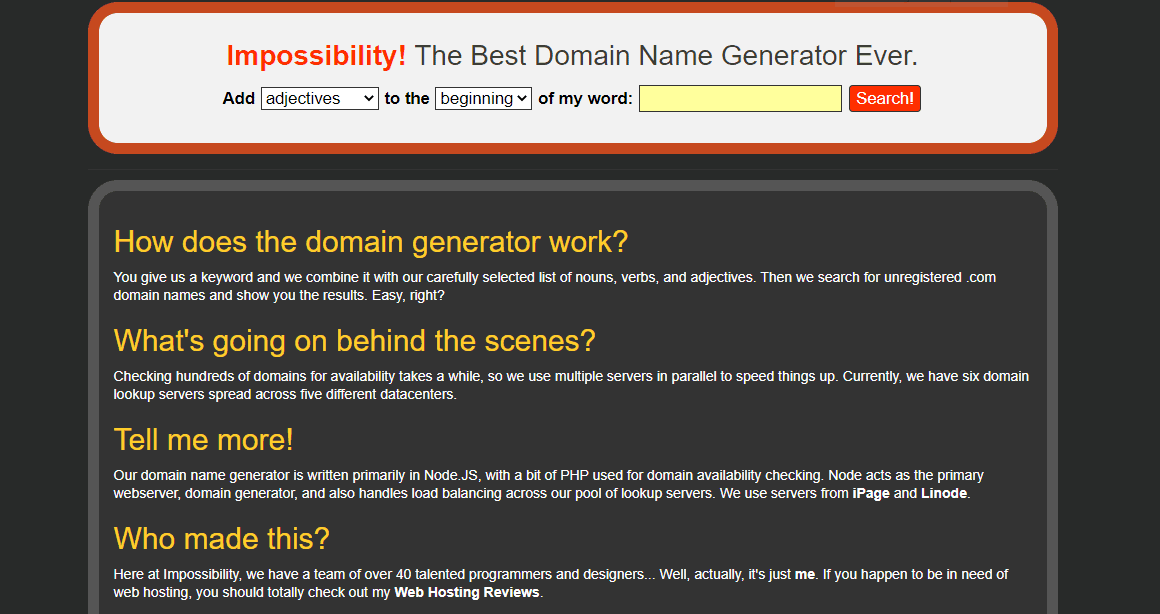 Impossibility is a domain generator that gives you different choices when trying to find a domain name. You can start with a chosen word and see what is being offered. You can also choose how many letters or words to use and if you want them to be nouns, verbs, adjectives, or a mix of everything.
It is also completely free to use.
10. Shopify Business Name Generator
Shopify Business Name Generator helps you generate business domain names. You start with a keyword you wish to include, and you will get available suggestions. However, before you are able to register your domain name, you will have to log in and create an account.
Also, this is a premium service, but it comes with lots of other features that you can check out here.
Conclusion
We hope this article helped you find a good domain name generator for your business. We really did our best to list only the top generators on the market.
With that said, thanks for reading, and don't hesitate to visit our blog again!