Building a recognizable site and brand comes from various avenues. One of the most prominent avenues is the domain name.
Just think about it, if your domain is well known, there is no need to search for it through search engines.
Cutting out this middleman means traffic directly goes to you, and if there are no searches, there is no chance of potential visitors dispersing to other sites that will be featured in the results.
Brand awareness is another thing to consider when choosing a site name. If your company or product is called pear, for example, there is no sense in naming your site tomato.com. In order to maximize your marketing potential, you should find the perfect name and entwine it with all aspects of your business – that's how you build a brand.
Unfortunately, there are so many sites online nowadays that it increasingly harder to come up with something unique that nobody has come up with before. Going mining for names manually is essentially a fool's errand, and you'll quickly find it's a black hole with no end in sight. Furthermore, registered domains can prove to be difficult to get, since the owners generally ask for more money than the basic price of non-registered names is.
Luckily, there is a solution that can help you with everything concerning domain names, and it's called Domainwatch.
Why you should keep track of domains
Domainwatch is a monitoring tool that's a part of the Webmaster.Ninja platform, a site overview app that monitors the ins and outs of your site that affect both you on the backend and your visitors on the frontend. This new feature called Domainwatch is precisely what its name suggests – it monitors selected domains for availability.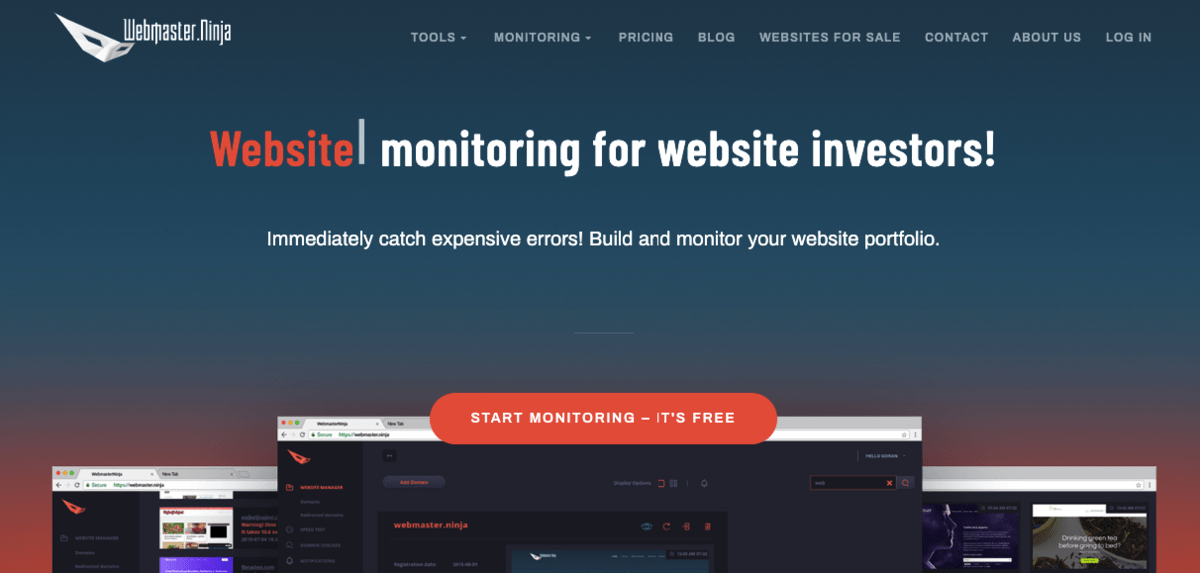 There are a few reasons you should look into domain monitoring. There's a chance you've let a good domain name slip through your hands because you thought you wouldn't be using it anymore. Now someone's snapped it up in the meantime, and you really need to bring it back. Here, you'll be able to track the time until it becomes available, and if it's not renewed, you'll be able to get it back again. Similarly, if you're hung up on a specific domain name and it's taken, whether it's something popular or unknown, you'll be able to track the situation, and once it's available to get it for yourself.
Failing to renew a domain name can happen for any of numerous reasons – the business went under and doesn't need a domain anymore, the site went through a rebranding and has switched to a new domain, or something as simple as forgetting to renew (this can't happen to you with Domainwatch by the way, because it can monitor your site as well). This time represents the perfect opportunity to act. Alternatively, you'll have to spend money (usually much more than you're willing) to buy out the current owner of the domain in order to use it yourself. Blowing big parts of your budget on an easily avoidable expense like this can be detrimental to the success of your site and business as a whole.

If you're running multiple sites or are running with a big budget, this is something you don't give much thought to. Most of the time, however, those who are looking for new domain ideas are just starting up and look to save wherever they can. Although Domainwatch does its job so well, it can be used successfully by anyone, those who are just starting will probably get the most out of it.
Working with Domainwatch
It saves you money, but how is it to work with – you're probably asking yourself. Well, have no fear; with just a few clicks and simple inputs, you'll be unlocking all the features Domainwatch has to offer.
The first step will always be, as you would expect, to add potential domain names in order for them to be processed and checked. A quick pop-up window is all you'll have to contend with to get this done. Additionally, you'll be able to group them for even better tracking. Sort them by domains you've previously owned, top future prospects, or long-shot ideas that don't have a big chance of coming available but are worth keeping an eye on.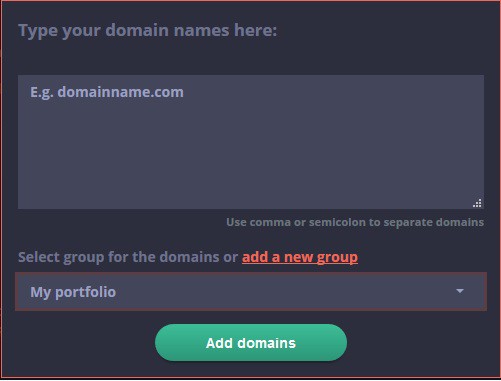 Once you've added the domains you want to keep track of a list is formed that gives you up to date information on them. Naturally, the most important information which you'll be getting is the expiry date, and this is emphasized in the list prominently displayed with the title. However, it's not the only information you'd be able to get.
You'll be getting access to registrar, hoster, and status code data, all of which are updated to reflect the actual status at any given time. If you haven't done so while adding the domains, you'll be able to assign them to a new group directly from the list. Assigning them to new groups will also remove them from the "my portfolio" list, where everything is saved by default. You can keep track of all your groups on the left-hand side with the other menus.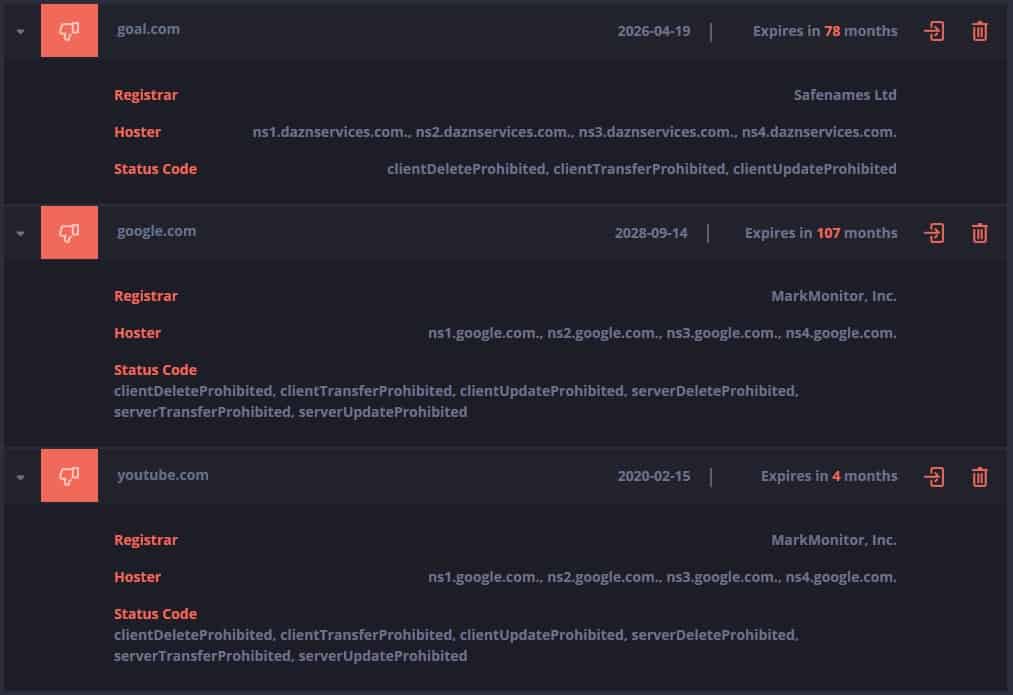 Most of the time, domains will be labeled in red, meaning they're in use. If one is available or becomes available, it's displayed in green. Of course, you'll be notified through the platform every time something from your shortlist becomes available. The great thing about Domainwatch is that if a domain is available, you'll be able to register it for yourself directly from the list. A feature like this will save you time, not having to jump to other sites where you'd have to search for targeted domains again before you can register them for yourself.

Summary
We've saved the best for last – Domainwatch is absolutely free. All the features are available without any hidden paywalls; the only requirement is that you register to use the platform. After registering, in just a few seconds, we might add, you'll never need to look for other solutions for checking domain names ever again.
As we've mentioned, a domain name is one of the key factors that go into a successful online presence that translates into a successful business. Coming up with something catchy that you can also get at base price (since you won't have to buy it from anybody at a premium), will go a long way in securing you a perfect start.
Even if you can't find the ideal solution right away, you can profit from being patient and waiting for that ideal solution to become available. In doing so, you can redirect your funds to other areas and make your site even better since you won't have to worry about anything domain related while using Domainwatch.