Are you getting ready to mark a milestone celebration for your company? Hosting an anniversary sale is just one way to mark how long you've been in business and show your customers how much you appreciate them.
An anniversary for your #business is approaching? Here is how you can host an #anniversary #sale on your website!
According to the Bureau of Labor Statistics (BLS), about 45% of new businesses fail within five years, and 65% within 10 years. A mere 25% make it past the 15-year mark.
If you've made it any length of time, you have something to celebrate. Here are some tips for hosting an anniversary sale on your website:
1. Recognize Loyal Customers
You likely have customers who've been with you from the beginning and return to buy from you repeatedly. How will you reward them for their loyalty? An anniversary sale is a perfect time to give your regulars some extra perks. Let them access the sale early by offering an exclusive area they can only access with a passcode you send.
You can still offer something for new customers, but save the best deals for the people who helped you achieve this milestone. Make it clear the best deals are for your loyal fans.
Nordstrom runs an anniversary sale. Note how they offer early access to cardmembers. From August 4 to August 12, the deal is only open to their devoted patrons, and on August 13, it opens to all cardmembers. Basically, the more you've spent, the earlier you get in on the deals.
2. Give Out Promotional Items
Offer a limited number of freebies to your customers. It's smart to limit the promotional items to those who already buy from you, or you may have people requesting the freebie just to get something free.
You want to reward the people who've helped you reach this point. You could also email your list and let them know you are sending them a promotional item.
Branded gifts show your customers your appreciation. However, they also get your brand name out there and help you reach new customers via word-of-mouth marketing.
3. Host a Giveaway
Want to celebrate in style? Find a valuable item and host a giveaway on your site. A grand prize entry is also an interesting way to collect qualified leads who might be interested in what you offer.
Check the rules for your nation and state on sweepstakes to make sure you follow the proper guidelines. Reach out to those who entered, letting them know who the winner was and thanking them for their interest.
Also, invite them to join your mailing list for information on future contests and news.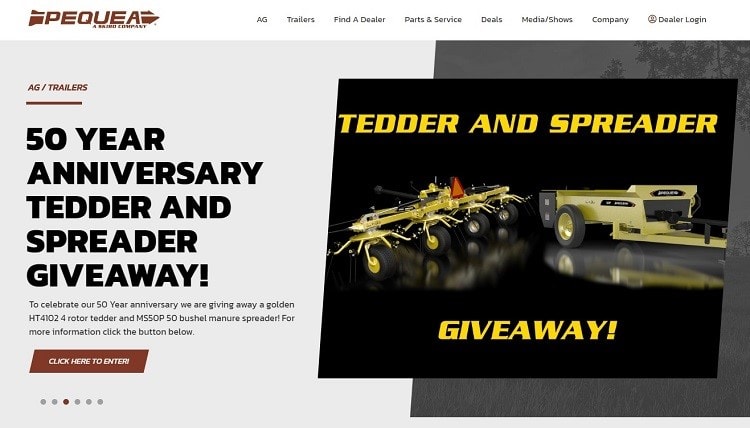 Pequea celebrates their 50th anniversary with a giveaway of a tedder and spreader. They are very specific about what they are giving away, even sharing the model numbers. In the entry form, they offer the option to sign up for their newsletter.
4. Introduce Special Features
An anniversary is a stellar time to celebrate what makes your company strong enough to withstand year after year. So add some video interviews of your employees and top customers.
Show your clients the event is about more than just offering a sale. It's about recognizing how hard it is to find success and keep it.
While the sale part of the celebration can bring extra business, people are more likely to buy if they feel an emotional connection to your store. Give them a feel for your company culture and brand personality. What is important to you, and why should they care?
5. Package Some Deals
Think about some of the more popular items people purchase and bundle them into discount packages. An anniversary sale can be an excellent opportunity to move merchandise you've had sitting around for a while.
You can also offer bundles of the same item, so people order in advance to take advantage of a great deal. The more cash flow you have, the easier it is to reach new clients and grow your business.
Eataly offers a sale to celebrate their 13 years in business. Note their monthly sales of a gift box as high as 50% off. They also provide some online-only specials.
They even dub their event as "Sale-tember" to give it a little extra oomph. You can brainstorm your own clever name for your anniversary celebration and promote it using your website's header.
6. Offer Trials
An anniversary sale is a great time to offer free trials for services or money-back guarantees for physical goods. If your goal is to attract new customers, then adding in some incentives to try your brand is smart. You can still offer specials or even members-only offers while reaching out to leads.
Look at your analytics. At what point do people abandon the shopping cart? Is it due to high shipping costs? Perhaps you could celebrate your anniversary by offering free shipping, so you can convert more of those visitors into customers.
You might even want to send out an email to those who've abandoned their carts and let them know about the limited-time free shipping offer.
Happy Birthday to You
Congratulations! Your company has made it through another year in business. Don't be afraid to toot your own horn and throw a big online party. Share your sales on social media, send out emails, and tell customers when they land on your page.
The louder you are about your successes, the more likely others are to celebrate alongside you. Enjoy your progress, and have fun with your anniversary sale.