As we have seen, this year has brought many changes, not just in terms of how we live, but also how we do and will continue to do business. Basically, most businesses and processes went digital. This sped up the transition into conducting everything online, from simple grocery shopping to team meetings, as well as learning.
By switching to online, the need for fast and safe internet browsing, new technologies, and web hosting increased.
When it comes to web #hosting, companies that specialize in it offer a server to their clients where they can upload their #website and make sure it is accessible to other internet users.
If you want to start an online business or blog, or you already have one but are not happy with your current web hosting provider, don't worry. Many new entrants and established providers have appeared and improved the whole industry drastically. However, when picking the right web hosting provider, make sure you analyze what the company is offering and what your needs and wants are.
With that said, there is one provider we want to review as we think they offer many good features for those of you who are looking for reliable web hosting. So, let's start.
HostArmada overview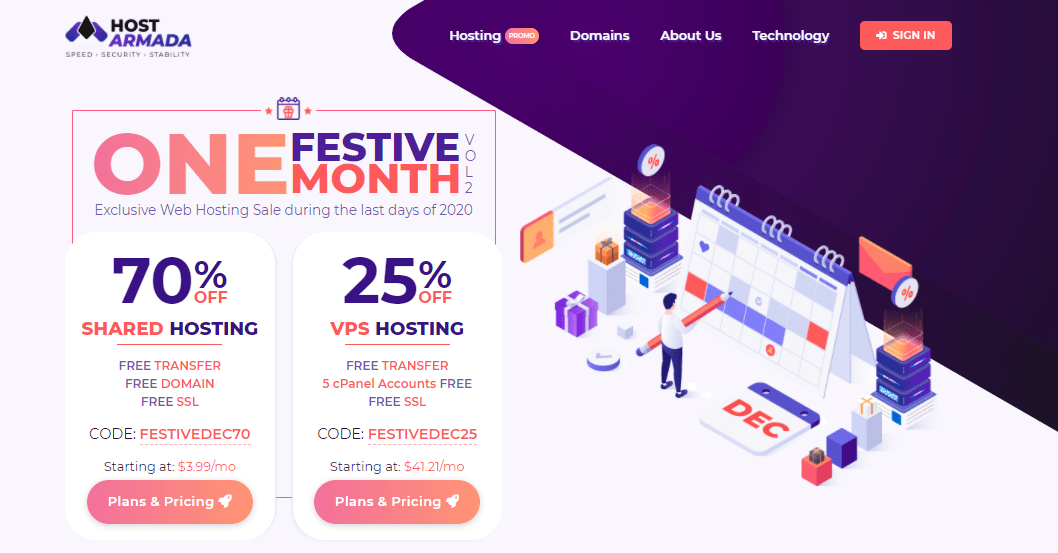 The web hosting service we will review is HostArmada. HostArmada is a relatively new web hosting provider that launched in 2019. The team behind it had one goal and that is to provide good quality hosting services, at an affordable price, that are fast, secure, and reliable
All of the services and features offered are cloud-based, which makes them reliable and proves the hosting service is ready to adapt to any new changes. HostArmada also understands the need to have speedy service that is also reliable and secure. That is why it offers 9 data center locations (Dallas, Newark, Toronto, Frankfurt, Singapore, Sydney, and more) thus ensuring good performance and fast server response time.
Speed
The most important aspect of their web hosting service is the speed. As we know, faster loading time ensures your customers are satisfied when browsing your website, and helps you maintain a high SEO ranking as well as low abandonment rates and high customer satisfaction.

That is why HostArmada has built and custom-tailored two different and separate server setups. Each setup offers a distinct speed-enhancing service. They use Nginx and LiteSpeed technology to host websites, both of which can deliver fast service to clients and boost performance while enabling your site to handle a large quantity of traffic.
Which one you will get depends on which hosting plan you choose.
The LiteSpeed server uses Brotli compression to reduce page sizes and decrease loading times. The technology is powered by SSD storage units for optimal read/write speeds and the latest MySQL and PHP versions.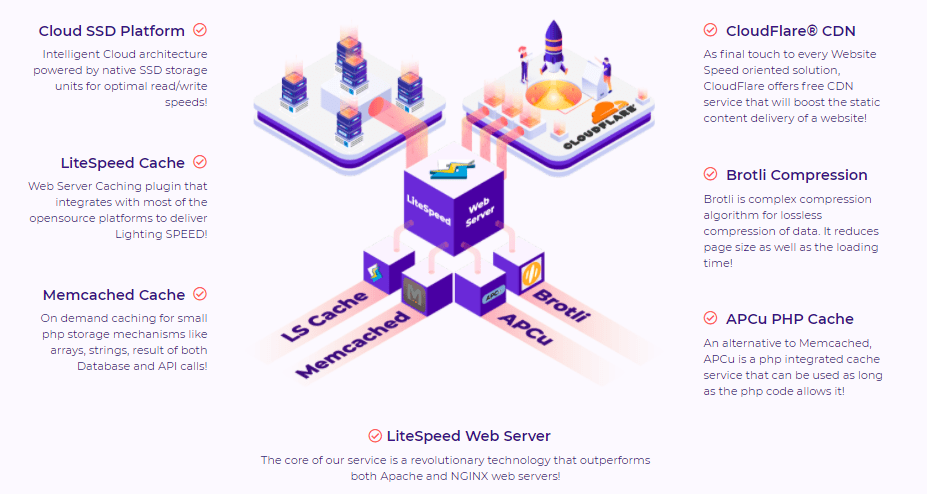 There is a web server caching plugin and the server also offers on-demand caching for small PHP storage mechanisms. Plus, you get a free CDN service that will boost static content delivery of your website.
Lastly, HostArmada uses the latest hardware technology on the market to make sure its clients and their customers have reliable and speedy web hosting.
Security

The second very important aspect of web hosting is security. That is why HostArmada has developed a 360-degree security system that covers loopholes through which attacks might happen, and it constantly monitors the environment.
The server has been designed and developed to monitor malware and is a self-learning sophisticated system. What the team behind the server urges their clients to do is to keep their applications, plugins, and themes up-to-date and only use licensed scripts.
They have also developed custom-tailored mod_security2 rules that prevent malicious attacks. These are constantly being updated so that the protection is top-notch.
Brute-force protection is available on all of their servers as well as an IP-based firewall that prevents attacks before they even happen.
The malware scanner HostArmada offers is completely free and it comes with any hosting plan that you choose so you can rest assured your website will be kept safe at all times and by the latest technology.
The servers are fully compatible with content delivery network services (such as Cloudflare, CacheFly, and StackPath CDN). HostArmada also offers a reliable backup service that keeps a snapshot of your account files and databases, which can be restored with a few clicks. These snapshots are created daily.
Daily backups are performed too, and the service offers cloud-based servers that are known for their reliability so you can be confident your site will be kept safe and always working.
All of the serves have CloudLinux and an account isolation feature that removes the possibility of a malware infection spreading between users.
Each server has a machine learning ruleset that constantly updates itself using a database that lists all known exploits and possible threats. Moreover, all servers have unique IPS and IDS systems that contribute to policies that prevent attacks. The attacks are logged so the administrators can examine them and improve their protection against any future attacks.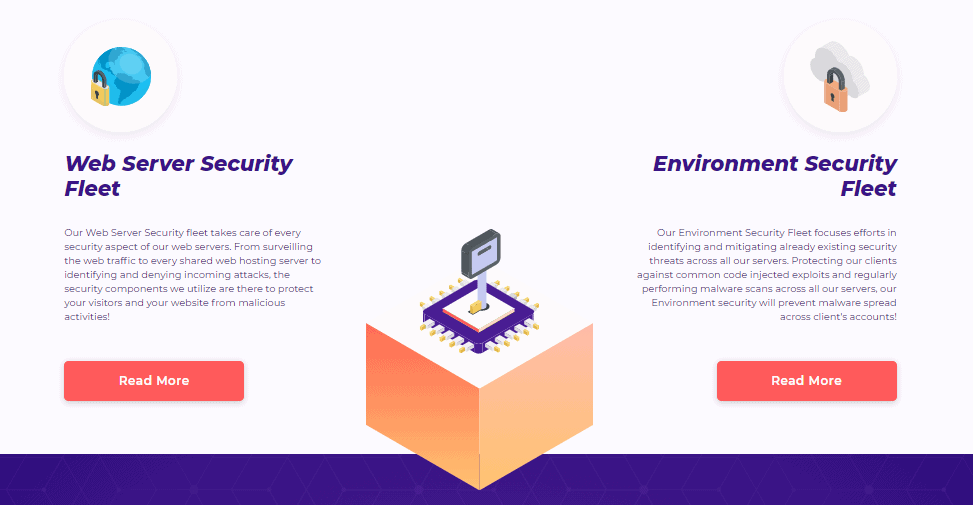 LiteSpeed servers have bandwidth and connection control as well as protection against the so-called "buffer overflow" exploits which aim to allocate the server's RAM pool. The servers also have a feature that decodes requests which attempt to access hidden files in the server system.
Oh, and not to forget that you get free SSL certificates for all domains that are hosted on the server.
Technical support

HostArmada has a reliable and knowledgeable technical support system and a team that is available 24/7/365. The support offered can be free or premium and is available through three support channels (phone, live chat, and tickets).

The support team is also highly skilled and experienced with most open-source applications, especially WP. They can help you install or update your application, generate backups, or install SSL certificates. So, in case you need some help, they will be able to assist you.
Hosting plans
There are many different hosting types you can choose from, such as WP hosting, shared cloud hosting, VPS cloud hosting, dedicated CPU hosting, development hosting, WooCommerce hosting, and Magento hosting.
Each hosting type has its own plans and price points, and they come with an impressive list of options and features.
For example, shared hosting plans start at $3.99 per month and go up to $5.66 per month.
One plan called Start Dock comes with free domain registration or transfer, technical support, 15 GB of cloud SSD storage, 2 GB of RAM, 2 CPU cores, and unmetered bandwidth.
The Web Warp plan, which costs $4.69 per month, comes with 30 GB of cloud SSD storage, 4 CPU cores, 4 GB of RAM, and unmetered bandwidth.
The Speed Reaper plan costs $5.66 per month and comes with 40 GB of cloud SSD storage, 6 CPU cores, 6 GB RAM, free domain transfer and registration, and many more perks and features.
You can check out more features included in each plan here.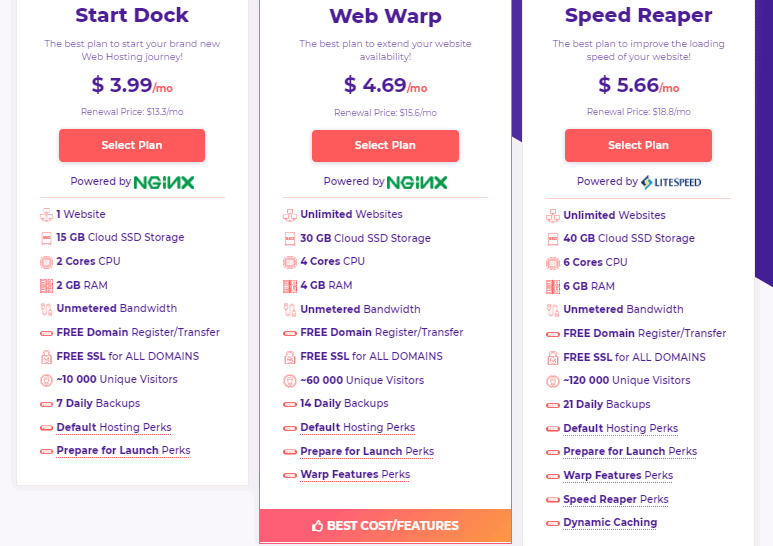 For WP hosting, plans start at $3.99 per month and go up to $5.66 per month. Some of the best features offered in these plans include unlimited websites, 40GB of cloud SSD storage, 6 CPU cores, 6 GB of RAM, unmetered bandwidth, free domain registration, free SSLs for all domains, 21 daily backups, and a lot more.
Naturally, each plan has different options and features so take some time to familiarize yourself with all of the plans that HostArmada has to offer. Also, it is good to mention that there is no cancellation fee in case you don't like the service.
Conclusion
As you can see, HostArmada offers quite affordable pricing for its plans with lots of different options and features. These can cater to any type of business, small, medium, or large. HostArmada hosting is also WP-optimized and has SSD drives on all servers. On top of that, you get a really skillful technical support team and free website and domain registration or transfer.
Hopefully, this article was helpful and informative. We really cannot stress enough how great HostArmada is, especially for those of you looking for fast, reliable, and secure website hosting. That is why we urge you to give HostArmada a chance and try its hosting service.