Running a business, regardless of its nature, is a taxing job. Luckily, some things are easier nowadays then they were some time ago. Before the advent of the Internet, you had to commission television, newspaper and radio ads, flyers, billboards, and much more to get to your customers. Now it's enough to cover the web, and you're good to go. Social media is always something where you'd want your presence to be felt, but one thing is crucial – Google. The first page of Google is the gold standard that any business hoping to be successful has to achieve.
If you're in the market for taking things even further, how about connecting your Google accounts (with all their benefits) with your business. Google My Business gives you the opportunity to do just that.
With Google My Business, you will be able to create a free profile for your business that can be connected to all other Google services, most notably the titular search engine and Google maps.
Since Google is the go-to page for looking things up, just imagine how a well-placed profile datasheet could improve your business. You'll be more prominent in the search results. On top of that, in Google maps, any time someone is looking for the specific service or product you provide will be notified of your business.
For you to fully take advantage of everything Google My Business has to offer, we'll go through a step by step guide on how to, first, set everything up and then use all additional features to maximize your potential and reach that next level you've been reaching for.
Getting started
Obviously, before you can do anything, you'll need a Google account. We'll just assume you already have one, and with everything that's been integrated nowadays, we're probably not off. After signing in with your account, you need to add your business. Specifically, you'll need to add a new location (located in the menu on the left-hand side of the UI) where you then input the basic information regarding your business, first of which is the name.

If the business is already noted in the Google database, it'll be prompted during your tipping, and you can just connect it. If it isn't present, you can still create it and continue forward. You can see an example of the prompts and the "blank" database on the left and right, respectively:
Once completed, you'll be moving forward with having to input other fundamental info. After the name, the very first thing you'll set up is the type of business you're involved in. Similar to choosing your name, there is a premade database from which you can draw from (it's not obligatory, however). Connecting directly to the category are the various service s you'll be providing. This part enables Google to connect keywords to your business, so it can be optimally displayed specifically to potential customers searching for those services.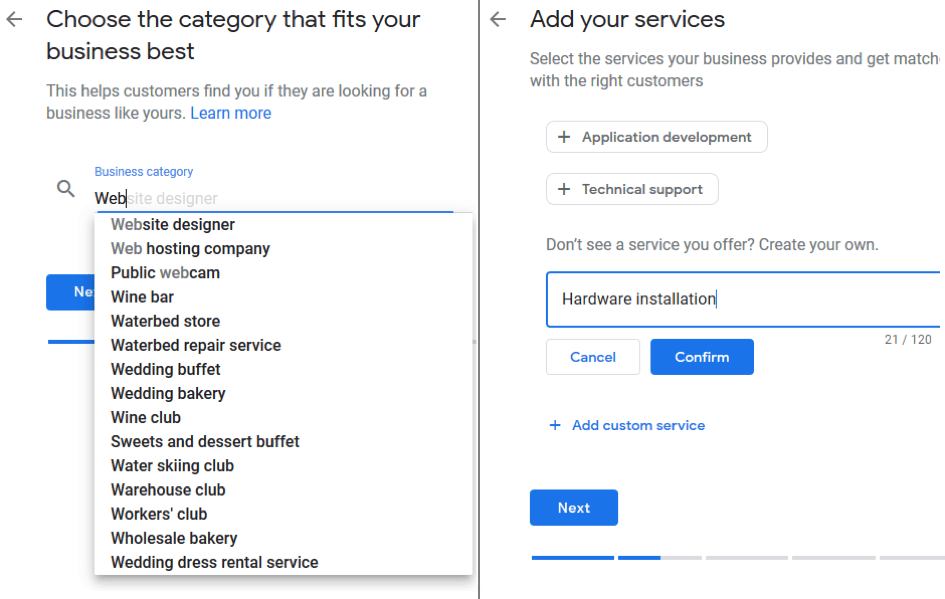 Shortening the width of the search parameters this way might seem contra-productive at first glance, but having a higher level of concentration where it's most impactful goes a much longer way than dispersing over a too wide an area.
Location, location, location
With the categories and services out of the way, it's time to fill in the contact information – potential customers need to know how they can reach you. We need to point out that, foremost, there is an option for purely digital business. Naturally, you have to be physically located somewhere, and that will be noted, but if you don't have a location that customers can visit (operating fully as a webshop, for example), you'll be able to let them know. For the sake of our fictional test business, we have chosen to have a physical location.

If the case is the same for you, you'll need to, firstly, fill in the address, and additionally place the map marker as accurately as possible to your actual location. The ability to place the cursor manually is a great one since Google doesn't always give the most accurate results regarding precise addresses with just the street number.
Specifying your address doesn't end the location-based info you'll be inputting. Irrelevant of what services you provide, or what items you sell you may be limited by your location. While selling goods tends to work much more straightforward and less limited to location, with all the courier services available, most of the time, these limitations will be true for service providers. Without outside affiliates, you'll hardly be able to perform something like hardware installation or repair outside of your city, or at the most, region.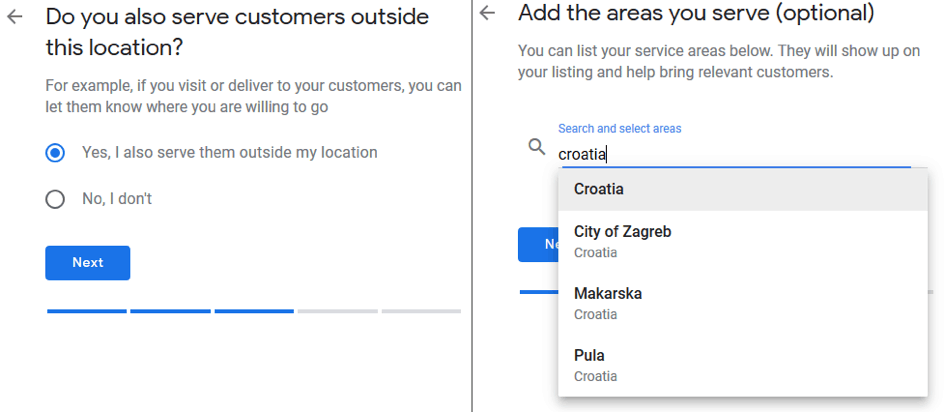 The additional locations you support can be other cities or even whole countries. Even though this data is optional to note, the simple fact that this data is considered part of the basic business info should speak for itself about its importance – take it into account.
Contacting
Finalizing the basic info for your business is the contact information – phone number and website. There are instances where you don't offer a phone number and instead refer customers to the website (where contact email can be found), and that's fine, just don't forget that the more info you give out, the easier it will be for potential customers to reach you. If they can't reach you, they can hardly buy anything.
In this step, you'll also have the option to connect the Google provided a free site that's built around the data you've just entered. If you don't already have a site, this can be a good first step in creating a web presence for your business upon which you can then build further as you expand.
Additional information
With your core info done, it's time to do a little expanding. Just like any profile, personal, or professional, you can input an "advanced" set of data that will be of further help to your customers.
These are all optional fields that don't need to be filled out. Doing so, however, will increase your rating and therefore chances your business will pop up earlier in the results. As you can see, these are your run of the mill details like working hours and logos, so there really is no reason to leave them blank if you want to take full advantage of the My Business service.
As you fill out the fields, your listing will get a better rating (of course, you should be aiming for the perfect completion of 100%), and, as we've mentioned, so will your rating.
Making the website
The provided free website stands at the core of everything along with the profile you've already created. Managing it is quite simple, it's basically a simpler version of the basic WordPress classic editor. To create something worthwhile, however, you'll need to build up your databases with content that you can then pull onto the site.
Posts
There four types of posts you'll be able to publish. Now, these aren't the everyday post you would find on some blog, all of these are directly connected to your business and should be treated as such. At first glance, the options might seem threadbare, but they're actually just concentrated on the essentials – offer, update, event, and product.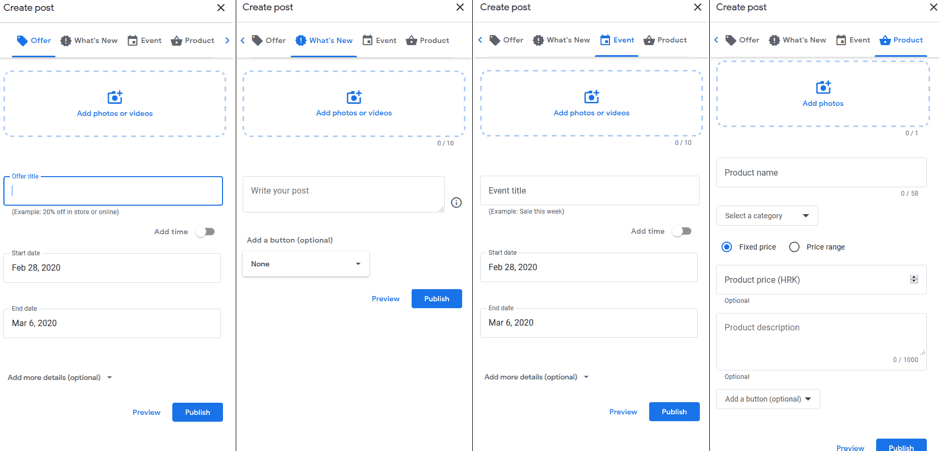 It's evident that, much like everything else the service provides, these posts are meant for promotion, in these instances targeted around specific targets. Offers are pretty self-explanatory; you'll be using this type of post when you're having a sale of some type. Just like with every other post type, you'll be able to insert a photo or video to accompany the news, and since this is time-sensitive, a start and end date can be set. The updated post has a more varied application. It can range from information about rolling out an update to the headquarters address change.
Essentially anything you deem your customers should know falls under this category. Events function much in the same way offers do, just without selling. A good example would be promoting an AMA session on Reddit, or an open door weekend when customers could come and meet the staff. There isn't too much mystery behind products either. If you're launching a new product, this is what you'll use. Unlike the other posts, here you'll have the option to categorize the product, add a price, description, and even an option to buy and/or order it right away.
Since all the posts are very straightforward, you'll quickly get the hang of using each one at the right time.
Building up your database
While your posts are the most prominent way you'll get in touch with your customers, they are by no means the only way. The fact is you have a website that's able to display more than just posts – most prominently flagship products (or all products for that matter), services, and no less important photos and videos.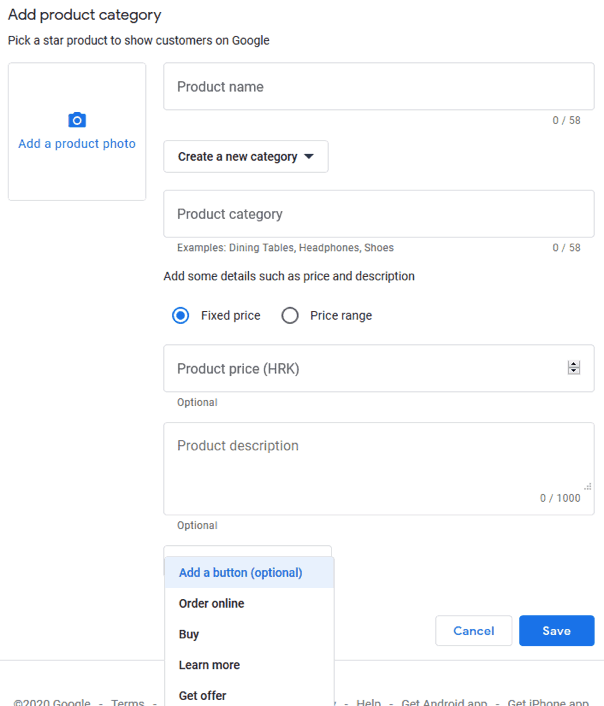 The reason we've specified flagship products is that your best bet is to keep this site simple, clean, quick, and to the point. Think of this as an exceptionally deep ad that will serve as a gateway to your actual homepage for those who are interested in knowing more about your business. Because of this, we really wouldn't recommend overloading your customers with your entire stock.
The form is very similar to the already mentioned product post. You can input an image, category, price, description, and the option to buy or order it on the spot. You can use all this to directly sell your products or redirect potential customers to your site where they'll get access to your entire catalog and maybe buy even more than they've originally intended.
If you're in the business of providing services instead of selling products, don't fret. The process is basically the same.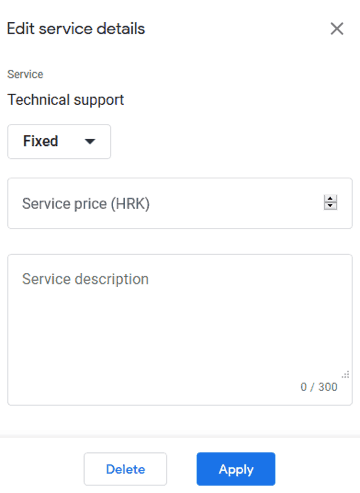 Once you've entered service in the database, you can then present it to your customers. Again, you'll need to specify the price and offer a short description, just like with your products. The main difference is that there isn't an option to directly hire you from the service form you've displayed. Services are listed as information only, after which customers will have the option of contacting and hiring you via the various contact information.
Photo and video content have a two-fold function. All uploaded content can and should be used with your posts and products to present them better. Both can also be used to create a brand logo, bring your business closer to your customers with office images, video development diaries, or essentially anything else you can think of.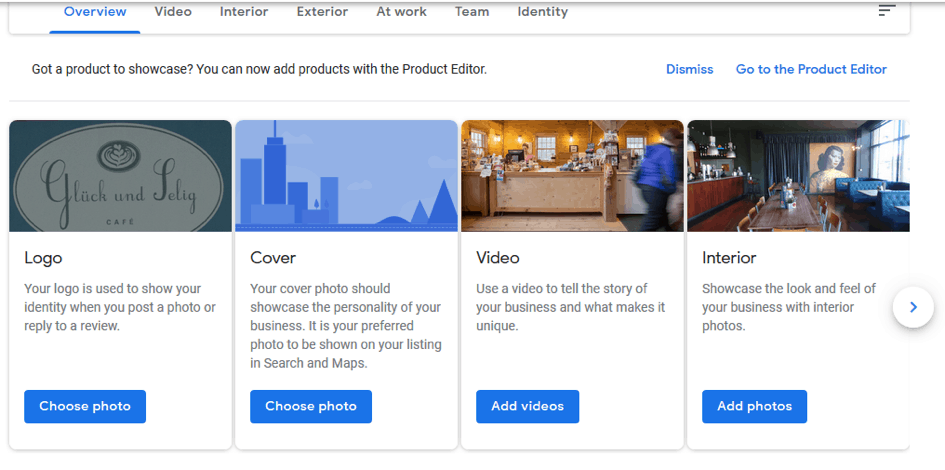 Images could also be used within the selected theme to enhance the viewing experience further, but we'll get to that down the line.
Connecting to your customers and feedback
Everything we've gone through so far has been ways for you to present your business to your customers, but what about how they can interact with you. Granted, we've mentioned options to include your mail, address, and phone number, but you'll also get to use the most popular way of phone interaction – messaging. Within Google My Business, it's possible to install a messaging app that enables your customers to contact you that way.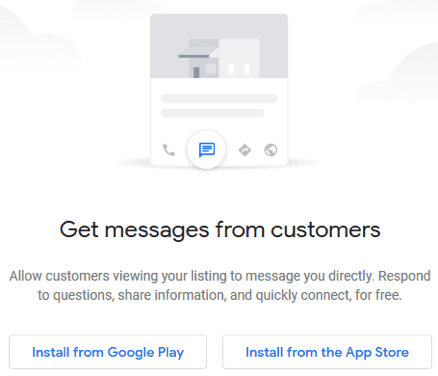 Much like everything else apart from the core data, this is entirely optional, but as we've said, the more ways you enable your customers to get to you, the best off you'll be. Messaging is also a great way for your customers to instantly get their enquires answered – something that is lacking when using emails.
The classic type of feedback, if we can call it such, is the review. Long before we were using the web to conduct business, we were using reviews to let people know our experiences with something. With everything going digital, that process is just so much simpler. Basically, everyone who has an opinion can voice it, and your business is no exception. The great thing about Google My business is that it will keep all the reviews in one place so you can go through them anytime you want and enhance your site in order to get those extra stars.
Website display and roles
With everything else covered, the final touches need to be put in place. These are purely cosmetic and concern your site (provided through the service). It's all pretty simple actually, you need to select a theme from a few presets available and organize your content within that theme.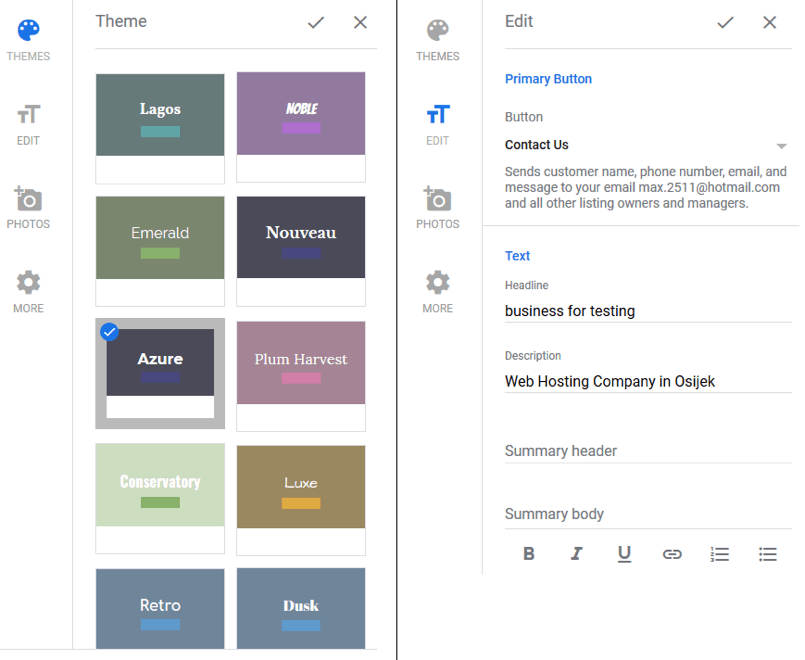 There aren't as many options as you would have with something like a dedicated page builder, or even the default WordPress editor, but like we've said a couple of times already, everything here should be kept simple, and to the point, there is really no need to get flashy.
The final step in the line would be to assign users and roles/permissions. It's just a list to which you add people to, nothing more. Of course, if you're the only one that's going to be using Google My Business, this aspect is essentially not needed if the service is shared; however, it's always good to know who gets access to what.
Promotion features
Since this is Google we're talking about, it's safe to assume that there would be some features that take full advantage of the various marketing tools within the Google network. That assumption would be correct.
There are two features we could consider as "extra" when you take into account what they offer. The first one is fairly simple, but in our opinion, adds a certain level of professionalism – a custom Gmail address. If you're running a business and people see your contact mail as somebody@gmail.com, the first thought that will come to mind is that your business is something you run on the side, and if they want to contact you, they can get in touch via your private mail. That is not the message you want to send out. Using a custom address (somebody@yoursite.com) looks and sounds like something a successful company would use. It says – this part of the web is mine, and I'm here for your needs. The option is here, and while it's not obligatory, you should most definitely look into it.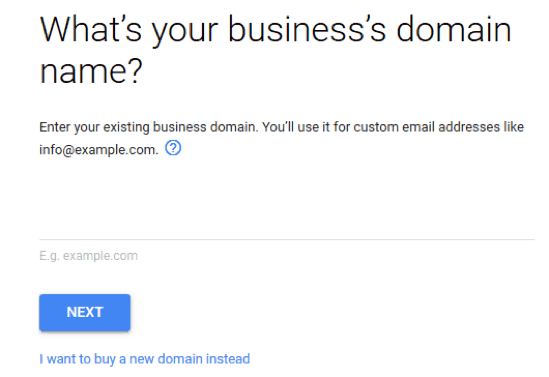 The second feature revolves around Google ad campaigns. Now even if you don't quite know how they work from the inside, everyone's seen their share. The process of setting up a campaign is really quick and easy. All you need to do is follow the wizard, and you're good to go.
The first thing you need to figure out is what you want to accomplish with the ad campaign. Google algorithms are smart. Let them come up with the best way to come up with a campaign specifically tailored for achieving your goals.
Next, we're again coming back to the location. You need to know where your customers come from and form the campaign around that. Generally speaking, there are few global businesses that have brands in need of boosts; instead, those are usually regional – just choose your region, and you're off to the next step.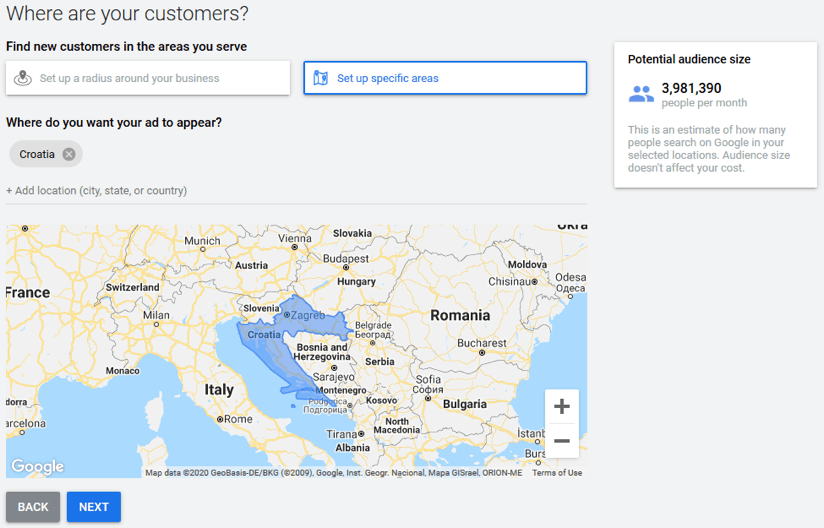 The next step is defining your keywords. These are important because they directly affect when your site is presented as search results. If you're running a hosting web service, you don't want to be in the results pages when someone is looking for pottery lessons. Keywords are the only way potential customers can interact with Google, and therefore, the only they can get to your site, approach them accordingly.
Finally, it's time to write your ad. There is no secret formula here. You've got a couple of headlines to go along with a couple of descriptions, and that's it. You've all seen how these adds look like, so you shouldn't have any trouble coming up with one for yourself.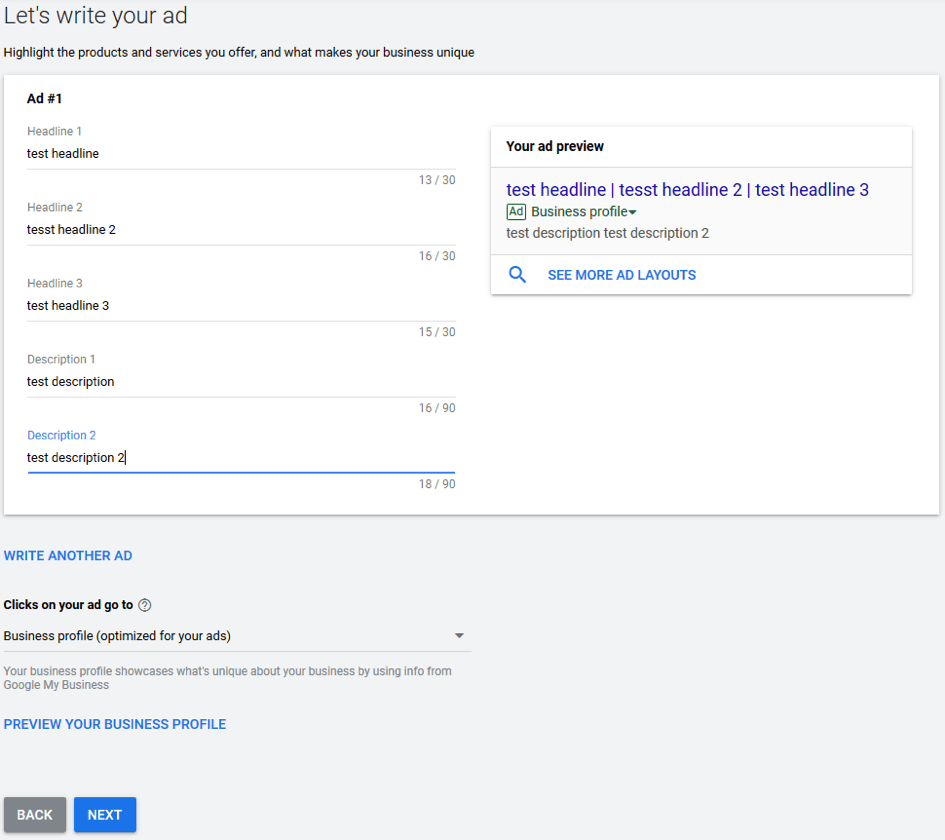 After everything is done, you're all set to start your campaign. You'll only need to confirm your budget. Naturally, the more you spend, the better the campaign will go. For starters, maybe try with ones that cost less and then work your way up the ladder.
Final thoughts
If you've ever wondered what's in store for you when going to work with Google My Business, this guide will help you fill in all the blanks. Different businesses will have to use different content and somewhat different methods, but the bottom line will, in most cases, be the same. Whether you're using the service as your only webpage, or an addition to your primary site, think of it as primarily a promotional tool that will inform potential customers your business exists and point them in your direction. Fill everything out, incorporate various campaigns, and watch your sales figures rise.