Every WordPress site is unapologetically run by authors, but who really are authors? An author is a predetermined user role assigned to someone in order to have them write, edit, publish, and delete files and articles. They can also edit their own profiles, but in a nutshell, they are the ones given the role of writer/author.
Finding it difficult to show #Top #Authors on your #WordPress site? This article has the perfect solution for you!
Depending on the type, many WordPress websites will have an author page to showcase the work done by the authors and give every one of them a little area for their biography that holds information regarding their previous work or general information about them.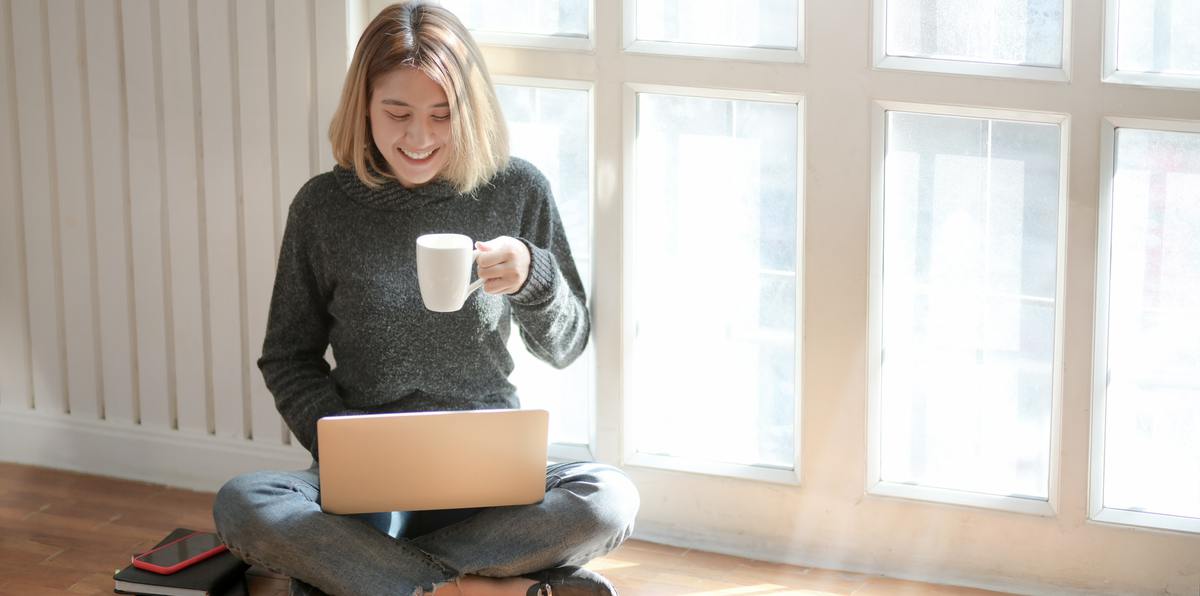 If you're the admin of a WordPress website, you might want to show off the authors that keep bringing you great content and new ideas. In order to do that, a plugin will be your best friend.
But you may first want to learn how to add a new user in WordPress if you haven't done it before. It's quick and easy, and you can assign a different role for each user.
Usually, making a list of top authors that keep working behind the scenes would take hours and render your website offline for the time being. Also, having your author boxes empty leaves a lot to be desired, as many come back to read more work created by the same person.
So using a plugin will not only save you time and energy but will also let you customize its features to better suit your needs and your website.
If you want to skip the YouTube tutorials, instructions on Quora, get the five hours of work done in 5 minutes and spend the time you saved on doing something else, you can use a plugin called Simple Author Box.
Simple Author Box stands out amongst the others, as its fully customizable (from colors and styles to fonts and sizes) and does most of the work for you. On top of that, the plugin doesn't require you to know a single line of code in order to use it!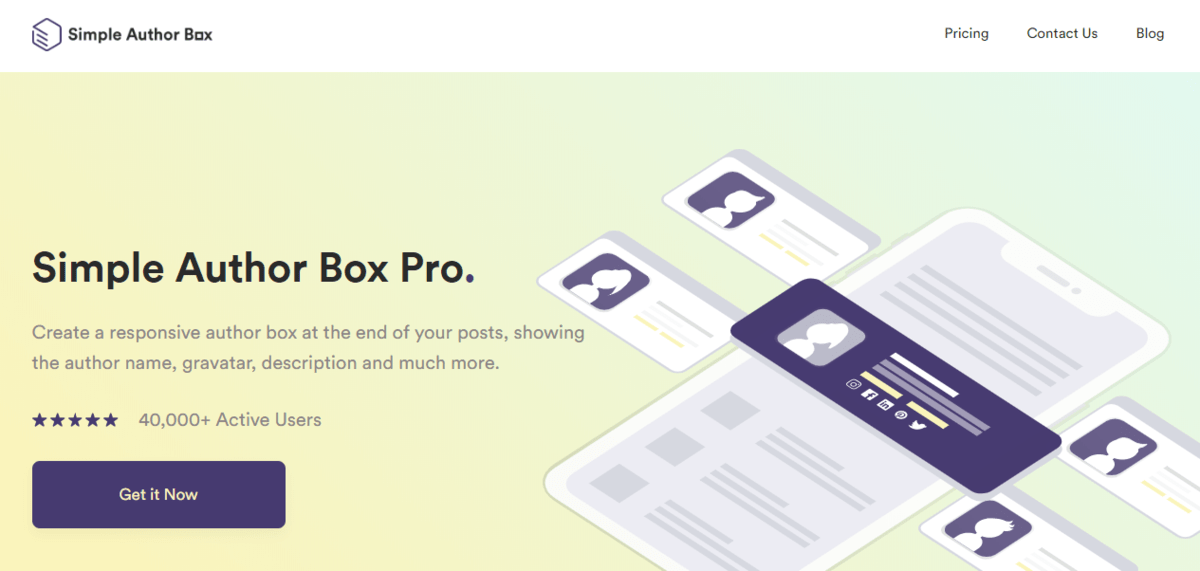 For starters, let's talk about the plugin giving you a responsive author box, that will display the authors' information, such as gravatar, name, website, description, and social icons.

The plugin will also let you add guest authors, assign multiple authors to the same work, and on top of all that, it will give you the possibility to make a list of your top authors. Your top content creators really do deserve to be shown off and praised for the work they do for you.
The top list is created by displaying a list of authors based on the comments they received. Having this widget set up can also give your authors a chance to get more exposure, as the widget can be shown their own websites/pages.

When benchmarking this plugin to other similar plugins, we saw that the top authors widget is what makes it stand out, as it won't take you more than a couple of minutes to get everything set up.
The widget which is found in the PRO version of the plugin is meant to allow you to rank your authors and not just list the ones working alongside each other. The feature alone makes the plugin worth the purchase since creating a list of authors based on their popularity and comments can be a safe way to go mad from all the work that it requires.
Also, the plugin supports every social network, so adding links to them for your authors will be a piece of cake.
While this is the highlight feature of the plugin, making it different from the other ones found on the market, it is not everything that the plugin has to offer.
As we mentioned before, you can customize all parts of the plugin and make it fit your needs, but did we tell you about customizing your author box with the WP Author Box Gutenberg Block?
Since the plugin was created to save time, this feature will make your life a bit easier by letting you change up the author box however you like it. You will also have major link control, for instance, you will be able to adjust how the links behave by making them open in new tabs or applying the nofollow link attribute.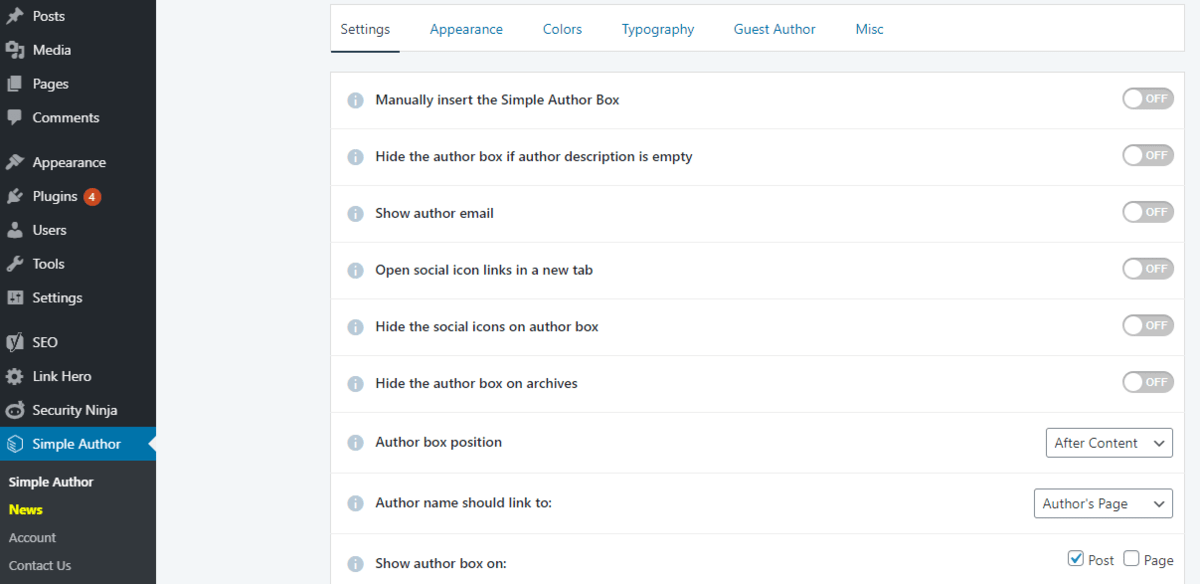 This plugin gives you total and complete control of how your author box looks. And you also get to decide whether you want to implement the author box manually (using the single.php or author.php file) or automatically at the bottom of posts. Plus, you can easily enable or disable the author box visibility on desired post types.
The plugin comes translated into 2 locales, and to help you along with everything regarding the plugin, you also get great customer support.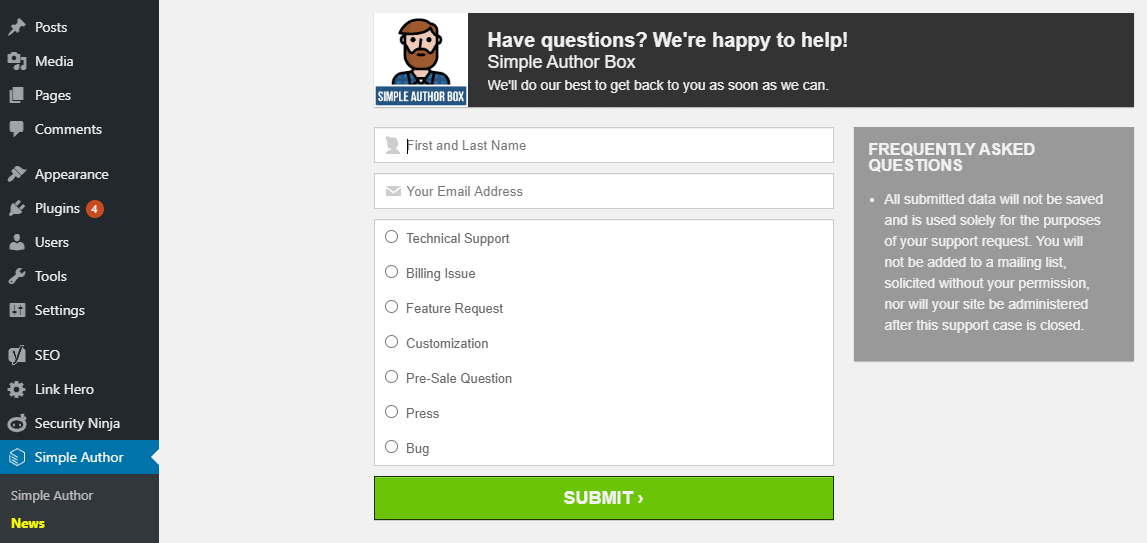 The Simple Author Box devs don't miss a beat with the updates, so the plugin, as well as the widgets, are constantly worked on and supported.
Simple Author Box also has RTL support and AMP support, so you're covered on all fronts. And using it is pretty easy, and you can see by giving the lite version a try before you go on and purchase the PRO one.
The settings menu is pretty straightforward, so it won't take you a long time to get the hang of it. The lite version of the plugin includes simple styling options and tweaks and the option to include an author box at the bottom of every post.
You can unlock additional features and the amazing widgets, for a single website, at a starting price as low as $29 per year.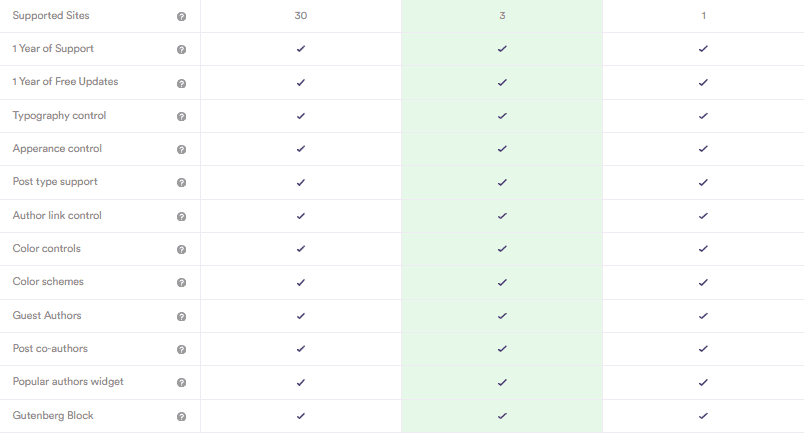 With that in mind, while the lite version isn't bad to start with, upgrading to the PRO one is definitely the way to go. And when it comes to the PRO version, you get to choose between multiple payment plan options, so go ahead and pick the one that will be most useful to you.
Lastly, it's important to mention that the author boxes and the widgets look beautiful on all devices and perform like a charm, and since the plugin is lightweight you won't be stuck with lag or other similar issues.
Conclusion
With the plugin having over 600k downloads and over 40,000 active users, we're certain that you'll love it as much as the rest of the community does.
That being said, the plugin reviews for speak for themselves, and so does the great overall rating in performance and usage. So don't miss out on this plugin as it makes daily WordPress blogging life so much easier.