A marketing dashboard, simply put, is a dashboard that has a role in saving your precious time and is intended for anyone who wants to have an insight into the metrics generated from all the platforms on which they are present.
A #marketing #dashboard is a tool that integrates with various social platforms, and with it, you do not have to jump from one website to another to view your latest information from #social media.
Also, this type of tool allows you to quickly compare data from multiple social media accounts.
If you strive to save money and time and want to have all the necessary marketing data in one place, below, we present the five best marketing dashboard tools.
1. Cyfe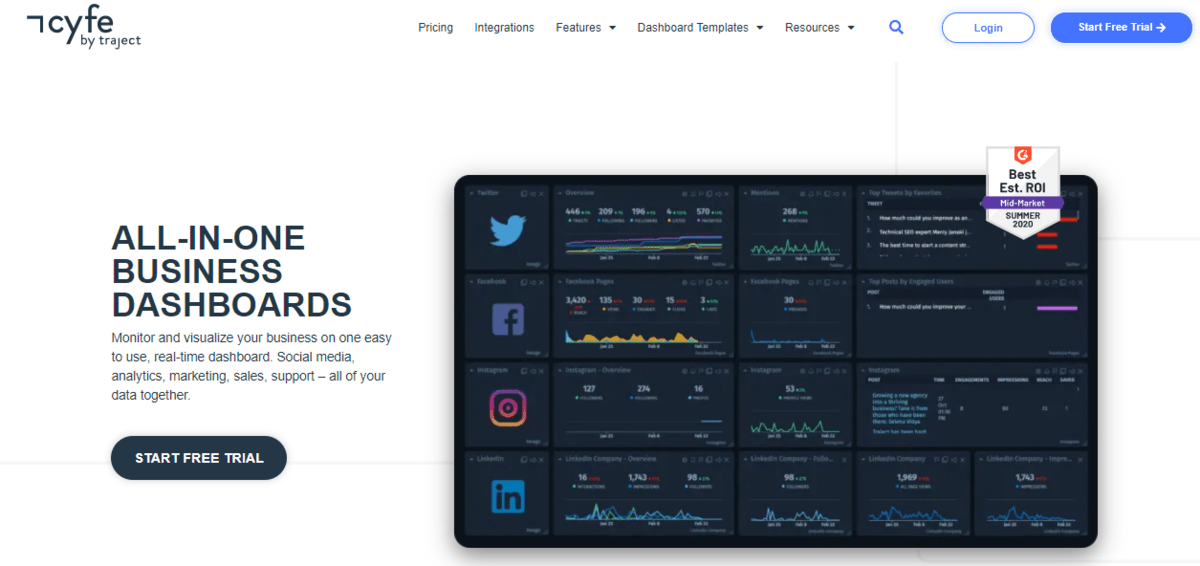 Cyfe is a marketing dashboard tool that allows you to track analytics on leading social networks such as Facebook, YouTube, Instagram, Twitter, Pinterest, LinkedIn, and more. You can create dashboards for each social network, each client's social network account, or different types of business tools. Cyfe integrates with advertising platforms, website analytics platforms, email marketing platforms, and the like. It also has other features that can help you manage social networks.
The free trial available gives you a detailed insight into how the tool itself works. If you want to create multiple dashboards and widgets or take advantage of other advanced features, you can subscribe to some of the premium plans available (Solo, Pro, Premier, or Agency).
2. Grow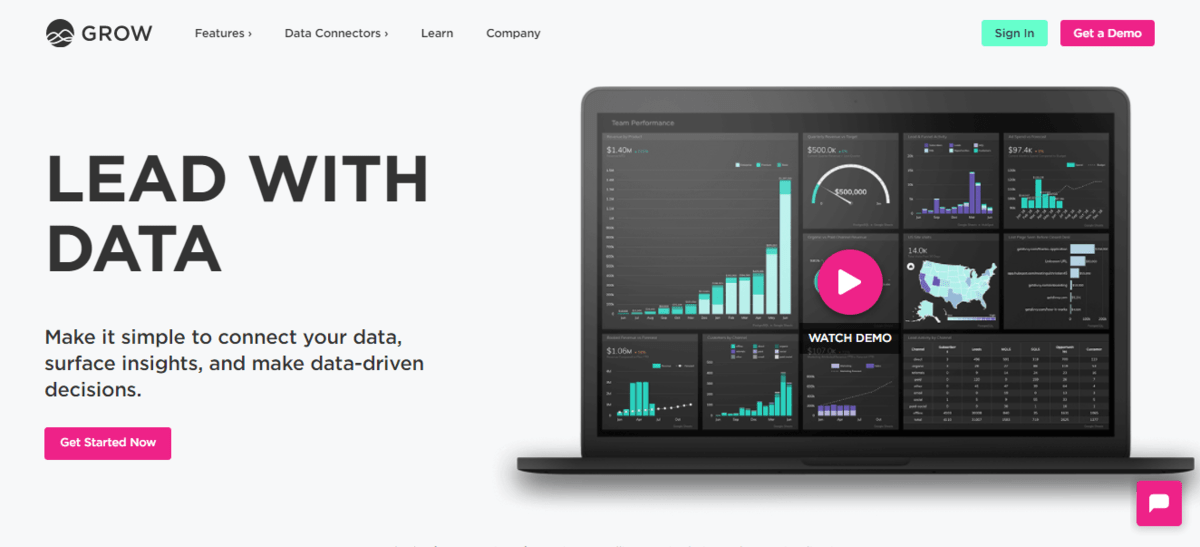 Grow is not just a marketing dashboard tool; its intelligence makes it a tool that can do a lot for anyone's business and raise it to much higher levels.
Features of this tool include the following:
ETL & Data Prep – Collect your data, connect it to the integrated platforms and prepare it for transformation.
Data Storage – Store your data in one safe place.
Explore & Visualize – Visualize your data in the best possible way to manage it even more efficiently and easily.
Share – Share what you want with anyone and how it suits you best at a given moment.
Customize – Rebrand to represent your company.
Current integrations of this tool include: Airtable, Amazon Redshift, Asana, Freshbooks, Google Ads, Hubspot, Amazon S3, BigCommerce, Bing Ads, Box, Campaign Monitor, Chargify, Constant Contact, Copper, Custom REST API, Delighted, Dropbox, Exel, Facebook, FTP/SFTP, Facebook Ads, Formstack, Freshdesk, Google Analytics, BigQuery, Google Search Console, Google Sheets, Harvest, Instagram Business, Intercom, Jira, LinkedIn, Mailchimp, Mixpanel, MySQL, OneDrive, Pipedrive, PostgreSQL, Promoter, RingCentral, Salesforce, Shopify, Square, Stripe, Twitter, YouTube, Zendesk, Xero, WooCommerce, Typeform, Twitter Ads and more.
3. GoodData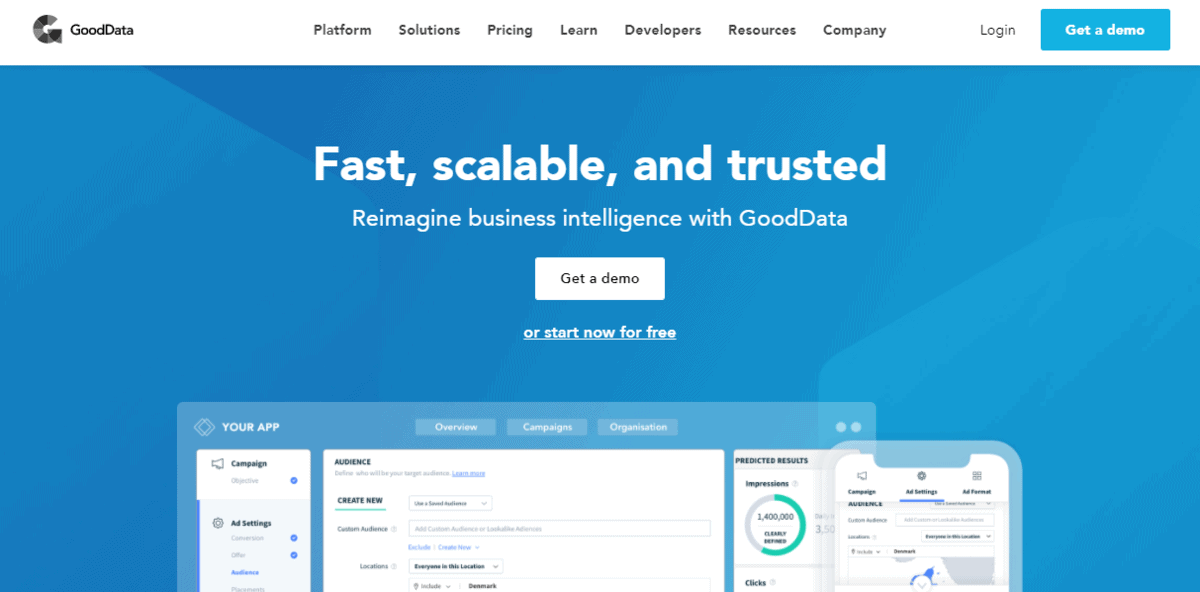 GoodData is a business intelligence platform that provides big data solutions, all cloud-based. Although the services of this platform are useful for all companies regardless of the industry, they are especially useful for companies that want to have an insight into their performance in the field of marketing, sales, and customer service.
In the data analysis process, the GoodData tool uses Multidimensional Analytics Query Language (MAQL) and the Extensible Analytics Engine, which results in increased performance and the ability to include advanced metrics.
Data visualization and reporting are features that make this platform easy to use, customizable, and compatible with multiple other platforms. If we add to all this the improved options for exporting and sharing data reports via branded dashboards, as well as 24/7 customer support, then it is no wonder that this tool is among the top five marketing dashboard tools.
4. Tableau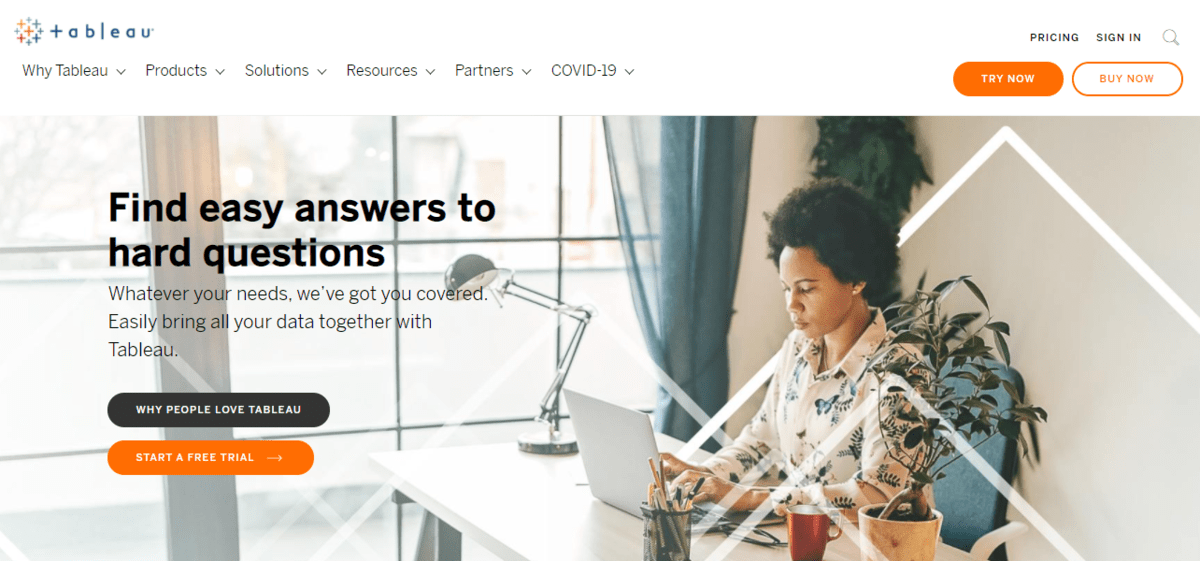 Tableau is a platform for visual analytics and thus helps to solve problems for many, both businesses and individuals. But visualization is not the only thing this platform does for you. There are many actions that Tableau does without you even knowing it, and some of them are sending requests to the cloud and relational databases, grouping statistics into spreadsheets and OLAP cubes, then parsing, categorizing, and comparing them to generate an analytical report.
Tableau has found its place in many industries such as healthcare, insurance, manufacturing, education, and marketing (which is most important to us), and it best speaks about the quality and wide application of this platform.
Some of the features that make Tableau stand out are:
Visualization capabilities
Ease of use
High performance
Connections to multiple data sources
Mobile-friendliness
5. Sisense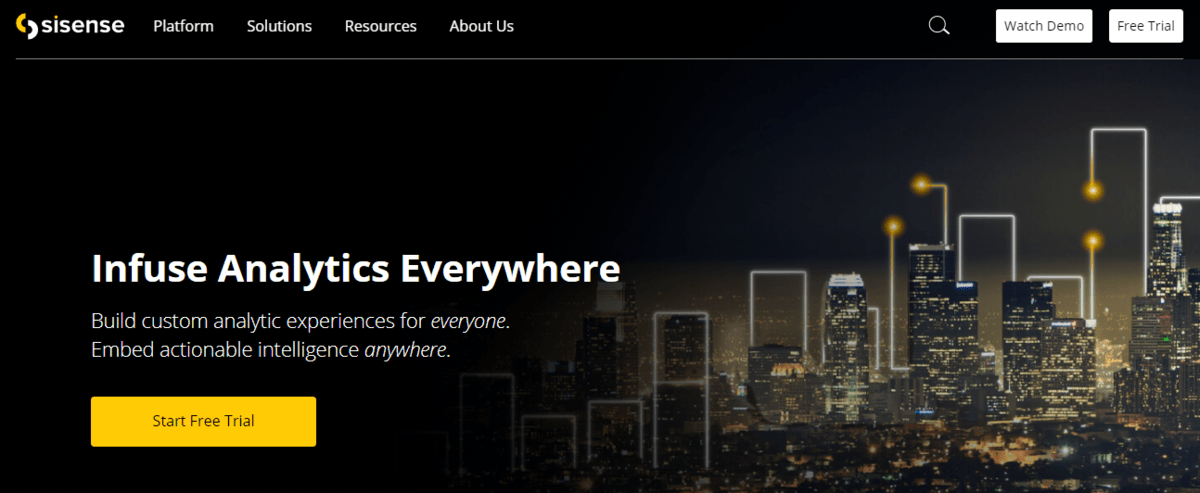 Sisense is a business intelligence solution that uses today's very popular methodology, agile methodology, which provides the ability to analyze, visualize and report.
This tool works on the principle of combining data from several different sources and storing it in a single database. It then rearranges the data according to the predefined standard format inherent in this tool. When the data is ready, the user can manipulate the data using various filters and built-in analytical tools.
When you have the data visualized exactly the way you need it and the reports that are important to you, the next step is to share all of the above with relevant people in the organization, which this tool allows you to do in a very fast and simple way.
Conclusion
Whatever industry you are in, to make sure your social media marketing efforts yield positive results, something you definitely need to analyze regularly is your metrics. It can be very demanding, complicated, and something that takes too much time.
It is true that most high-end social networks offer their own built-in analytics, but logging into each social network and checking analytics individually can take quite a long time and require a lot of effort.
The solution is to use some of the marketing dashboard tools listed in this article.
It is clear how much these tools can actually do for you; plus, they are rich in various features needed to build the best and most profitable online presence.